Around this time of year, I am bombarded with reader questions on where to find swimwear to flatter their body. While one can find a triangle bikini anywhere from Walmart to Saks, it's harder to find swimwear for a woman with curves. As a woman with a large bust and a soft tummy, I have a few recommendations for bathing suits that control the midsection and/or support and properly cover a large chest.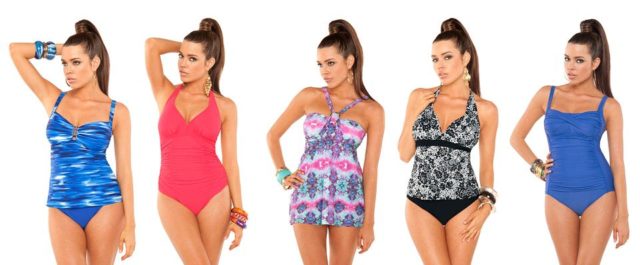 Aerin Rose
Aerin Rose was kind enough to send me their "Butterfly 335" suit for review and I have to say I am highly impressed. Not only are these swimsuits sized like bras (cup-sizes B through G and band sizes 32 through 44), but they also have shirred tummy control bodices to whittle the waistline. My tummy looked firm while I felt comfortable, and my breasts were well covered and supported in the flattering halter top. Learn more about Aerin Rose on their Facebook page and shop for their bra-sized swimwear here.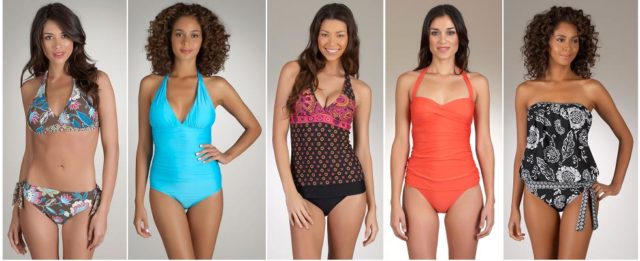 Swimspot
I wrote about Swimspot here, and I still agree that Swimspot offers attractive swimwear for large busts. They have fit specialists who will work with you to find the perfect suit for your specific figure. When I worked with them last year, they suggested the Athena Maldives Halter One-Piece for me; I still find it flattering, supportive, and sexy while properly covering and containing my bust and smoothing my middle. All Athena swimsuits have a Slim-Power lining to smooth the tummy, and their Support Group line offers sizes 32D – 38FFG. They also carry Next Swimwear which is a brand for the woman who has a larger bust and desires support during water activities – their Stand Up top has floating underwires and a racer back to keep your bust in place while surfing, swimming, or taking part in any other water activity.
No Show Active Top
For the woman who wants to catch rays in a classic bikini but desires support and coverage when swimming, surfing, or playing a game of beach volleyball, the No Show Active Top is a great option. Simply zip The No Show Active Top over your bikini top for the coverage and control you need for any activity. They come in a variety of colors and prints to coordinate with most any swimsuit.
Lands' End
You didn't expect me to write a post about swimwear and not mention Lands' End, did you? Lands' End offer suits up to a DDD cup and I have found them to truly be supportive. Their fabulous Beach Living swimsuit collection has many tops and suits made for large busts including bikini tops.
Lands' End also has Slender Suits which slim the middle without binding. Their Princess One-Piece Slender Suit is elegant, classic, has soft cups to support the bust, and Slendertex® fabric to control the midsection.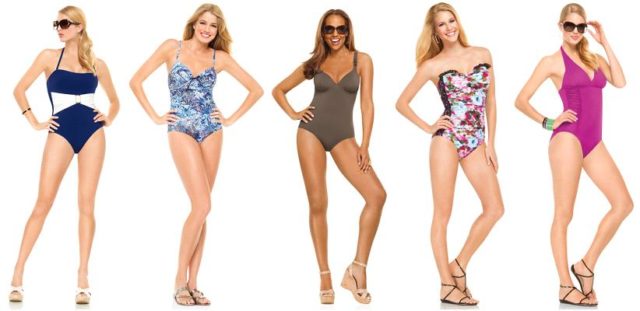 SPANX
To use SPANX's word, Bra-llelujah, they now carry swimwear! This is a perfect fit for SPANX, who has already mastered not only control garments, but supportive yet comfortable bras. Their Bra-llelujah! ® One-Piece is a classic style with underwire cups and adjustable straps – not only does is come in bra sizes (up to 18 D/DD) to properly support the bust, it also sucks in the tummy with the power of SPANX. Their Blue Nile suit is feminine, flirty, and comes in sizes up to a 16D/DD with all the control you'd expect from the brand.
Bare Necessities
Bare Necessities is one of the sites I go to for control garments and bras to fit my large bust, it's also a site I turn to when looking for swimwear. Many of the lingerie brands that cater to curves also carry swimwear (Freya, Fantasie, Elomi) and Bare Necessities carries them.
As for tummy control, Bare Necessities carries the classics like Miraclesuit® and Magicsuit®, they also carry brand-name control swimwear from SPANX and Tommy Bahama.
Cacique
Cacique is a great resource for larger sizes of bras, and they are also a great resource for larger sizes of swimwear, offering styles up to an H cup. Cacique carries one-piece styles, separates, and also Miraclesuit® for control swimwear.
My Personal Swimwear Tips:
Skirts emphasize, they don't hide. Skirts on swimsuits work in the same manner as a tunic or muumuu – they may cover, but they don't fool anyone. A skirt is a great choice for modesty or a retro feel, but you'd do better with strategic shirring or a flattering leg opening to make your body look not only smaller but also younger.
Buy a size smaller than what you wear in clothes. Unless otherwise specified (Miraclesuit® often has specific fit tips, always read customer reviews), bathing suits stretch. What seems to be a great fit when dry can end up with a saggy rear and exposed busom come a dip in the pool.
Buy a cup size larger than necessary. Unless it is underwire and bra-styled, going up a cup size will give you additional coverage. When I was a D cup, I would always buy the DD cup style from J. Crew – it still fit great, but gave me a bit more security under the arms and between the breasts.
Don't machine wash your swimwear. Not only are you dealing with a delicate synthetic fabric full of Lycra and compression materials, it is a fabric being beaten with salt, chlorine, sand, and concrete. Baby your swimsuit and it will keep its shape, elasticity, color, and fit for more than a season. Products like Roux Maison Swimwear Detergent will extend the life of your suit and remove everything from chlorine to sunscreen without fading or residue.
Where do you like to shop for swimwear? What swimsuit brands have you found that flatter, support, and control curves?
Note: I did receive free product from No Show Active Top and Aerin Rose, but the choice to write this post is my own and all options are also my own.
Follow Me | Twitter | Facebook
–>