May 22, 2013
The Best Part of Waking Up: Folgers Jingle Contest
Uncategorized
There are two thing I must have to get the day started – music, and coffee.
As soon as my alarm goes off, my music goes on. Sometimes it's FM radio, more often than not it's Spotify where I love learning about new artists and making playlists of my faves. My daily outfits are often influenced by the music I listen to – be it poppy, romantic, slow, fast, emotional or inspirational. I start my outfit posts for the blog at home before I head to the office, drinking a steaming cup of coffee (cream, half a Splenda please) and listening to my tunes. I often take the rest (or more) of my coffee with me on my commute, listening to my iTunes through my car speakers.
When I think of both coffee and music I think of my morning routine, but I also can't help but think of Folgers, who has one of the most iconic jingles in history. I think we all know that the best part of waking up is Folgers in your cup!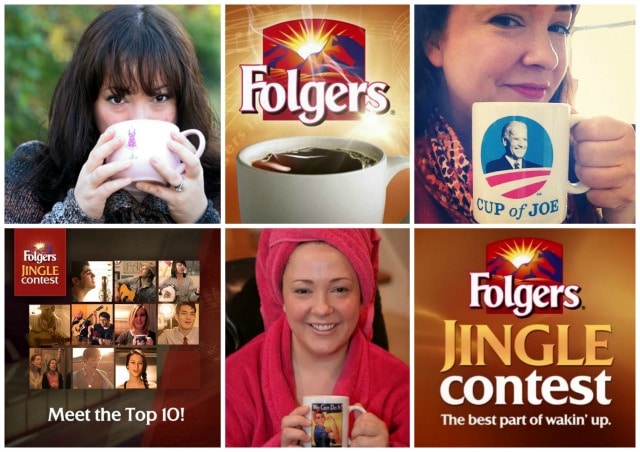 Composed by Leslie Pearl, that original and iconic Folgers Jingle debuted in 1984; since then the Jingle has since been transformed into country, gospel, jazz, R & B, folk, Celtic, and a cappella versions. They even have versions from Rascal Flatts and Aaron Neville on the Folgers Jingle site. Folgers has a fabulous competition going on where emerging artists can enter with their version of the famous Jingle. Entries were judged on factors such as creativity/originality, musical performance, and adherence to the creative assignment.
The Folgers Jingle Contest has narrowed down to just ten finalists, and the talent is remarkable. I encourage you to check out these amazing artists and vote for the best. What a fantastic opportunity for one who is talented and passionate, your vote could change a musician's future. Not only can your vote change the artist's life, but also yours. With each vote you can win awesome prizes like free Folgers Coffee, iTunes® gift cards, signed CDs from Jingle Contest spokesperson Gavin DeGraw, and even a $10,000 grand prize!
Be sure to vote for the best Top 10 Finalist in Folgers' Jingle Contest! Meet the Top 10! Take a look at Folgers® Jingle Contest Finalists, and listen to the tracks that earned them a spot in The Top 10. Cast your vote once every day through June 19th. Vote now! Before you vote, follow the Road to the Jingle on Facebook to see how they traveled the U.S. to track down the Top 10 contestants!
Remember, you can vote once a day through June 19th!
Click here for official rules.
Follow Me | Twitter | Facebook | Instagram