October 26, 2013
Covet Fashion: Finding Personal Style on Your Phone
Uncategorized
I blame Megan.
Megan is a friend I met through this blog. We were pregnant at the same time, she contacted me, something pregnancy-related, and soon a friendship grew. Though we live across the country from one another, we stay in touch via social media. One day, Megan posted a link to my Facebook page asking if I had seen the app, Covet Fashion. I had not. I'm not one to play games on my phone – my apps are useful or social media-related, except for a couple fun/educational ones for Emerson when she gets fussy during an extra-long meal at a restaurant. But I trust Megan's taste, so I checked out Covet Fashion…
My name is Alison Gary, and I am a Covet Fashion addict.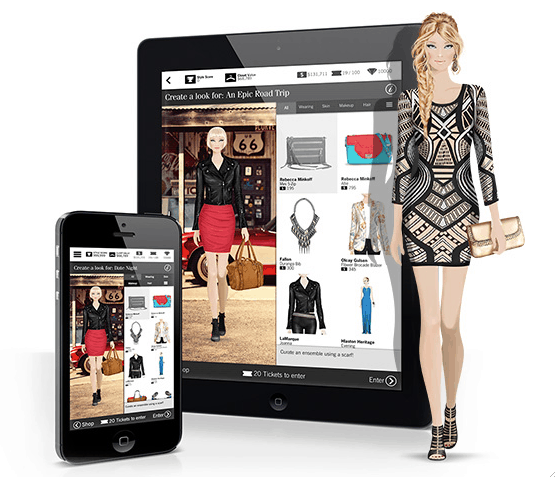 Covet Fashion is an app available on Apple mobile devices, and will soon be available on Android.  Playing Covet Fashion is like grown-up paper dolls with real-world designer duds. You get to create your own avatar (and they don't look like Bratz dolls, but actual humans), choose your hair, makeup, skintone, and style her in current season clothing and accessories from over 80 hot designer brands like Rachel Zoe, Dannijo, Joie, Rebecca Minkoff, J Brand, and Nanette Lepore. You get feedback on your looks and can win virtual money and designer pieces for your virtual and even your real closet.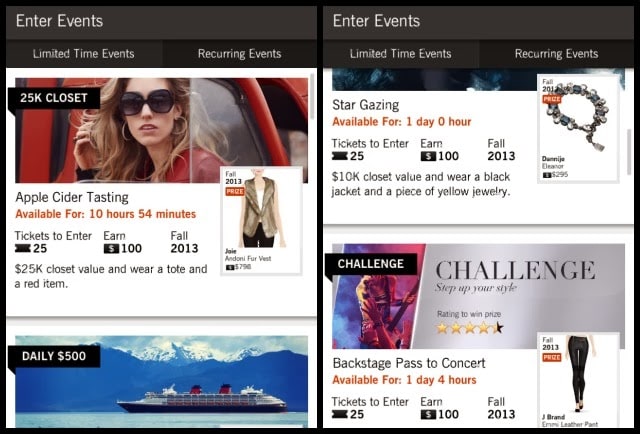 Example of some of the events you can enter
The main part of Covet Fashion are the events. These change daily, and are pretty interesting. Maybe it's a rainy day in Paris and you are going to the Lourve, possibly you're attending a Cynthia Rowley event and need to wear a piece from her current line, maybe you've been invited to a presidential gala, possibly you're going apple picking. You are provided with the scenario, occasionally specific details (wear orange, incorporate pumps and a blazer, wear a piece of Fallon jewelry or Madison Harding boots), and how much you can earn from entering the event. Use the virtual money for entering to purchase pieces for your closet. Fellow Covet Fashion users vote on your outfit, and a score of four stars or higher earns you a new addition to your wardrobe (something special that cannot be purchased with virtual cash). To earn tickets to attend events, you vote on other Covet Fashion users' looks for these events.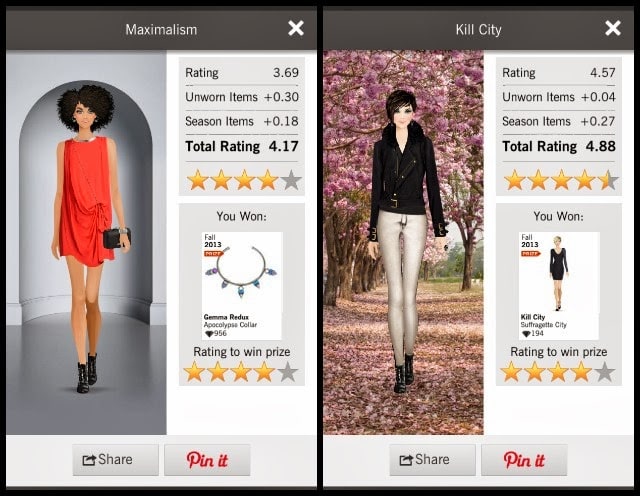 Two outfits I made for events – the score received and the prize won.  As you can see, you receive extra credit for wearing current season and previously unworn pieces from your wardrobe.
The app reminds me of the life of a personal style blogger. As a blogger, you are asked to attend events based upon your audience size and influence (tickets), you are often asked to wear a certain type of item (event specifics), paid to attend (cash for entering event), and if your look is really great you will be rewarded with more blog traffic and more swag from the company (prize). There's the friendly style competition, checking out one another's outfits (voting), and supporting friends in the blogosphere (connecting with Facebook friends).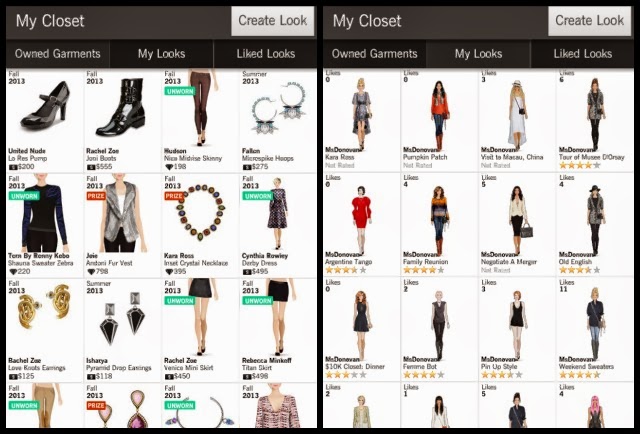 A peek into my virtual closet on Covet Fashion, and some of the outfits I created in the app.
Covet Fashion is also a virtual way to define your own personal style in the real world. You have such an extensive selection of items to buy – do you buy what looks fun, or what will work with what is already in your wardrobe? Do you style yourself in a way that makes you happy, or will garner the highest votes? With time, you learn to shop knowing what sort of events will be in your future, and how to get a high score while still being true to your personal style. Not surprisingly, my virtual closet on Covet Fashion is full of leather, black, and bold silver accessories.
What I also like about Covet Fashion is that you're exposed to new designers and can imagine how pieces could really be styled before buying them. Sure, that dress on the hanger in your favorite boutique is cute, but how would it look with your new suede ankle booties? Would it look good as a tunic over leather leggings? How will it hang when worn under a biker jacket? Would that dress look better with soft waves, or a messy updo? Not only that, if you see something you really love on Covet Fashion, you can click "Buy Online" and be taken to a site where you can purchase that very garment for your real-life closet.
I'm still not a "game gal." I've never played Angry Birds or Words with Friends, and find Kindle to be my most-used app when a flight is delayed or I'm on the Metro… but I do love me some Covet Fashion. I love the competition, I love the real-world fashion, and I love that Megan introduced me to an app that helps define my personal style and have fun at the same time!
This post brought to you by Covet Fashion, but do know I was using the app way before they contacted me and all opinions in this post are 100% mine.
Follow Me | Twitter | Facebook | Instagram