August 6, 2014
Everyday Moments Make For the Best Memories [Sponsored]
personal life
My first childhood memory is from when I was five; my family and I did a road trip to Florida to visit my mom's brother and see Disney World. Though at the time my mind was likely blown by the amusement park, my memory is of riding in the back of our station wagon, watching the strange tropical trees fly by, hanging my new little beaded change purse out the window, hearing the fringe brush against the car door. The chain broke and I lost my purse; atypical of my parents, they went to a gift shop and bought me a replacement one. I treasured that cheap bag and didn't hang it out the window. My parents understood why I did it, let me be a kid and learn from my mistake without punishment. I remember another point of the trip, riding in the car on a highway, my eyes closed, my hair whipping my face, clutching the purse and running the beads under my fingernails.
Karl, Emerson, and I were driving to visit relatives on a beautiful summer day just a few weeks ago. I heard a noise, looked at the backseat and saw Emerson (who is proud to tell everyone she is five and a HALF) watching the trees go by, hanging a beaded necklace out the car window and watching it bang against the car door. I warned her that it may break and she would lose it, but I didn't stop her because I remembered that feeling, that moment. And like me, she smiled, closed her eyes, and leaned a bit towards the window to let the wind hit her face.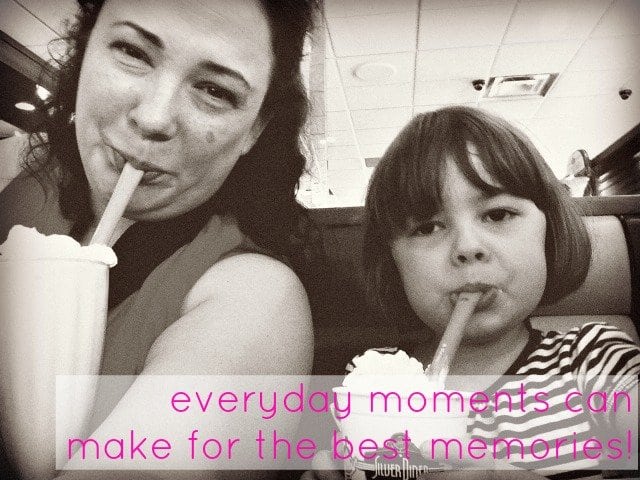 We can spend so much money and exert so much effort for perfect parties and exciting vacations, but often the moments treasured most didn't cost a dime. This summer, the age of my first childhood memories, is a summer where we're hoping to create lifelong memories for Emerson. She's starting public school in the fall, and this may be the last summer where we won't have to compete with camps, sports, and new BFFs. We're doing a lot of activities that Karl and I remember from our childhoods, family moments we treasure: camping in the backyard, practicing swimming at the local pool, helping to make potato salad and shape hamburgers, building forts and playhouses outside, collecting wildflowers for the dinner table. We lead busy lives, but have pared down our schedules to focus on family time these last few weeks before Emerson heads off to kindergarten. 
For me, family isn't just Karl and Emerson, but my sister, my mom and her boyfriend, and the dear friends we are blessed to have. Though blood may be thicker than water, some of the strongest bonds and deepest connections are those we are not related to, but have become family.
Summer is almost over; it's time to celebrate the everyday, for that is where the true lifelong memories happen. Your family doesn't care how much money you spend, but how many quality moments you share. They say you should stop to smell the roses, how about this summer you do that with those who love you most? I promise, it will be worth your while!
There's no better vehicle to bring the family together than the Chevy Traverse. With seating for up to 81., everyone in the family can join in on the fun. A 5-Star Overall Vehicle Score for safety2. helps keep everyone safe on your journey to find new roads, no matter where, or how far, it takes you. And best-in-class maximum cargo space makes packing for family road trips, or hauling around children's sporting equipment, a breeze. With all these great features and more, there's no question the Chevy Traverse is the ultimate family vehicle. Learn more at http://www.chevrolet.com/traverse-mid-size-suv.html.
Standard on LS and 1LT.  Available on 2LT. LTZ seats 7.
Government 5-Star Safety Ratings are part of the U.S. Department of Transportation's New Car Assessment Program (www.SaferCar.gov).