This article may contain affiliate links; if you click on a shopping link and make a purchase I may receive a commission. As an Amazon Associate, I earn from qualifying purchases.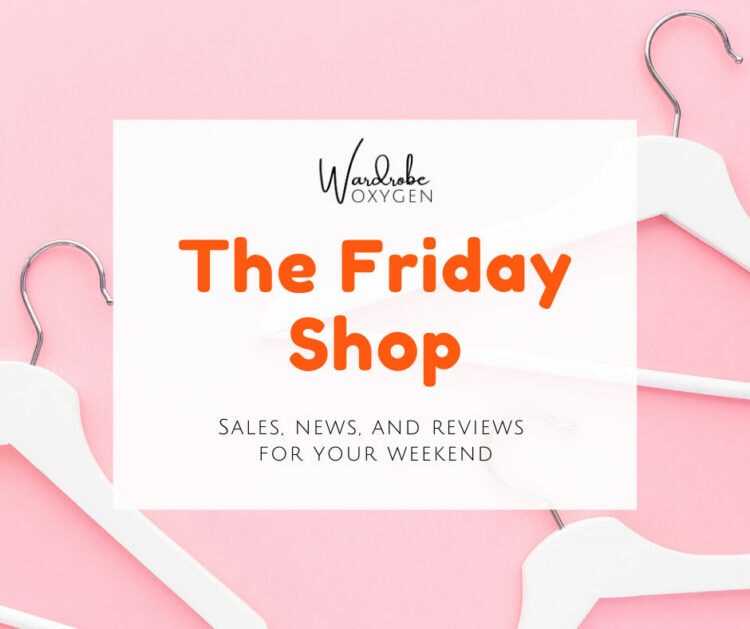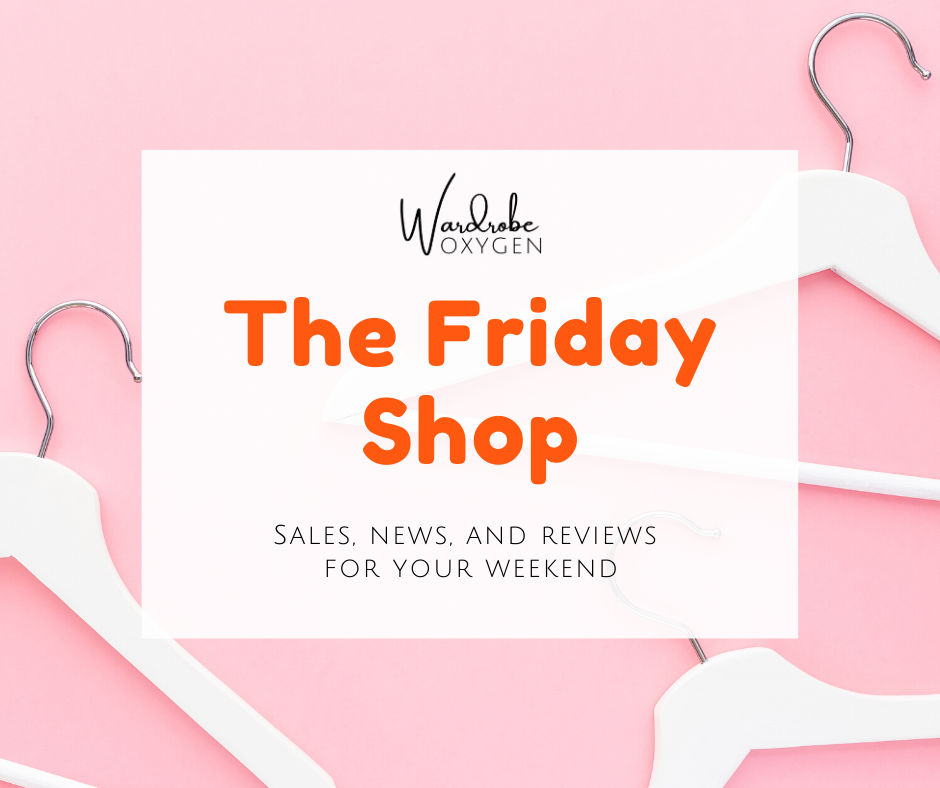 Sale Alert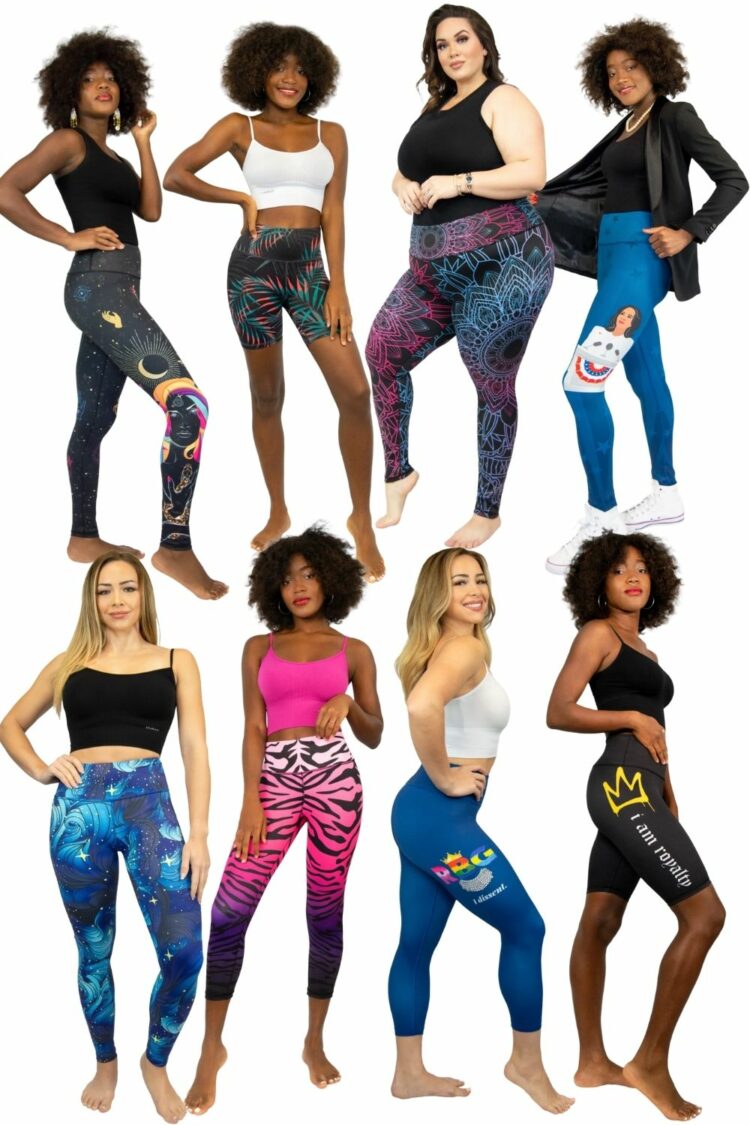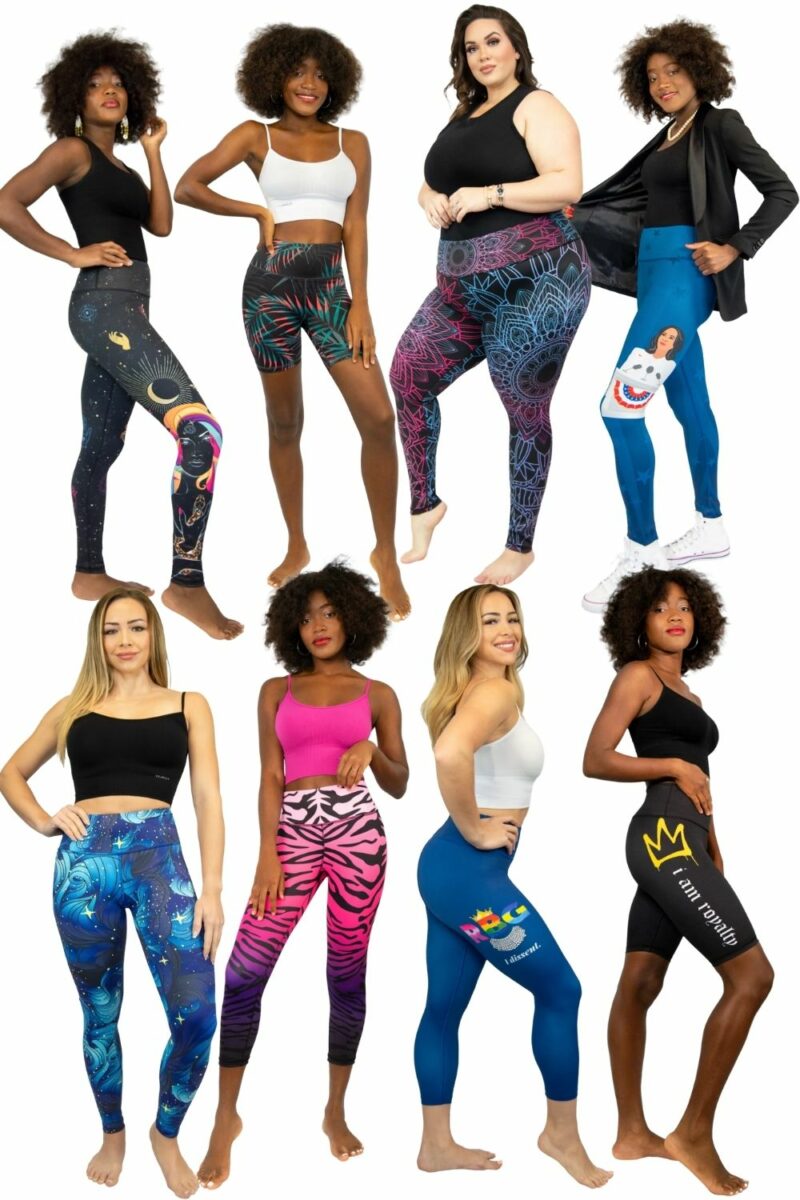 Thank to you readers, I learned about Miami Fitwear leggings and shorts and I am in love. The fabric is so cool – it's soft and stretchy and comfy but doesn't stretch out and washes really well. I wear a size large and they don't ride down, don't give me muffin top, and the 7/8 length is a perfect full legging on my 5'3″ self. They are my favorite leggings now for riding the Peloton.
Did I mention the badass prints? Soooo good (though they also offer solids). They also go up to 4XL and have men's and kids options. I know they're not cheap, but this is a small woman of color-owned business in Texas and the quality is excellent (I have a pair of several-month old shorts that still look and fit like new). But also, Miami Fitwear has given Wardrobe Oxygen readers 15% off one purchase with promo code WARDROBEOXYGEN15. Yesssss thank you Raquel and your fab team!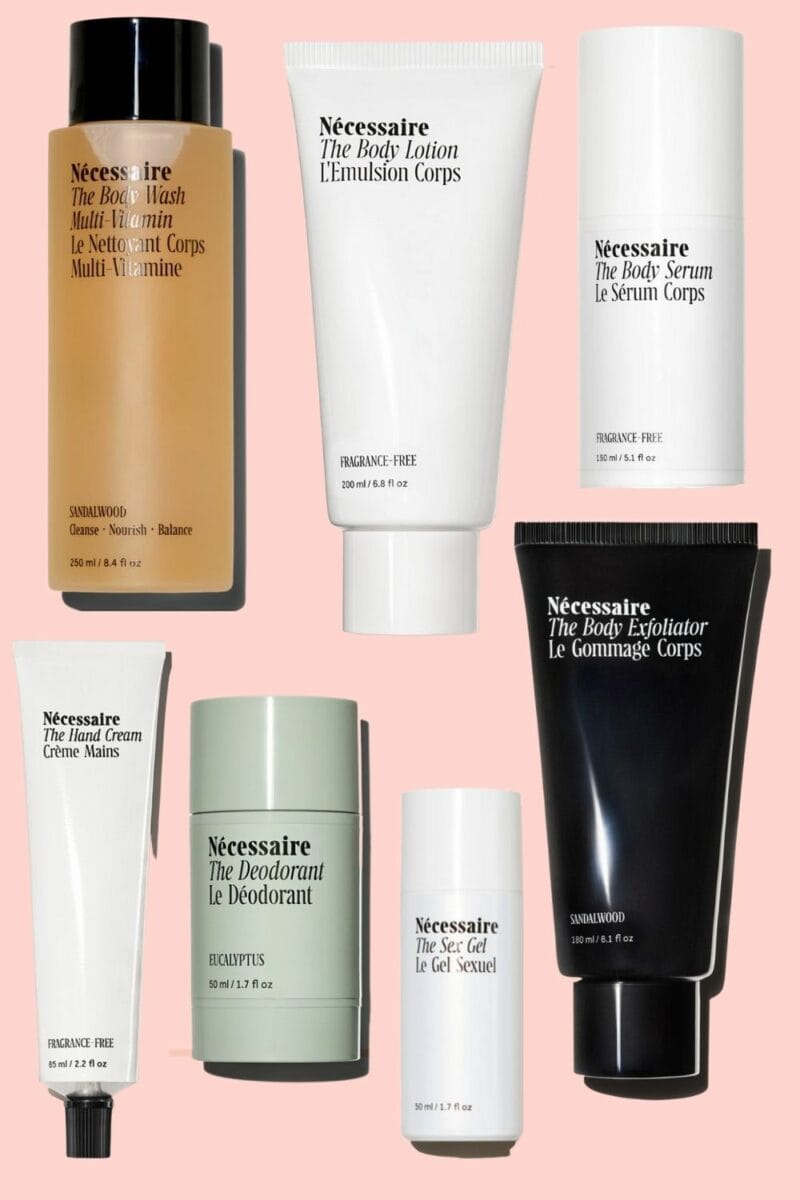 Nécessaire is offering Wardrobe Oxygen readers 10% off their orders through Sunday with promo code WARDROBE_OXYGEN. I am a fan of this high-quality sustainable body care brand. I use their body wash, body lotion, body serum, hand cream, and my husband loves their deodorant.
Nécessaire uses skincare-quality ingredients for its body care, and has plenty of sustainable measures in place. They use 85% post-consumer waste boxes and 100% recyclable paper for shipments. Nécessaire only works with FSC-certified vendors and no virgin forest materials are ever used.
I think their Body Treatment Set is a great way to experience what I find to be the most unique and transformative products from Nécessaire. This set is a $70 value for $55 (and then 10% off with WARDROBE10) and these are products where a little goes a very long way (one container lasts me for months). The kit has:
The Body Serum – a Hyaluronic Acid treatment – hydrates, replenishes, and plumps the deeper layer of skin.
The Body Lotion – a multi-vitamin treatment – moisturizes, nourishes, and strengthens the outer layer of skin.
I know some mix these two products together; what I do is use the Serum on my super dry places – elbows, knees, that sort of thing. I also use it on my shoulders and upper arms so they stay looking glowy and supple for when temps rise and they're exposed. I then use the Body Lotion over all of me. Sometimes I just use the Serum and then top it with Neutrogena Body Oil, sometimes I go all out and battle winter skin with all three and sit in my robe and let it all soak in for a body equivalent to a deep conditioning treatment. Both products from Nécessaire are unfragranced and absorb nicely.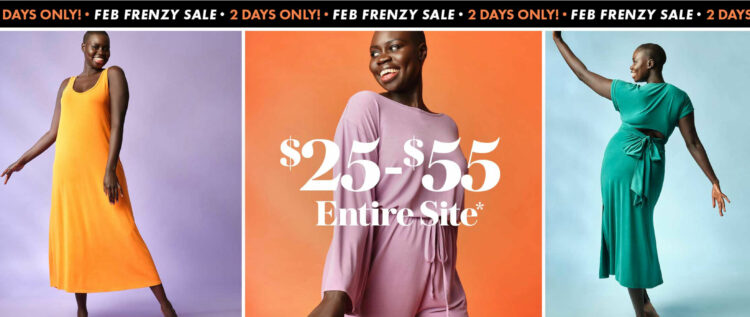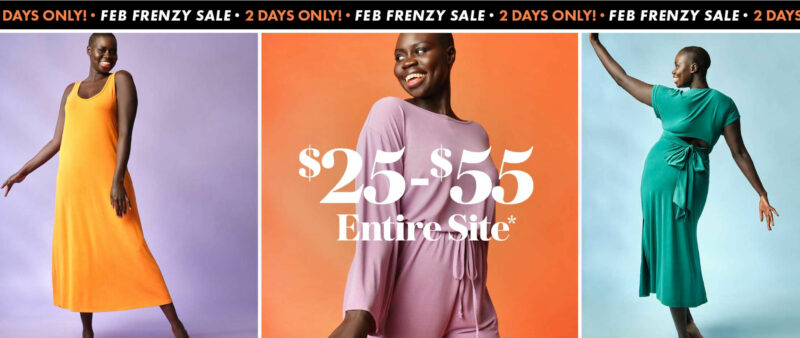 ELOQUII has a sale that started yesterday and ends today and if you haven't checked it out yet you MUST. The entire site is $25-$55! Use code SHOPNEW at checkout; the ELOQUII website explains this "Feb Frenzy" sale in more detail!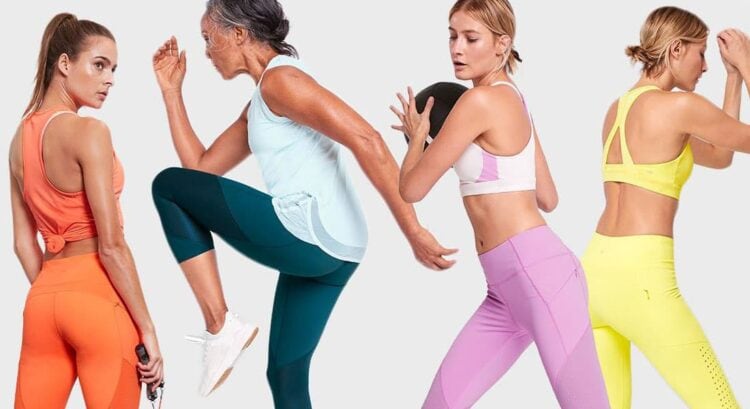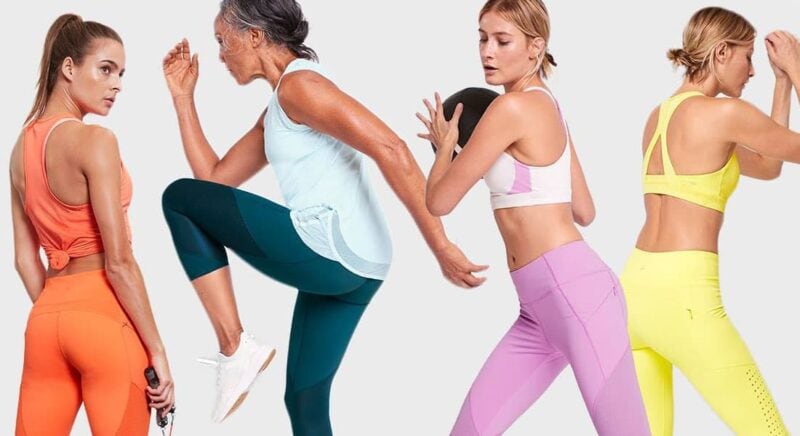 Athleta has up to 60% off sale and the selection is pretty great. There is a good range of sizes and you can find items for all seasons and activities, not just old winter stuff they want to get rid of.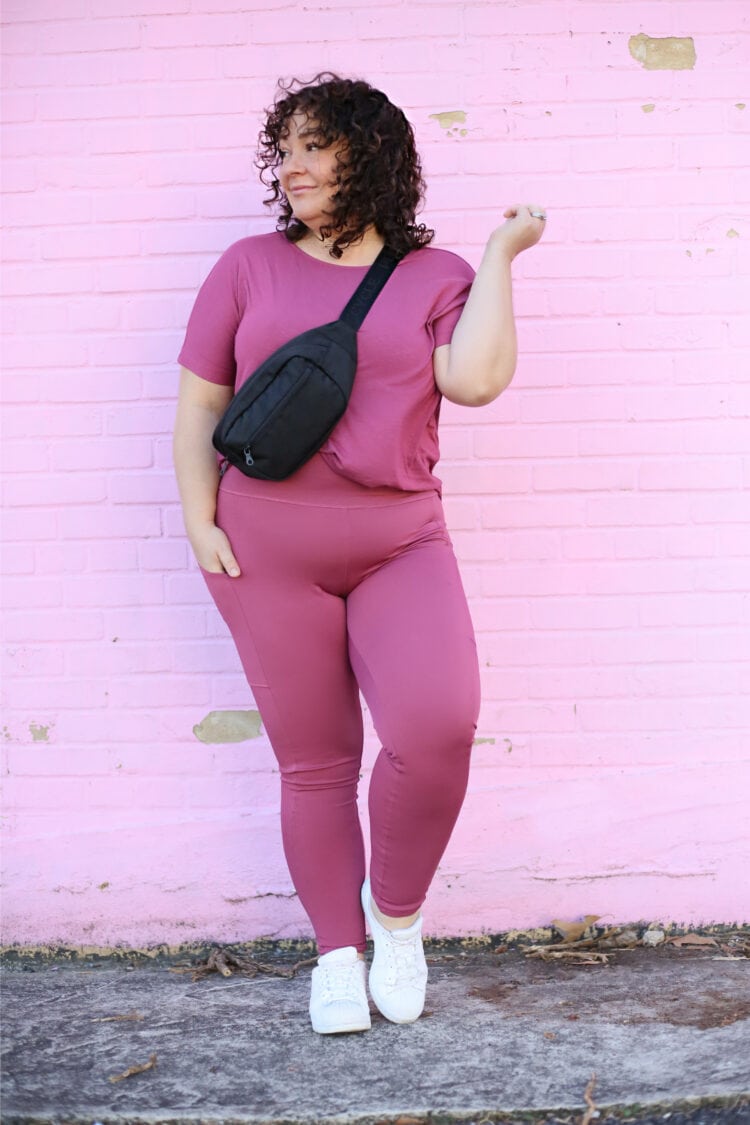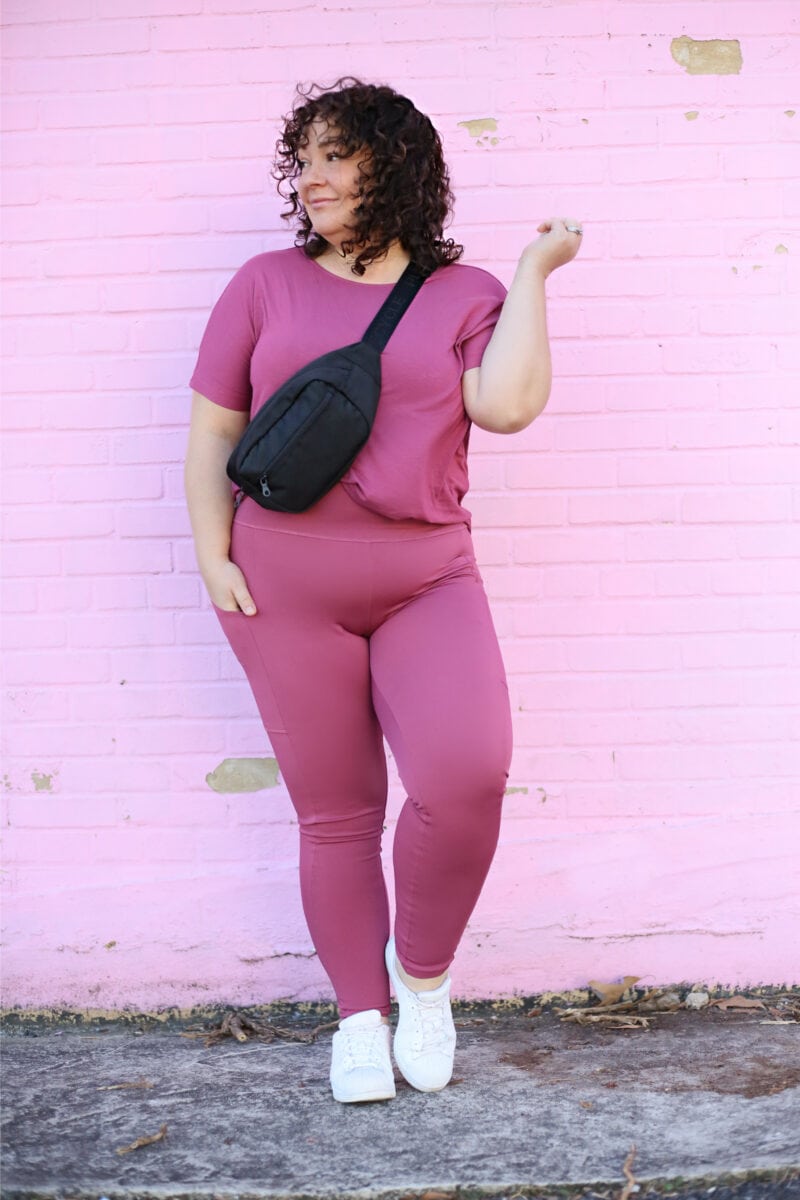 Through the end of the month, Soma has 30% off purchases of $150 and more, and for those orders under $150, you'll get 15% off. I think by now you know I am a Soma fan. My favorites:
What I Bought and What I Thought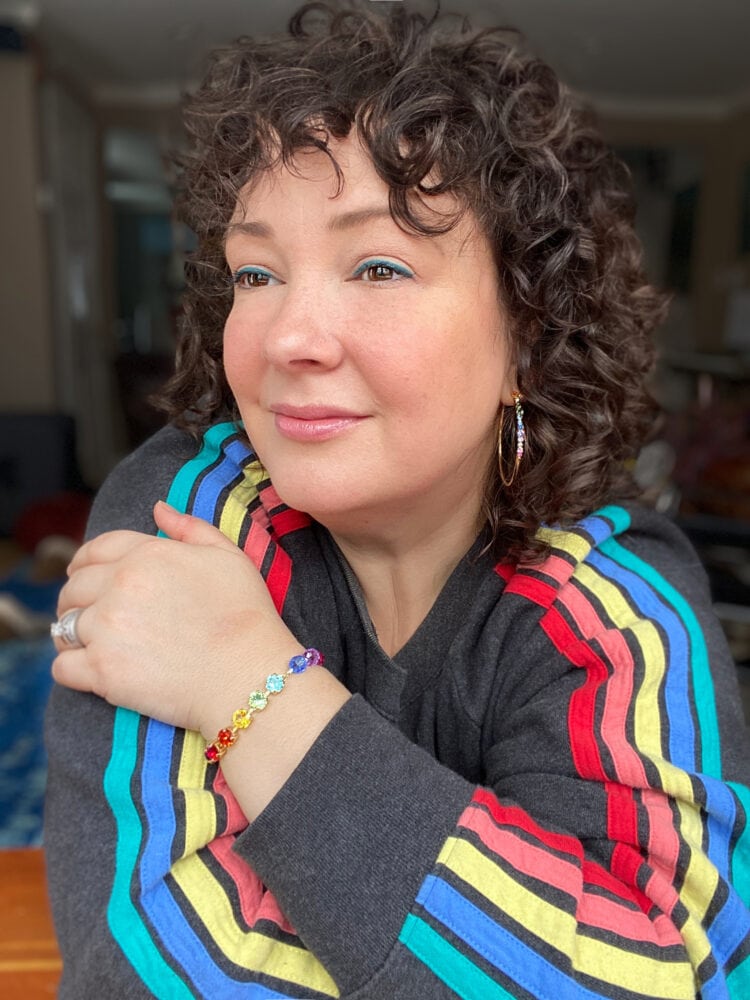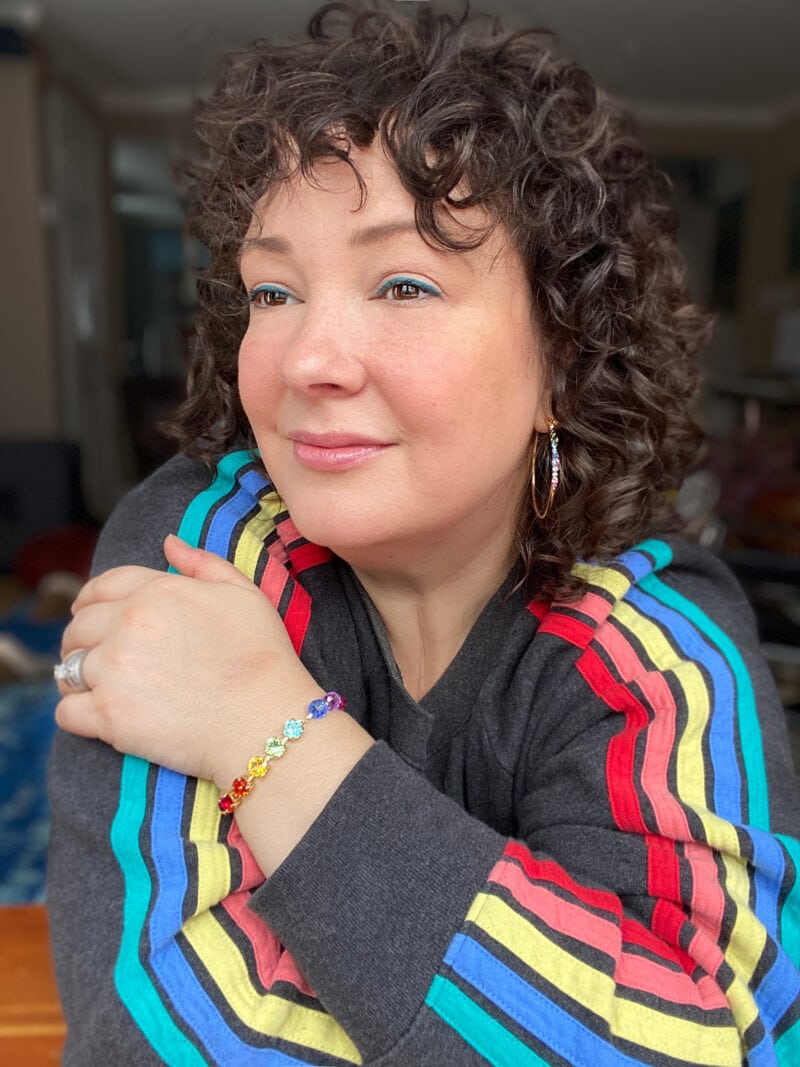 I shared a photo on Instagram last week showcasing this sweatshirt, bracelet, and earrings. The sweatshirt is old and from Gap. I really wish Gap would bring this back, in their full size range, but this time gender neutral fit and with pockets. I haven't seen a similar sweatsuit in a good range of sizes; this hoodie (there are matching joggers) from TomboyX is the closest concept.
But the jewelry is available; they are from Sorrelli. I am wearing the Hoopla Earrings in Prism and the Cadenza Slider Bracelet in Prism. I wish I knew about these when I wrote my post about where to shop for rainbow fashion as they would have been perfect in the collages! The quality is really excellent; this isn't fast fashion plastic gems jewelry. And I like how the bracelet is a slider so it fits a variety of wrists (my daughter steals mine all the time).
As an ambassador Chico's, I am able to pick a few things each month from the retailer to style for Instagram. A few things you will see on Instagram, and some you may not, and my thoughts: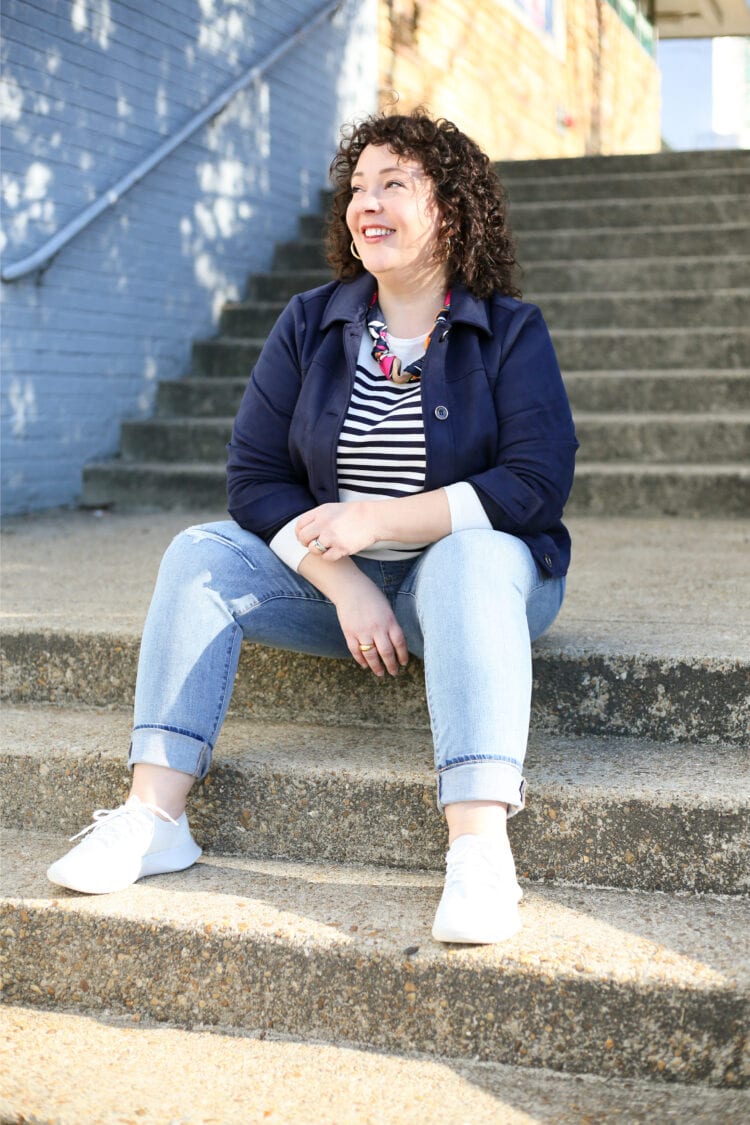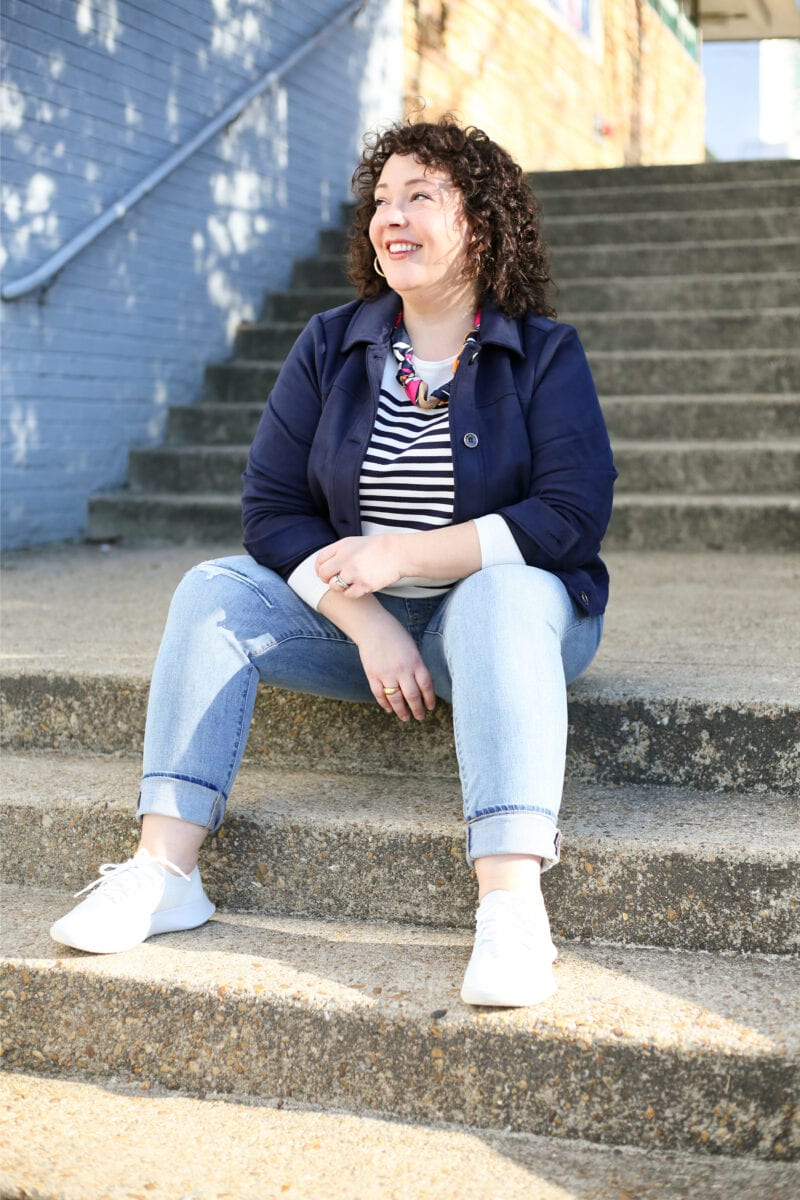 This photo is on my Instagram. This is the kind of photo I don't usually share because let's be honest, you can't see any of the clothes. But I shared it because while I didn't feel cute in this look, I think the clothes are actually quite lovely.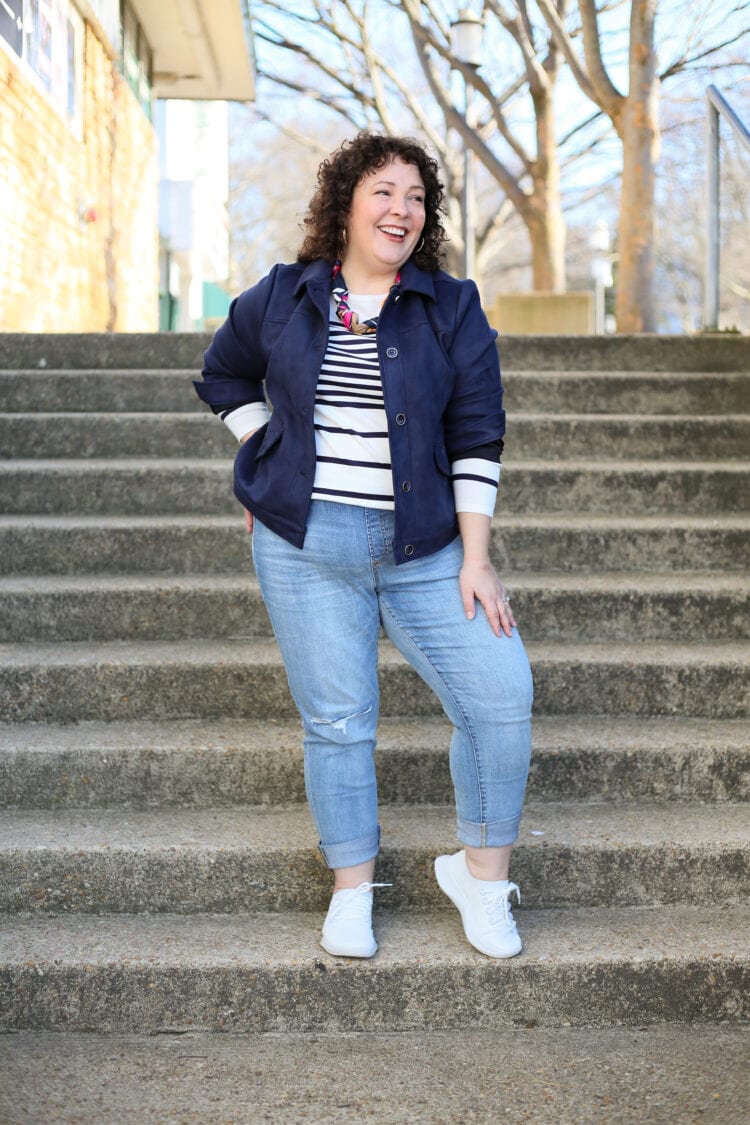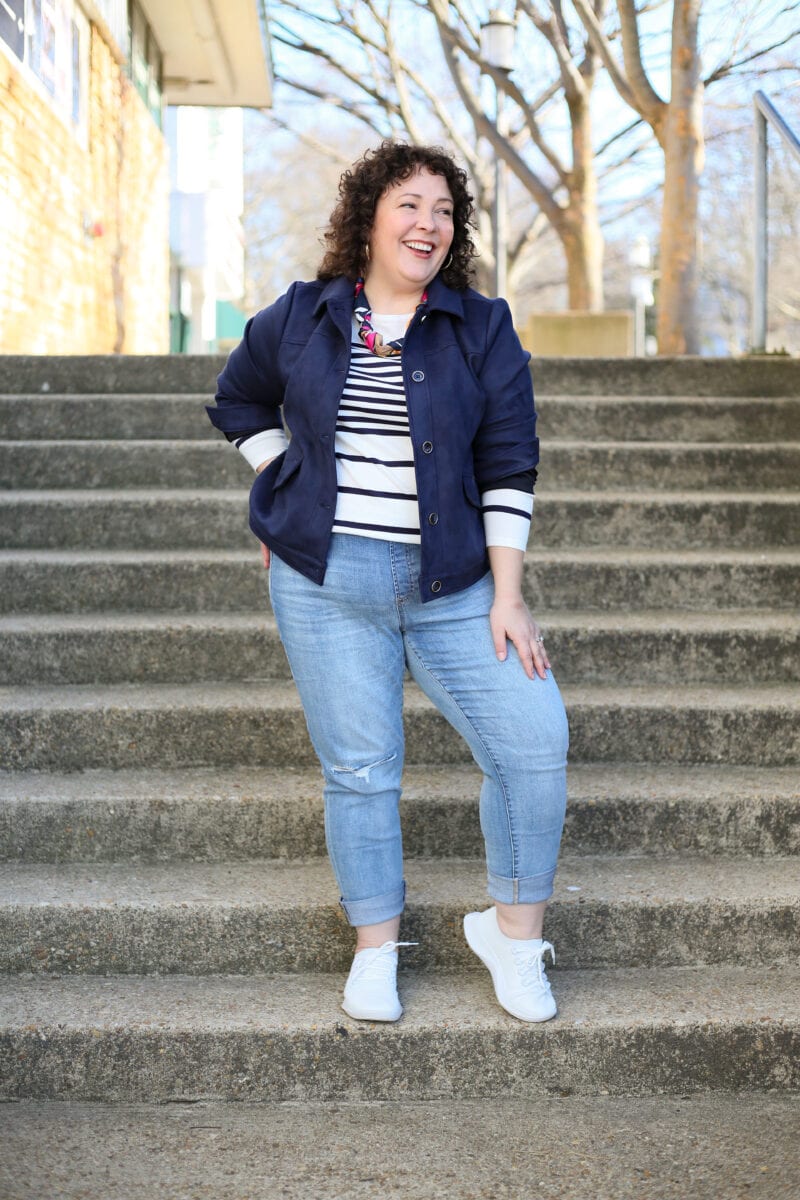 See? I am way cuter sitting on the stairs than posing on them. Use this as a reminder when you see super cute stuff online. How are they posed? What props are they using? A great pose can hide a lot. And while none of these pieces suck (see below for full details), they weren't doing it for me on me.
I'm wearing this jacket in 2 petite, this sweater in 2, these jeans in 2, this scarf, and the shoes are from Allbirds (you asked, an Allbirds review is coming next week).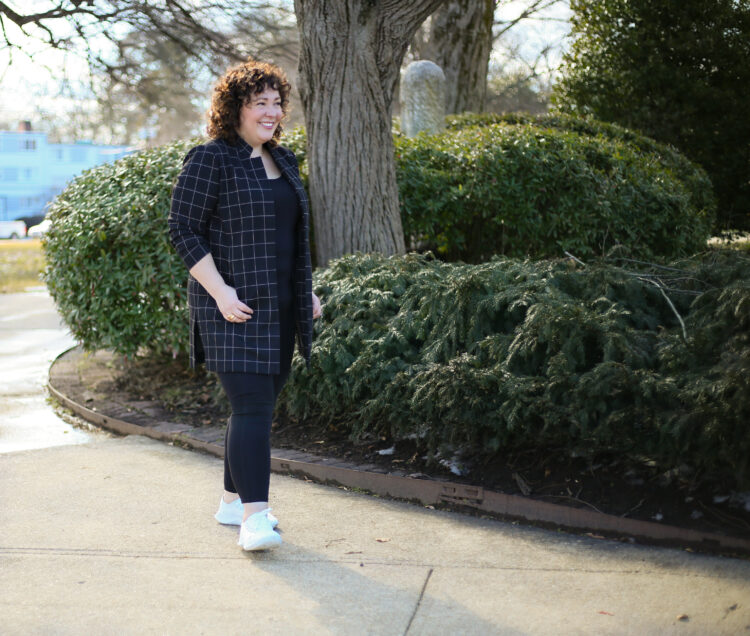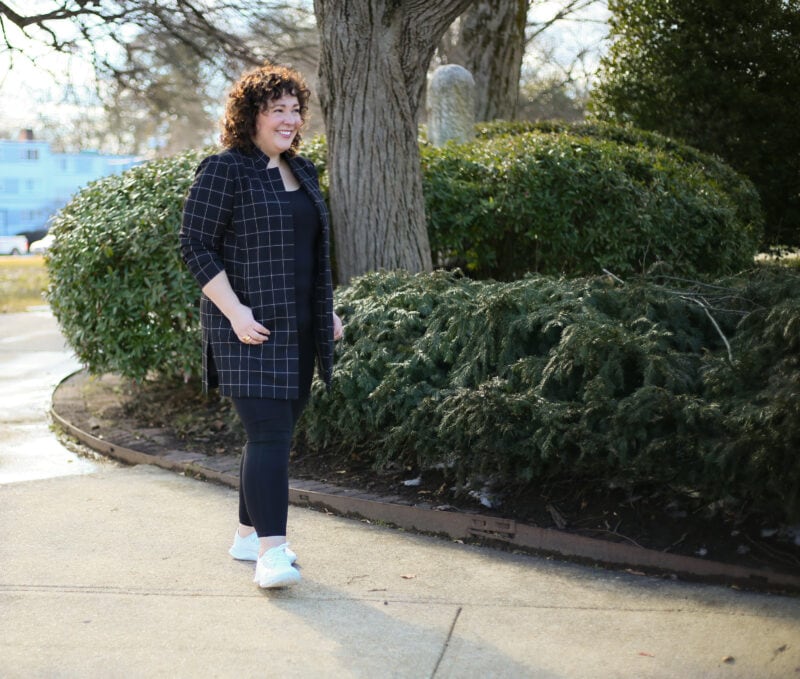 I style two looks from Chico's New Arrivals each month and promote one on social. The other I can promote if I wish. I didn't promote the second because it didn't end up the way I envisioned. A little blogging behind the scenes…
So Chico's also wanted to promote their black and white collection. I don't know if other bloggers and influencers do this, but when I make picks from brands I have a concept in my head of what the story is, and I want that story to fit with my personal style but also with your needs for your wardrobe. I chose this boyfriend blazer, liking that it was ponte and washable and had pockets. I envisioned styling it with leggings and a refined tee to show you don't have to resort to sweats for comfy athleisure.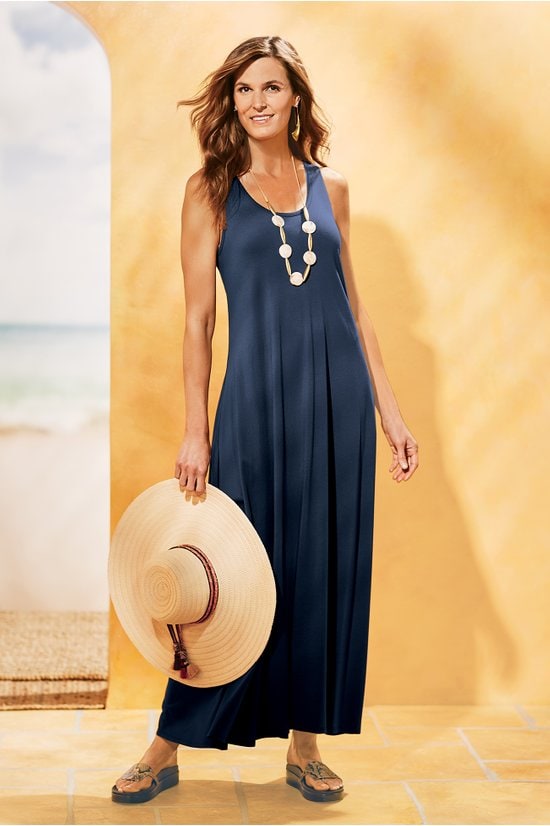 And finally, Soft Surroundings reached out inviting me to try them. I ordered a dress, mask, and earrings and they asked if I'd like to also get their Santiago Dress in any color or length I desired. I got it in navy, size Large Petite. They hoped I'd style it.
While this dress is a super versatile piece that could use any of the suggestions I've done before on how to style a navy maxi dress or how to style a maxi dress seven ways, I love it for another reason. It's a great lounge dress.
Sure, I know the nap dress is a hot trend right now, but this grown-ass woman with large grown-ass boobs has no desire to wear a smocked bodice and Holly Hobbie shoulder ruffles. And did you know most of those nap dresses are sans pockets? THIS, my friends, is my kind of nap dress.
It has pockets.
It has a tank style top, so it will cover my bra straps if I choose to wear one, or will stay in place and not showcase all my cleavage if I choose to go without. And if I choose a bra, it has those little loops to keep my bra straps from peeking out.
The fabric is soft, but not spongey so it doesn't cling or hang weird. It's thin, but not at all transparent, has nice drape, and is easy care (machine wash, tumble dry).
The large petite hits just above the tops of my feet, giving me plenty of coverage but I won't trip going up the stairs.
It is sort of a swing style, so it's not too voluminous in the torso, but there's enough fabric in the skirt to move, to curl up on the couch comfortably, and yes, to even nap.
You can wear it now with shearling slippers and a long cardigan or come warmer months with Birkenstocks.
You can wear it outside the house; I think it would be cute with a denim jacket and maybe belted.
This dress comes in six colors, petite, tall, and plus sizes up to 3X. And Soft Surroundings seems to have shut down all their affiliate programs so I won't make a dime from sharing this rave. I'm just a fan.