This article may contain affiliate links; if you click on a shopping link and make a purchase I may receive a commission. As an Amazon Associate, I earn from qualifying purchases. 
As a large busted woman, I understand the difficulty in finding bras that lift, fit, flatter and properly support. I know many of you readers have the same issues and many have contacted me recently regarding bras. Here are some of the questions I have received and my answers; please offer your own suggestions in the Comments – we women should share the great brands and stores that we have experienced!
I need a good sports bra! I have a large chest and can't find a bra that will adequately support high impact activity (running, aerobics, doing jumping' jacks or jump rope). I have one sports bra now, but it still gives "the girls" too much bounce. Other bras I have are sized medium and they only work because I compress my boobs like an Ace bandage and it is quite uncomfortable. I want to run again but can't do it with my current bra situation. I'd love to hear your suggestions to save me from wasting my money on several bras that won't work!
I have always had success finding great bras at Title Nine. This company is completely geared towards female athletes and they have one of the most extensive selections of sports bras. They separate their bras by barbells – those with three or more barbells offer the most support and compression and are geared toward high-impact activities and large breasts. The product descriptions are wonderful – not canned text from the company but true opinions on how the bras work, what shapes and activities they are best for, and what they do for your figure. On top of that, Title Nine has an amazing return policy so you don't end spending your money on that which doesn't work.
X-chrom is a company that specializes in sports bras, plus size bras, surgical bras, and activewear and do a great job in offering details, reviews and organization by construction, activity, and even for surgical procedure. The company also does online custom bra fittings. The owner works hard to offer a ton of selection, information and support for female athletes. I love this quote I got from the X-chrom site: "This is a very personal garment. We aren't all 34Bs. We don't all love underwires. Some of us insist on no-bounce control; some of us do not care." Isn't that true! Right now X-chrom is offering free shipping on all purchases so be sure to check them out!
I am a plus-sized (16-18) girl who is 27 weeks pregnant. Can you tell me about nursing bras and tanks? Which have worked best for you?
I was utterly stunned by the lack of supportive nursing bras and tanks for plus size and large-busted women. It doesn't make much sense since postpartum women have larger breasts than usual and they are quite sensitive. On top of that, the entire body is still larger (nope, that body does not bounce back right after the baby is born!). Nothing makes a body look better than a properly supported bustline and when you are feeling less than beautiful in the postpartum days, having a physical lift can really provide a mental lift too!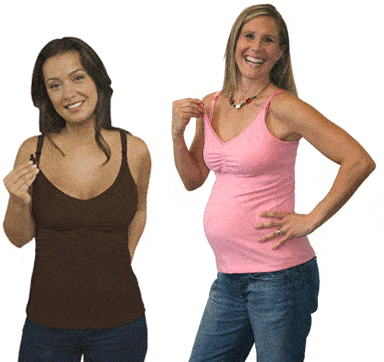 Most nursing tanks are similar in structure to classic bra tanks and camisoles – a basic knit shelf bra, just now with a couple clasps and cut-outs. For women who are C cups and larger, these usually do not provide enough support, shape or coverage. Also most companies do not offer nursing tanks in plus sizes. I did find great success with Bravado nursing tanks. They offer extended sizes and the torso is long enough and comfortable enough for curves as well as postpartum bellies. I chose to order a cup size larger that what I actually wear to ensure I had plenty of coverage. This tank is not as supportive as a classic bra, but it does a pretty great job for hanging around the house, sleeping and wearing under cardigans and button-down shirts. I found a great selection of sizes and colors as Nest Mom, Diapers.com always has coupons in the free baby magazines and they do fast free shipping, and you can often find great prices and color selection (and Free Super Saver Shipping) at Amazon.
For nursing bras, Anita, Anita, Anita! Anita is a brand of nursing bras that I have found beat all the rest in regard to support, comfort, durability and appeal. Most nursing bras look like a combo between your cheapo padded training bra from middle school and a sports bra. Hideous and cheap. Anita bras… well they look like regular bras. They also do a wonderful job of making large breasts look beautiful while still making it easy to unhook with one hand and discreetly nurse. I found mine at Nordstrom, and found this the easy route because I knew I could send The Husband to the mall with any that didn't fit correctly. However if you know your size, you can find them cheaper at places like Fresh Pair and Mom's Milk Boutique.
I never found a sleep bra that worked for my figure; I chose to get a classic Bravado cotton nursing bra and use that. Nest Mom will tie dye Bravado bras for you – this effect made me look even more like a field hockey player, but it was far more fun to look at than pale pink or dingy white. I also would wear a Bravado nursing tank to sleep. After a few months, your child and you will have gotten the hang of nursing and you will be able to quickly feed your little one even when wearing a traditional tank or camisole.
If you plan on nursing, be prepared with some nursing pads. I started with disposables, but switched to washable to save money and reduce waste. I tried many popular brands (Lansinoh, Medela), but found the best absorbency, comfort and the ones that disappeared under my clothing the best were by an Etsy shop called ArtsyFartsyFooFoo. I ordered two pairs in nude, one pair in black so they totally became invisible under my bras. These could hold hours worth of leaks and only got softer and more absorbent with each washing.
However I highly recommend to NOT stock up until after you have given birth. Web sites will tell you to order a cup or two larger, but you really can't predict the shape and needs of your breasts until a week or so postpartum. I spent my first week in one Bravado classic nursing tank and a bunch of old knit dresses from the summer that had surplice necklines.
I have large breasts – where can one find sexy bras that support and don't cost an arm and a leg?
I am one who feels that bras are worth the money. Your bustline completely affects how your clothing lies, how your figure is shaped, how old/young you look. If you properly care for your lingerie, they will give you months and months of happiness.
That being said, time and again I return to Frederick's of Hollywood. They have a decent selection of Full Figure bras and most are under $30. Their Smooth Sensation bra is one I have worn for over a decade (and I just purchased one in my current size to wear with a bridesmaid dress for an upcoming wedding). Shaped to work well with low-cut tops, in a bevy of pretty colors and plenty of lift and support (I remove the extra cookies to have the support without extra padding). These bras usually only last a couple months before falling apart, but every time I wear them I feel like a pin up queen!
We are similar sizes; what is your favorite tee shirt bra?
The Chantelle "Senso" Underwire bra
. It is molded (usually what I HATE), It is very stiff in the band when you first wear it (not too comfy), but within two wearings, it is the BEST bra and gives me fantastic shape. On top of that, the straps are adjustable so you can have them cross in the back or just be connected closer together if you are wearing racer back or cutout styles. No crazy stitching, no lace, no bows, no flowers, completely invisible under the thinnest white tee shirt. I am wearing one today, and I have been replacing my one tattered nude colored one every six months (about the life on these if you wear them several times a week and launder by hand).