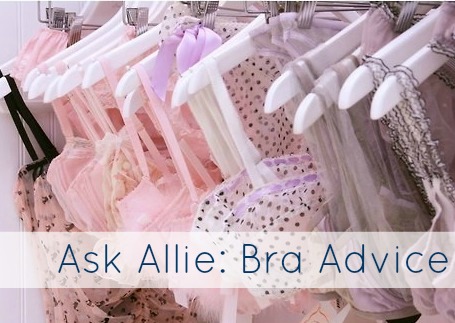 The bras that I recently purchased came with care instructions, stating that I should hand wash them in a delicate detergent specially formulated for bras and fine lingerie. Any thoughts on what I should use? Also, it states that I should avoid wearing a bra more than twice between washings, and to not wear a bra for two consecutive days. How true do you find these statements to be?

What detergent do you use to wash delicates and bras? I hear Woolite is the worst, but then I hear Woolite is the best.
I wash my bras in a lingerie bag on the gentle cycle of my machine, cold water, and hang to dry. Hook all hooks to prevent any snagging, and make sure the washer isn't overloaded.
For detergent, I use Biokleen, which is what I use for all laundry, be it Emerson's pajamas, my husband's workout gear, or my lingerie. Gentle, versatile, reasonably priced, and good for the planet. Woolite has petroleum-based ingredients which can eventually break down synthetic fibers; you're better off using something like baby shampoo than Woolite. You can get a bottle of baby shampoo at the dollar store and use to wash lingerie, any hand washables (I use to wash my pashminas) and even your makeup brushes.
As for how often you wear bras, giving them a day of rest keeps the elastic in good shape. Overwearing a bra can make it lose its shape, have straps stretch out too soon, and break down the fibers.
How many bras does a woman need? How many different types of bras do you have and do you think you are missing any styles for a versatile collection?
I have molded tee-shirt bras that I wear almost every day – two in beige, one in black. I also have the same bras but not molded – one beige, one black and these are for weekends. I have a beige strapless bra that has hooks to connect clear or beige straps (good for one-shoulder or racerback tops). I have three "fun" bras that are also molded cup, but are in pretty colors and have thinner and prettier straps – these I wear when I want to feel sexy, or when I am wearing a thin-strap top in the summertime. Finally I own one sports bra. I don't feel as though I need any bras, in fact the non-molded ones hardly ever get any wear (they were bought on accident anyway – I knew the online price was too good to be true!).
How often do you wear a bra before you wash it? When is it time to get rid of a bra?
I do lingerie wash each weekend, and there's at least one bra in there. I guess I wear a bra for a week (2-4 wears) before being laundered.
As for when it's time to retire a bra, you can tell even though you don't want to. The cups aren't shaped the same, the straps keeps falling down and you need to tighten them, you're on the tightest hook but still feel as though you need more support. I don't find that bras really do their job after a year of regular wear. This summer I replaced my bras purchased last summer and put the new next to the old and could truly tell the difference – the old bra had a thinner band, longer straps, the cups had become more… horizontal in shape, the inside of the cups had pilled fabric. A new bra will change your posture, your figure, will make you look thinner, taller, and have your clothes fit better. If you're questioning it, I bet it's time for a replacement. While you're there, get yourself fitted again, women's shapes change regularly and you may need a different size to better accommodate your current figure.
The closest bra boutique is three hours from me, what do you do when you live somewhere where your only bra store choices are Victoria's Secret and Walmart? I'm a big girl, and I know Victoria's Secret won't carry my size.
A coworker told me about True&Co, which is a site that will virtually fit you for a bra, you pick out a few styles you think you would like and their bra fitting experts will choose some and send you a box. You then have a week to try the bras, send back what you don't like and keep what you do. It's like Warby Parker for underpinnings and it perfect for those of you who live far away from high-end department stores and lingerie boutiques. In fact, I have yet to try True&Co and would love to hear from those of you who have tried this company!
Follow Me | Twitter | Facebook