This article may contain affiliate links; if you click on a shopping link and make a purchase I may receive a commission. As an Amazon Associate, I earn from qualifying purchases. 
I am totally against the belief that you can only have the figure of a supermodel to carry off white jeans and trousers. In my opinion, I find them to be quite flattering on muscular and curvy frames – it shows that you accept your body and dress for yourself and not to hide from the world. Come summer, white trousers, capris and jeans are a fabulous wardrobe staple as that they are dressier than classic blue denim, crisp looking and a perfect compliment to black, brights or even neutrals.
The problem comes to finding white pants that flatter ones frame. Reader Claire from Ohio asked me this question as that this is just after Memorial Day, seems like a perfect time to answer it!
Though you may be able to carry off snug-fitting black or denim pants, white is not as flattering in a slim silhouette. Also, white is prone to being transparent so not only your panty lines but your belly button, rear end and even the tiniest speck of cellulite can be on display in the wrong fabric or cut of white bottoms.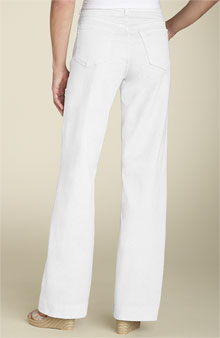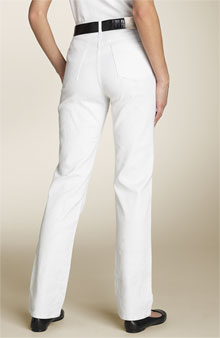 White Jeans: White jeans should never be tight, unless you are Kate Moss. Though you may prefer a slim or tailored bootcut style for your daily blues, a wider or trouser-inspired silhouette may prove to be more flattering and versatile when in the shade of white.
A classic cut (no crazy pockets, flared or stovepipe legs, really low rise) can double as trousers for evening get-togethers and nights out on the town, and can also pair with your favorite tee or tank and sandals for a trip to the mall. Keep the silhouette classic and you will get far more wear.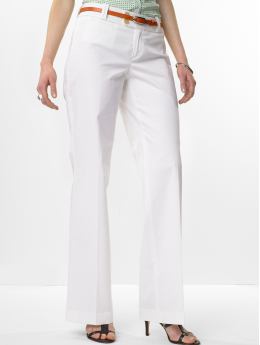 White Trousers: Again, the look is not slim, but a straight or slightly wide leg look that glides over the frame. Crisp fabrics like twill, canvas and poplin give a elegant look, while linen and gauzy fabrics are an elegant compliment to beaded tunics and longer tanks. White is almost always transparent, so a thicker fabric or a lining will help smooth out your figure and keep your lingerie hidden. Crisper fabrics look great with a crease ironed down the front – it elongates the leg and often makes pants look more expensive and elegant.
Fabrics like linen, gauze and lightweight cotton are meant to be rumpled, so they look best paired with similar fabrics on top (silk, linen, cotton, gauze, even crocheted and lacy materials). Sturdier fabrics work with most everything from a tailored shirt to a casual knit. If the heavy fabric has a touch of lycra they will be more likely to repel creases, wrinkles and end-of-day bagging at the rear. Keep details to a minimum – a white pant is a great base garment and if they are free from adornment they become more versatile.
When purchasing white pants, give them the workout before leaving the fitting room. Sit in them, and see if and how they crease at the crotch when you return to standing. Bend over and check out the back view. Stand in front of light and see how they treat your legs. See the side view – white pants, especially ones with natural or higher rises can often accentuate a tummy or saddle bags. Don't buy them unless they get your seal of approval.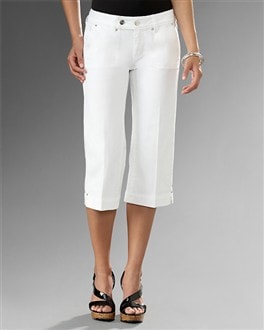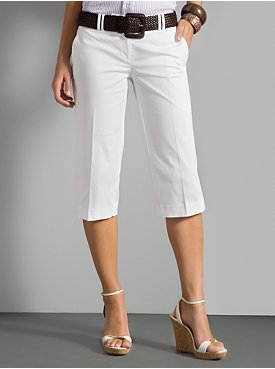 White Shorts/Capris: White is a great choice for shorter pants – they look clean, crisp and are far more flattering (and less likely to make you look half-naked a few blocks away) than beige. Cropped pants and shorts in white must be of a heavier, crisp fabric so that they don't end up looking like the bottom half of your pajamas or your husband's underwear. Catalogs may show lovely ladies in flowing linen and gauzy shorts and capris, but on the regular woman who is walking around town, lifting herself in and out of a car and * gasp * sweating, lightweight short pants will not look lovely after leaving the bedroom.
Twill, cotton, denim are all good choices. The silhouette should skim the hips and rear, and then be straight down. Tight white shorts are not flattering on many, short white capris look as though they are part of a costume from the Broadway production of Grease!, and a-line or wide-leg short pants are not flattering on any feminine figure.
I used to be anti-shorts, but over the years, great silhouettes have emerged making this style of garment actually flattering. City shorts, walking shorts and Bermudas can be lovely on many figures. These are shorts that are not tight, not overly wide, crisp and hit somewhere just above to just below the knee. Having a crease down the front is always a nice touch which adds formality to such a casual garment.
Cropped pants should not be longer than where your calf begins. Those cropped pants that show just a hair of your ankle only make you look shorter and wider; any pant that hits at the widest part of your calf will give the illusion that your entire leg is of that size. A crisp, straight pant that hits at the top of the calf, or even a cuffed denim pair with a cuff is a great go-to with bright knits and tanks for weekends, and look lovely with a wedge heeled sandal and floaty chiffon top and long necklace for a Casual Friday at work.