This article may contain affiliate links; if you click on a shopping link and make a purchase I may receive a commission. As an Amazon Associate, I earn from qualifying purchases. 
Hi Allie, I hope you can help. Where I live, there's [well-known chain retailer that have plus sized clothing] but that's it for plus size fashion other than Walmart and none of these stores have clothes I really like. I know you do a lot of shopping online, where do you suggest for plus size fashion where I can return by mail but also know what I get won't be junk or ugly. Help! I really want to create my personal style and not be stuck with what is available.
I don't know why retailers feel that women over a size 12 only want to wear polyester cabbage roses and bedazzled tunic sweaters. I understand that plus size fashion needs to be cut differently to flatter the figure, but why does that mean over the top embellishments, cheap fabrication, and dated silhouettes? Luckily some retailers realize this and offer fantastic fashion in extended sizes, and many of them have stellar online shops! Here's some of my favorites: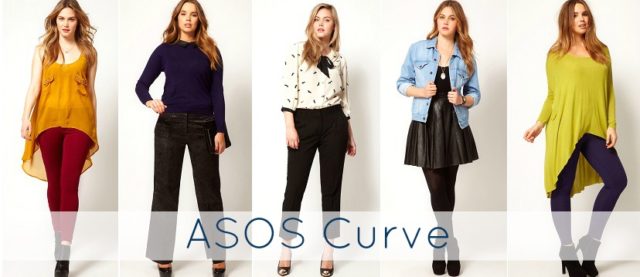 Available in US sizes 10 – 22, ASOS Curve focuses on current trends cut specifically for plus size women. Not only that, they have free shipping and returns! Here you can find hot styles like peplums, leather, brocade, and faux fur and from my experience, the quality is equal or better than similarly-priced retailers (H&M, Urban Outfitters, Zara, Express). I love that their looks are flattering – not a muumuu or polyester cabbage rose in sight. ASOS Curve is a great resource for party dresses as they are youthful and on-trend while being reasonably priced.
Simply Be doesn't have free shipping, but they do have a flat rate and provide SmartLabels for quick returns. But Simply Be is another great resource for on-trend plus size fashion. From faux leather pleated skirts and silver cropped pants to blazers; work attire, club attire, and dresses by Simply Be, you can find a varied collection of wardrobe staples and trendy closet additions.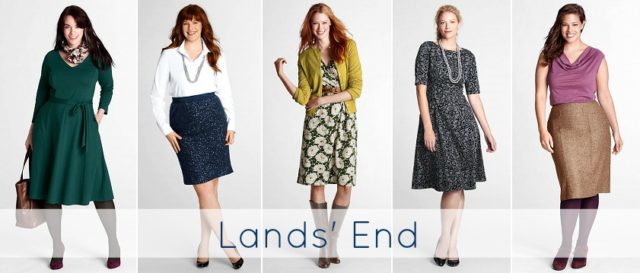 This is not your mother's Lands' End – the retailer has stepped up their game by offering on-trend fabrics and styles and even brought Curvy Girl Guide founder and blogger Brittany Gibbons on board as an advisor.  While they have the wardrobe staples of turtlenecks and knit pants, Lands' End also has some pretty fantastic dresses and career wear. Their quality can't be beat, their customer service is phenomenal, and while returns aren't free, they can be taken back to Sears.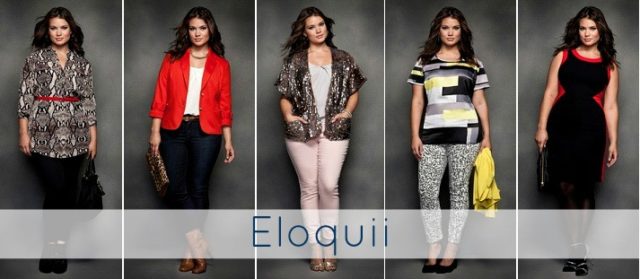 Eloquii is the new kid on the block, the plus size line from The Limited.  It had mixed reviews from plus size bloggers at first, but they seem to be gaining steam with more consistent sizing and quality and I know some friends who have purchased from them and are mega fans.  Eloquii also provides SmartLabels for easy returns, though returns do need to be completed within 30 days.  For those who have an Eloquii store near them, they do accept online returns at retail locations.
If you read this blog, you KNOW I love Nordstrom. Free shipping, free returns, fabulous selection of brands, amazing sales and customer service. On top of all that, Nordstrom has a pretty great selection of plus size designers and styles! Vince Camuto, DKNYC, MICHAEL Michael Kors, Calvin Klein and more are available, and they also have extensive customer reviews to help ensure you find a piece that will fit your figure and lifestyle nicely.

I can't rave enough about Gwynnie Bee – a program that is like Netflix for plus size fashion. For a reasonable monthly fee, you can borrow plus size clothing with free shipping and free returns. Keep a piece as long as you like, return one and get another back lickedy split. Gwynnie Bee's selection is quite varied and continues to improve as the business grows; you can find everything from work dresses and blazers to leather jackets and sequined pencil skirts at Gwynnie Bee. I love that you can test-drive a trend – try a one-shoulder blouse or wrap dress and if you don't like it, return it for something else! Right now Gwynnie Bee is offering one free month to Wardrobe Oxygen readers – click here to sign up (be sure to mention Wardrobe Oxygen), and click here to learn more about Gwynnie Bee.
Follow Me | Twitter | Facebook