Hi Alison-

I decided to (return) to Weight Watchers. While you are doing fabulously on it (YAY YOU!!!), I am not…(BOO ME!!!). I think I am following the plan but nothing is happening. Would you consider sharing some of your habits-maybe even a couple of menu samples-like what you eat in a couple of days? It would be a huge help to me…and probably others.

Warm regards,

Keri
Hi Keri:
I loved your email because I have totally been there. Not sure if I have mentioned this before, but this is my fourth time doing Weight Watchers. Once in high school, once right after college, once about a decade ago and then now. Being with Weight Watchers so often and for so long has taught me some major tips for more success:
1. Drink Water. I know Diet Coke and coffee are 0 PointsPlus but they do affect how your body removes weight on the plan. While I too consume diet sodas, tea, and water, I try to limit it to one (max two on bad days) cups a day, and take a day off once a week where I drink just plain water.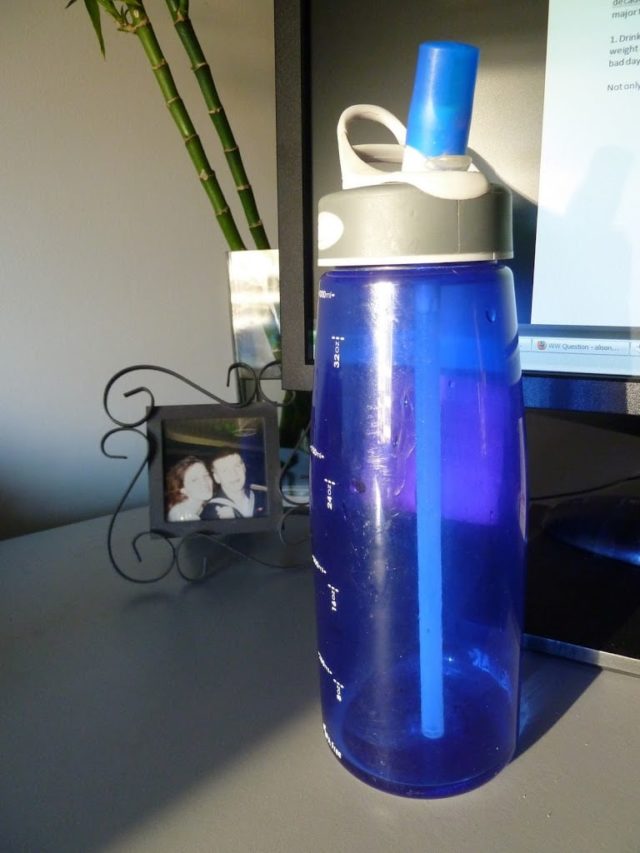 Not only do I drink water, but I drink a LOT of it. Above is a picture of my work water bottle, recently emptied by moi. It holds 32 ounces and I won't go home until I have filled and consumed this twice. I find the bite valve on Camelbak bottles helps me drink faster, and benefits the klutz in me from destroying a stack of important work papers. I have another two of these bottles at home, I fill another and consume it during dinner, and fill it again to be beside my bed and I consume half before I go to bed, half once I wake.
I remember Oprah once complaining about having to pee so much when drinking the recommended amount of water, and it's true… for the first week or so. Then the body seems to get used to it and you don't have to go to the bathroom quite as often. But drinking this much water and mainly water helps me remove – the weeks where I slack on drinking are the weeks I don't lose.
2. Track EVERYTHING. I don't use the paper trackers, I use eTools. I leave a tab with it open all day at work, and I track everything from the spoonful of my daughter's macaroni and cheese to the Hershey's Kiss I pilfered from my boss' candy bowl. If in doubt, I average up with PointsPlus. On weekends, I will note what I ate in my little purse notebook and once at a computer, will log into eTools and jot it down.
3. Don't Use Your Weekly/Activity Points. I learned this from a Lifetimer at my meeting – she said the weeks where she used those points she wouldn't lose or even gain. While some weeks I go over my daily allotment (hello date nights and holidays!), usually I pretend that all I have are my daily PointsPlus. If I exercise, that's just icing on the cake, not an excuse to indulge. If I plan in advance, I will exercise to justify going over, but never use the weekly points allotment.
4. Eat a PointsPlus Breakfast. When I start my day with a banana and a cup of coffee, I am pilfering my boss' candy dish by 10am. If I eat a smart, slow-burning breakfast I am sated until lunch and have fewer cravings come that time. My two go-to breakfasts are a low-carb tortilla wrap of Egg Beaters, a shmear of Laughing Cow and some fresh spinach, or else a serving of instant oatmeal with a tablespoon of cheese (or a Laughing Cow wedge) and a side of some fruit.
5. Have Meal Staples. I can easily go an entire week having oatmeal for breakfast, Subway 6" turkey with mustard and a bag of Light Lays for lunch, a small can of pineapple for snack, and then whatever my husband made for dinner. It's not exciting, but I know the PointsPlus in my head, the food tastes good and I am satisfied. When I try to get too creative and I am stressed and short on time I end up eating crap.
6. Get the Family on Board. It's hard to stick to the plan when your husband wants ribs, your kids want chicken fingers, your besties want an order of mozzarella sticks with their margaritas and your coworkers decide to go to lunch at McDonald's. Let people know you're on Weight Watchers, and say if they love you, they will support you.
My Weight Watchers leader regularly says there is no reason why they whole family can't be on the plan, even if they aren't dieting and it's so true. If you love yourself enough to choose healthy food, why are you killing your loved ones with crap?
7. Get Sleep. When you don't get enough sleep you are more likely to binge, your body doesn't metabolize things properly, and you get wicked cravings. Do as I say, not as I do because lately I have NOT been getting enough sleep and I can tell not just by yawning and having haggard skin, but having more trouble with dropping weight.
***
As for what I eat, as I mentioned I have two stock breakfasts. I usually drink my coffee on my commute, which I "decorate" with a tablespoon of real cream and one Splenda, though I am slowly weaning myself to black coffee.
The people at Subway near my office know me very well. At Subway I eat the bread I like (they are all pretty much the same PointsPlus value), I get turkey because it's so low in PointsPlus and I enjoy it, I get mustard, vinegar and almost every single vegetable available. Sometimes I will indulge in a small bit of light mayo, or even will get cheese, but I have learned to adore the sandwich as-is. I also get the Lays Light chips, which is 2 PointsPlus and I usually stick a couple inside the sandwich. When I bring my lunch, it is either leftovers, or else a Lean Cuisine. I usually have a few frozen meals stuck in the work fridge in case I get stuck at work, forget my leftovers, etc.
For dinner, my husband usually is in charge. Once a week we get Chinese, and I get hot and sour soup and steamed rice. My husband finds it disgusting, but I don't eat the fried noodles, but instead stick the rice in the soup and eat it like a sloppy entrée. My husband and I will share a serving of steamed vegetarian dumplings. This is 14 PointsPlus if I eat it all, but I usually have half the soup mixture left over for lunch the next day. On other days, it's a real variety, but we eat a LOT of vegetables. The other night, my husband made Shredded Buffalo Crockpot Chicken , which I ate on a bed of shredded iceberg lettuce, with a side of baby carrots, celery sticks, and pepper slices, and I put 2 tablespoons of fat-free ranch dressing on top. My husband ate his on top of rice with a beer and far more dressing, but we were able to eat together and chat about how delicious the chicken turned out and mine was only 13 PointsPlus.
We use the crock pot a lot, and don't usually eat Weight Watchers recipes, but instead look for low PointsPlus value normal recipes (or lower PointsPlus versions). Lots of seafood, since we love it and it is usually lower PointsPlus value. The fridge always has apples, baby carrots, some sort of leafy green, and crunchy veggies like celery and peppers. I also do a lot with dips – salsa with a bit of fat free sour cream with crudités, ranch dressing on salads or over chicken, we always have several types of vinegars in stock, as well as a variety of hot and Asian sauces. And again the water – making myself consume 22-32 ounces while eating dinner forces me to slow down and I often end up not eating the whole serving on my plate.
I do feel goofy giving advice since I have been so slow with weight removal, and I don't always follow that which I preach. However when I do everything that is posted above, I do lose, and lose consistently. I hope you find this helpful, and best wished on your journey!
Follow Me | Twitter | Facebook