It's hard to look your best when the elements are battling against you. Summer is here, whether or not the calendar admits it. Tomorrow in the Nation's Capital it is supposed to be more than 90 degrees out, and the humidity just adds to the hot mess.
Hot or cold, arid or humid, we can look our best. Here's a few tidbits to beat the heat and still be calm, cool and collected:

Change your hair, not your life
Nothing is more awful than lots of hair products on a hot sweaty day. The loveliest of coifs become a gummy mess with just a bit of sunshine, and the feeling is heavy and yucky on your scalp and neck. It's really hard to fight nature, especially this time of year so consider altering your look for the summer months.
My hair is neither curly nor wavy – it requires hot tools to get it one way or another. In the winter, I can have a great straight shaggy cut or a head of ringlets with no problem. When it's hot out, it's near impossible to maintain either look. The warmer months encourage everyone to be more relaxed, let your hair relax as well. If your hair naturally wants to part in the middle, let your layers grow and let it part where it desires. Intricate bangs can look awful once damp with sweat, so consider growing them out a bit so they can either tuck behind one ear or get off the brow with a little barrette or a headband. As for the products, try to use as little as possible – people expect flyaways and frizz in the heat – make them work for you by creating a more "beachy" 'do. My shoulder-length hair is not as hip or polished as I usually like, but I am accepting nature and letting my hair part where it desires, having casual waves accentuated by a bit of styling lotion, and letting the bangs grow so they are shaggy and easily blended with the rest of the head if they get too crazy.
Consider accessories if your hair is beyond control. This season headbands are huge – you can find tons of styles in a multitude of materials; there's going to be one that fits your personal style and hair. Ponytails can look polished if done correctly; use a comb to ensure the scalp is smooth, and choose simple hair-colored elastics (or wrap the elastic with a bit of your hair) to make it less childish. Barrettes can be kiddie, or they can be chic. As with elastics, consider subtle types to hold back bangs, assist in perfecting the ponytail and adding interest to weather-limp locks.

Modify your makeup routine
Primer, concealer, foundation, powder, blush, highlighter, shadow, mascara, liner, lipstick, gloss… just writing them all down make me weary. Once you hit the blast of heat outside your home, your face will be tired too. Sweat makes most makeup slip and slide and the feeling of makeup on your skin is just as awful come summer as the feeling of styling products on your scalp.
To have great coverage and long-wearing color, consider mineral-based foundations. Bare Escentuals is a well-known line that is practically budge-proof even in the most humid conditions, and still looks and feels natural. There are a multitude of colors to match most skintones, and often the coverage of the foundation is enough that a separate concealer or primer is unnecessary. A great mineral foundation should be able to replace three products in your regular arsenal.
For those who have fresh skin, consider switching to tinted moisturizer or just spot-treatment with concealer to let your skin breathe. This gives a naturally dewy finish that is summer-appropriate.
Dress up in dresses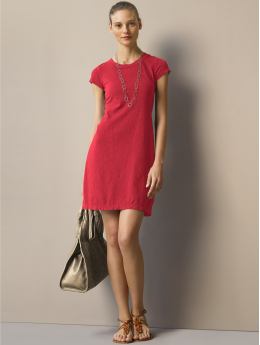 Nothing is simpler in the summer than to throw on a dress. We are lucky this season because there seems to be a million styles that are popular and flattering to women's bodies.
The tee-shirt dress has returned and I couldn't be happier. With heeled sandals and a necklace, it is Business Casual; paired with flip flops it looks right at a cookout or the beach. I have seen great versions at Nordstrom, Lands End and Banana Republic. Since these garments cover your whole body, I recommend babying them more than your favorite tee shirt so they maintain their shape – gentle cycle and line drying should do the trick and consider Woolite Dark or a similar product to keep your black knits dark all summer long.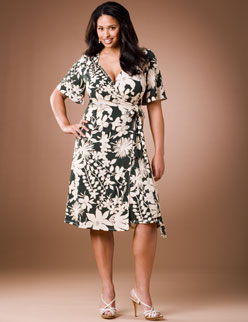 The wrap dress is still going strong. For summer I have seen them with spaghetti straps, sleeveless, puff sleeves and all sorts of lengths down the arm. Matte jersey is a year-round choice because it dresses up and down, doesn't wrinkle and doesn't cling like knits when it's muggy. Jersey is comfy, and crisp cotton or linen are always classic.
The shift is back en vogue, and it's a cute style on many figures. An interesting neckline is a must if you are top-heavy so it doesn't look like a potato sack, and go a bit shorter than usual so the volume doesn't take over your shape. Stiffer fabrics like linen, canvas, cotton and silk blends will be more breezy in the heat and are more in line with the current fashion.
Less isn't always more
With the temperature rising, it is tempting to strip down to the bare minimum to beat the heat. I encourage you not to. In regard to practicality, less fabric is not always cooler. Lightweight fabrics like linen and cotton can add a protective barrier and help keep the skin cool when the rays are on you (think of the clothing worn by those in the Middle east and parts of Africa – they (men and women) are usually wearing garments covering the majority of their body. In regard to looks, no matter how beautiful your body may be, it won't look chic if it's scantily clad.
Spaghetti straps are only appropriate for the beach, the cookout or a formal affair. In silk, it's lovely for a wedding. In jersey, it's great with a cargo skirt for a party on the back deck. It is never good for work or any other similar setting. A sleeveless shell will keep you just as cool without exposing your entire top-half.
This also goes for strapless, belly-baring tops, short shorts, overly tight pieces, anything that shows more than an eek of cleavage and anything that shows a bra. It doesn't matter if Carrie Underwood is sporting red straps in her music video, baring your undergarments is NEVER chic. If you don't own a bra in your wardrobe that will hide under a top, either buy the right bra or don't buy the top. Panty lines, too-tight garments and visible undergarments are the three things that can take the most stylish and couture item and make it trashy.
Want to feel easy and breezy? Consider flowing pieces. A gauzy kimono-inspired top with capris, a linen shell with matching trousers, a cotton shift in a cheerful color, a sleeveless cotton shirt with crisp twill Bermuda shorts. All of these options can be just as comfortable as a spaghetti-strap tank with a shelf bra and a pair of denim cutoffs.

Accessorize
It's too hot for a cardigan, a blazer or even a belt, how do you jazz up these simple dresses, linen separates and other summer basics?
With the pants and skirts being shorter, your feet are even more on display. Show your personality with your footwear. A brightly colored sandal will match your wardrobe more than you think – nothing like apple green, canary yellow or classic red to jazz up a black dress, basic khaki shorts or white capris. These bright colors also look great with other colors – pink heels with a green sundress, royal blue flats with a teal babydoll top and jeans, red sandals with a black top and white cotton skirt.
As for the top half, nothing jazzes up simple pieces more than necklaces. Summer is a time to try out the bold beads you shy from the other times of the year. A simple ribbed tank and Bermuda shorts look fun and festive with a red beaded long necklace. Dress up a linen shift with a chunky pendant and coordinating bangle bracelet. Try the wood and plastic baubles – they may seem cheap and cheesy in the cooler months, but seem fun and sunny come this time of year.

Accept your body
So you have knock-knees, heavy arms, no bust, big thighs. That doesn't mean you have to live in black muumuus all season long. Covering your arms won't make them disappear, and voluminous long dresses won't make your thighs disappear and no matter what the books tell you, dressing in all black can often make you look just as large, just in black instead of another hue. By overcompensating for your body with your wardrobe, you spend the summer feeling bad about yourself and looking the way you feel. This doesn't mean it's okay to run around town in spandex (see above), but you deserve to feel comfortable and look stylish, no matter what body you live in.
Monochromatic outfits are always chic – a great way to look polished in the summer is to get your tops to match your bottoms. Many stores will sell same-color coordinates in the warmer months because it's such a great look. A navy tank with a navy linen short-sleeved shirt jacket and pants is breezy and still office-appropriate. Dark red silk-knit shell with the same shade of Bermuda shorts is chic. An olive cotton sleeveless shirt with same shade of cuffed capris can be smashing. Khaki is classic when a feminine-cut of tee is matched with the same shade in a cotton skirt. By making the outfit monochromatic, you can often get away with simpler of pieces, and the eye sees the color, not your waistline or your legs.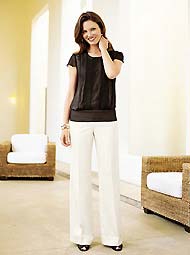 Also don't shy away from white. White can be a very powerful color in the summer. White tops are hard to wear for many skintones, and if a bit too small or sheer, it can make the most expensive top suddenly seem bargain-basement. However a white tank under a jacket or cardigan can add a crispness, and white bottoms (capris, pants, Bermuda shorts and some styles of skirts) take black and brights to a whole new level of chic. Many women feel that white pants will accentuate the negative parts of a lower-half, but if the fabric is sturdy, crisp and the garment's cut is flattering, white can be surprisingly attractive. Keep the white crisp – twill, cotton, denim are all sturdy enough to prevent show-through and won't bag and bunch throughout the day. If the style permits, consider ironing a crease down the front of the legs to elongate the body and add a level of sophistication to the look.
If you love your face, play it up with fun hair, a bright pink lipgloss, a great necklace. If your legs are your best feature, take advantage of summer fashion and wear all the skirts, capris and Bermuda shorts your heart desires and jazz them up with fun shoes. You have womanly curves? Don't fight against them with crisp poplin shorts and shorts. Embrace them with soft knits that float around your frame.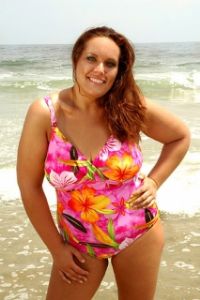 As for swimwear… wear it! I remember one summer a bunch of us girls went to the beach and a friend brought her cousin. This woman was no rail-thin supermodel, but she had a natural and feminine shape. While we all laid out on the beach and frolicked in the surf she sat it out in shorts and a tee shirt, claiming her body was too ugly for swimwear. Do not be imprisoned by your body. Do you stare at people on the beach? You probably give them a glance and then keep going about your business. I know myself that I notice color more than shape. If you hate putting on a swimsuit, then at least make it in your favorite color. A glorious blue or red is perfect for the pool or beach, and you won't look like the unhappy imperfect woman who hates her body, but a fun-loving lady who is enjoying her day. Either way you look at it, you have the same body. Let your body have fun, people will notice your smile much faster than they will your hips.
Do your homework
Obviously you have internet-access if you are reading this. After reading this get on Google (or the wonderful Good Search) and check out shops online. If you are plus-sized, you are not limited to Wal-Mart and Lane Bryant. There are amazing stores and online boutiques that carry tons of great styles and one that will look perfect on you. If you are very petite, do not walk past the Girls and Boys sections. You will be amazed at what simple pieces you can find there that will fit your frame and cost half the price in the women's department.
Low on cash? That doesn't mean you can't afford quality. Quality can be found at Target, and reasonable prices can be found at the ritziest of boutiques. Look at the stitching, try on a garment before you buy it (or do a fashion show in your home in front of your full length mirror), stay away from the extra embellishments, accessories and prints they seem to feel are musts on plus-sized and many lower brands of clothing. Extra frou-frou makes an item look cheap and dated. Take your time, get reviews from your friends who always seem well dressed and don't be afraid to return things that seem wrong once home.
Look around you, people watch. Nothing is better than sitting in a mall or at an outdoor café on a busy thoroughfare and watch what people wear and how it looks on them. You learn a lot about yourself and pre-conceived notions about fashion. Think shorts are great? Really look at people in shorts – walking and sitting and standing. Look at people bigger and smaller than you and you will see that shorts (except well-made Bermudas) rarely look good on people. Notice that a woman with your similar build looks cute in a wrap dress, and a woman with your similar build looks awful in a sleeveless poplin shirt tucked into capris. If someone has a to-die for outfit or item, tell her. It will make her day and provide you with information to make your next purchase. Yesterday I was stopped three times about my dress, and every person was thrilled to find out it was less than $30 and from Old Navy. Don't be afraid to pass out compliments, it may help you hit fashion jackpot!
Dresses by IGIGI and Banana Republic, swimwear by Swimsuits for All, black and white outfit from Talbots.