It's hard to explain to a non-blogger what it is like when you choose blogging as a profession. An outsider doesn't understand why you spend every waking moment with a camera or SmartPhone, and how something as minor as a title of a post can make or break your monthly income. So to read a book where the protagonist is a successful Lifestyle Blogger is quite a treat.
Recently BlogHer gave me the opportunity to check out Mary Kay Andrews' latest book, Ladies' Night. The book is about Grace, a Lifestyle Blogger who is going through a divorce and a major life change. When Grace decided to react to her husband's infidelity by driving his car into their backyard swimming pool, she was forced to attend weekly counseling sessions with fellow women (and one man) going through divorce. The group became friends, and through it had a weekly Ladies' Night, hence the name of the book.
<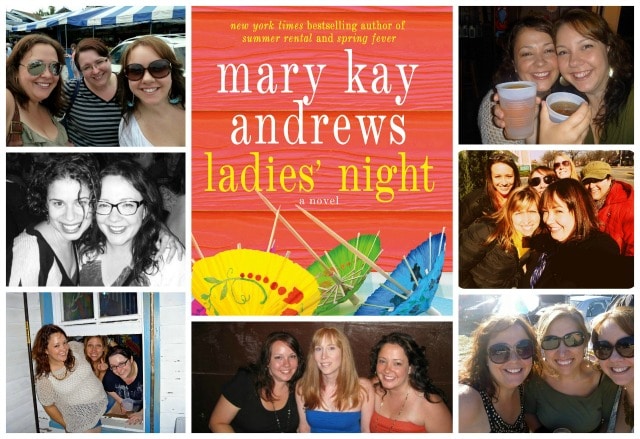 I really enjoyed Ladies' Night – it was an engaging and fun read. I looked forward to reading it each evening after a long day at work and putting Emerson to bed; it was my mini escape. It was fun to find that Andrews didn't just write this book, but has a whole site dedicated to it with reading group discussion questions and recipes for food inspired by or mentioned in the novel. I must say while reading the book I was craving some crab corn bisque and was excited to find the recipe on the site!
Having this book from a blogger's point of view was interesting; you saw into how a blogger makes money and has to do a lot of business deals and networking to stay relevant and profitable. But more than that, the book showed how strangers can quickly become best friends, and the power of a group of girlfriends and the occasional Girls' Night.
Since having Emerson, my Ladies' Nights are less frequent, but more necessary. Having that time with people you love and trust and to be able to have a couple of cocktails, dance, and gab about unimportant topics is so healthy and recharges me for work and family life. Each summer, a few of my girlfriends and I head to the beach for a weekend. We lay out, read trashy magazines, go out to dinner, hit a few bars. We drink, we dance, we laugh, we eat Buffalo wings at 3am. We let go of the drama and stress at home for those couple of days and come back better friends and better people.
Giveaway
This giveaway is now closed and the winner has been notified. Thanks for entering!
Follow Me | Twitter | Facebook | Instagram