This article may contain affiliate links; if you click on a shopping link and make a purchase I may receive a commission. As an Amazon Associate, I earn from qualifying purchases. 
Last fall, I made a similar list and you all were quite helpful with finding some of the pieces. I also found creating such a post useful in that it helped me define my personal style for the upcoming season. To see all my wants together is very telling and helps me know what direction to go in with purchases, what to bring into my closet that season, and what to keep packed away for next year.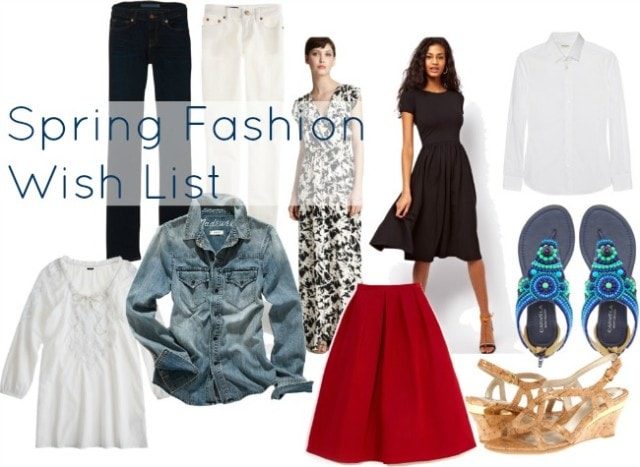 Full Skirt with Pockets. Lightweight cotton, proper waistband, hits just below the knee, full but not too full (like my Talbots skirt). In fact, I thought I found the perfect skirt, from Talbots, via eBay. It was supposedly yellow and the image made it look like a light springy mustard shade that I thought would look fantastic with navy and white striped tees, or a simple white tank and raffia belt. Nope, the color was more like pea soup or baby diaper. Not sure what to do with it, because it is a bit yellow (in that baby diaper sort of way), but not in a way I would want on my body (or anywhere else in my life). I don't think dying it will give a good result, but I'm holding on until I find some creative way to make it fabulous. And until then, I am looking for a full skirt with pockets.

Crisp White Shirt. Wow, this seems to be on my list every season. Last year Foxcroft was kind enough to send me one, but it's a bit too big and looks a bit sloppy when not knotted at the waist. I don't want skin-tight, I just want a feminine fit that still closes properly at the bustline and is not transparent. Oh, and no chest pockets – I have enough going on up there.

Dark Ankle Jeans. I don't want skinny, I don't want bootcut, I want dark, saturated real denim with weight, a classic style, that hits at my ankles so I can wear them with flats. Easier said than done with my wide calves and solid thighs. Think I may need to get a pair tailored to work.

White Ankle Jeans. Same fit and weight as the dark denim, but in pure white with white seams and few details.

Maxi Wrap Dress. I have loved the DVF ones for a long time and recently saw this one on Style Pantry and now I crave one. Either black or green, or some fun print that can dress up and down. Do I need this? No, but this is a FANTASY closet!

Western Shirt. I have a chambray shirt that is well-loved, but would like a shirt that is a bit more fitted, and has snaps and Western seaming and details.
Short-sleeved Ponte Dress. I'd like something sort of like this dress I own, but not as deep of a neckline, a skirt that hits just below the knee, and has pockets. ASOS has a similar concept but no pockets and from ordering this ponte skirt from them I can bet right now that this dress will be too long in length and torso. If ASOS has Petite 10, I'd be all over it. As for color… black of course is great but would also love navy, a shade of green, maybe coral. Something I can dress up for work with a scarf and heeled sandals or wear on a weekend with leather thongs.
Beaded Flat Sandals. Many moons ago, I had the most perfect leather and beaded thong sandals. I got them from Victoria's Secret, but they were from another brand. They fit my wide feet, were comfortable, and looked great peeking out of jeans or with sundresses. I wore them to death… and die they did in a stinky broken threads and missing beads death. A couple weeks ago I went into Ross and found some beaded sandals in an 8W for $12.99; I was wearing boots and socks so I didn't try them on but bought them. They are… fine. They are faux leather and look like it and wrinkle strangely on top and I would just like a new pair like my old pair from ten years ago to pair with beat up jeans and that Western shirt.
Gauzy White Tunic. Feel the vibe going on here for spring? I want a white gauzy shirt with white embroidery on it, three-quarter sleeves that aren't too fitted but aren't batwing. A tad sheer, but not too sheer to wear with a nude tee shirt bra. Something that hits mid-hip, slits on the slides so it doesn't hug the bum. Something to throw on with denim cutoffs or jeans, or even belt and wear with a maxi skirt.  In fact, I owned this very shirt in college and lost it, it was from Contempo Casuals and far cooler than the store name.

Wedge Sandals. I just ordered these from Sofft and they are too metallic. I'd like either a beige/tan color or a muted metallic that can work with dresses as well as jeans. Flats aren't comfortable for me for long periods of time, and a slight wedge makes sandals more appropriate for the office. Nothing too high, straps not too skinny to dig into my toes, no slingback (I don't have enough curve in my ankle to hold up the sling), no ankle strap, no fake laminate on the wedge to pretend it's wood or cork (though real cork would be warmly welcomed), just a simple wedge sandal for spring.
Whether I buy these things is another story. Often when I actually start dressing for the season, I find some of these items not necessary or inappropriate for my life. However this is the direction I am going in for spring – a bit boho, a bit classic, a lot of solids in clear colors mixed with denim and neutrals and the accessories taking center stage.

What are you feeling for spring?
Follow Me on Bloglovin | Twitter | Facebook | Instagram