This article may contain affiliate links; if you click on a shopping link and make a purchase I may receive a commission. As an Amazon Associate, I earn from qualifying purchases.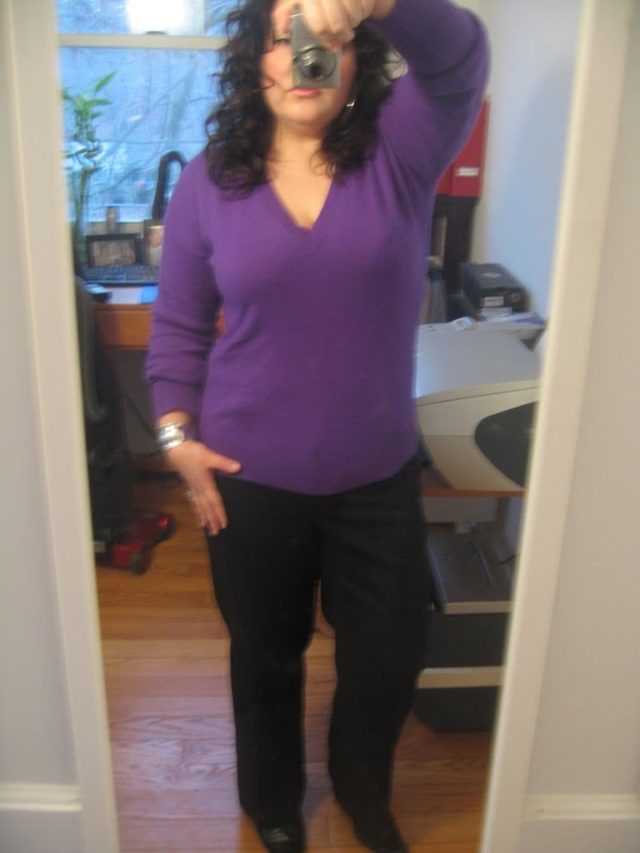 I feel that I may be getting sick. Throat feels weird, head hurts, restless sleep, tummy quivering, body feels a bit achy… it's expected, I get sick at least one major holiday a year. Last year it was the flu at Thanksgiving. I combat it with everything known to man, but I just can't battle the Holiday Cold. Swell.
So I woke up in a sweat and tried to wake myself up enough to get going. My stomach could not handle anything other than tea, so I had that and then a hot shower and a full-body scrub in an attempt to remove the toxins from my bod. Then I got to get dressed in the dark since the husband got home very late last night from a meeting and was crashed out.
Purple Dream v-neck sweater from J. Crew, black wool blend trousers from Ann Taylor Loft, black city boots from Impo, silver hoops and cuff bracelet.
Hair is second day, I hit most of it with a curling iron and turned upside down and used some aerosol hairspray to give it some body. Worked a bit, but by time I got to work it was limp again. If I fluff it, it looks awesome for about 5 minutes. Even my hair is feeling the Holiday Cold.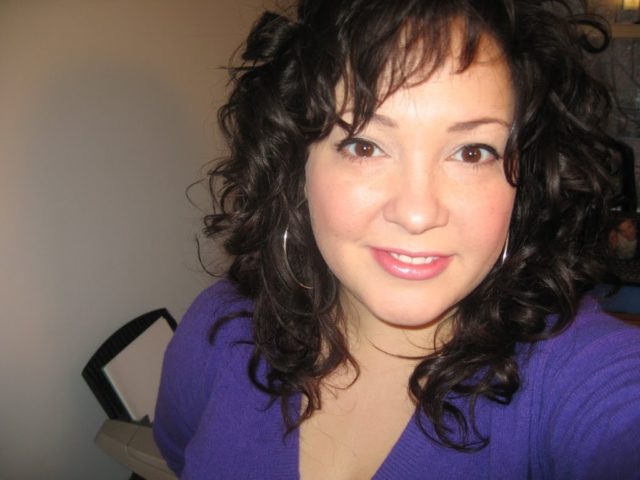 Thank goodness for modern cosmetics. Napoleon Perdis primer, L'Oreal True Match concealer and I put on my philosophy The Supernatural in Beige and then realized I should have probably hit up my cheekbones with some Benefit That Gal. Oh well. Extra dose of Nars blush in Orgasm, Revlon Colorstay shadow quad in Neutral Khakis – ivory in corners and all over lid. Lashes curled, two coats of Cover Girl Lash Blast in black and Maybelline UltraLiner in black on top lash line. On lips is Revlon Super Lustrous Lip Gloss in Shine That Pink.
The commute was awesome – the Metro was at about 70% capacity and I had no trouble finding a seat. The streets still had lots of people, but not the level a normal workday holds. The office is about 75% full. I have a feeling I will be one of the very few here on Monday (one of the problems with starting a new job this time of year – no PTO saved up) but rumor has it that the office closes early.
This evening I am going to Happy Hour with some friends at a bar near my job. This shows how clueless I am with the city (really, I use the Metro website to get anywhere around DC, I am such a suburban girl): My friend suggested this bar for Happy Hour. I asked my sister, the City Chick what the place was, she said it should be pretty fun. I had no clue where it was, but figured it must be within walking distance as that the planner's job is about 8 blocks from my job. Went to the bar's website to see the address.
Um, the bar is literally across the street from my office building. I pass it EVERY DAY and had no clue. I feel like such a suburbanite! That day, I made a concerted effort to know my surroundings better, and not just the walk from the Metro station. I took a long walk – my whole lunch hour and went in the opposite direction of the Metro and got to know my area a bit better. I hit parts of the city I was already familiar with so it made the geography a bit more… clear to me. Found some great restaurants, saw bars and clubs I had visited in the past but always with some Designated Driver who got there while I gabbed in the back seat until we found our meter or parking garage. My goal in the next month is on every decent day possible, use my lunch hour to explore.
As a teen, I spent almost every hour not in school in DC. I loved the National Gallery of Art, and knew all the cool shops and eateries in Georgetown. I used to go regularly to the old 9:30 Club to see barely-known artists perform and once 18, used to go to the College Nights at Trax and The Fifth Column. However, I always went with a more city-familiar friend so I often let them lead the way. When my sister moved to DC, I learned how to Metro and drive to her apartment, and then had her deal with which bus to take, which cab to hail to get to our destination.
It's time for me to stop following the City Leader and become the Leader!
So here's to a new year with a new job, becoming familiar with an old city, possibly a new residence (I will go into details when they are concrete – no worries, same neck of the woods), and a new outlook on life! I will be here through the holidays – working all days except Christmas Day, New Years Eve and Day. For those who are off to visit families and fun destinations, I wish you safe travels and happy holidays! The rest, hope to see you here soon!