It must be the changing of the seasons, for I am getting a ton of questions from you readers. I have written below some of the questions I have received that may be helpful to others. Keep those questions coming!
What bra works best under a sundress?
Well it depends on the cut of the sundress. I personally feel that bra straps – be they clear, bejeweled or the same exact color as your dress should never show. These days it is easy to find various cuts and styles of bras to suit almost every neckline and dress style.
Clear straps are great when a garment is sheer on top – they hide under chiffon or lace, but still provide proper support. Also the clear straps are often rubbery and assist in keeping up dress straps (of course these dress straps fully cover the bra from the get-go, right?). Convertible bras have come a long way in the past decade. Victoria's Secret for example has a version that supposedly can be worn 100 ways, making it work under almost any garment.
Try to find a bra close to your skin tone that is free of lace, embroidery or embellishments so it becomes invisible under lightweight fabrics.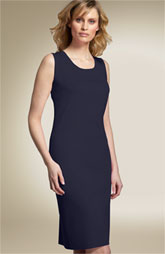 Does every woman need a Little Black Dress (LBD) in her wardrobe?
Not really. Some women look horrific in black and can attend as many events and look just as chic in a dress of dove gray, navy or even teal.
Some women just don't like dresses – as long as you are appropriately dressed in a cocktail pantsuit, elegant blouse and skirt or similar, there's no problem in adjusting this "wardrobe staple." I mean, I wouldn't force Ellen Degeneres to buy an LBD; she always looks smashing at every event.
And finally, not every woman has occasions for an LBD. No point in investing in a "wardrobe staple" that will just collect dust in the back of your closet, end up being dated or the wrong size once a chance finally comes up to wear such garment. But stop and think – you may not have a need for a black cocktail dress, but a simple solid-colored sheath in crepe, silk or even a wool knit is sometimes a great item to have in a pinch for an unexpected wedding, funeral, awards ceremony… if simple enough this dress could work with sandals on a summer day or with satin heels for holiday fete.
No matter how laid-back the affair, I always find it disrespectful to show up at a wedding, funeral or celebration in jeans, chinos, oxford shirts and polos. I recently purchased a merino wool short-sleeved shift from Banana Republic – I have worn it to work with pumps, to an elegant brunch with peeptoes, to the mall with flats, to a bar with flats, and plan to wear it in the winter with a long-sleeved top underneath and tall boots. How many items in your closet have that much versatility? Dresses are very simple and terribly versatile.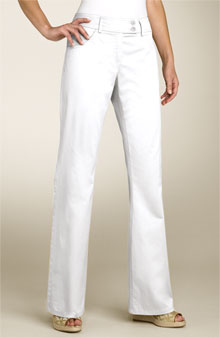 So CAN you wear white pants after Labor Day?
Yes, I suppose you can. You will not be arrested, no one will waggle a finger at you, you won't get fired from your job. If you live in more tropical climates, it is often the norm to wear white pants year-round. And if you are a True Fashionista, you can totally carry off white shoes, white pants, heck even white lipstick. But if you are a True Fashionista, you probably aren't reading this blog for advice.
For the rest of the planet who is having cold spells already, turned off the A/C and either has the windows open or even closed on these chillier nights… well white does look a bit odd. It's the equivalent to wearing a ski cap in August. Yes, you will see people wearing it, but you do wonder about them.
White jeans with a black turtleneck and boots, a winter white suit with snakeskin heels, ivory trousers with most anything… knock yourself out and look smashing while doing so. However white trousers out of poplin, twill, silk, crepe… they do look summery and if you are considering donning a light jacket or a sweater with those white pants… well a bikini with a parka would make the same amount of sense.
What are the best clothing choices for petites?
I don't subscribe to the notion that all women who are top-heavy should wear dark colors, women who are bottom-heavy should wear a-line skirts, petites can only wear fitted jackets and plus-sized women can only wear wrap dresses. Would make for QUITE a boring existence, no?
That being said, there are some things to consider if you are small. Before you even start shopping for clothing, go shopping for a tailor. There seems to be fewer and fewer places that sell true petite garments, and you will often have to have an item hemmed, shortened or nipped here and there to get a good fit. When you are petite, poor fitting clothing will be obvious and make you look either sloppy or like a child playing dress-up.
Voluminous fabrics can often be overwhelming – palazzo pants, tunics, floppy tops and dresses, unstructured jackets can easy take over and end up wearing you. Same with heavy fabrics – a thick wool, boucle or corduroy doesn't have as much room to cover and often ends up looking stiff and giving you the appearance similar to a little kid bundled up to play in the snow.
Be careful with garments that elongate the torso (hip belts, tunics) for they will make your legs look unusually short. Also be wary of heavy embellishment – stiff collars, epaulets, breast pockets, chunky belts can all easily dwarf you.
Keep things in proportion, and you will look nicely pulled together. Jackets that nip in the waist, trousers that are long enough to have a slight fabric break at the ankle, sleeves that hit at the right place on the wrist or upper arm, shoulders that are tailored to follow the lines of your arm, skirts that follow your curves and are hemmed to hit at the slimmest part of your leg.
What makeup works best with glasses?
I wore glasses up until three years ago, and my makeup hasn't changed much since I switched to contacts. The reflection and the frames do hide your eyes a bit, so it's a good idea to add definition with mascara and an eyelash curler. I love the faux-liner look by wiggling a slanted brush full of a darker shadow against your lash line: this gives a softer look than liner, and often lasts longer. However, if you are a liquid liner junkie – this can look excellent with specs. A no-makeup makeup look works, and a detailed multi-hued shadow application can also look amazing. The only thing I find works best sans glasses is the smoky eye. Especially with plastic and larger frames, this can end up looking more messy than sultry.

What is the best makeup to cover a tattoo?
I recently had this asked and went to my makeup artist friends Melissa and Toya for advice. They are cosmetics gurus, you should check out their blogs!
For individual tattoos, a good choice is to find a concealer slightly lighter than your skin, apply and blend well. Then over this, use a concealer that is the exact same shade as your skin. Apply and blend, then set with powder. I have heard that Bobbi Brown is a good choice for concealer, and have also heard good reviews about Dermablend (image from their website).
For larger tattoos/sleeves and back art, airbrush makeup is your best bet. A good resource is your local MAC store (not the counter in Nordstrom, but an actual retail shop). As the professionals there – one of them may be able to do it for you, or they will know of an artist in the area that they believe is talented and qualified.