Boy you guys have had a lot of questions lately! Not that questions are a bad thing – on the contrary and I am more than happy to answer them. Those that I believe may be questions of other readers, I like to post here for reference:
What are the Staples for a Stay at Home Mom?
I have been blasted in the past for not understanding the needs and life of a mother, and I agree I have not been in your shoes. However I have posted about the clothing of an SAHM here and here.
As for great tips from a stylish Stay At Home Mom, I recommend that you visit this blog. Leah always looks chic and still is able to crawl on the floor, scramble up monkey bars and manage 50,000 things and little ones at once. She is a wonderful inspiration and her blog is packed with great ideas.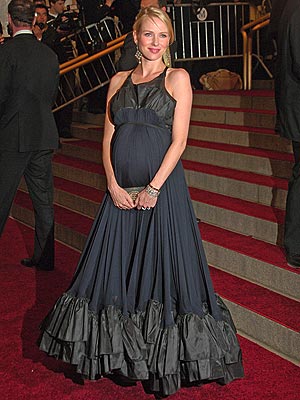 How Does One Wear Black with Navy?
A good question as that this color combo is popping up on celebs, fashionistas and Erin Featherstone for Target collections this season.
I have found that if your navy is more on the indigo side, and your black is true, the contrast is strong enough to not look as though you dressed in the dark. Also, use one of the colors as an accent hue – if you have a navy dress with a black patent belt and heels, a navy blouse with black skirt, black heels and maybe a black belt or jacket; a black outfit with a indigo belted trench a la Jess Simpson this past summer. Another option is to have a piece such as a blouse, scarf or skirt in a print that holds black and navy in it to pull together the rest of the outfit.
These tips can also work to combine black with brown – by having one hold the spotlight and another as an accent color, the combination looks purposeful and crisp.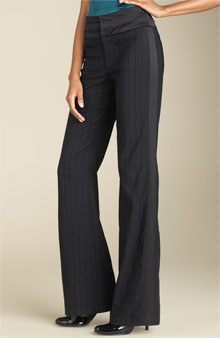 Can You Help with Proper Hem Lengths?
This was asked by one of my petite readers. Unfortunately, a good tailor does not always mean a fashion-knowledgeable tailor and it requires you to be armed with proper pant and sleeve lengths before entering the shop.
First, it is near impossible to have one standard length of pant that works with all of your shoes, unless all of your shoes are 4" heels or flats. Take with you the shoe height you are most likely to wear with the pants you are having hemmed so you have a realistic idea of proper length.
Even if you have pinned the length on the pants before arriving at the tailor, do change into these trousers and have the tailor re-pin the hems. If you did the pinning yourself, bending over will give an unrealistic idea of proper length, and if you did it by holding up another pair of pants, it still may not be accurate due to the cut of the trousers and your body shape (one leg may be longer or thicker, adjusting the length ever so slightly – no human is symmetrical).
As for the length, the pant should end up falling somewhere between the top and middle of the shoe's heel. This length will keep you puddle-safe, will give a nice break (bend of fabric) at your instep and the pant will fall straight without bunching or showing off your ankle bone.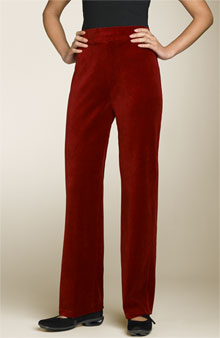 As for flats, I often see women end the pant at the bottom of the ankle bone. This is fine if you are going for a more retro look, but if you are trying to achieve a professional or polished look, there should be no ankle showing. Your pant should hit right a twinge above where the fabric/leather of the flat ends and the sole begins. Short enough to survive shallow puddles, but long enough to not resemble high waters.
With jeans, if you want to keep the look of the jean but cut off many inches, look to a denim professional. – major cities have shops dedicated to this practice but for those of us not near one these places, higher end department stores like Nordstrom usually offer this service for free if you purchased the jeans there, for a fee if not.
As for jackets, the sleeve should end right at the top of your hand so that as you move, you don't have your entire wrist exposed, but when standing still, your entire hand is visible. Again, the jacket should lie flat when standing still – no bunching and no wrist showing.
If you are unsure if the garment is pinned at the right place, do not hesitate to ask the tailor to press the potential hem line (fabric permitting) for a better view. It's pretty easy to lop off a few inches from a sleeve, but hard to fix if it is done too short. Always trust your instinct – you know your body and style best!
What is the Difference between Cheap and Fugal?
Frugal is scouring sales racks, researching items to find the best price before purchasing, getting to know your salespeople so you are tipped off to sales and promotions, checking out places like eBay and even thrift stores to find expensive items at a song. Frugal is ignoring name brands and looking for what you need and saving up for what you don't need but terribly love. Frugal is spending probably the same amount as someone who is cheap, but ending up with less item that last longer and are more versatile.
Often people will scoff at an expensive item, not taking into account that those more expensive shoes may last for eight years of stylish wear, an acrylic sweater will pill and stretch out and a wool one will look the same seasons after the purchase. Being frugal is finding that quality, but getting it for the best darn price and not succumbing to whims and trends. So really, they can be the same to some, but to me cheap means all about the price, and frugal means all about the value.