This article may contain affiliate links; if you click on a shopping link and make a purchase I may receive a commission. As an Amazon Associate, I earn from qualifying purchases. 
Tonight was my company holiday party. Passed hors d'ourves and cocktails, open bar, seated dinner, dancing and raffles. Invitation said semi-formal.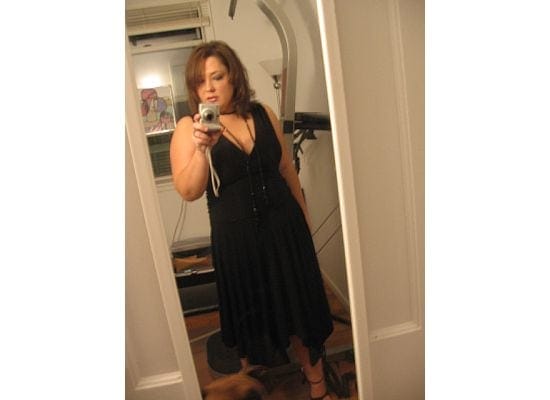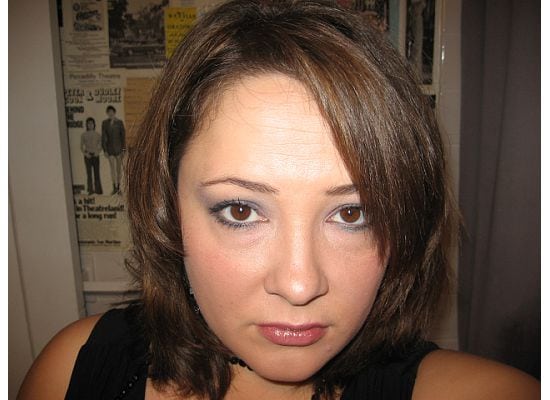 I wore the same black dress I wore to a wedding a month prior. It is made out of a slinky knit – similar to the Traveler collection at Chico's. I got the dress at Nordstrom for $75. The brand is Ronni Nicole (not shown on the website, but still available in the store). The dress is number sizes, but I fit into a 12 when I am usually a 14 petite. Surplice bodice, shirred waist, hankercheif hem. Very flattering.
With it I wore a strand of jet beads I got at The Limited several years ago. Wrapped once around the neck, let the tassled ends just hang in front. Wore matching jet chandelier earrings that I got at The Limited last year in their after-Christmas sale (great jewelry to be had at their sales!).
Put hot rollers in the back of my hair to give it some body and lift. Otherwise the same hair as every day (not that fancy of an occasion).
Did a smoky eye, but with purple (L'Oreal) and dark green/black (Body Shop) eye shadows. Purple on the lid and a bit above the crease. The dark green in the crease and along the lash line. Tons of mascara. Nars Orgasm on the cheeks, and the tannish pink gloss from Sally Hansen.
With it I wore a black crepe shawl I got at Express several years ago. Has embroidery at the hem of peacocks in blue, green, purple and magenta. Tassled ends. Purse is a black matte satin clutch from Aldo that I got last year. Shoes were black crepe strappy heels from Fabulair that I got from $19.99 at Rackroom Shoes. Not super sassy, but I can dance in them all night without being a cripple. No hose. I am very anti-hose except for religious events or interviews. I don't own any hose but a pair of fishnets and one pair of black.
I did give myself a pedicure – Coney Island Cotton Candy by OPI. Have to have cute tootsies with open toed shoes!!