We all can't afford a tub of La Mer, but we can all do very simple free (or almost free) steps to better our skin. There is no point in putting paint on a dirty canvas; the first step in looking beautiful, stylish and polished is to have beautiful and happy skin. Here are some simple tips that every woman can do to achieve that. Happy Leap Day to all!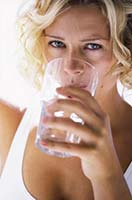 1. Drink Water. I know, I know we all hear this but it really really REALLY makes a huge difference. I try to drink 60 ounces of plain water a day and when I do it, my skin is so happy and fresh looking. My husband bought me a Nalgene in my favorite color and I have it on my desk. Each morning I fill it up and I compete with myself to have it finished before lunch. I then go and refill it and try to finish it before I leave at the end of the day. Weekends I give myself a break, but because I force the water during the week, I crave it on weekends and catch myself drinking almost as much on Saturdays and Sundays.
Add flavor if you like, but to really kick the soda habit, I have found plain water does the trick best. Start off small… maybe one small bottle a day and take it like medicine. After a month make it two bottles and by three months you should be able to consume at least 32 ounces a day. Buy a bottle that makes you smile when you see it and play with temperatures to see what is easiest to gulp down. But after even a week you will see a pronounced change in your skin texture and even color.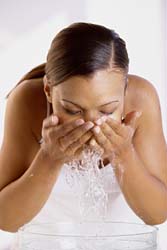 2. Wash Your Face Before You Go To Bed. I know this seems obvious, but we busy women often forget to do this, thinking we'll just hose off everything the next morning in the shower. However skin repairs itself when you sleep so nodding off with the grime of the day (plus all your makeup) can really be more detrimental than every day with a full face of cosmetics. I mentioned it before, but studies say each time you go to bed with your face unwashed you age it ten days.
Make the task as simple as possible with a face wash that rinses clean and all your tools nearby. I know in my wild and crazy days I used to keep a pack of those cleansing cloths on my nightstand so even after an evening of partying heartily, I could wipe off everything while almost passed out under my comforter.
You wouldn't (hopefully!) go to bed without brushing your teeth, the same should hold true for your face. Again, even one week of this habit will give you fresher skin, smaller pores and fewer breakouts.
3. Use a Night Cream. Now this could be the same moisturizer you use each morning, but it's important to moisturize your face after cleansing it. Again, the skin repairs itself while you sleep, so by prepping it with proper nutrients, you'll get better results. If you have oily skin, consider an oil-free moisturizer or gel geared toward your skin type that will baby it without causing it to produce more oil.
Again, if this is something that you forget, make it as easy and convenient as possible. I keep my night cream on my nightstand where I am more likely to remember it than tucked in the medicine cabinet. This also gives me the time to massage it in well and ensure I get my neck hydrated as well.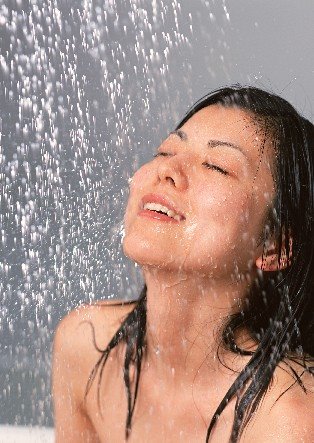 4. Don't Let Your Shower Hit Your Face. The pressure and heat of the water can cause broken capillaries, redness, and damage delicate tissue near the eyes. If you have rosaeca, this can exacerbate the problem. Often just stopping this habit will reduce most redness.

5. You Don't Have to Wash Your Face In the Morning. Your face shouldn't be getting dirty while you sleep, the more often you wash your face, the more you will dry it out, causing it to look dull or force it to protect itself with increased oil production. A splash of tepid water or swipe of a cotton ball doused with an alcohol-free toner may be all that is necessary to prep for a new day.
6. Wear Sunscreen. This should be a given in this day and age, but I still meet women who say they don't wear sunscreen for a multitude of reasons. They feel it is too greasy, they don't burn, it's winter, it's too heavy, it makes their foundation slip…
There is no valid reason for not wearing sunscreen. Modern technology has made formulas far less heavy and greasy, and every person regardless of skin color or type can be affected by sun damage. Yes there is the chance for melanoma, but the sun can also reduce elasticity, wrinkles and create spots. Studies have shown that skin looks older not because of wrinkles, but discoloration. The best way to prevent age spots (AND wrinkling!) is to slap on that sunscreen.
Soften and cleanse your skin with natural French soaps from L'Occitane