This article may contain affiliate links; if you click on a shopping link and make a purchase I may receive a commission. As an Amazon Associate, I earn from qualifying purchases. 
Back when I started these blogs, I was still a newlywed and had a link to my wedding "bio" from The Knot in the sidebar. I will be celebrating my fourth anniversary this June and the wedding is not as strong of a memory as the rest of the actual marriage that has taken place since.
I love weddings and after my own worked as an assistant wedding coordinator for a dozen events. My husband is a wedding photographer and I love my role in the day – sort of a mini coordinator, being the eyes for the bride to catch that which the photographer may miss (stray hair, crooked hemline, changing the height of the bouquet, etc.). Candice asked about my wedding today and I have gotten many requests to see wedding pictures and to know the history between me and Mr. Allie.
I think I have mentioned how we met before on here – it was 12th grade and I was being set up on a blind date by my friend Adam. As with many high school dates, it was a group of about 15 of us who were going to the movies and then a diner afterwards. My friend Shawn came to pick me up and then told me we had to pick up his friend as well who lived in a neighboring town (Mr. Allie). Shawn's car was a 2-door, so I had to get out of the car to let this friend into the back seat. I already knew about this friend – he was a very "cool" guy, a real party animal and went to the high school I was supposed to (I instead went to a magnet school across the county). I turned around in the car to ask this guy why he lived in this town but went to my town's high school and…
BOING!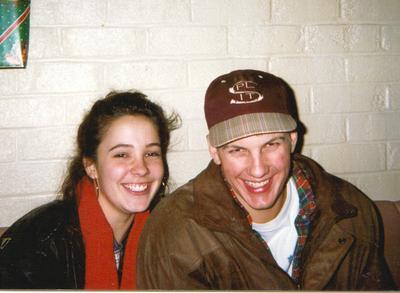 Ohmygoodness, this guy was CUTE!
His eyes were so striking and at that very moment I said to myself, "I am supposed to marry this guy." He told me about his parents divorcing and he moving to this town with his father, and I couldn't stop staring at him. He didn't seem fazed by my stare, just gently smiled back. At the theater, I wiggled through the line so that I could sit by him during the meeting. At the diner after the movies, I sat next to him. I took my pickles off my cheeseburger and he asked why I took them off. "I don't like warm pickles," I told him. He told me that was good because he did and he'd be happy to eat my pickles. For a 17-year old girl, that was the most romantic thing EVER! (by the way this picture is from the night we met – I had a disposable camera in my purse and begged a friend to get a picture of me with "the man of my dreams")
I went home and told my mom all about him. I remember being downstairs in her office, I remember where I was standing. "His family can be traced back to the Mayflower too, and his mom is a teacher too!" Kismit, we were MEANT to be!
Except he had a girlfriend, and a popular girl we both knew that was waiting to get her fangs into him. I told my friend Adam I liked this guy, he told the guy and he gave me a call. A few weeks later he was without girlfriend, without Popular Girl, and with me. That was January 26, 1993. We were both 18.
An exact year later, he left for the Navy. I was in college and we worked hard over the years to maintain a long-distance relationship. It didn't work too well and in 1997 we broke up for a few months. We did get back together, seeing our second attempt at a relationship to be The Real Deal.
We have survived the death of his mother, death of my father, him getting and surviving cancer, his time in the Navy, us having conflicting schedules (old readers may remember when we really only saw one another an hour a day with his old job – he worked nights, I days).
Mr. Allie proposed the night before Thanksgiving, 2002. He called up my mom and sister that day and asked them to go ring shopping with him. I had worked a 16-hour shift (back in my retail days) and came home sweaty and tired and stressed that I needed to head to the grocery to buy supplies for my dishes for the next day's meal. I said I wanted to take a shower, he said we didn't have time. "Just slap on some deodorant and let's go to the store." He pointed to the coffee table and my deodorant was on there. I was so exhausted, I didn't find that to be strange and went to open the bottle and something flew out across the room. I crawled under the table to get what it was and found my ring. I know… corny proposal but he was planning on waiting and just couldn't. I called on the way home and this was the first thing he could think of. I found it so romantic that he couldn't wait, he had to give it to me as soon as I opened the door.
We married June 5, 2004. We had the ceremony and reception at an historic mansion right down the street from where the two of us grew up. The ceremony would have been out on the terrace if it hadn't rained, but was quite lovely in the atrium.
The colors were orange and hot pink. I did everything orange, from the invites to the place cards to the cocktails passed out after the ceremony to the water bottle favors I made.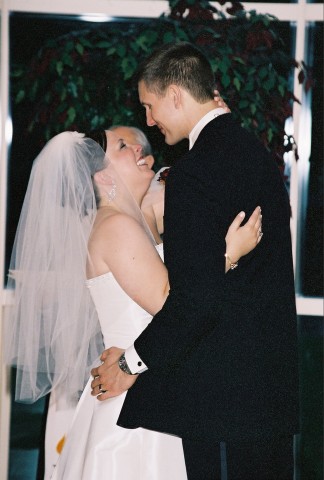 Okay, down to the CLOTHES!!! My dress was ivory silk shantung with Swarvoski crystal trim; it was by Maggie Sottero and a style they no longer make (Temara). I tried it on at a boutique in Baltimore and loved it, but found it half price from an online retailer. I bought the crinoline from a fellow bride I met on The Knot – I think I paid $20. My shoes were hot pink and bought from the clearance rack at Hecht's Department Store. I wore a pair of earrings I got at Lord & Taylor (I believe also on sale) and a bracelet that had been passed down several generations on my mom's side. My tiara was purchased a week beforehand because in a panic I felt that if I didn't wear one I wouldn't be a REAL BRIDE (brides are insane!). My veil was made by the local bridal boutique who also did my alterations. I wanted to wear my hair down but my old stylist said I would regret it and put it in an updo. I still wish I had worn it down, but was thankful that the style stayed in place all evening. I did my own makeup.
Here's a few pics from the day…
Mr. Allie is the greatest guy I could ever ask for. As the years go by we seem to become better friends and become a better couple. He is very understanding and respectful of my blogging, seeing it as a way for me to feel confident about writing instead of finding it superficial or silly. He's a great fashion consultant and through this time blogging, has realized that fashion is a true form of art. He's a good egg, dealing with me blogging during dinner, and even offering ideas for post topics! I'm a lucky gal. 🙂