This article may contain affiliate links; if you click on a shopping link and make a purchase I may receive a commission. As an Amazon Associate, I earn from qualifying purchases. 
Today I just had to get out of the office. The weather is "oppressive," as my mom often says, but being at a windowless desk for nine hours straight is even more oppressive to me. I brought my lunch and had already eaten it, but decided to go to the neighborhood Target and see what new goodies they had for fall.
I have a love/hate relationship with Big Box discount retailers. For reasons I will not get into on this blog, I do not and will not shop at Wal-Mart. My local Kmart is filthy and uncomfortable to enter (let alone even park in the lot) so I spend a good amount of time at Target/Tarjay. There are two within eight miles of my job, about four along my work commute and one just three miles form my home. It's a good place to stop at on the lunch hour to pick up a new lipstick, some batteries, bath towels, gift wrap or maybe a new frock.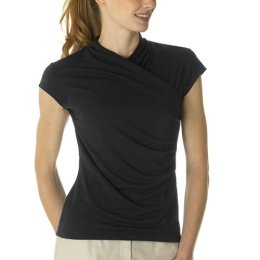 Though I positively adore Isaac Mizrahi, I have had very little success with his line at Target. I find many of the pieces to look almost homemade – reminiscent of Butterick patterns my mom used for First Day of School outfits. The colors are often garish, the cuts made for a taller and leaner person than I. I have an ivory and black zebra-print corduroy pencil skirt from several years ago that still gets mad rotation in the winter wardrobe, but other than that I try and fail at loving his pieces. Today I tried a black matte jersey cap-sleeved wrap-style top (cute with an Asian feel, but not terribly flattering for my buxom frame – see picture) and matching drop-waist full skirt (bad length, style of skirt not complimentary to the top, all in all a bit strange and cheap looking on my body). This sums up my experience with the majority of the guest designer lines – a bit off, a bit cheap, a bit poorly thought out.
The Target near my job has a pretty decent Ladies Fashion department, and I toured around every fixture and dug through every clearance rounder. Along with the two matte jersey pieces, I also tried a navy jersey dress from Mossimo that had puff sleeves and a flattering deep v-neck, and a red v-neck jersey tunic also from Mossimo that I felt could be tres cute with jeans on a casual weekend day.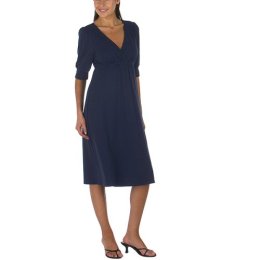 The dress… it was an almost (see picture). Park of me really considered getting it because it WAS after all only $19.99. I psyched myself out of purchasing a tee shirt dress for the same price off the Banana Republic website, so I almost justified the purchase. Yes, it did hit in sorta weird spots on my body making me look as though I had very large hips, but if I jutted out one hip just so and swiveled my torso slightly, I looked positively… well it looked better. The color was divine, the neckline deep enough to elongate me, but not so deep I required a safety pin or camisole, the puffed sleeves made it look current and I felt it could transition into the cooler months very well. And it was ONLY $19.99!
But it didn't look awesome. I put back on my own tee shirt dress and suddenly looked five pounds slimmer. I put the dress back on the hanger.
The red top? The fluttery sleeves seemed too dainty for the dark color and modern tunic style. The tunic was so long that if I were in better shape I could have carried it off as a mini dress. The neckline was a bit too deep, requiring some sort of modification to be wearable outside a nightclub. But the color was absolutely gorgeous so I kept adjusting my body to make it possibly look more flattering. Then I realized I was being unrealistic and it too went back on the hanger and all four garments were returned to the fitting room attendant.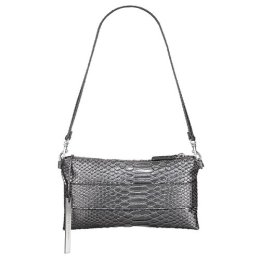 I read a fashion blog lately where the author was praising the look of the small snakeskin clutches from guest designer Devi Kroell. My local Target had them in all three colors, but I found them to look cheap and strange. Not classic, not chic, not hip. Just cheap faux snakeskin in a weird shape.
I then headed to the shoe department in hopes of finding some great little flats to wear with full skirts and jeans. Maybe a simple ballet flat or a patent-leather peeptoe. At first I was in awe of all the amazing shoes – gorgeous patents, cute ballet flats, pointy toes, peep toes, sexy heels and all sorts of loafer-inspired details. Yes, Target has not failed me! Then I looked closer.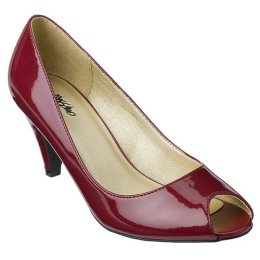 Those patent peep toe heels? I know the heel is very Marc Jacobs in it's conical, slightly thicker way, but it honestly is not flattering to the majority of American women's legs. The ballet flats were all a bit off – the plaid looked juvenile, the tweed looked cheap, the gold looked dated. A lot of the shoes that were knockoffs of higher-end brands looked like cheap copies. They say you can tell a person's worth by his shoes… well these shoes would say that the wearer reads a lot of fashion magazines, can't afford the designer brands so settles for cheap copies, even if they aren't attractive. These shoes were the equivalent of the uber fake designer bags sold on the corners of city streets – the Louis Vuittons that didn't even attempt to replicate the logo, the Coach bags that are neon pink and green cheap microfiber, the peeling patent leather wannabe Balenciaga motorcycle bags that Nicole Ritchie carried around a couple years ago.
Now, I have a few utterly adorable dresses from Target – from their brands as well as from guest designers. I wear their jewelry on a weekly basis and have a pair of their sunglasses in my car. My entire yoga and workout wardrobe is Pro-Spirit and Champion, and I love their $7.99 tee shirts for hanging around the house. However I feel that a lot of these Big Box discount retailers believe their customers to be stupid sheep following the flock. Give it a cheap enough price and we'll overlook the poor manufacturing, the odd way it shows your bra strap even though it's tight in the arm, the way the shoe never ends up being comfortable, no matter how much time it was given to break in.
I used to shop almost exclusively at TJ Maxx and Marshall's. I would take a late afternoon stroll through every aisle, often going to the fitting room three or four times to try on all my potential pieces. I had gorgeous garments from Calvin Klein, Betsy Johnson, Barneys, Donna Karan and more for reasonable prices. I still own and wear many of these pieces. Now when I enter these stores I find faded old camis from The Limited's 2001 line and tons of cheap silk sweaters in gaudy shades from brands sold at Macy's or JC Penney. I used to find purses from Coach and Kenneth Cole, now I find purses from brands I have never heard of. Much of this is due to the public finally realizing these great shops exist and getting to the goods before me, but a good part is these retailers realizing that we'll buy crap if it's at a low enough price. Toss a few DKNY skirts in the mix, and people will believe that everything on that crowded rolling rack is golden.
As I have said before, quality comes with all sorts of price tags. Some of the hottest designers make utter garbage, and sometimes you can find a wardrobe staple that will give you decades of loving wear from Fashion Bug. I am not one to exclude one entire brand or store based upon it's popularity or image, nor will I buy designer assuming it's worth the price. The point of this post, is don't fall into the trap. Don't buy tweed heeled lace-up oxfords just because Lucky Magazine says they are a must-have for fall. Don't feel that since you can't afford Stella McCartney it's justifiable to buy an ugly and ill-fitting copy at Forever 21. Just because Madonna had a line at H&M and their clothes are featured in your latest issue of Marie Claire does not mean those clothes are worth your money. Don't think a fancy name equals a fabulous look. Don't be sheep. You wouldn't mindlessly buy crap to eat, crap to read, crap to live in. More isn't better and a cheap copy… well it is often just that.
Though Target did have a ton of really cute dresses in right now, just none in my size or color. I'm not going to give up on finding quality at a great price, I am also not going to give up on myself and my personal style. As with television, media, food, even politics… vote with your pocketbooks. If you accept what isn't what you find best, then you will just be fed more of the same. Every dollar in your wallet should be spent on that which deserves your hard earned cash. A pair of pleather peep-toes that pinch will not bring you satisfaction, beauty, success or happiness. But if they don't pinch and they don't really look like pleather… then maybe they are deserving of a portion of your paycheck.