In the past year my skin has become quite sensitive. Hives, irritation and redness occur if I look at my reflection the wrong way so I have been on the lookout for beauty products that are free of known irritants while still making me… well beautiful!
Recently I was contacted by Afterglow Mineral Cosmetics and was very interested in trying their line. I have tried mineral makeup in the past with mixed results – some looked muddy on my skin, some made my face itch, and many seemed to get a weird ghostly glow in flash photography. Afterglow Mineral Cosmetics claims their line is free of synthetic dyes, preservatives and fillers; made with certified organic botanicals and even contains supposedly age-defying antioxidants such as grapeseed and pomegranate extract.
Afterglow Cosmetics was created by Kristin Adams out of need; she too has sensitive skin and found most lines irritated and caused her to break out. Afterglow Cosmetics is free of the following irritating ingredients found in other lines: paraben preservatives, bismuth oxychloride, synthetic dyes, talc, gluten, petrochemicals, cornstarch, FD&C and lake dyes, carmine, mineral oil, and GMOs. The line focuses on natural and organic ingredients, they never test on animals and their line is 100% vegan. They list all of their ingredients on their website and on the product packaging.
Wow, a product that is organic, vegan, free of weird ingredients and will give me a natural and beautiful look? Can't wait to try it out for myself!
I decided to try out their Organic Mineral Foundation in Bisque, the Organic Glow Bronzer in Medium, and Natural Lip Gloss in Bella.
The packaging for the foundation and bronzer are similar to other mineral cosmetics lines – a tiny tub with a shaker cap so you can sprinkle a small amount into the cap of the tub, swirl the brush in it, tap off excess and buff onto the skin. The lipgloss came in a squeeze tube similar to Lancome's Juicy Tubes. All packaging was well made, sealed nicely and was attractive and simple.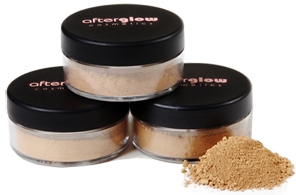 I tried the foundation with the traditional Swirl/Tap/Buff method with the Sephora Professional Bronzer Brush and found it went on well, didn't get muddy, didn't itch and seemed to blend nicely.
I wear C3 for L'Oreal True Match foundation and Beige in philosophy's The Supernatural foundation and found Afterglow's Bisque to be a hair lighter than these and a neutral (not too cool or warm) shade. Even though the color was a touch lighter than what I had chosen, it blended naturally and didn't make me look ashen.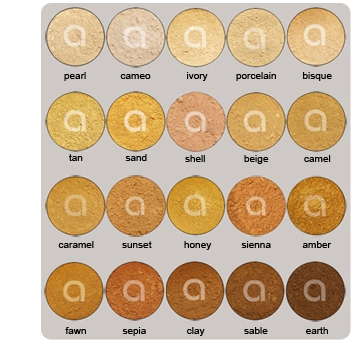 The formula gives a lighter coverage than Bare Escentuals – my freckles showed through, but it did even out my skintone. There was no weird shimmer to the line like many mineral products have, nor did it give me a false and matte finish. The more I layered, the more opaque the finish. The line suggested that those with dry skin mix the mineral powder with a moisturizer; I did that and found it went on well, ended with a nice soft finish and worked for spot coverage. This is a great choice for a lightweight sheer foundation or someone who is looking for a line that is gentle and humane, and I like the real variety of shades (seen at left and also available to view on the Afterglow Cosmetics website).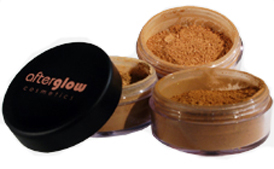 I was interested in trying out the Organic Glow Bronzer because I had tried Bare Escentuals' "Warmth" and found it hard to use, dark and easy to get streaky (I admit, I am a klutz and I get ready each day over my bathroom sink with a limited amount of time). I also like the look of a bronzer on my skin as that I do not tan and am naturally pale. I have bought several bronzers over the years and have yet to find Nirvana. They are too muddy, too orange, too shimmery, too dark, too light.
This bronzer had a slight shimmer, but it didn't make me look like a disco ball when applied (I used the Bare Escentuals Angled Face Brush). Again I did the Swirl/Tap/Buff method. It is not as dark or potent at B.E.'s "Warmth," but it still was a bit hard to manage on a time crunch. It seemed to blend nicely, but after leaving the house my husband rubbed my cheek saying I had a line.
I liked the formula and the natural color better than the competitor, but still did not find Nirvana. However if you are looking for a mineral bronzer for fair skin, this is a good choice.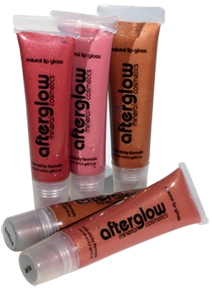 Finally, the lipgloss. Bella, is described on the website as a "medium cool berry pink."
Honestly, when I saw the packaging, I thought I would hate the lipgloss. I don't usually like tube applicator glosses and the color looked quite dark and opaque (more like a berry red instead of a pink).
I applied it… and the formula is different. Unlike a typical sticky goopy gel, this has a powdery/mineral finish and feels more like a hydrating lipstick. It gave shine – again, more like a hydrating/shiny lipstick than a traditional gloss. However unlike a typical gloss, it hadn't disappeared after 10 minutes, my hair didn't get stuck in it and it didn't dry out my lips.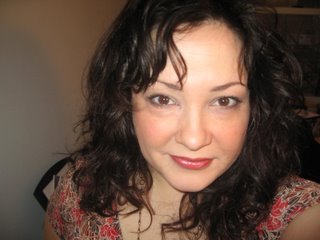 As for the color… I would describe it more as a "medium berry" hue. You can see it on me at the picture to left. I wouldn't necessarily call it "cool," more of a neutral pink that could work on most skintones. Anyway, it may not match the description, but I have fallen in love with it. It is unlike any other product I have tried – it slowly fades away like a lipstick, doesn't leave lines, doesn't bleed, doesn't crease. It seems to hydrate my lips and keep them soft and the powdery feel is soothing. There is a slight simmer to the product, but this is totally wearable in the most conservative office environment.
All in all quite pleased with this line! Good quality, good ethics, good ingredients! Even better, if you are afraid to purchase the line, Afterglow Cosmetics offers samples of their products at very nice prices so you can try before you invest in a new beauty product!
UPDATE:
Just for you Wardrobe Oxygen readers, AfterGlow Cosmetics has offered $5 off your first online purchase! Enter "OXYGEN" at checkout.