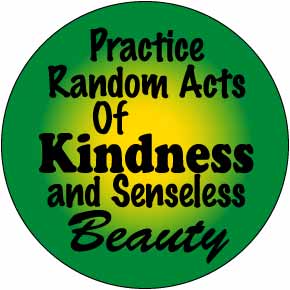 February 17th is Random Acts of Kindness Day.
Use this holiday as a way to care for your fellow woman. For one day, don't visit TMZ, Perez or Defamer to find out about Britney. For one day, stop to compliment a stranger on the street for her pretty shoes or nice hair. Hold the door at the store, let a woman senior to you on the train or in the church doors before you. Help a mother overloaded with bags and children get her groceries to her car. Call your mother and tell her how much you love her. Before you start to criticize a fellow woman's actions, looks or lifestyle today, take a moment to imagine yourself in her shoes. Instead of a sneer, for one day offer compassion and a genuine smile. You never know, she may need that smile more than you can image.
Practice Random Acts of Kindness today, and find yourself becoming more beautiful from it! And after your day of kindness, I would love you to come here and comment on how it affected you!
I hope you all have a wonderful weekend!