This article may contain affiliate links; if you click on a shopping link and make a purchase I may receive a commission. As an Amazon Associate, I earn from qualifying purchases. 
I have bought a few new things, figured I should share my views on them with you guys!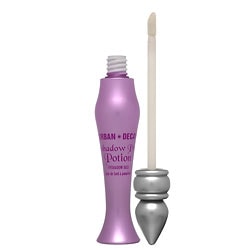 Urban Decay Eyeshadow Primer Potion: Fellow blogger Toya swears by this stuff – she wears it on stage when she has a performance and says her shadow doesn't budge. Enough for me, I was sold and grabbed a box of this goodness right away.
Girl was right, this stuff is amazing! It is a sponge applicator – I apply it with the wand and then smooth it with my finger. The product is nearly invisible on my semi-pale skin and shadow applies perfectly over it – no creasing or uneven pigment. As for it lasting all day – I must say the other evening I was a bad girl and went to bed with my makeup on. Woke up – still had a full shadow application down to the darker color in the crease and the line of color on the top lash line! I have tried other shadow primers before, but nothing has lived up to it's claims as well as this bottle of perfection!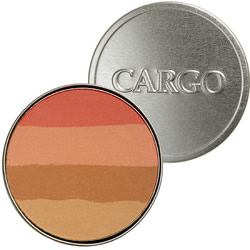 Cargo Matte BeachBlush in Tenerife: I love a bit of bronzer in the summer, but a traditional brown or terracotta product often looks dirty on my complexion. Too much shimmer and I get looks from the bigwigs at work. This blush/bronzer from Cargo seemed like a perfect choice – it has a range of colors that one can swirl together for a healthy glow without the disco glitter.
Now, as you can tell by me wearing it on a near-daily basis, it's a nice product. The color is natural, the product feels like nothing on the skin, and it lasts through the day. Problem is, it's a bit potent. I mean, use my traditional Sephora Bronzer brush with it (what I use for any other bronzer) and I have bright coral cheeks and peach-hued spots all over my face. I have switched to a Bare Escentuals brush that was made to lightly apply loose powders like their Mineral Veil to get decent application of this BeachBlush. Now, that's not a terrible thing – this product will give me over a year of good use and I didn't have to buy a new tool (already had the b.e. blush), but it makes it hard to transition to pale-skinned months and I can't have the slightest bit of perspiration or unabsorbed moisture on my skin or I will be wearing tiger stripes.
I have always been cheap with bronzers, thinking they're all the same. Cargo's products feel better of quality, the product lasts through the day and the color is true to the package, but maybe I am just better suited for my Physician's Formula and Body Shop bronzers because I can apply them practically with my eyes closed and end up with a natural glow.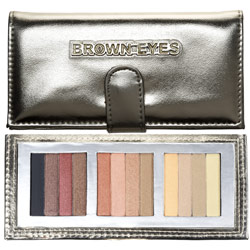 Pop Beauty Eye Class for Brown Eyes: If I didn't have Toya with me, I would have never even looked at this brand or this compact of shadows. Forgive me, but I have never heard of Pop Beauty until I couple of weeks ago, and I feel that if I haven't heard of it, I feel it mustn't be that phenomenal. I read Allure, Lucky, Jane, Vogue and Bazaar almost monthly… I feel slightly in the know regarding cosmetic brands.
Well Toya mentioned that the shadows for this brand are quite good, and I tried some on my hand and was impressed by the pigment, the lasting power and the variety of shades. I am not a fan of kitchy casing (gold pleather case to look like a wallet or billfold), or of compacts claiming to have every shade work for a certain coloring, but I was willing to be open-minded. One shade is an acidic green-tinted yellow (last color on the right) that I would normally never purchase, but it reminded me of a color Kevyn Aucoin applied on a curly blonde in one of his makeup books so I decided to try the collection.
Note to self – I do not look good in red eyeshadow. I tried the mauve and cranberry shadows one day and looked tres rabbit-esque. However the other shades are mostly ones I would normally purchase and I am very pleased with how they look (especially the acidic yellow), the moderate level of shimmer and the long lasting crease-free wear. Yes, the shadows are very small and I can't wiggle my crease brush (Trish McEvoy #29 blending brush) into the pot to my heart's delight, but these shadows still pack a punch and when wetted, make a wonderful liner. Surprised, and pleased!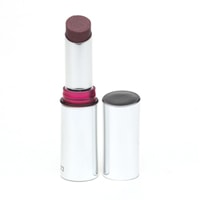 L'Oreal Color Juice Stick in Berry Spritzer: I am a creature of habit. Strong eyes, light glossy lips is the way I go. I am a klutz, a nail biter, so not the poster girl for a colorful lipstick. However with these new hydrating and sheer formulas on the market, I am considering a change to my daily routine.
I already had a Color Juice in a sheer pale pink (Strawberry Fizz) – color so light it looked more like a gloss than an actual lipstick. The smell was divine, my lips felt soft and juicy, and I thought it was good enough of a product to venture into darker territory.
Well it's a bit more… berry than I expected (which is pretty ridiculous since it IS called Berry Spritzer), it looks almost like a shade that my Aunt may favor, but I still like it. With a very minimal eye and dewy skin, it can be quite beautiful. my favorite part? it gently and evenly fades away so I don't end up with stained or uneven lips. The scent is far less obvious than the Strawberry Fizz, but still quite pleasant. It feels creamy on the lips for a long time, and doesn't dry me out like traditional lipsticks. The shimmer is minimal – enough to make it look soft and girly, but mild enough that it is totally appropriate for a conservative work environment. Because it's a sheer product, I am not afraid to apply it sans mirror (very important for me because though I love all things beauty-related, I hate being high-maintenance). A great summer lipcolor!

Find great deals on Cosmetics at Shopzilla…

Oh, and to let you know, you can sign up on the right to get my blog posts delivered to you via email. Kinda a cool feature I found on the 'net. I find it hysterical that this weekend someone unsubscribed from this blog for the reason of "not frequent enough of posts." I thought I was a bit of a blogaholic on this site! That's what I get for not posting on Thursday! 🙂