This article may contain affiliate links; if you click on a shopping link and make a purchase I may receive a commission. As an Amazon Associate, I earn from qualifying purchases. 
The holidays are supposed to be about giving. The joy on your loved ones' faces when they open treats from you. Well the holidays also brings shorter days, colder nights, dry skin and the doldrums. I think the cosmetic companies realize this and bring out new products, gift sets and packaging to appeal to our wan faces and brittle hair.
As I have shopped for others (and yes, all my holiday shopping was completed this past Sunday!) I have picked up a few goodies for myself. Here's what I have tried of recent: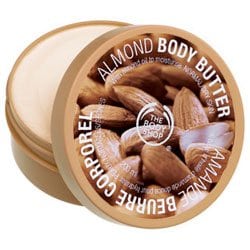 The Body Shop's Almond Body Butter – So I guess this is cheating – I didn't buy this for myself, I bought it to add to my collection of product for my Body Shop at Home consulting business. However, to really be able to sell the product, I have to use it myself, no? So I made a few sample pods for use after the shower.
Not too much a fan. But then, that was to be expected in some respects. When I worked at Garden Botanika back in the early 90's one of the best selling fragrances was an Almond blend. We would sell the crap out of it at holidays – people found the scent cozy and feminine and pretty. I was encouraged to suggest that scent for gifts because it was "universally appealing." Too bad the scent made me a bit nauseous. It smelled like a Baskin Robbins store with the heat on too strong.
When I started working for The Body Shop as a trainer, they came out with their Almond Hand Care line. I would demo this line on customers – a hand exfoliator and then the hand lotion and cuticle cream. I would rub it in, giving a mini hand massage and customers, male and female would ooh and aah over the experience and the smell. "Boy this is delicious!" I would often hear as they carried the whole line up to the register. I would smile, thank them for coming, and then run to the bathroom to wash my hands of the stench.
A couple of years can add senility to a beauty junkie. The Body Shop says they have brought out Almond Body Butter to replace the discontinued Sesame scent (another fragrance that people adore but made me ill) and due to the overwhelming interest in the Almond Hand Care line. Hey, I'm older, wiser and I like more mature fragrances. Maybe Almond would be a nice change from my Coconut Body Butter, may compliment my Burberry London Eau de Toilette better.
The scent is mild, doesn't make me ill. Problem is that it is not as moisturizing as my Coconut. In this dry winter weather, the lotion is absorbed and in 15 minutes my legs are scaly and dry again. For those who like Almond and only need a mild body moisturizer, this could be a very good choice. For me, well I was glad I was only using a sample and had not purchased the whole thing.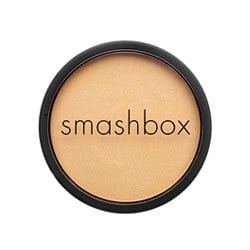 Smashbox's Soft Lights in Tint – Okay I have a new favorite, and lately it has replaced my beloved Nars Orgasm blush. It doesn't have as much color as a traditional blush, and it is shimmery. Very shimmery. Like if you do not just pat the product with your brush you will look like Tinkerbell or as though you just ran a marathon. However with a light hand and a big soft brush, a few sweeps over the cheeks, nose and the center of the brow can make you look as though you drank your requisite 60 ounces of water, did your cardio, consumed a perfectly healthy diet and just had sex. Yes, all four look accomplished with just one beauty product!
I find the product lasts a long time. I will apply it around 7:30 AM and on my ride home at 5:30 I still look dewy and fresh. With traditional blush or bronzer alone, I usually am pasty after eight hours in front of the computer.
I do not use Soft Lights alone; I use it along with blush or bronzer. I find a very light shade of powder bronzer applied over the Soft Lights makes the shimmer more subtle and add a healthy glow (and a little bronzer under the chin minimizes the waddle!).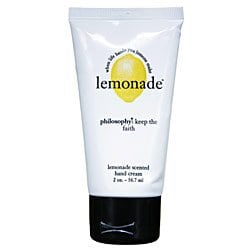 Philosophy Lemonade Hand Cream – I SO didn't need this. I mean really, I sell the Body Shop. I adore their Kinetin Hand Cream and have it at my desk and in my bathroom. I have a mini Body Butter in my purse for dryness emergencies. I have Bag Balm and The Body Shop's Hemp Hand Protector on my nightstand. I even have a little bottle of Gardenia Lotion from Bath and Body Works in my office.
But I am a sucker for the lemon scent. I remember when I first interviewed with The Body Shop stores they asked me what my favorite products were. At that time I was a product snob and didn't use anything that didn't come from a spa or a department store. I remembered the Body Shop products I adored as an adolescent, "I love the lemon soap!" I remember the store in Georgetown having a big sale on soaps and me buying a dozen lemon soaps. It made me feel happy and clean. I was told by the interviewer that The Body Shop discontinued lemon soap right around the time that I stocked up. Oh, THAT'S why it was on sale! Glad they still hired me after that stupid response!
Over the years, I have found it hard to find lemon products that do not smell medicinal. I have bought the Kitchen Lemon Antibacterial hand soap from BBW, the Two Minute Manicure, and various lemon body washes in an attempt to recreate that sweet yet citrus scent of the Body Shop soap. Recently I was roaming around Sephora wasting time and I found this hand cream and fell in love. The lemon scent is sweet, not acrid. And what a nice scent for the hands – clean lemon!
This hand cream is decent; thick, easily absorbed, scent stays long enough to be pleasant but not so long is makes you sick. I have experienced far better hand creams (still devoted to The Body Shop's Kinetin), but this has made it's way into my daily purse and is applied every so often at work when I need an aromatherapy pick me up! Smells so good, I may indulge in some Lemonade cleanser or hand wash!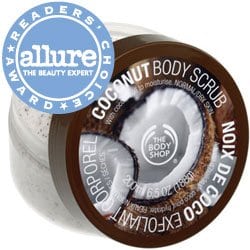 The Body Shop's Coconut Body Scrub – Okay, okay I work for the company. This product is one of the best sellers yet I had never used it. You guys have not seen my shower – I have tubes and bottles and pots everywhere and no room for additions unless something runs out. I have been using the Olive Body Scrub from this company and I must say, I get lazy and don't scrub very often. I have had the same tub of Olive scrub since I started selling The Body Shop in February. I chose Olive because I thought I many have Coconut overload, and I knew it was a neutral scent that my husband could also use. However when it ran out and I realized that my husband wasn't using it, I decided to go with my favorite scent.
LOVE IT! It's a great scrub that is not salt or sugar based (means it doesn't burn and it doesn't dissolve). It smells divine, it makes my skin feel like silk and it doesn't irritate my super sensitive winter skin. Since it does not dissolve, a little goes a long way. I mainly use the scrub on my décolleté (trying to reverse sun damage), my elbows and upper arms (get those little bumps in winter) and my rear and hips (again, preventing little bumps). I probably use no more than two tablespoons in one shower and I feel properly scrubbed.
If you are looking for a heavy duty exfoliant, this is not your product. This is more gentle and appropriate for regular use. I find the major scrubs to be irritating and more harm than good for my skin.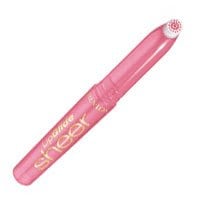 Revlon's LipGlide Sheer – I bought this on a whim. I was in the grocery store and really wanted a Mocha Chip Frappucinno. As that a frap is not on my current weight loss regimen, I thought a new lip product would be better for my waistline. I quickly picked up a shade that looked safe and threw it in my cart. Not until I got home did I realize the shade was "Sheer Burgundy." If you regularly visit this blog, you know I don't usually wear dark lipcolors. I find them to be too high maintenance for me, and I like how I look when I play up my eyes. I feared this color would be too dark and obvious.
Boy was I wrong, this color is the same as my natural lips, only a shade or two darker. As the name implies it is sheer. I think it looks glossy without being gaudy, has pigment without being too colorful for my tastes, is sticky enough to stay on through lunch, but not so sticky that I get my hair stuck in it and want to rub it off. It feels good on the lips, has no noticeable fragrance, and I love the dial-up style where I can control how much product comes on the sponge applicator. A little bit for a natural look, a lot for a night on the town. The slim casing makes it easy to slip in the smallest of clutches and it hasn't gotten goopy or gross on me. I think a far better buy than a Frappucinno!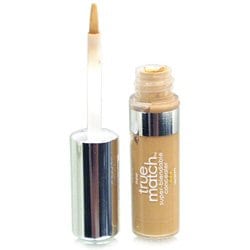 L'Oreal True Match Concealer – I hate liquid concealers. I can never understand their purpose. They usually blend so much they disappear into my skin, leaving only a ghost of color. I find them to not last, look ashy and not accomplish any coverage at all. The sponge applicator on the usual wands deposits too little color and absorbs the foundation or primer already applied.
I bought this on a whim. The last time I visited the MAC counter, the salesperson AGAIN sold me a concealer that is too light. Yes, magazines say to use a lighter concealer to cover circles, but if you go more than a shade lighter, you look like the negative of a raccoon. I was looking a bit like a raccoon, and I was feeling a bit cakey with MAC. The L'Oreal concealer was bought the same day as the LipGlide Sheer. I knew I wore C3 in the True Match foundation and knew that makeup artists suggest using a yellow-based concealer to cover dark circles. I picked up the W 1,2,3. I figured it would be a good match.
Good match it was. Unlike liquids I have used in the past, this formula is thick and sticky. It blends, but not so much that it disappears. It covers the dark circles, red veins under my nose and the occasional blemish without looking cakey or obvious. I must say, I am a convert!