This article may contain affiliate links; if you click on a shopping link and make a purchase I may receive a commission. As an Amazon Associate, I earn from qualifying purchases. 
So I have tried a bunch of new stuff over the past month and have been a lazy bum and not posted my reviews! Well here you go!
So for my birthday I bought the Jonathan Product Shower Filter. I did a pretty extensive review on Wardrobe Oxygen and you guys have seen how my hair has been faring on this site. I do love it; wish I researched further to find a cheaper version, but all in all I am a happy camper. For those of you who are on MySpace, befriend Aquasana and get 20% off all purchases through them.
I also recently tried out foundation, bronzer and lip gloss from Afterglow Mineral Cosmetics. Again, did a pretty extensive review on Wardrobe Oxygen so stop by to check it out. All in all, pretty pleased. Doesn't hold a candle to my philosophy The Supernatural powder foundation, but I think it gives Bare Escentuals a run for their money and I love the ethics of the company too!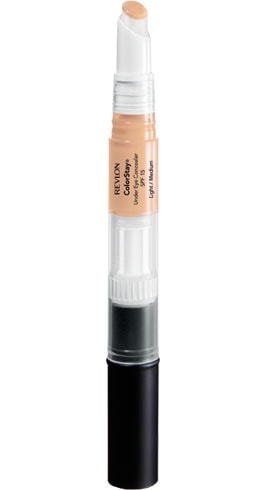 Revlon ColorStay Under Eye Concealer – So I was in Annapolis at a friend's house for a Superbowl party and I forgot she has three utterly gorgeous and fluffy cats… cats I want to steal and take home they are so darling but cats I am horrifically allergic to. Another attendee was also allergic so three of us headed to the local Rite Aid to grab some Benadryl. While there I decided to grab a new concealer as that the L'Oreal True Match in W1-3 is too light and the next color is too dark. I picked this one because… well because it was at the front of the aisle and the color looked pretty good and I have not been disappointed with anything from the ColorStay line.
Score for the NY Giants as well as for me that evening! This stuff is pretty fabulous! The consistency is a liquid, but a bit more tacky than the L'Oreal True Match. This is a great feature because it blends well, but really does stay in place. It is impossible to blend to the point of disappearing, which often happens with liquid concealers. The color has a warm base, but not so warm that it looks yellow on my skin. It also works to cover redness as well as the dark circles from fluffy pretty kitty-cats, other allergies and late nights. It really is ColorStay – the product lasts far longer than most concealers I have used – I think it's lasting power and quality is better than MAC, Clinique or Trish McEvoy (department store concealers I have used in the recent past). Oh, and not a single issue with breakouts or clogged pores since using!
Only negatives? Well the color is named Light Medium, but it's more like a light shade of Medium… a hair darker than expected. Worked for me because I think I am paler than I really am, but be very careful when purchasing this product so that it isn't too dark on you. Second negative is the packaging. It's one of those click for product tubes, which often annoys me because you waste product. On top of that, it is a sponge applicator and the sponge is NOT soft. I tried the sponge on my face and I felt as though I was rubbing my skin with a Brillo pad. I now click to get the amount I need, rub it onto my finger and then onto the skin. Sort of ruins the aspect of the sponge applicator and seems not as sanitary as a soft sponge or brush applicator.
All in all… good buy for the price, worked in a pinch, best color and coverage I have experienced in a long time but not exactly Nirvana. Would consider repurchasing if I don't find a better alternative.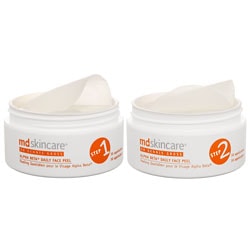 MD Skincare Alpha Beta Daily Face Peel – Well I only got two days of this product to try out, so I can't be sure of the end result. However after two days I saw a marked difference in my skin so it seems to be worth the buy.
The product is a two-step process: one moist towelette is used to rub the peel all over your face. You smooth all over your face until the towelette is no longer damp. It doesn't burn, but you can feel some sort of action taking place (tingling, tightening). After this, you use a second towelette and follow the same steps. This towelette seems to have a calming/neutralizing formula on it.
From the website:
What it is formulated to do:
Formulated to improve skin firmness, tone, and texture, Alpha Beta diminishes the appearance of fine lines and wrinkles, boosts skin density and vitality, and reduces pore size and breakouts, as it gently restores radiance to the skin, with a blend of alpha and beta hydroxy acids. Delivers cumulative benefits and optimal results with daily use.
After two days of this, I saw less fine lines around my eye area, and my skin looked clearer and more radiant. I can only imagine what 30 days would do. This line is NOT cheap, but I think 30 days of this would end up making your skin look as it would after a really good spa facial. By doing it every day, I think it could end up being more beneficial than a one-stop facial, or at least continue the results of the spa visit. I didn't find it to be too caustic, my skin never burned and there was minimal redness (could easily leave the house minutes after use). The sample I got was in foil packets; I am happy to see for the environment's sake that these pads are not always individually wrapped but instead in one tub (reminiscent of the Almay makeup remover pads I used as a teen).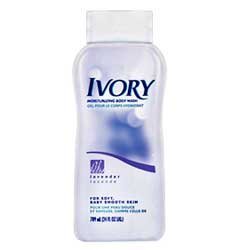 Ivory Lavender Moisturizing Body Wash – So I used to sell The Body Shop at Home and no longer do. There goes my deal on body washes and such! After I ran out of my stockpile of Satsuma shower gel, I got a bit desperate. My local grocer is a small co-op that doesn't have an entire beauty aisle like the chains, so my selection was some overly-smelly products from Dial and this beaut.
I am not one who loves the smell of lavender outside of an eye pillow or day spa, but when I smelled it in the store, it smelled very subtle and not at all like a grandma or herb shop. And really, the price was under $5 and I was down to washing with *gasp* bar soap!
So… I really like this stuff. The scent is so nominal, it could be mistaken for unscented (except the smell is enough to make it not have that weird chemical "unscented" scent). It isn't "pure" or very natural (ingredient list: Water, Sodium Laureth Sulfate, Cocamidopropyl Betaine, Sodium Sulfate, Lavandula Angustifolia (Lavender) Oil, Sodium Lauroyl Sarcosinate, Lauryl Alcohol, Fragrance/Parfum, Decyl Glucoside, Styrene/Acrylates Copolymer, DMDM Hydantoin, Lauryl Glucoside, Tetrasodium EDTA, PEG-14M, Citric Acid, Green 3, Red 33, Green 5.), but very few shower gels these days are. A little goes a long way – great bubbles that puff up nicely in the bath poof or even as a makeshift bubble bath. Doesn't dry out my skin, doesn't make the hives happen, doesn't leave any film or the tight feel some products do to my winter bod. And really… this big bottle is only $5!
I should have a few more next week… lots of samples and goodies from the holidays!