I remember my mom allowing me to start wearing makeup in 7th grade. Not a lot, a bit of gray liner, some soft, pink lipstick, and mascara. I loved how this little bit of makeup could completely change my look — distract one from what I thought to be a large nose, make my lips look fuller, and give me long lashes like my younger sister. As I got older, I got more creative with my makeup — a strong lip would make me transform me into Rita Hayworth, a smoky eye turned me into a sex kitten, dewy skin and I felt years younger.
When I worked as a personal shopper, I won a makeover at our company convention. They cut off a good 10" of my hair, which was life-changing. But more life-changing was the makeup application — the artist used brushes in shapes I had never seen before, put shimmery, lemon shadow on my eyes, and even mixed shadow with gloss for my lip color. I was so inspired to get even more out of the box, treating my face like a canvas and the makeup as my paint. I was shocked by the final product of the makeover, but so inspired that I purchased a set of new cosmetic brushes that very weekend.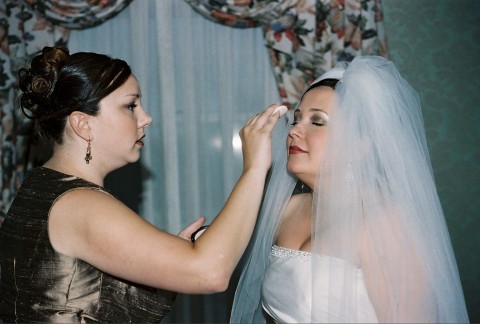 My sister putting the final touches on my makeup before going down the aisle
When planning my wedding, deciding on my makeup was just as important as deciding on my dress. I knew that makeup would complete the entire look, make me feel confident, feminine, and beautiful on my Big Day. I wore liquid liner and lots of mascara to perfectly complement my silk shantung gown and fingertip veil and loved the whole effect.
For me, makeup choices are just as important as my shoe choices or what necklace I paired with an outfit — makeup is the ultimate accessory. With makeup I feel more polished, I feel my look is complete.
If you are a regular reader of Wardrobe Oxygen, you know my favorite type of makeup is mascara. I feel naked without it! So when I got the opportunity to try the new COVERGIRL LashPerfection™ Mascara, I was so excited!
Usually, I am a "the more the better" sort of gal when it comes to lashes. I want them thick, I want them long, I want them full. I want to look as though I am wearing false lashes. However, this past summer I had been wishing for a more natural look that would go with cotton sundresses, sandals, and shorts. I was achieving that by wiping my mascara wand prior to application, but I wasn't always thrilled with the results. It's as though COVERGIRL was reading my mind when they created COVERGIRL LashPerfection Mascara!
I received a tube of black, which is the only color I wear for mascara. The brush is very stiff, almost feels like a comb instead of a brush. The bristles are spaced nicely to wiggle between each lash. After curling my lashes, I applied one coat and was impressed with the results — my lashes were darkened and looked miles long. That being said, they looked completely natural, as though I was born with gorgeous long lashes (just like my sister)!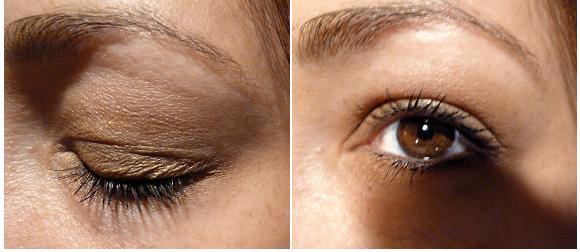 My lashes with COVERGIRL LashPerfection Mascara
I applied a second coat, and then a third and was pleased with how well it layered — it didn't give me spider lashes, just darker and thicker. I even wore this mascara to an outdoor concert, and the mascara held up through the humidity and heat and never irritated my contacts-wearing eyes. COVERGIRL LashPerfection Mascara is a fantastic day mascara, giving long, lovely lashes without clumps. With a few more layers, it would also be smashing for after-hours events.
Well here's your chance to try this mascara out! BlogHer is offering one Wardrobe Oxygen reader a $50 gift certificate to Drugstore.com (one of my favorite online stores). Plenty of moolah to try out COVERGIRL LashPerfection Mascara or any personal care product that Drugstore.com carries!
How to Enter:
Rules: No duplicate comments. You may receive (2) total entries by selecting from the following entry methods:
Leave a comment in response to the sweepstakes prompt on this post
Tweet about this promotion and leave the URL to that tweet in a comment on this post
Blog about this promotion and leave the URL to that post in a comment on this post
For those with no Twitter or blog, read the official rules to learn about an alternate form of entry.
This giveaway is open to US Residents age 18 or older. Winners will be selected via random draw, and will be notified by e-mail. You have 72 hours to get back to me, otherwise a new winner will be selected. The Official Rules are available here.  Enter between October 4th and November 4th, 2011. Also be sure to check out the BlogHer Promotions & Prizes Page!
Follow Me | Twitter | Facebook