Who can resist makeup for a dollar? I have been trying for months since I heard of e.l.f Cosmetics (www.eyeslipface.com). I am the type who could drop some serious cash at Sephora (online or the shop), The Body Shop, a MAC counter or store or a fun cosmetics website without blinking. However lately I am trying to be good and frugal – I buy new cosmetics when what I have runs out (or gets snagged by the airport security checkpoint – ladies do not forget that Ziploc baggie with your next flight!). I research my choices so I don't have to buy twice. I am trying to purchase quality, not quantity.
But Christmas is around the corner, and I love buying fun and frivolous mini gifts for my friends. Good excuse to try out e.l.f Cosmetics! And if I am purchasing for friends and the prices are at or near $1 each, well can't I treat myself too? So here are my reviews of the two goodies I purchased for myself:
Hypershine Mini Lipgloss Cell Phone Charms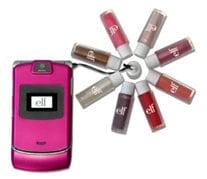 How darn patootin' cute is this? For $5 you get eight different lipglosses and a cap with a string that loops around the slot on all cell phones that lets you loop a cord. What girl wouldn't want this for a night out when real estate in an evening clutch (or your pocket) is at a minimum?
The cap holds onto the glosses quite well and doesn't get loose after switching colors. It's sorta awkward to apply gloss (the applicator stays attached to the phone), but the convenience outweighs this issue.
The gloss feels more like a balm – not very sticky and seems moisturizing. A more natural gloss look. It holds decently for a non-sticky balm. The fragrance varies from Tinkerbell cosmetics sweet to almost smelling a bit like Play-Doh, though all scents are quite mild. The problem I find is that none of the colors are similar to what I usually wear. They are all pretty sheer, the red leaves a flushed pink look to the lips, the bronze is pretty over a brownish pink liner or lipstick. I found the purple and silver shades to be a bit too extreme for my natural lip look, but could be very fun for a night out or over a dark colored lipliner or lipstick.
In general, a fun purchase for $5 and a convenience for a night out, but nothing that will replace my current favorite glosses for every day wear.
Wet Gloss Lash & Brow Clear Mascara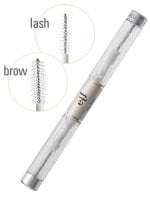 For years I have been using the Body Shop Clear Mascara to tame my wild brows and keep my brown brow powder in check. I have gotten to the point where I am wiggling the brush like mad trying to get enough gel to get the job done. Time for a replacement! Even with my discount with The Body Shop (I am a consultant), I can't beat $1. Already purchasing from e.l.f., might as well add this to my shopping cart!
Do note the description and title states "wet." I had the fear that I would apply this mascara to my brows and look false and weird. No worry. It does show a bit more than the equivalent from The Body Shop, but does not look shiny or wet on the brows. It does a better job at holding brow hairs in place, without being stiff or sticky to the touch.
When applied to the lashes, it does add some gloss and a darker shade. Nothing extreme, but more definition than going au naturel. I am the type who wears heavy mascara when washing the car; I don't believe I will be using this for my lashes any time soon.
There is a special brush on one side for lashes, and one for brows. I like this, so when I do choose to use it on lashes, the brush won't be full of brow powder (my Body Shop brow gel soon looks beige from brushing over brow powder).
I find this to be an EXCELLENT buy.
Customer Service:
I found the site to be slow and a bit awkward. You can sign up and make your own account, yet my account wasn't recognized for over a week.
I received a acknowledgment email soon after placing my order. In the email, it said due to high volume it could take up to 3-5 weeks to receive my order. And five weeks it was. I was so concerned, I placed an Outlook reminder on my computer for exactly five weeks from my order placement so I could call to complain. My order arrived the day before my Outlook reminder blinked.
The order arrived via US Post in a white padded envelope. A white glossy flyer encouraging you to order again, and your packing slip.
After placing my order, I receive almost weekly emails from e.l.f. offering free shipping and percentage discounts. I considered taking advantage for a few more last-minute gifts, but due to the slow delivery, I chose not to. I do plan on checking back in when my next makeup necessity is out of stock – for their prices and decent quality I can afford to replace a basic and invest in a splurge!