This article may contain affiliate links; if you click on a shopping link and make a purchase I may receive a commission. As an Amazon Associate, I earn from qualifying purchases. 
I used to be a big fan of classic yet on-trend retailers like Banana Republic and J. Crew. Every time a catalog arrived in my mailbox or a new display was in a store window, I could find at least five things I felt I needed that very instant, and knew if I bought they would be of great quality and be stylish pieces in my wardrobe for years to come.
This has changed in the past couple of years – both Banana and J. Crew have become more expensive, and their pieces are more unique and on-trend, making them harder to be wardrobe classics. I have also found staples like ribbed tanks and tees to not be of the same quality that I found in the past. However the main reason I don't wear J. Crew or Banana Republic much anymore is because it doesn't fit. Over the years my waistline has expanded, but at the same time these retailers' sizing has changed. Many pieces that I like don't come in larger sizes, and 12s and 14s I bought from there five years ago are inches larger than current items from their line in the same size.
When I heard that Lands End had their new Canvas line, I had mixed emotions. I love Lands End because their quality is stellar and their fit is comfortable, even generous. I know that when I order a size Large sweater, that sweater will fit my size 12-16 body. I also love how I can wash my Lands End clothes dozens of times and they will hold up, maintain their shape and color. What makes Canvas different? Will it be sized more like Juniors, is it the "J. Crew of Lands End" in style but also sizing and quality?
My first experience with Lands End Canvas was back in June. I ordered some traditional Lands End pieces, but also a square cotton voile scarf from the Canvas line. Everything was shipped together, but in a box with Canvas marketing. Inside I found a handwritten than you note from Canvas for Lands End. What amazing customer service!
Since I have lost a couple pounds recently, I felt courageous enough to try the clothing from the Canvas line. What I ordered:
– The Fit and Flare Dress in Size 14. I know other bloggers who have ordered and adored this dress. I am a pretty standard 14 in dresses, occasionally needing petite, but my bust needs that size.
– Their Poplin Skirt in Navy – sizes 12 and 14. I vary between these sizes with most retailers and wanted to see how they compared
– Striped Sailor Tee in Heather Gray/True Navy. I ordered a size Large, hoping it wouldn't be skin tight. I actually was envisioning it with the navy poplin skirt
– Heritage Oxford Shirt in Bayshore Blue, size 14. Again, with my bust I decided to go with the 14, hoping it would be fitted but not skin-tight.
I of course hit up Ebates before going shopping – this got me 3% cash back on my order. I ordered during the weekend that Lands End had Friends and Family (25% off) but that did not work on Canvas items. However using the code still got me free shipping. I recommend you check the Internet before finishing your order to see if there are any coupons out there (and of course use Ebates!).
As with any other purchase I have made with Lands End, it was very easy. Their site is easy to navigate, their shopping cart well laid out, the process simple. My purchase was on my front step in about a week. The whole purchasing and shipping process is exactly the same as with Lands End – easy, efficient, reliable, professional.
Now to the important part… the clothes! I wish I didn't wait to try Canvas by Lands End, I was so utterly impressed!
Fit: The fit is pretty true to size, some pieces being a tad generous.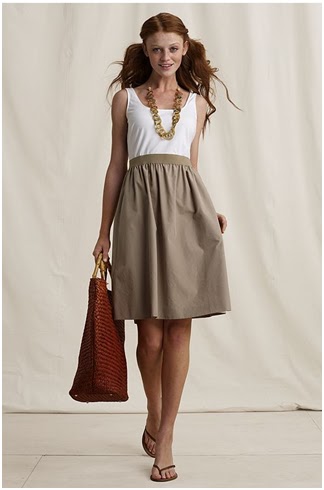 The Fit and Flare Dress I could almost carry off in a size 12, the waist and skirt were a tad big and long. The white knit top part is thick and opaque, the skirt is a nice weight of cotton sateen that has a bit of stiffness (and the dress has pockets!). I decided to not keep the dress because the waistline hits at a weird place on me – not empire, not standard. It hits at a place on my body that looks a bit like maternity wear. It wasn't as bad when I added a belt, but it still was too much volume at that part of my torso. However if I were thinner and could wear a smaller size with my same height/frame I think the dress would be adorable.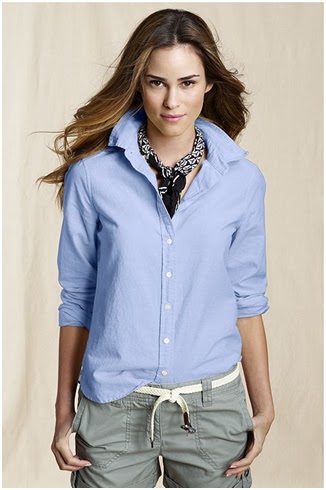 The Heritage Oxford Shirt is perfect in a size 14. It is exactly what I wanted – looks like a classic oxford, but shaped for a woman. And that woman is me. It nipped in a bit at the waist but didn't pull at the bust, and I didn't find the arms to be too tight. It is the standard light blue, buttons at the collar as well as down the front. Rolling the sleeves three times made it the perfect length for a casual look. I have paired it with jeans for hanging around the house, and tucked it into a dark denim pencil skirt for a look that would be nice for work, and was great for a baby shower I attended this weekend. I rarely purchase button-down shirts because they never seem to fit well, this is a lovely exception. I am seriously thinking of getting another one in pink.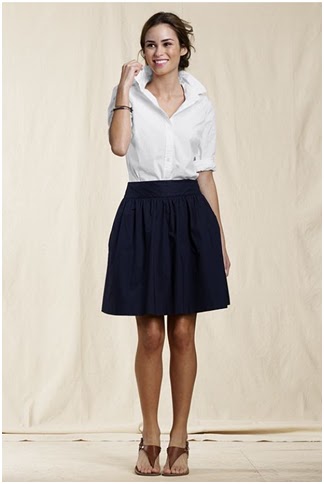 The Poplin Skirt fit as I hoped it would – the 12 was a tad snug but wearable, the 14 more comfortable, especially if I was to tuck in a top. I would find this fit to be similar to Gap in that regard. The poplin is light and airy, but with enough layers to have total modesty, even if standing in front of a light. The skirt is well made and utterly adorable… if I had a different figure. The skirt is full, and totally inappropriate for my body type. Too bad, because it's super duper cute!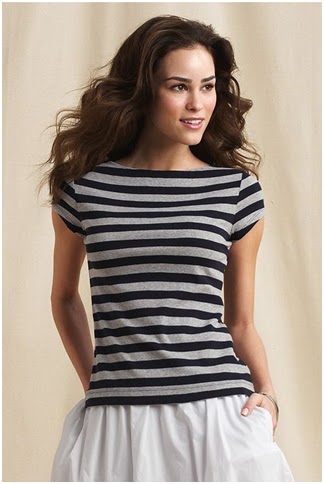 The Striped Sailor Tee is the other item I am keeping. I was shocked to find that the tee runs very large – I could probably fit into a medium with no problem. Because of it's loose fit and longer length (mid-hip), it isn't the fitted tee I imagined to be tucked into a poplin skirt. But then, I am not really one to wear a tee tucked into a poplin skirt! I have worn it with narrow jeans and really like the look. The knit is very thick yet soft and when thrown in the washer and dryer, it came out looking exactly the same and there was zero shrinkage.
Final verdict? Lands End Canvas is fabulous! It's like Lands End's slightly younger, hipper little sister. The pieces are classics with a trendy twist. I think I have found my new favorite place for trendy wardrobe classics!
Note: This review is not sponsored by Lands End. I was not contacted by them, I chose to do this review on my own free will, and was not compensated in any manner.