This article may contain affiliate links; if you click on a shopping link and make a purchase I may receive a commission. As an Amazon Associate, I earn from qualifying purchases. 
My friend Sarah introduced me to the brand Lifetherapy last year and I have been a fan ever since.  I'm a bracelet junkie with a New Agey heart, so the brand really spoke to me.  Since then, I have added a Lifetherapy necklace to my collection and have enjoyed their body collection.  Lifetherapy is a US-based company run by Lynette Lovelace, a true labor of love for this inspiring woman.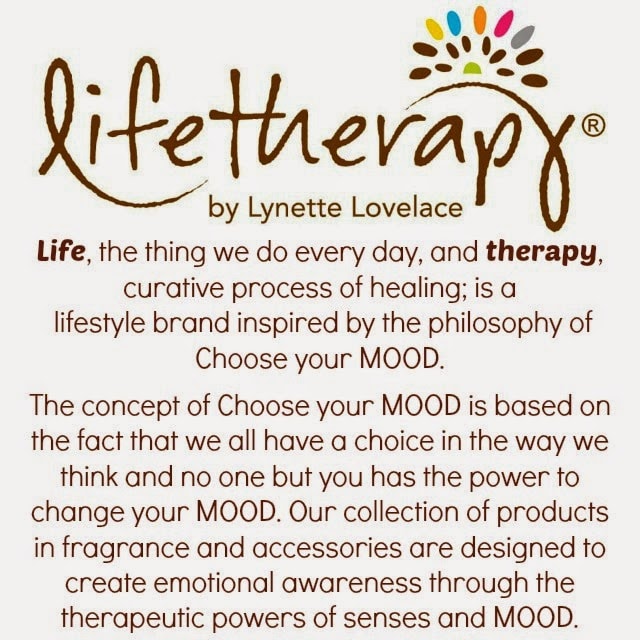 Lynette believes fragrance and color are the most influential ways she can create awareness in others of how the mind works and the power of thought. After experiencing some difficult life experiences, Lynette found fragrance and color to provide a natural healing place and now hopes to share those healing powers with others through Lifetherapy.
Lynette has a strong background in retail. Before starting Lifetherapy, she owned a boutique and bistro in a Chicago suburb for 20 years.  Lynette sees Lifetherapy as an extension of her personality and loves connecting with users and sharing stories about how simple awareness can alter one's mood and reaction to things.  Lifetherapy does carry bracelets as well as necklaces and body care products that are formulated by mood.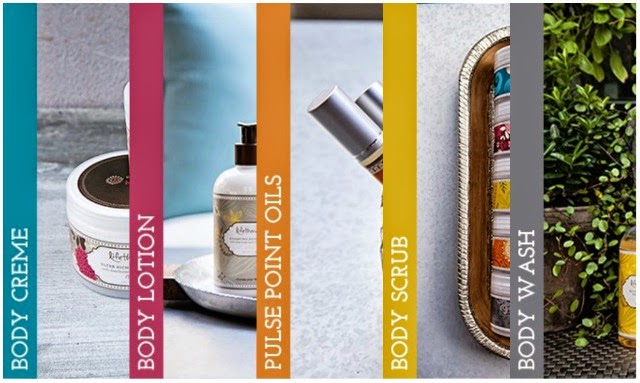 The body care line is different from others in that the five fragrances featured are meant to create the sense to PLAY, ESCAPE, CHILL, VACATION, and FLIRT. Lifetherapy's MOOD boosting fragrances are alcohol free, paraben free, phthalate free, mineral oil free, petroleum free, not tested on animals and made in the USA.  I've tried products from the VACATION, FLIRT, and PLAY collections and find the products high quality. My favorite are the Pulse Point Oil Perfumes which are long lasting and their packaging is perfect for travel.
I have several of Lifetherapy'sPositivity in Color bracelets which bring about awareness of MOOD with the use of 12 different colors, each color representing a different strength, keeping you mindful of the positive. Each accessory is adorned with the brand's signature turquoise bead for protection and good fortune. Also, all bracelets are handmade in the USA.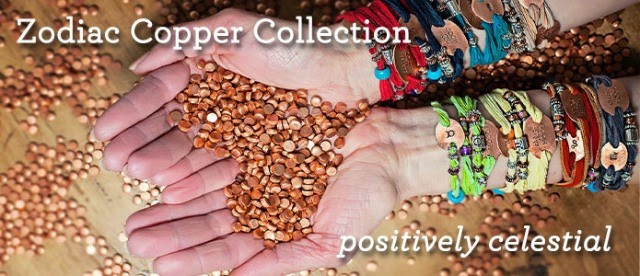 My new favorite collection from Lifetherapy is the Zodiac Copper Collection, which has delicate pendant necklaces and wrap bracelets decorated with charms.  There's a bracelet and necklace for each astrological sign.  Lynette got the idea for the collection from visiting her husband's place of work where he deals in metal fabrication. One day she noticed small copper scraps on the floor and asked if she could recycle them and turn them into jewelry.  Copper is a great conductor of electricity and is often used by healers to conduct life energy (also known as qi, chi, or prana).  Copper is believed to smooth and amplify the flow of energy within the body and in doing so it also soothes the thoughts, emotions, and energies.  Lynette already used turquoise in her line as it is known for drawing negative vibrations from a person; one of the main compounds of turquoise is copper so it seemed like a perfect pairing and a way to increase the power of turquoise.  I have the Aquarius bracelet and wear it often (see it here on my Instagram profile); the necklace's chain is a bit short but I have moved the charms to my favorite charm necklace.
Maybe you believe in the power of color, elements and fragrance to heal and improve mood. If you don't, you can still appreciate the beautiful handcrafted jewelry and delicious body care products and that they are made by a woman who truly believes in her product and who truly cares about her customers.  I started as one of Lynette's customers but now consider her a friend. If you want to know more about Lifetherapy and Lynette, visit Facebook, Twitter, Pinterest, and Instagram.
The Small Business Saturday series on Wardrobe Oxygen features US-based independent brands and artists that focus on style with substance and soul. Stay tuned to learn about more great small businesses, and if you know a business that deserves to be featured please share it in the comments!
Follow Me | Twitter | Facebook | Instagram