This article may contain affiliate links; if you click on a shopping link and make a purchase I may receive a commission. As an Amazon Associate, I earn from qualifying purchases.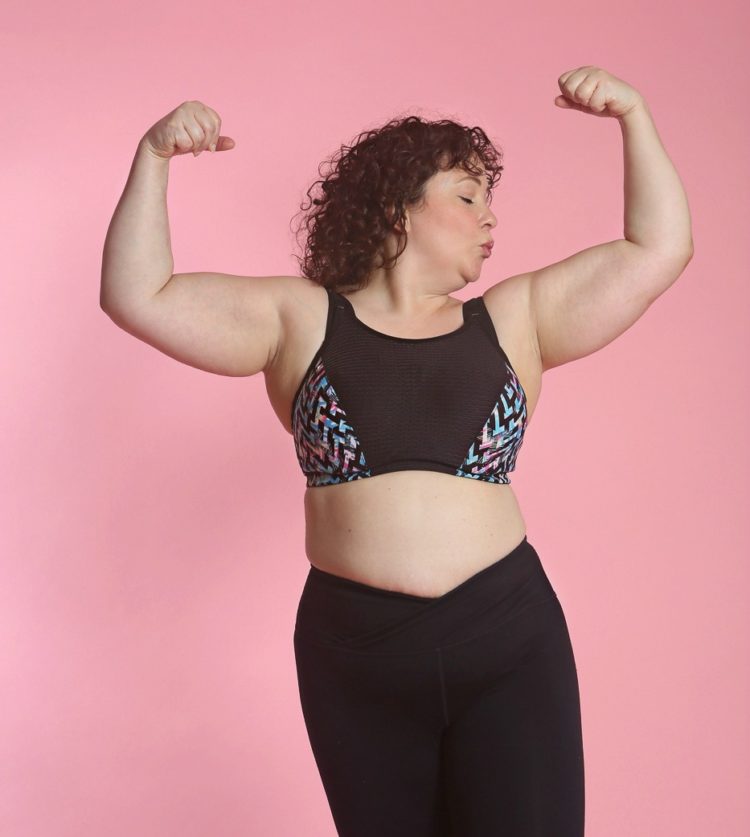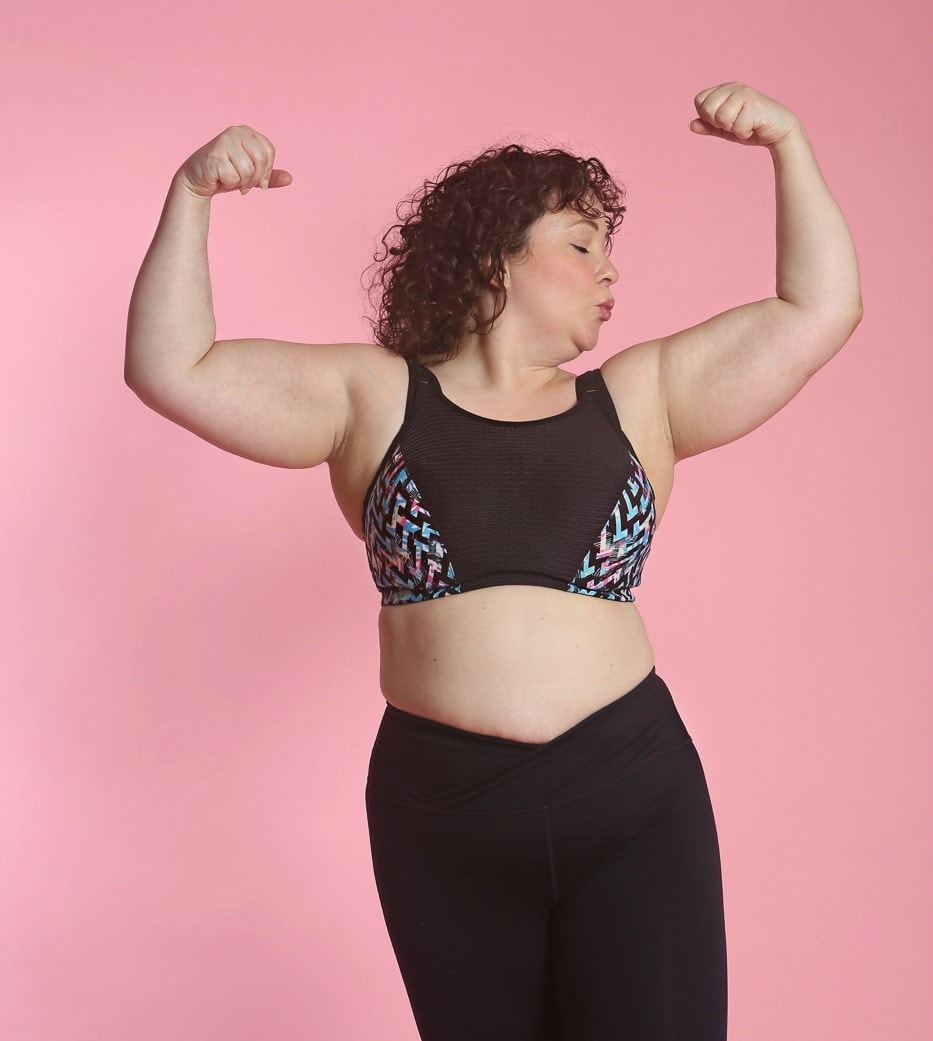 I work out almost every weekday morning, and with a 36 F chest, I can't do it with any old sports bra. I'm always on the hunt for sports bras for large busts. While I don't regularly participate in high-impact exercise, I am 45 and gravity has visited this body and I need something that keeps things in place relatively well. I did a large bust sports bra review earlier this year, but after writing this post about the highest rated bras for plus size women I wanted to try some new-to-me brands that you all really love. I made an order at Bare Necessities of bras from brands I am not as familiar with. I think it's more important than ever for us to stay strong physically and mentally so a sports bra may be a necessary purchase right now.
Spoiler alert, I didn't keep any of the bras below. But that doesn't mean they aren't good bras. The more brands I try the more I realize that just like denim brands, bras are designed for a certain shape of breast and/or body frame. Just as we all don't have the same shape of rear or hip to waist ratio, we all don't have the same shape of breasts. I'm sharing views from a variety of angles in hopes it will help you compare your shape to mine and what was a miss for me may be a hit for your fabulous figure!
Sports Bras for Large Busts: Hits and Misses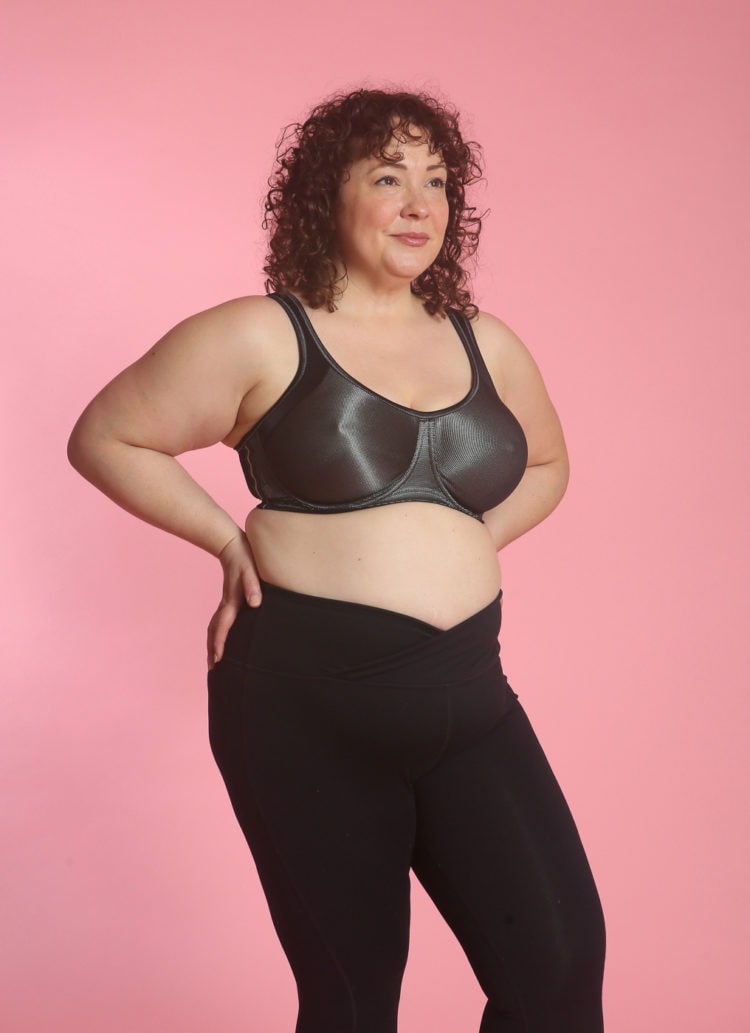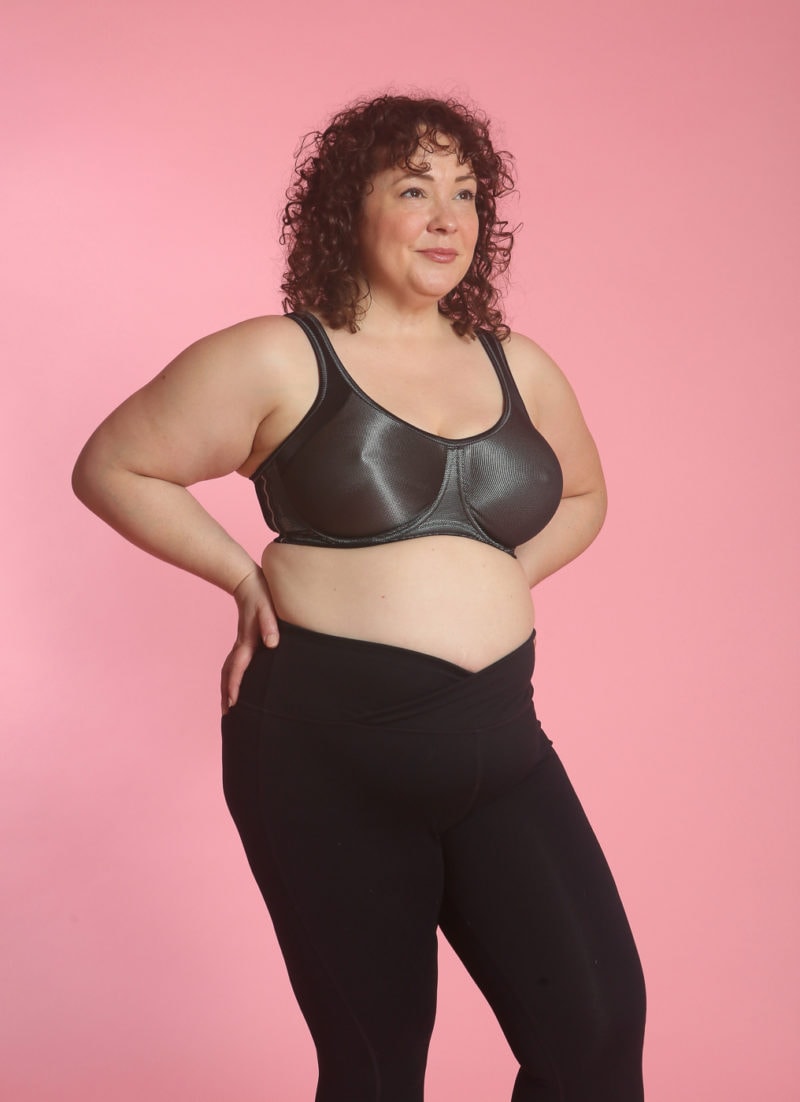 I swore by Anita bras when I was nursing. Once I got back to work, I wanted bras that worked like traditional bras, lifting and separating, but also making it easy to not just nurse but pump. Anita offered that, while also having profiles that hid even under fitted knits. I tried one Anita sports bra before and it was a miss, but thought maybe it was the style not the brand that didn't work for me. This bra has over 100 reviews with a 4.5/5 star rating so I felt it was a good one to try.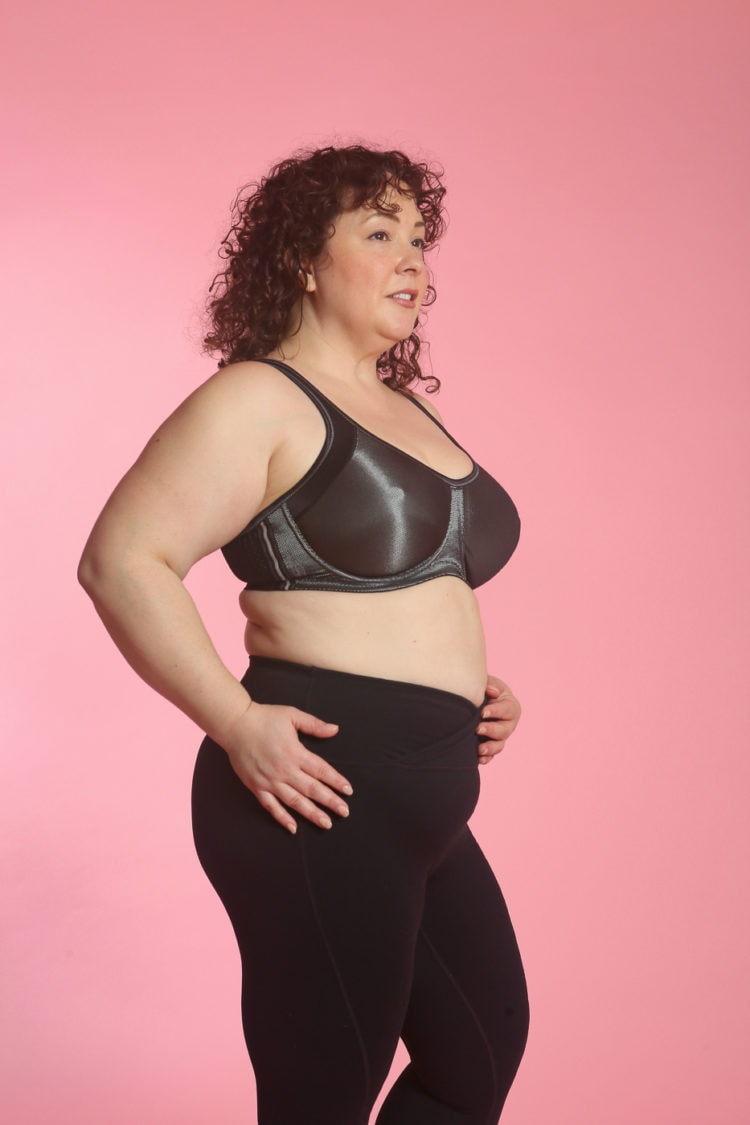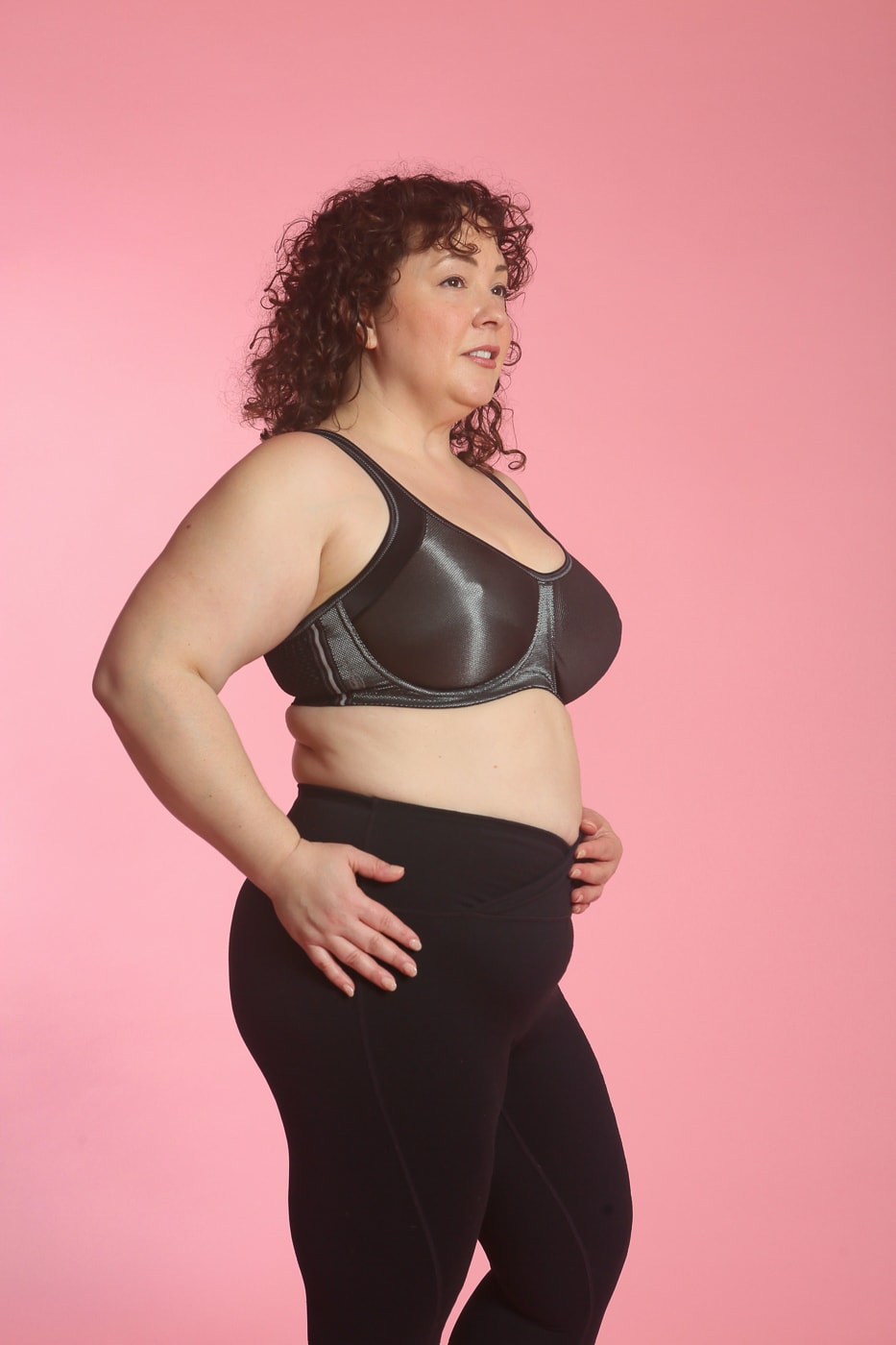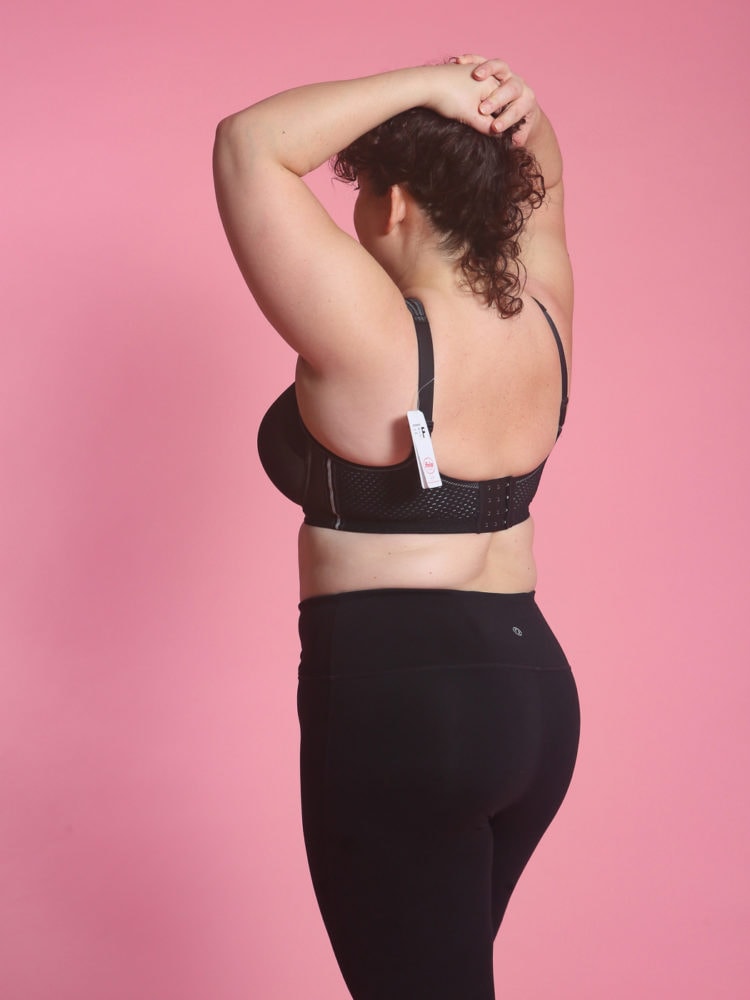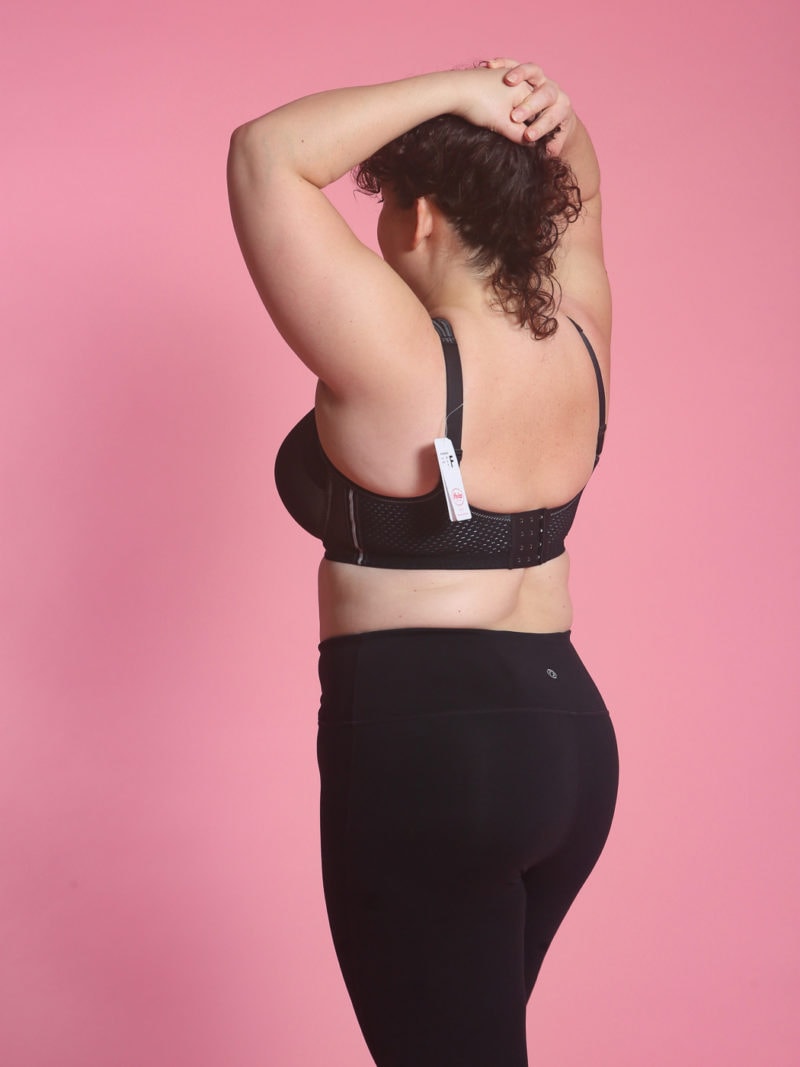 This is a great bra… but not for high-impact workouts. In fact, I think this would be a great everyday bra. However, it did nothing for me, I found I had more jiggle in this than my favorite everyday bras. I also like a sports bra that looks enough like a traditional sports bra that I can wear a top that shows some of it under the arms or in back, or that I could even remove my top and not look half-naked. While this fabric is space-agey with the metallic dots, it looks very much like a traditional bra. That being said, I seem to be in the minority. Many LOVE this bra, finding it very supportive. So it's a miss for me, but if you have firmer or slightly smaller breasts or are looking for a comfy everyday bra that is moisture-wicking and breathable, this could be the right bra for you!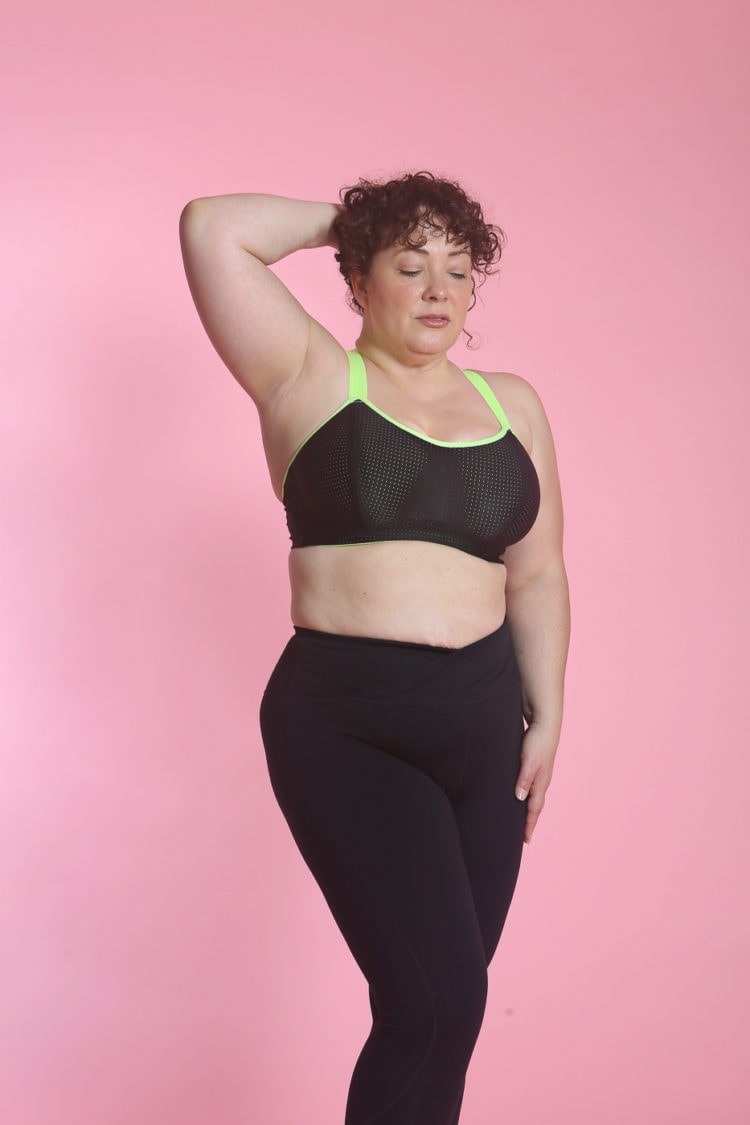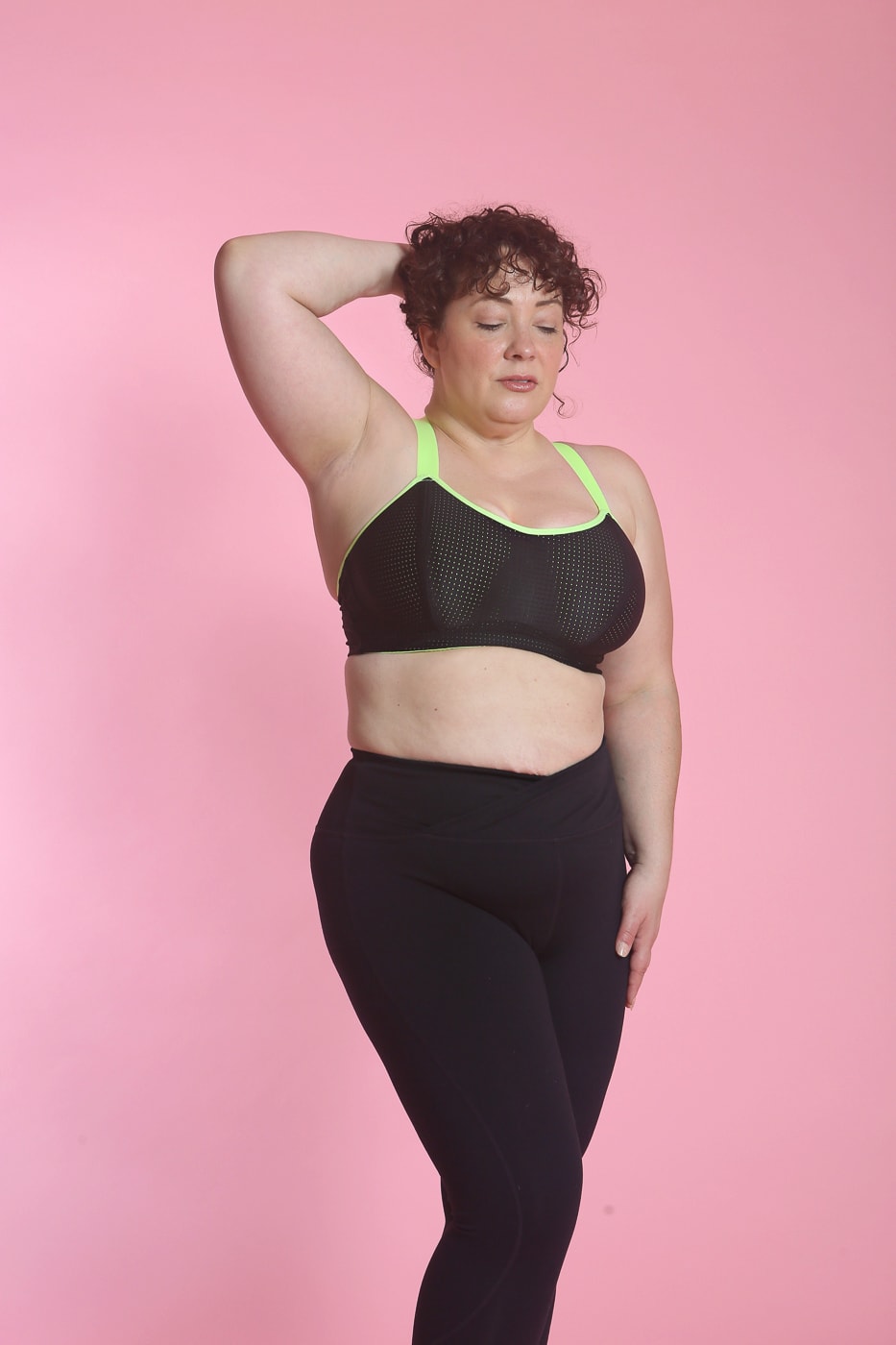 This bra looked super cool on the Bare Necessities site. While only seven reviews, almost all of them are five-star discussing how it keeps everything in place. The size chart suggested that I should order an E since this is a UK brand so I did. It comes in several colors, I liked the black/lime combo, and felt it looked like a bra I could wear on its own and not look half-dressed.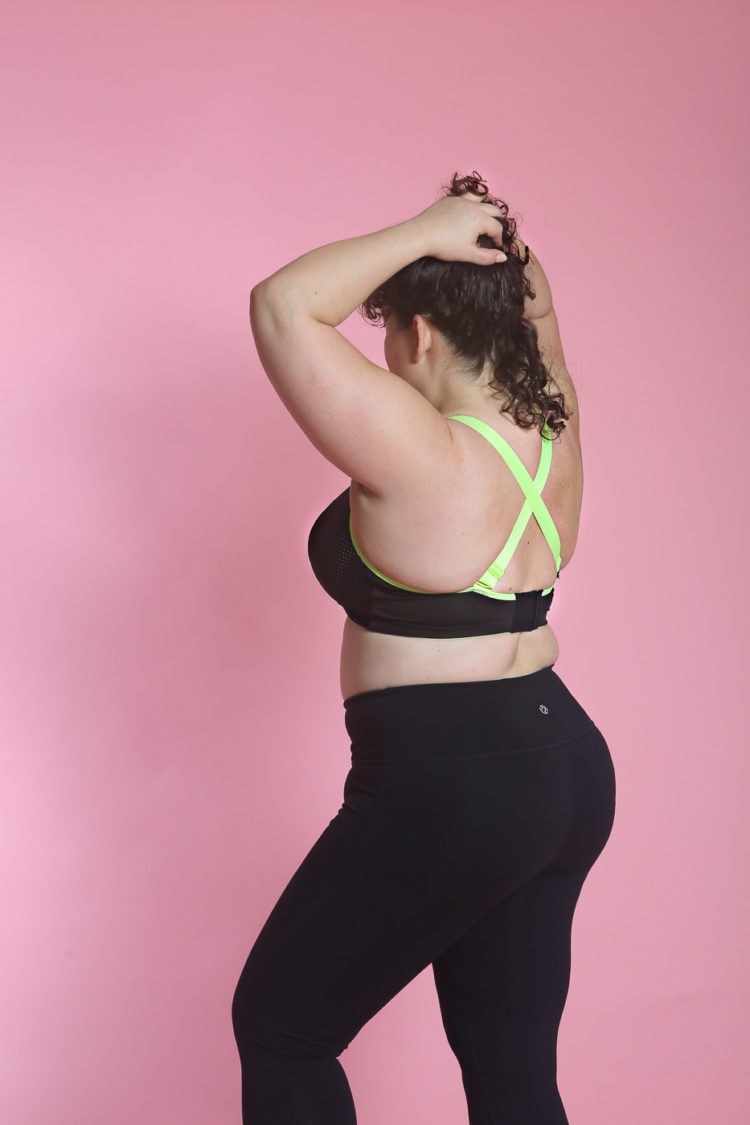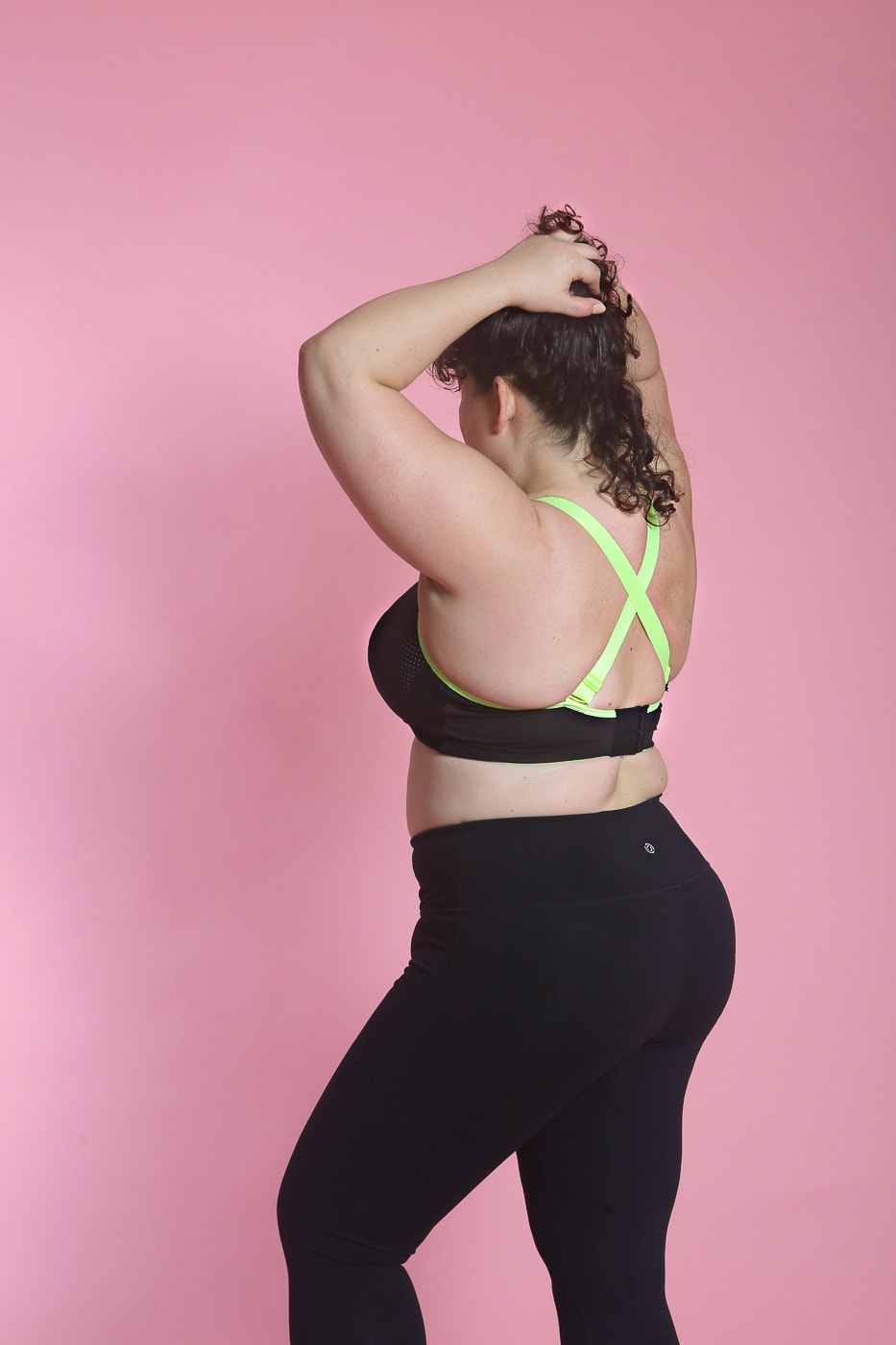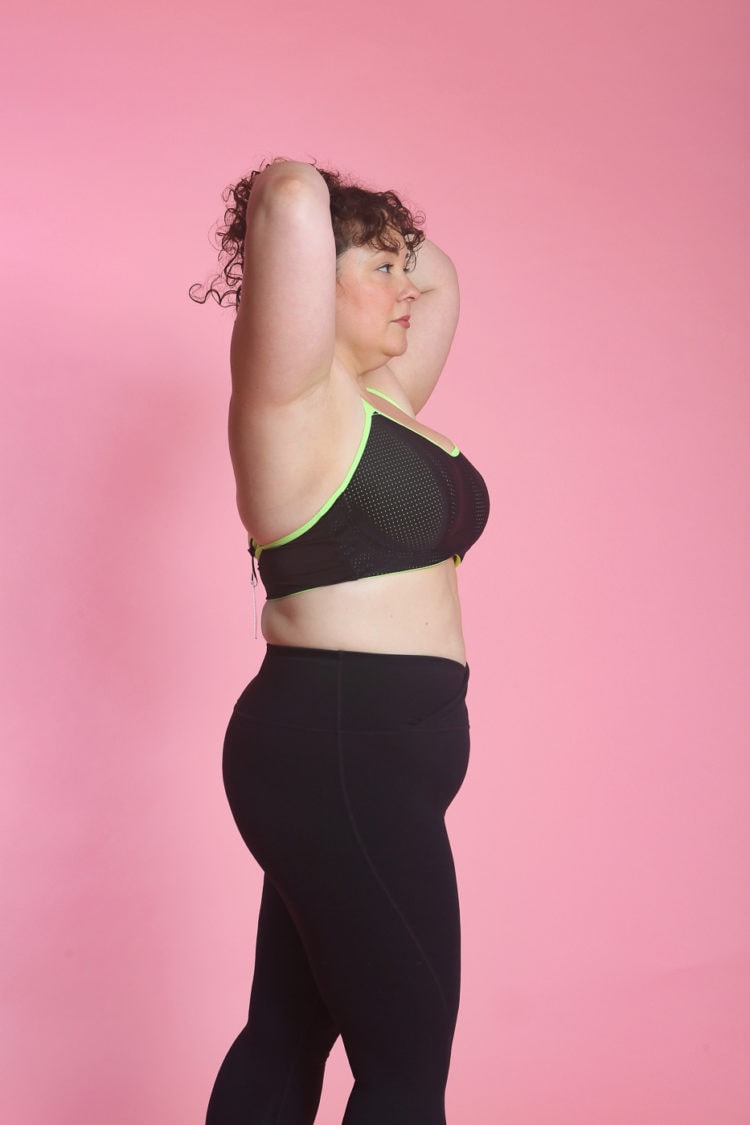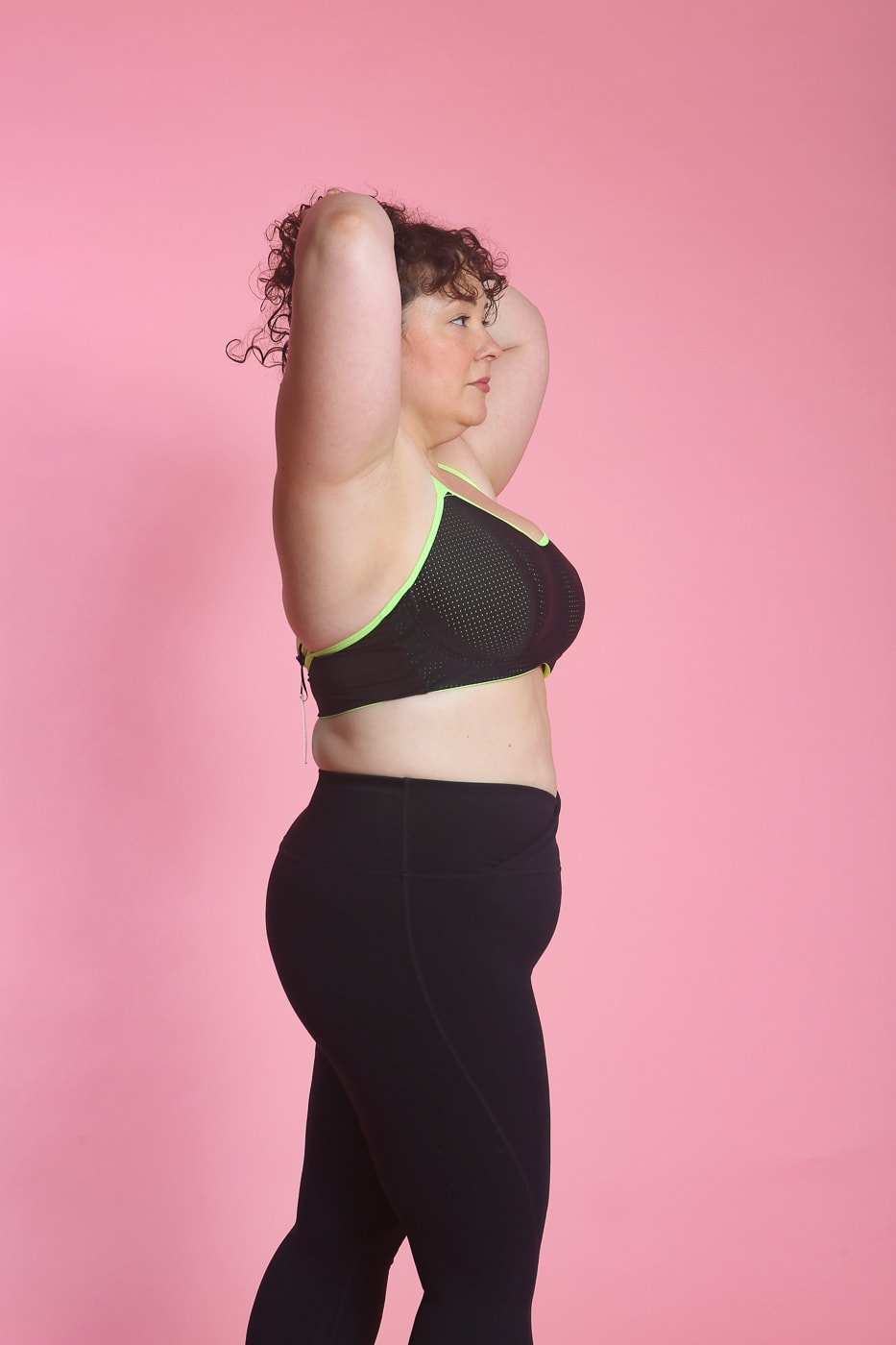 I often write about how bras don't just have to be the right size, but the right style for your current body. And my 30-year old body would have LOVED this bra. But since then, I have gained 15 years in life, had a baby, nursed it for over two years, went up to a 16/18, down to a 10/12 and have hovered in between since and my breasts are just not as firm as they used to be. So the bra looks good in the photos, but it's not terribly practical for my current breasts. If I did push-ups I think I may slip out a bit because it's not structured enough. The underwires are floating in space between my breasts, accomplishing little. The straps are too stretchy to prevent bounce. It's a bra that looks great but doesn't really perform great for my breasts. Sadly, a miss.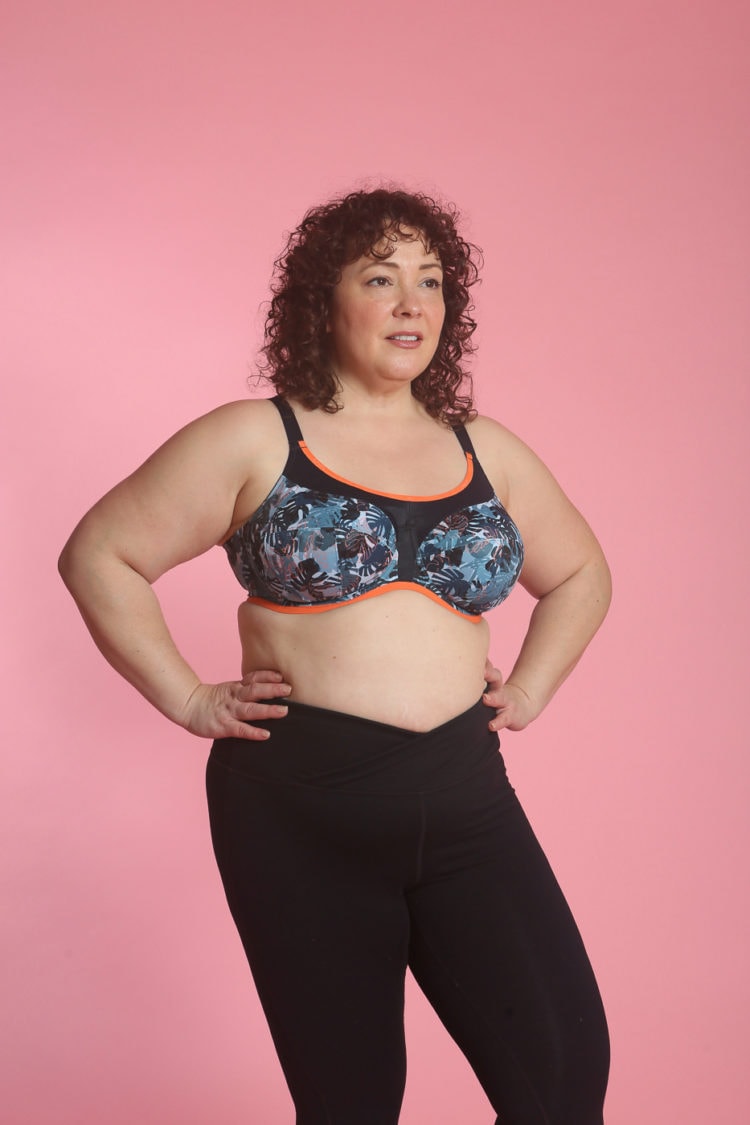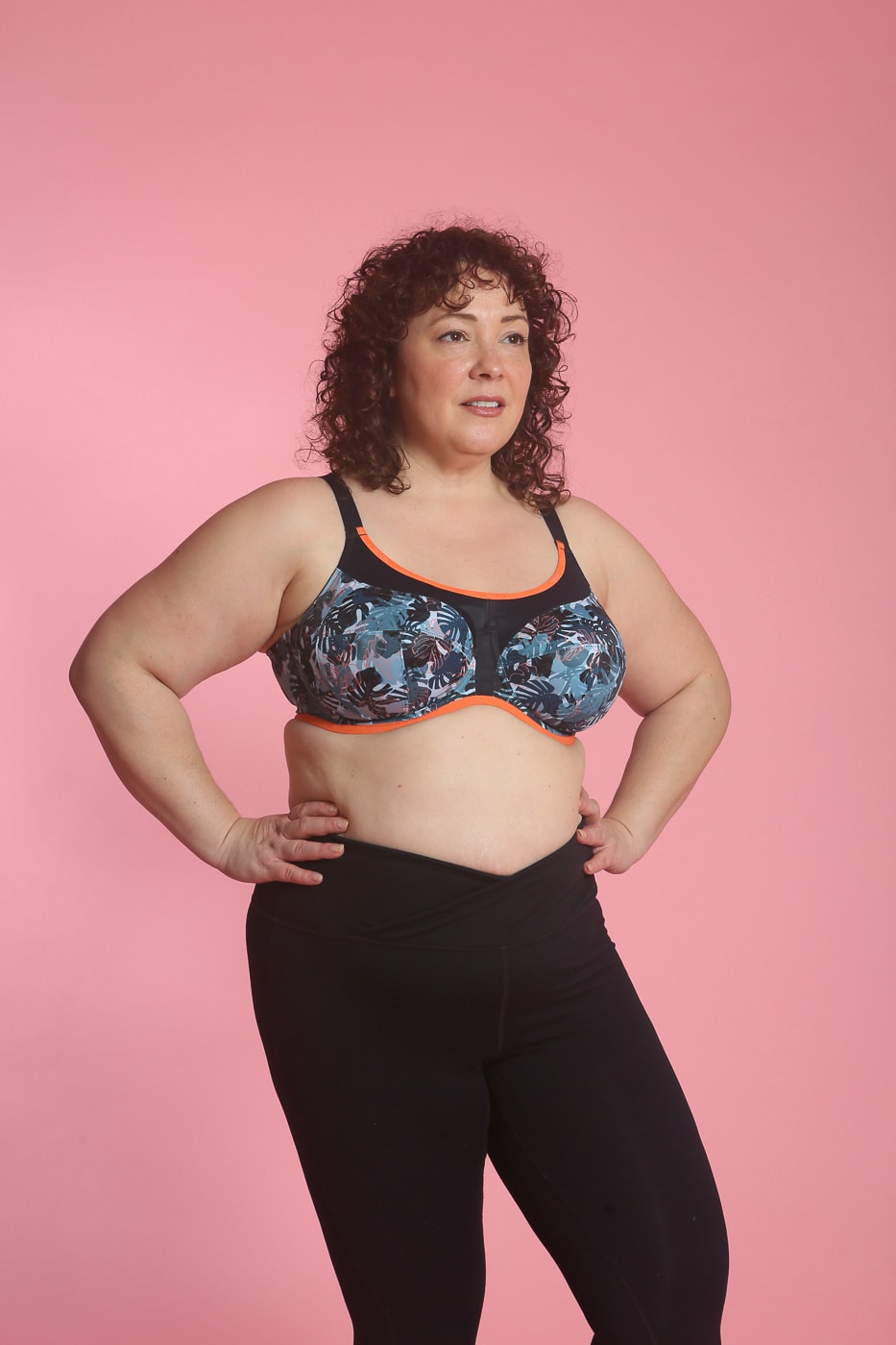 This was the first bra from the mix that made me realize that it's not me, it's the shape of the bra. And I am in no way shaped like the fit model for Elomi. I had tried Elomi before and it was a fail, but not until I put this Elomi bra on did I realize it was the shape and location of the cups, not that it is necessarily a bad bra or bra brand.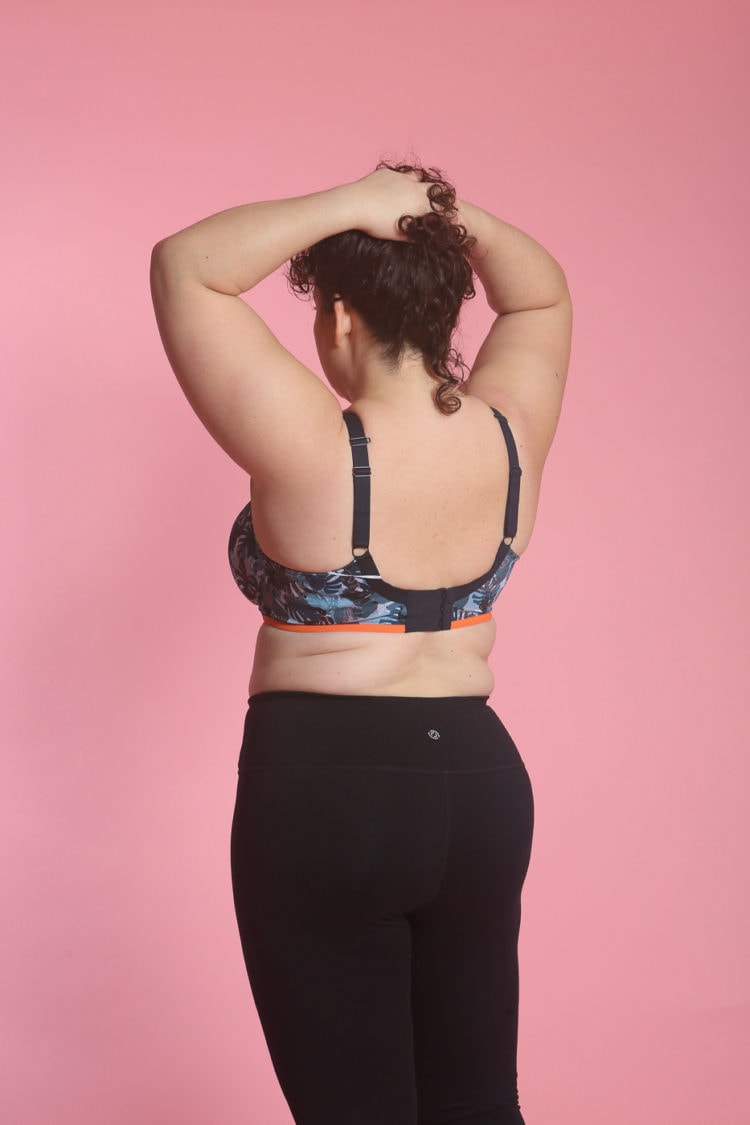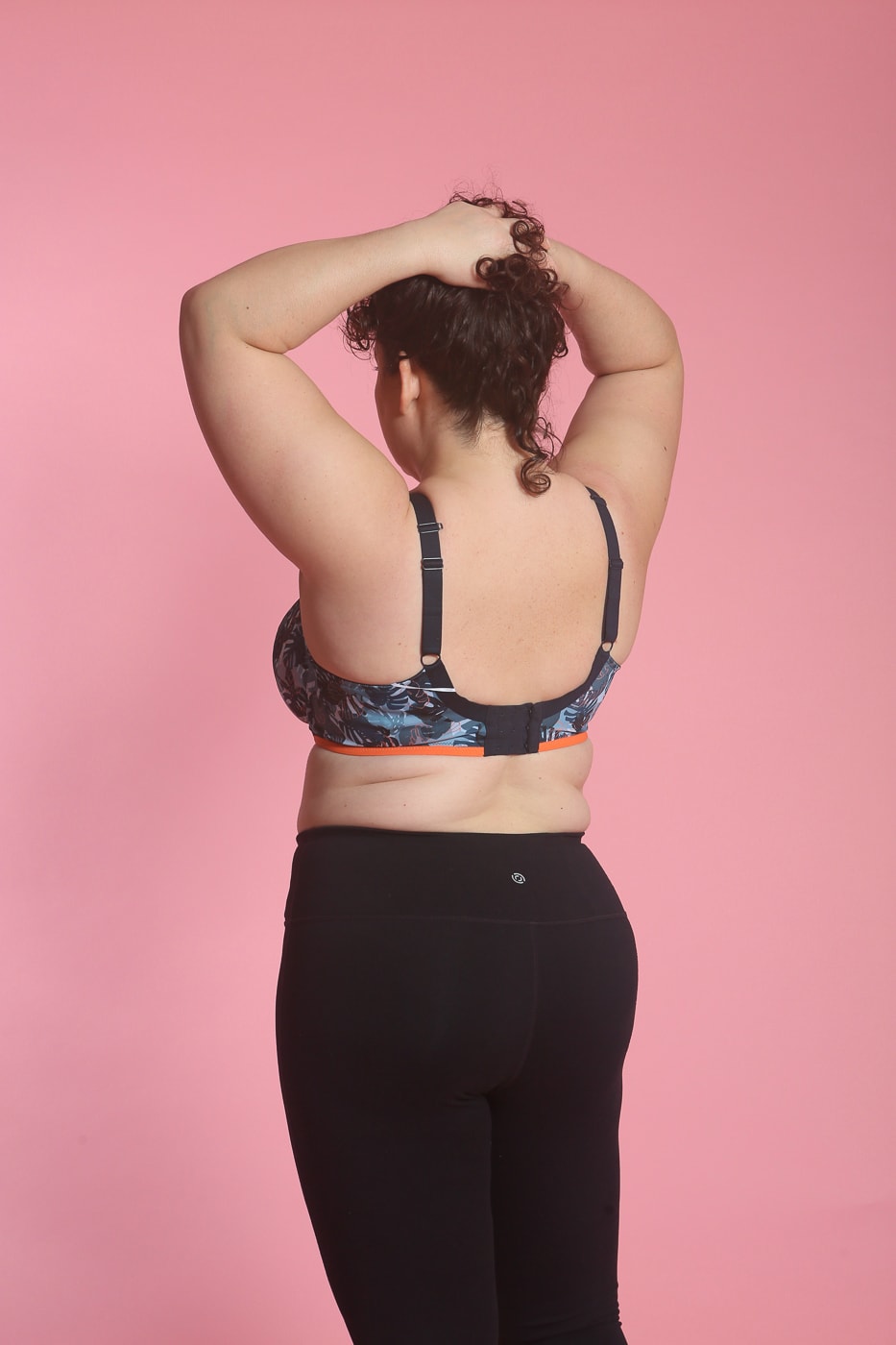 The way the cups are structured and are located on the bra, it squishes the top of my breasts and pushes them down. I think this bra is designed for someone with a longer torso and lower breasts, and breasts that are more… bullet-like while mine start all the way in my armpits and higher on my chest. That being said, this is a comfortable bra similar to a traditional day bra but from moisture-wicking fabric that is rigid enough for support during cardio and a clip in the back to convert it to racerback. So it's a miss for me, but the bra itself is not a miss.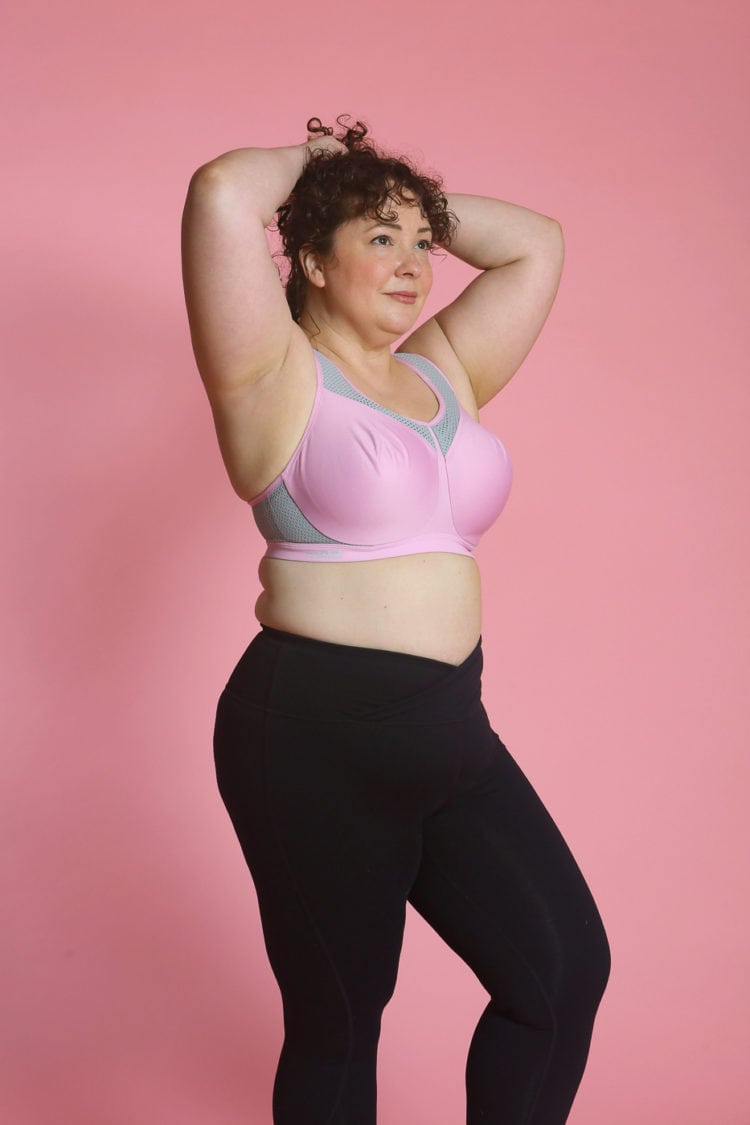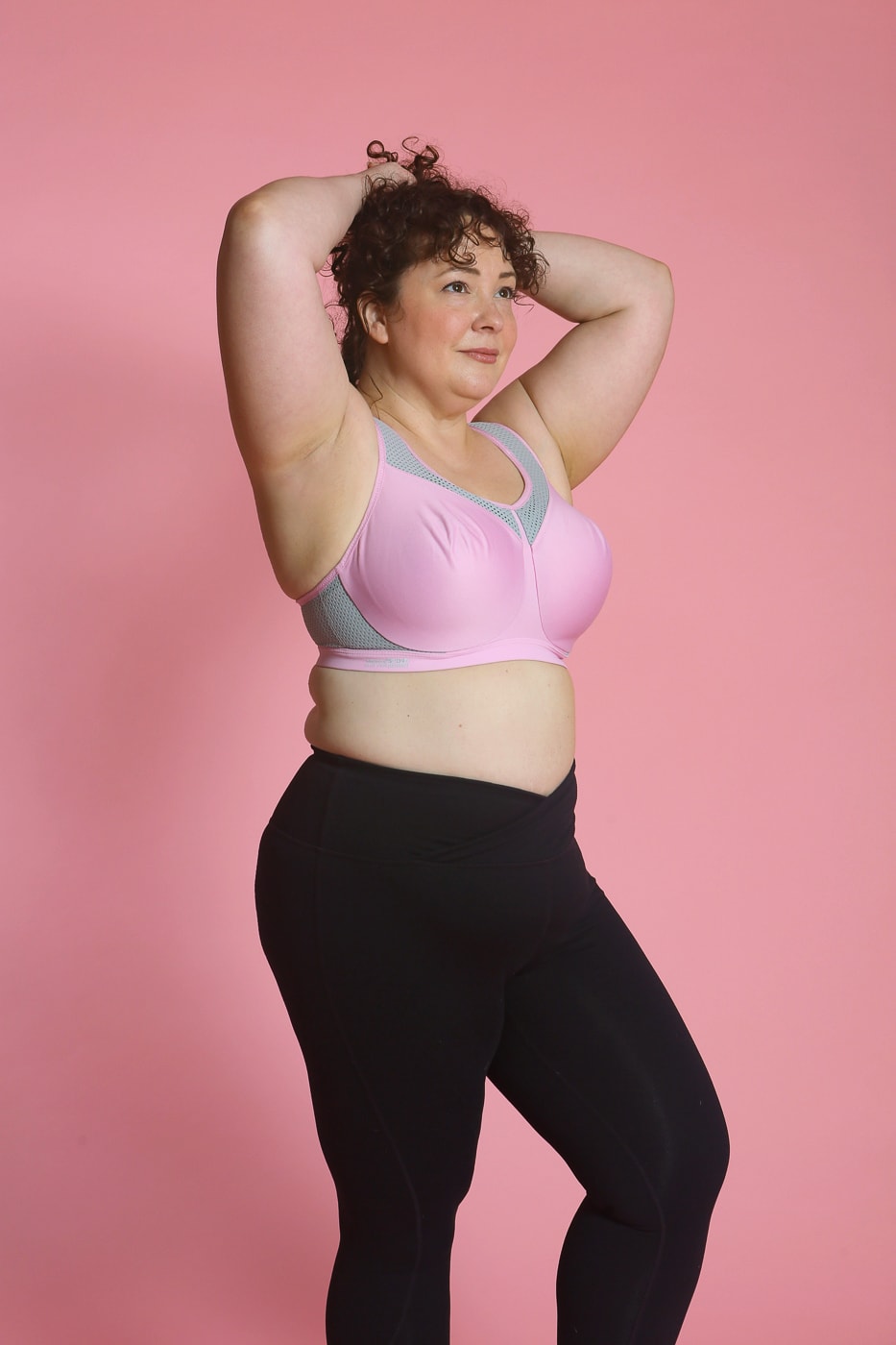 To be honest, I don't recall why I bought a 36DD. I wear a 36F in Fantasie and Bare Necessities suggested I get a 36G. Maybe I clicked the wrong thing? I don't know but I do know that a 36G would have been too big.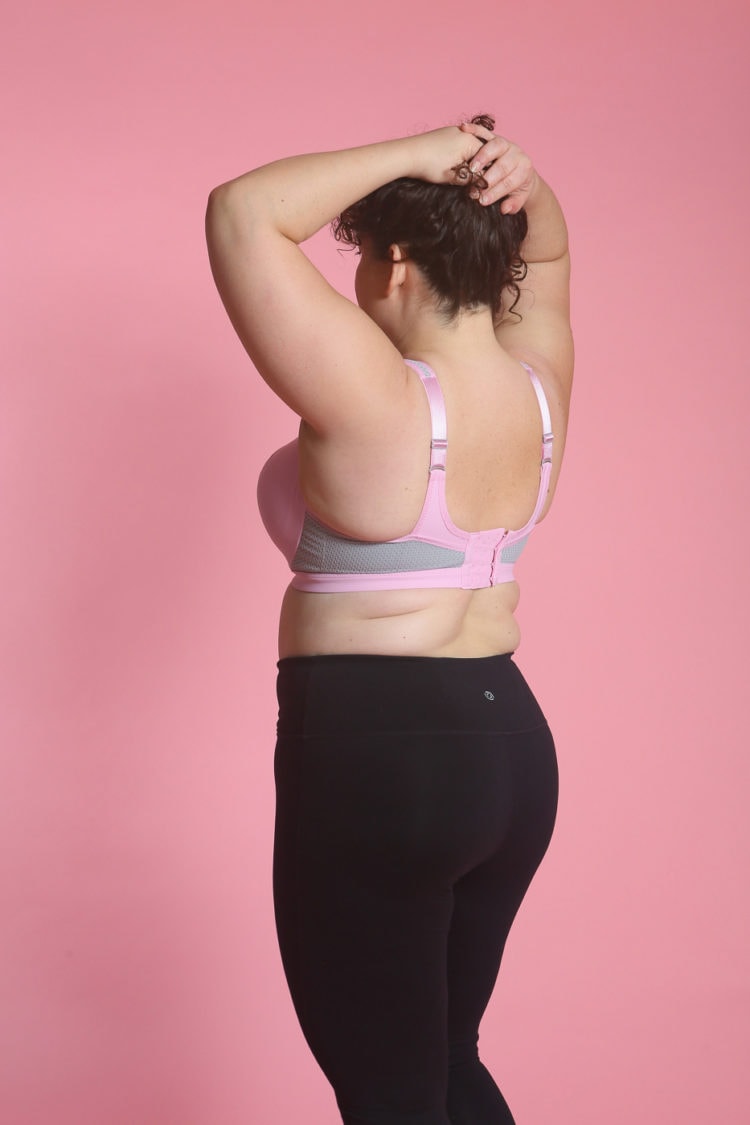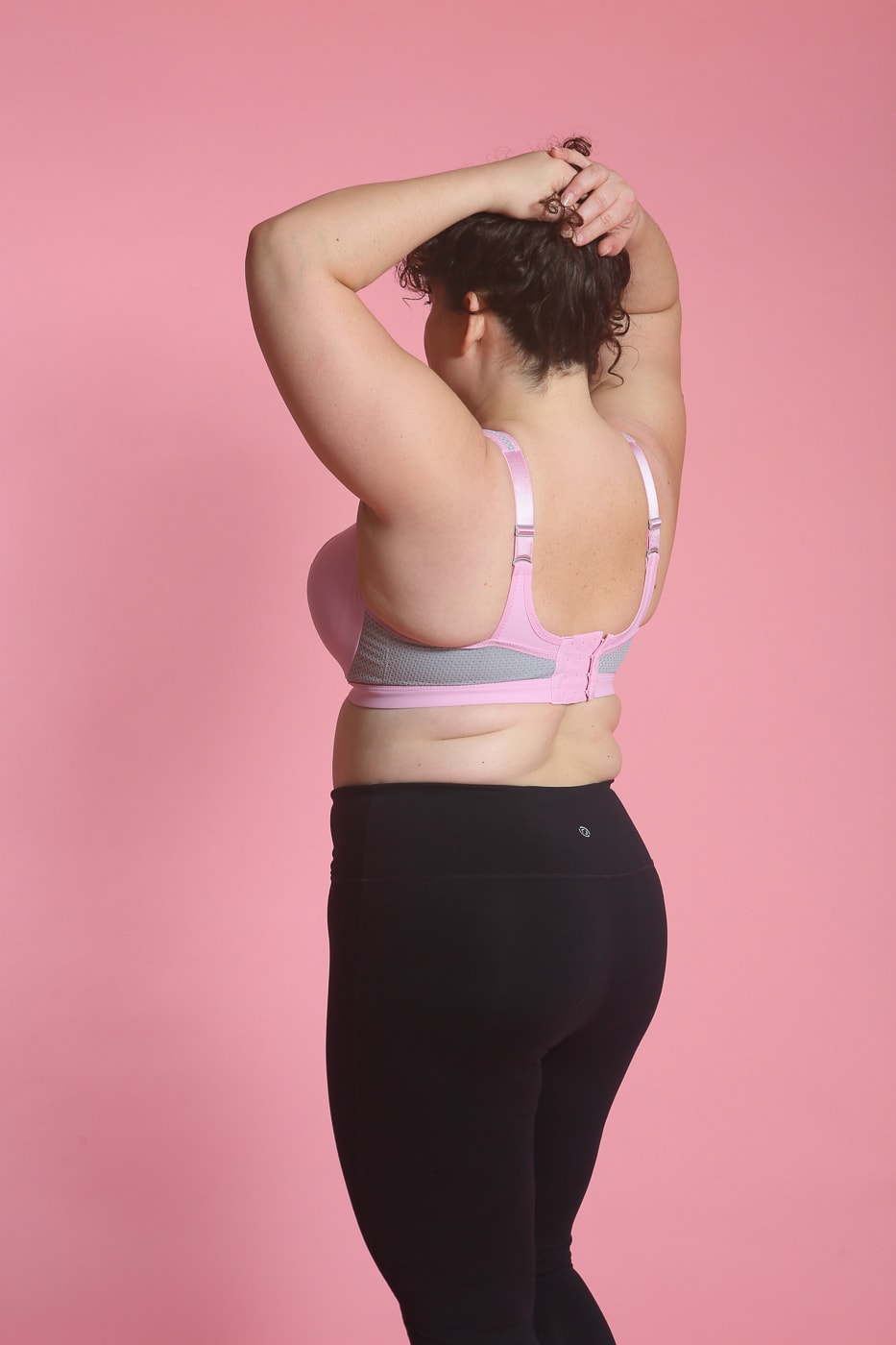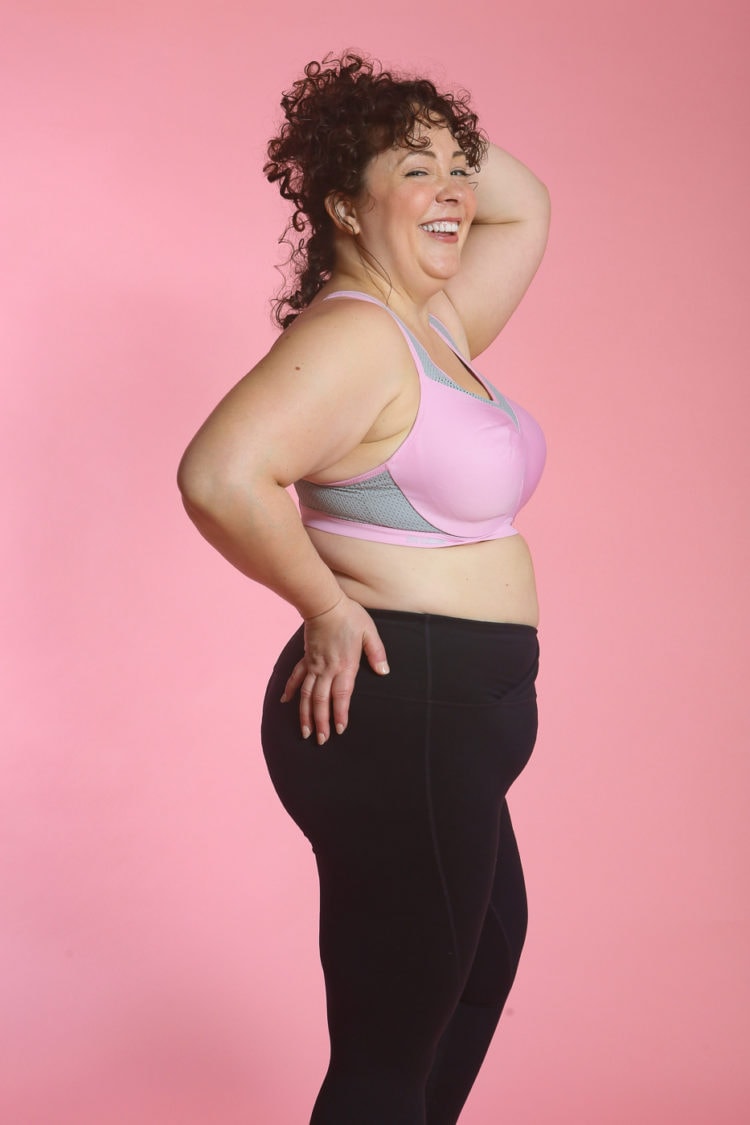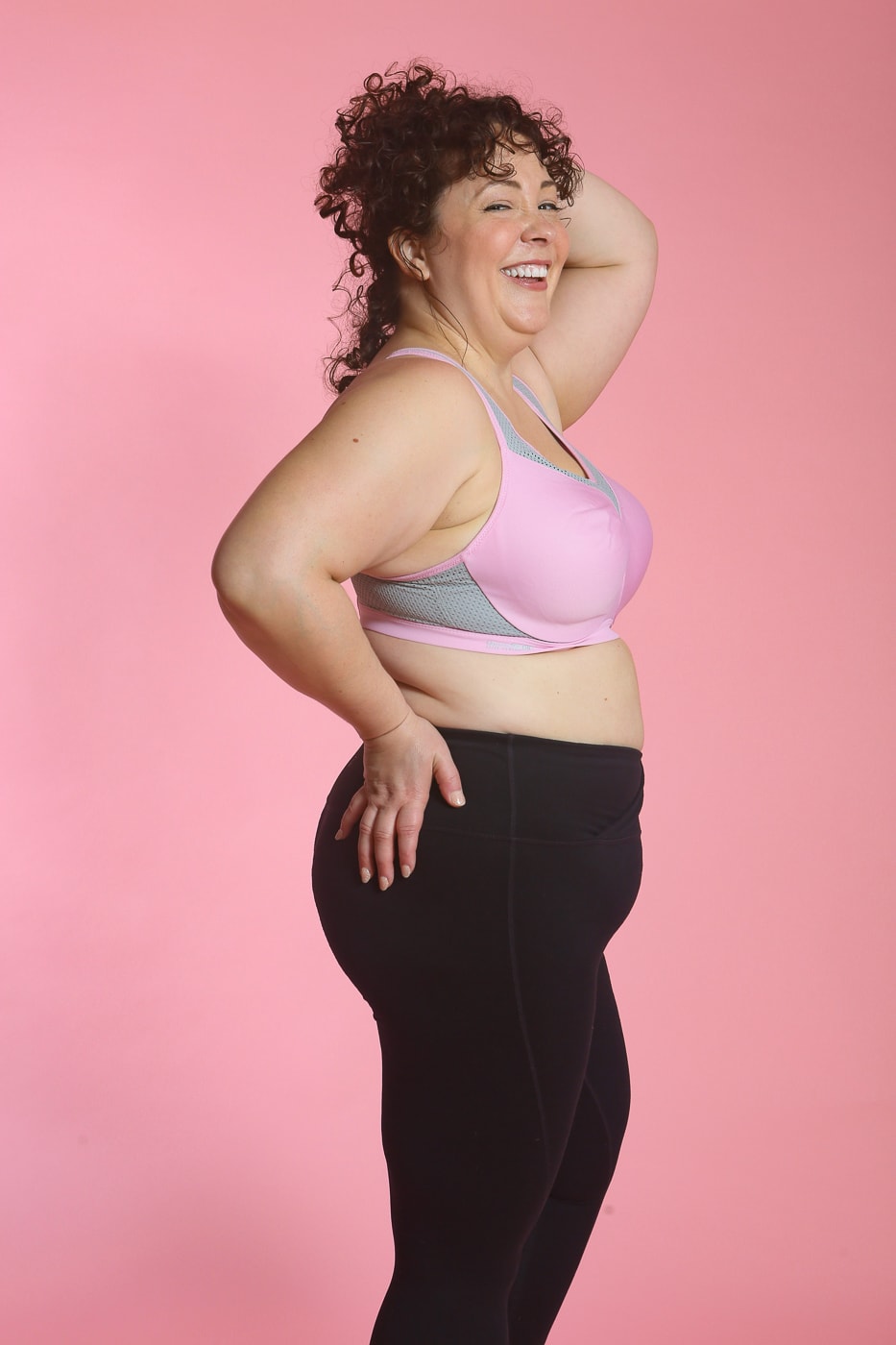 For the previous bra, a reviewer stated that bra, "…was a little too projected for me, with some emptiness in the apex of the cup." I read it and thought they were writing about this bra from Glamorise. It's not a bad bra at all, but clearly my bust isn't shaped the same as the fit model. If it seemed the same shape as me I'd exchange for a different size because it's supportive without being constricting, looks sports bra-y enough for it to peek out from a tank top, and designed to really support and hold a large bust, even one that has been affected by life and gravity. So a miss for me, but worth checking out!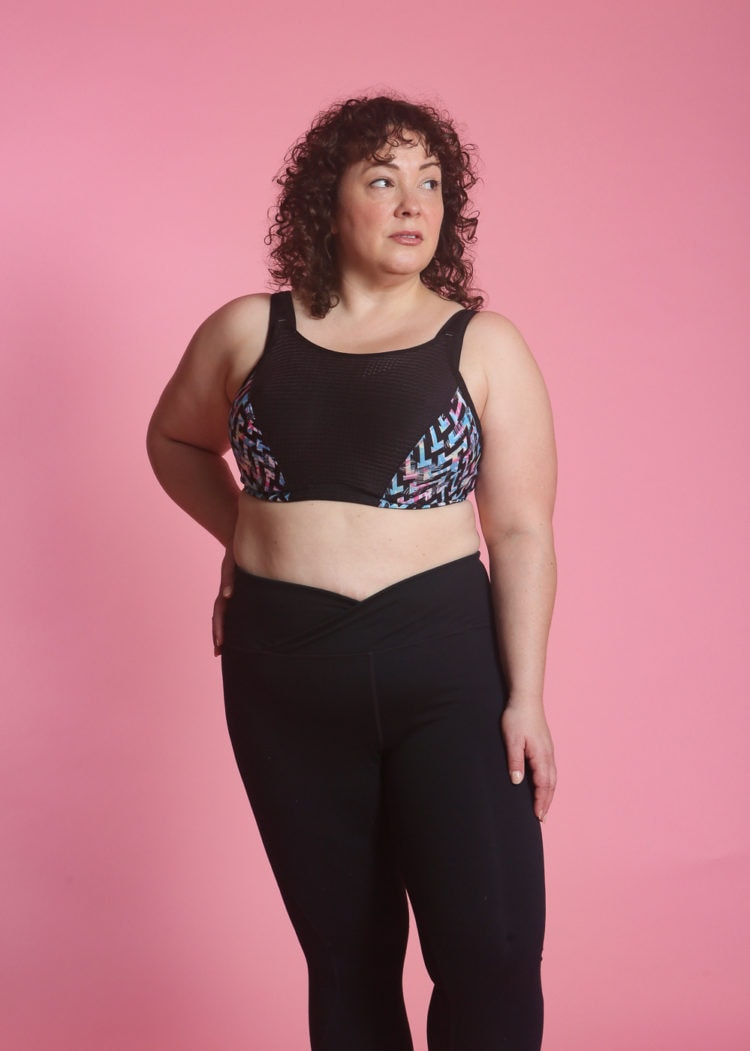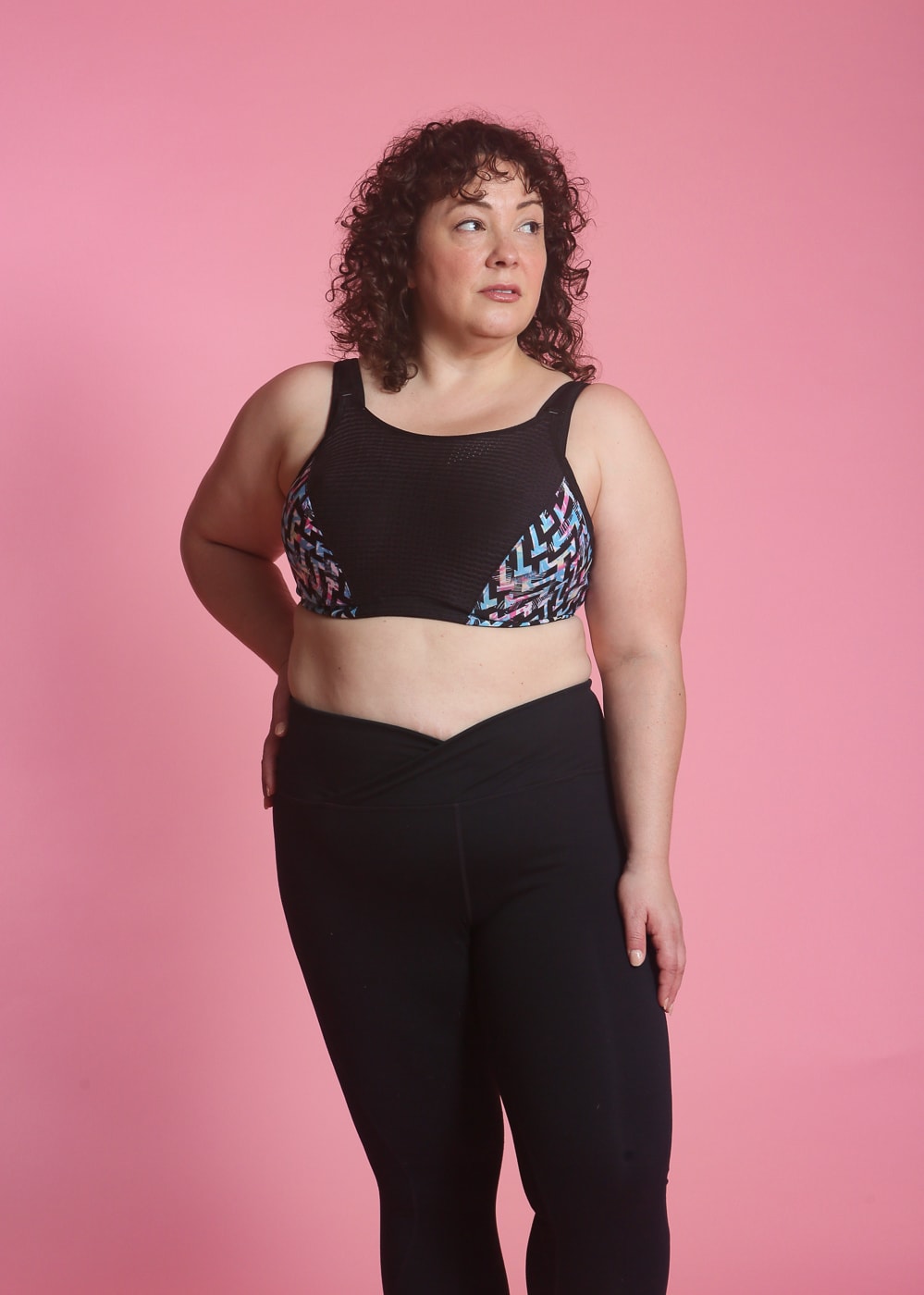 I really wanted to order this just to comprehend the front support aspect of this bra. I couldn't fully figure it out from the images on the Bare Necessities website, and the reviews didn't really explain it well enough for me either. It looked like a nursing bra with the clips in front for access which didn't make sense. But when I got it, I got it. See below.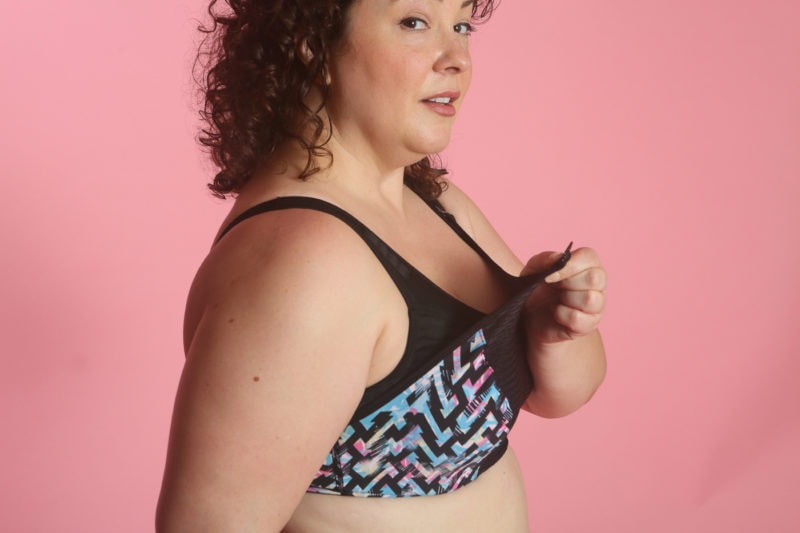 Like sports bras and swimsuits that have little tubes on the straps to adjust the length, this has the tubes in front to adjust the support and compression. The higher up, the more compression and support. And with it right up in front, it's easy to access while wearing the bra. This would also be a great bra for those with different breast sizes because you can better customize.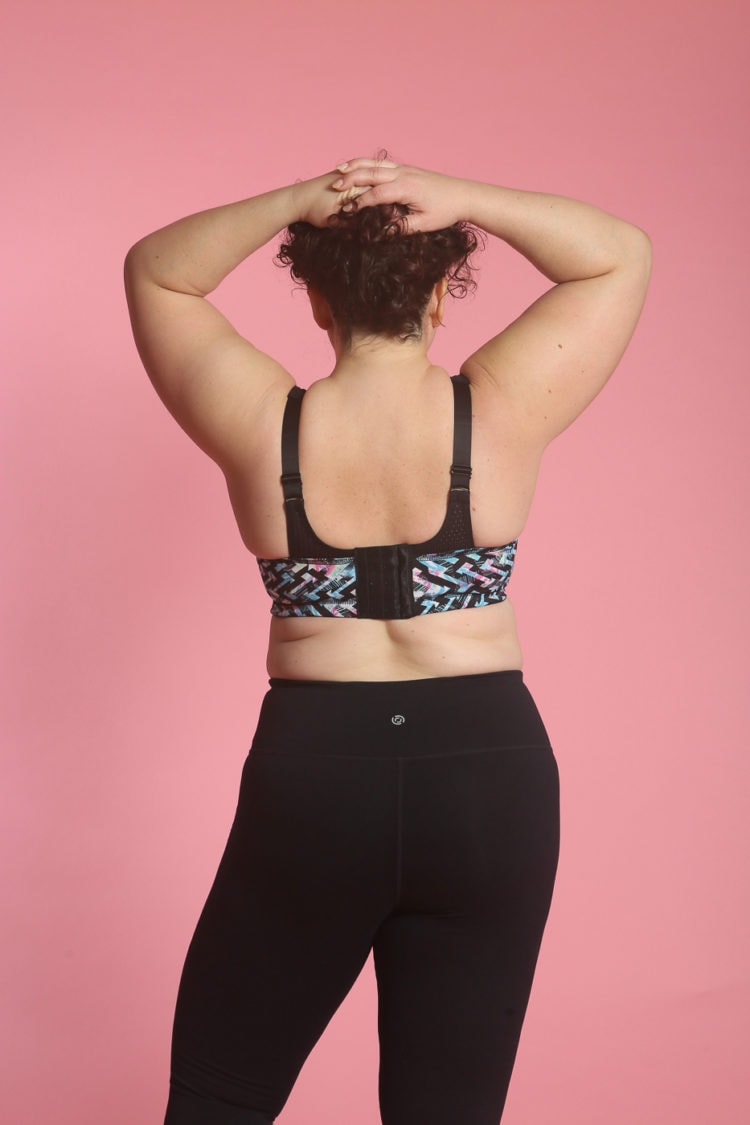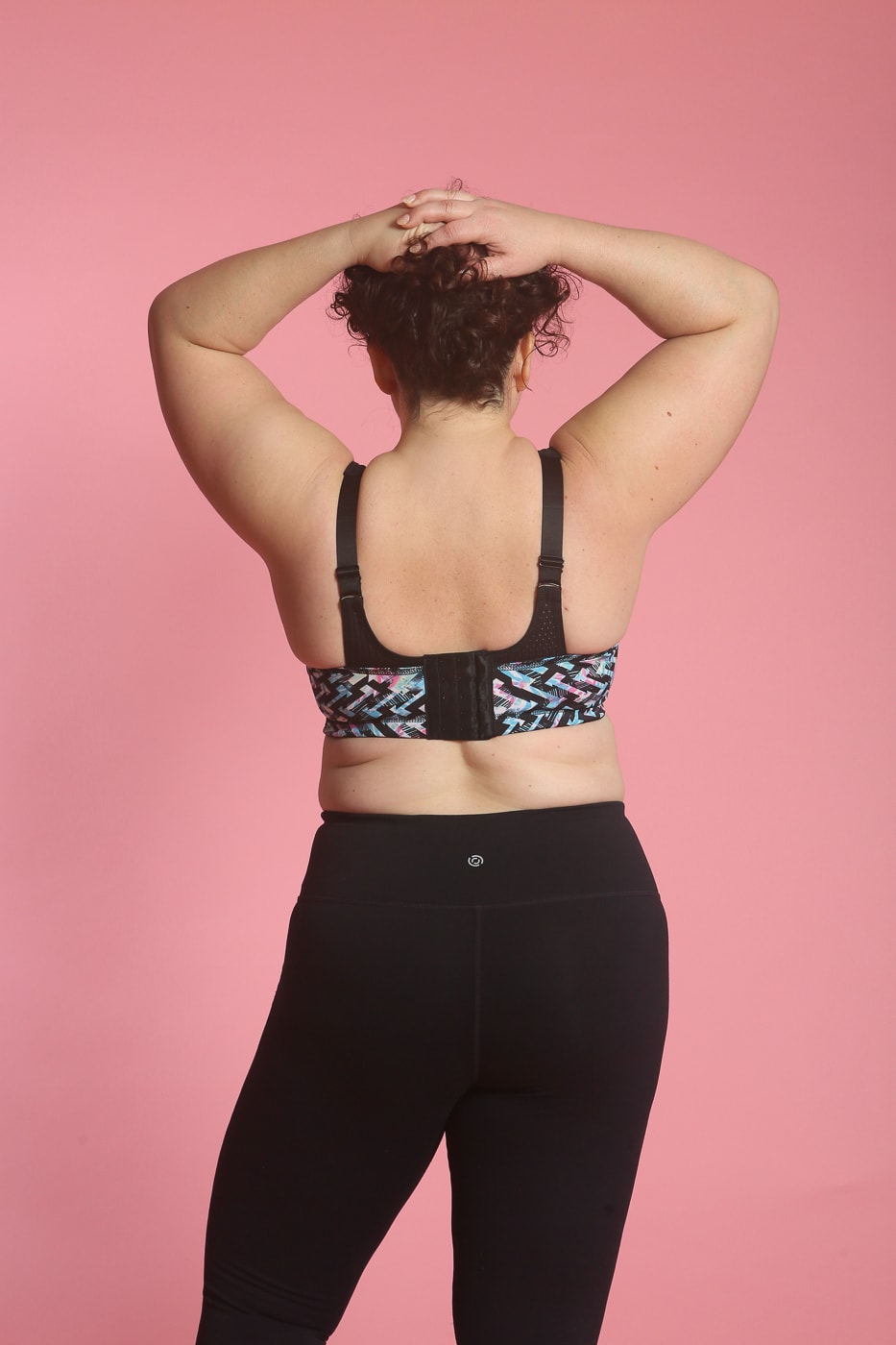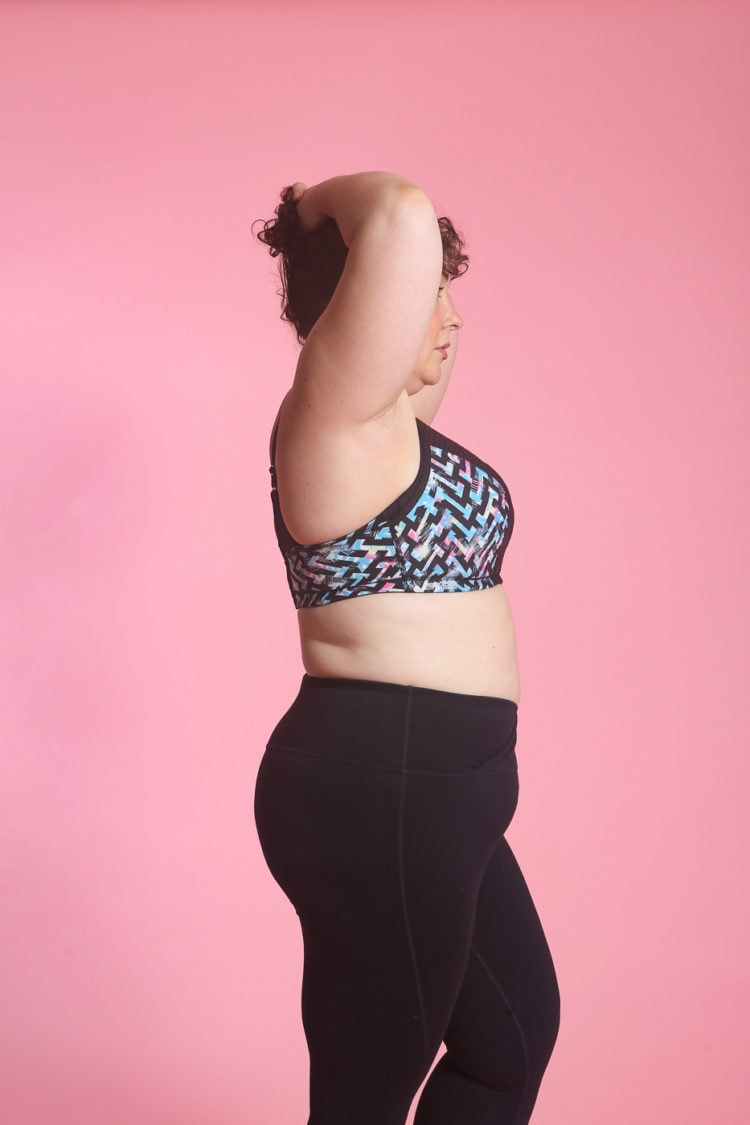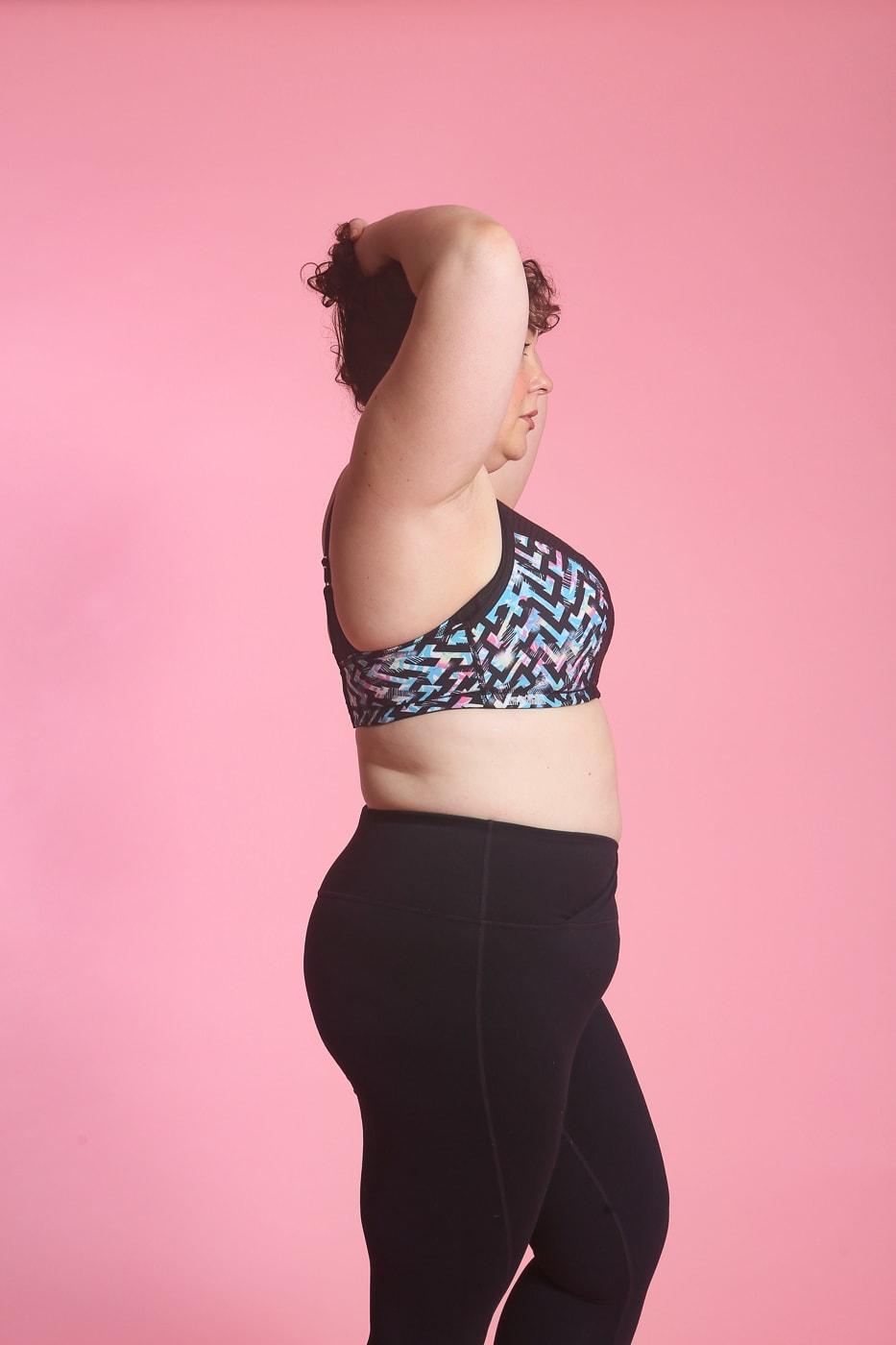 This is a really effective sports bra! The only reason I didn't keep it? There are five hooks on the back. I get the need for five hooks, but I truly could not get it closed. I tried three different days and I just could not get all five without pulling a muscle. Karl had to put my bra on for me to do this shoot. It's easier if you disconnect the whole front before you put it on, but my arms are too short or I am just not flexible for this bra. If it had four straps, somehow I am able to manage that and would have kept it. It's well made, well designed, innovative, looks good (comes in a variety of prints and colors) and otherwise a hit. But unfortunately, as stated at the top, this like the rest were a miss and returned.
Sports Bras for Large Busts That I Own and Like
I'm not going to leave this with a bunch of fails. There are some sports bras I own and really enjoy:
Shop the Post: