This article may contain affiliate links; if you click on a shopping link and make a purchase I may receive a commission. As an Amazon Associate, I earn from qualifying purchases.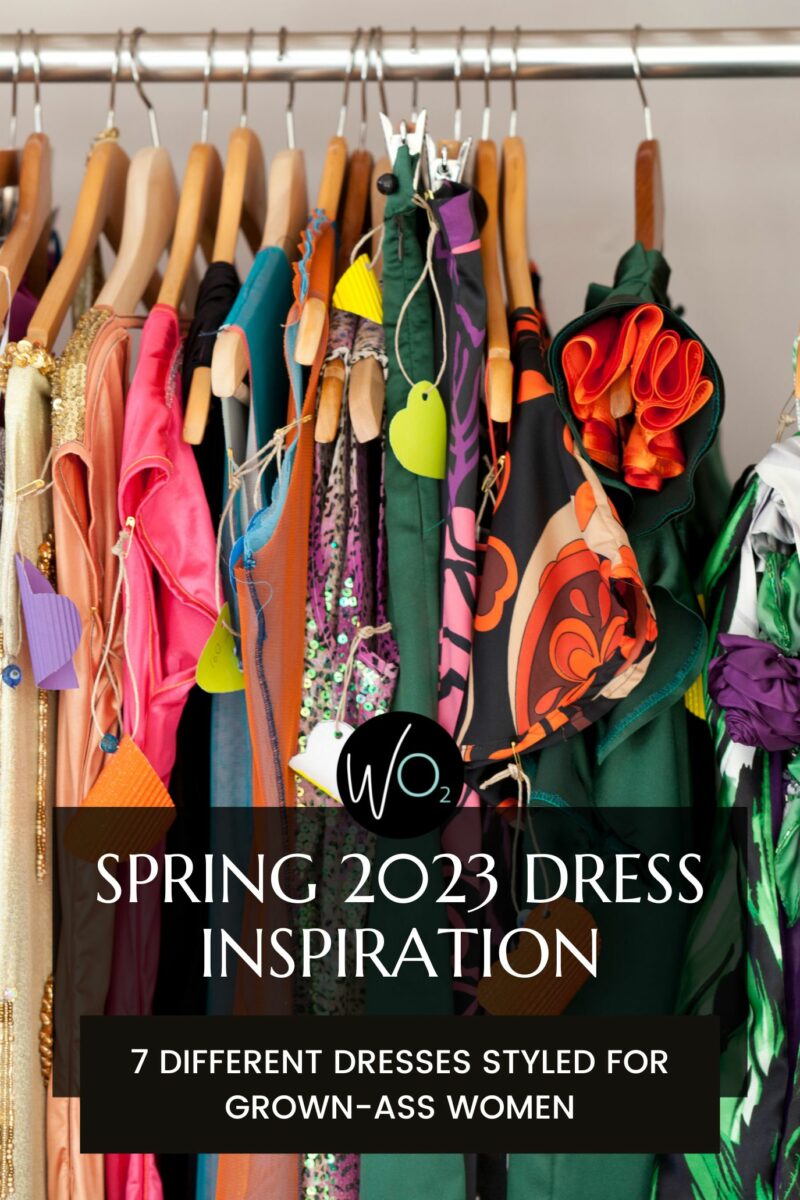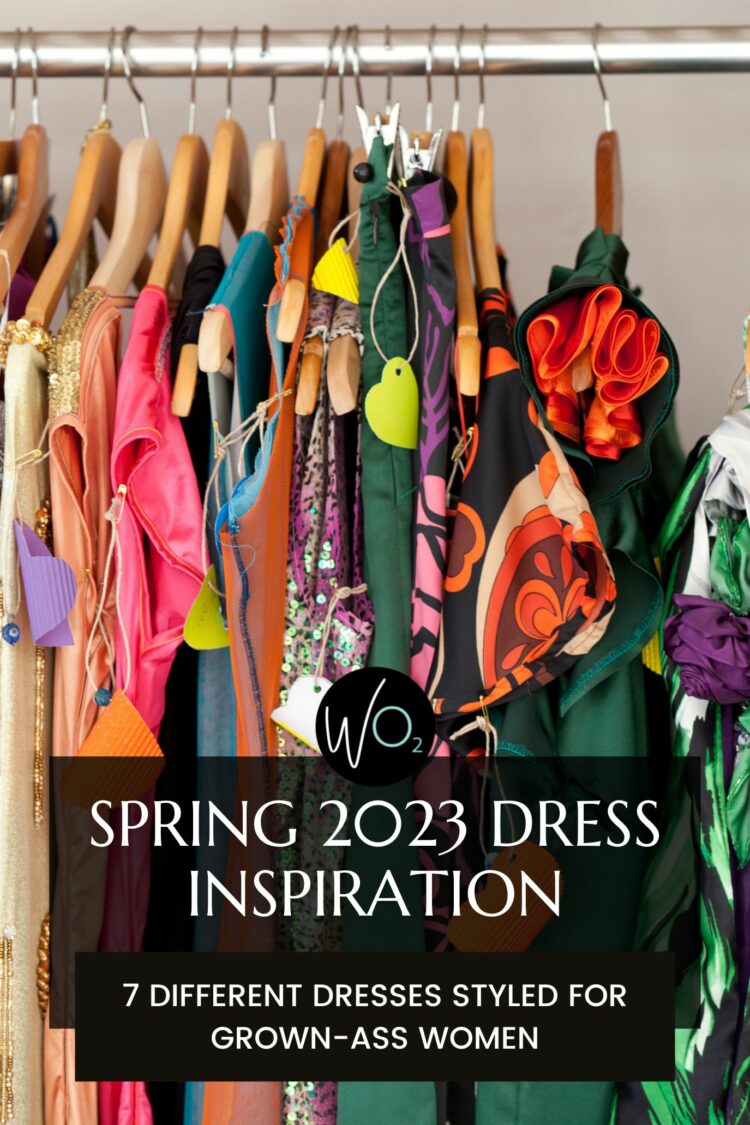 Spring is here, the weather is warming, the trees are budding, and spring holidays and events are right around the corner. It has me thinking about dresses and how to style them this year. I was inspired by what I saw perusing online boutiques and created a few different looks featuring dresses. I hope you like them!
Spring Dress Inspiration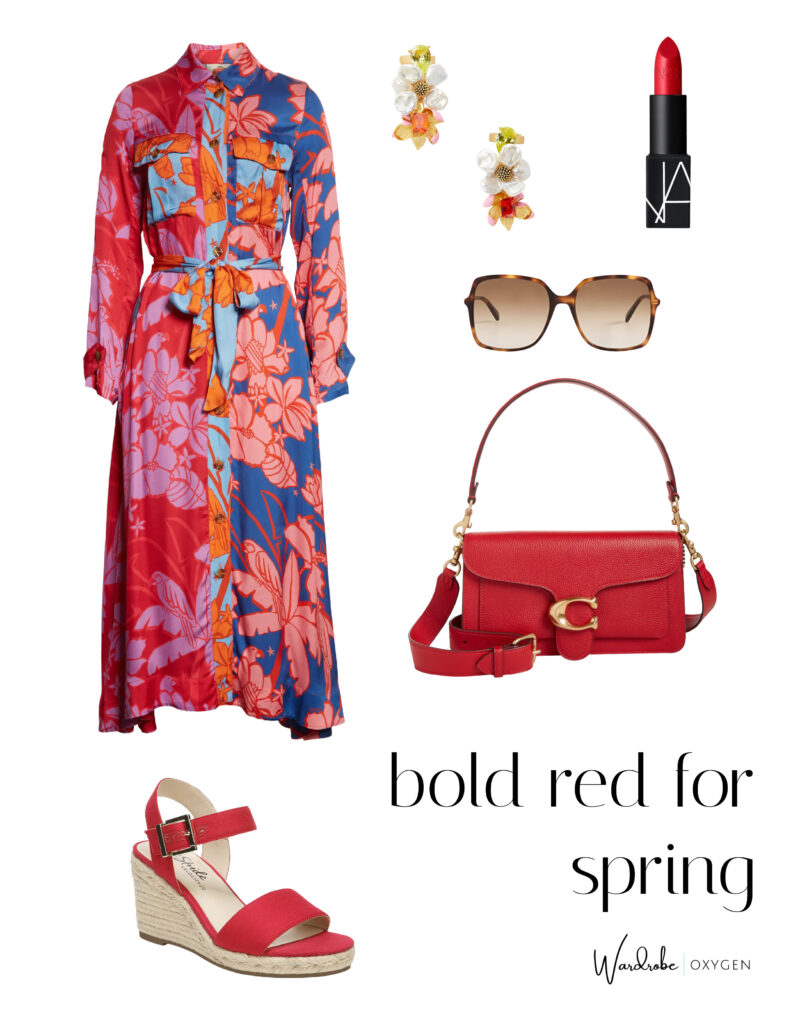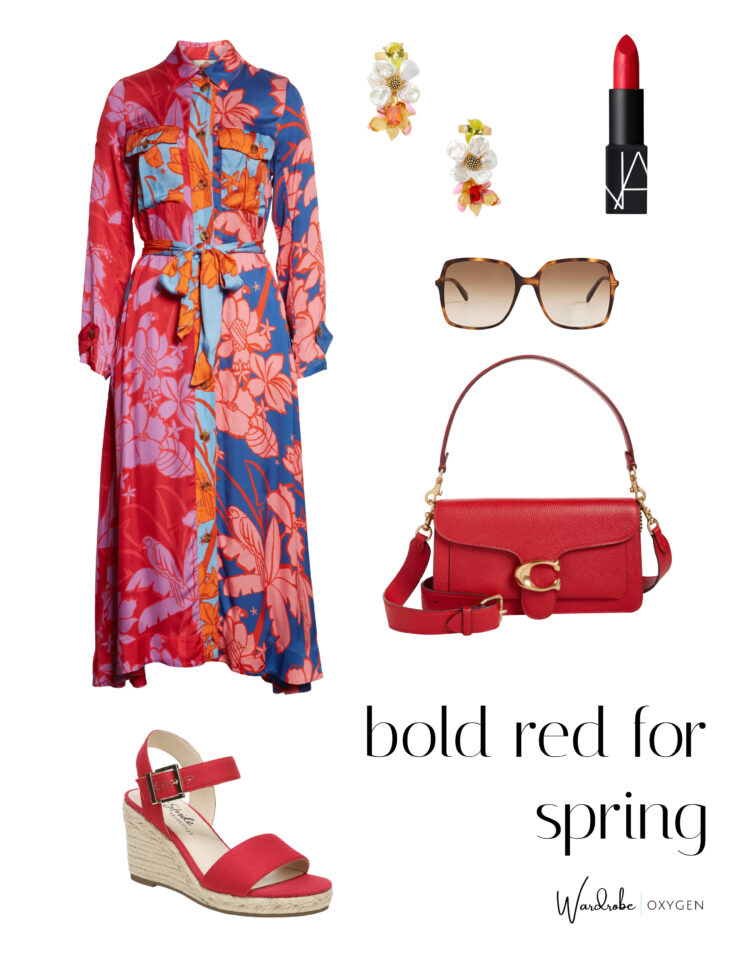 dress (sizes XS-XL; link to other print) | earrings | lipcolor | sunglasses | bag | shoes

Bold Red for Spring
This look is a bit "more is more" and I think sometimes the best way to style a boldly patterned dress is with more bold. We're tempted to temper bold prints and colors with soft neutrals, but choosing bold accessories the look gets the spotlight, not just the spot on the body with the color. And isn't more is more a lot more fun?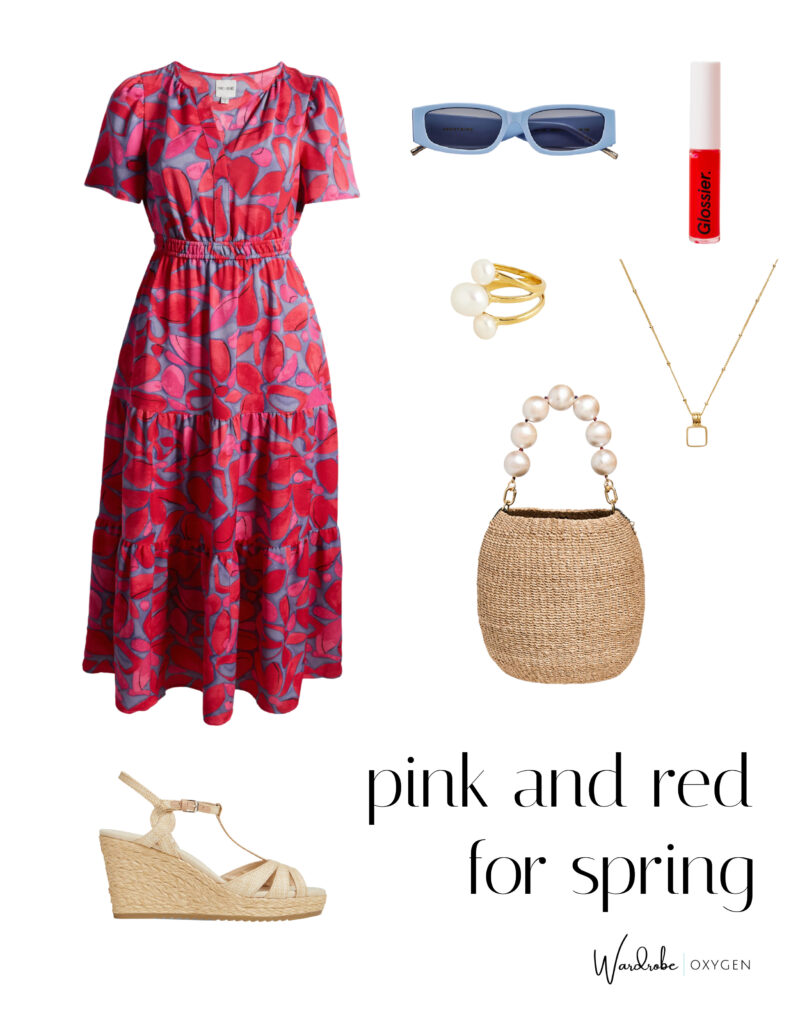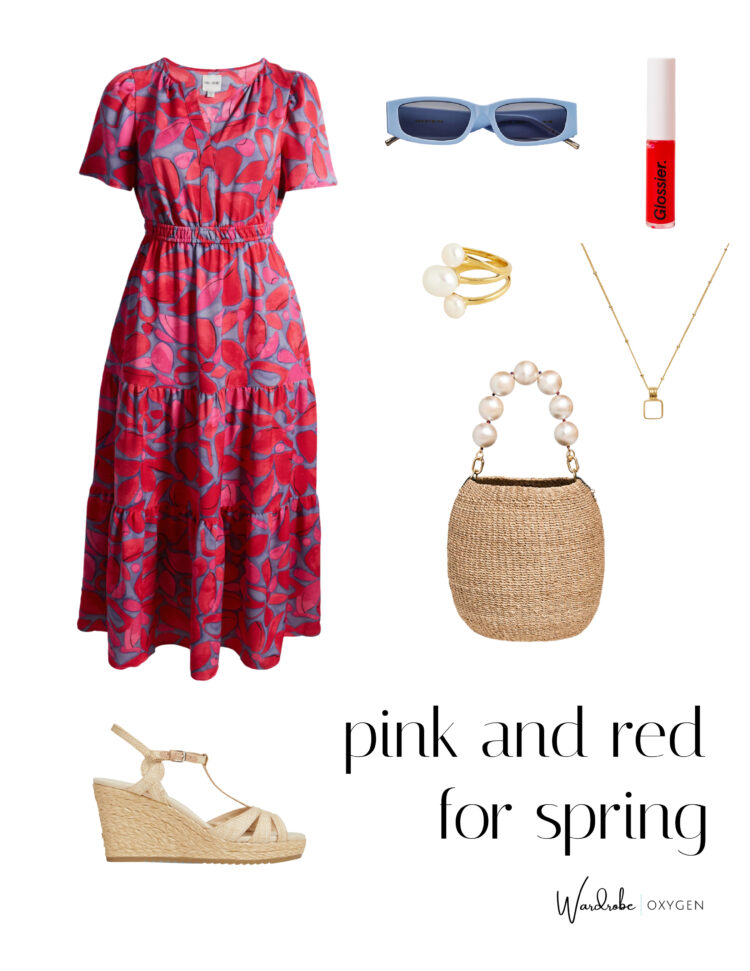 dress (sizes 1X-3X; link to misses sizes) | sandals | sunglasses | lip gloss | ring | necklace | bag

Pink & Red for Spring
With this look I tried going with soft neutrals, but too much left the dress floating in space. Pulling the least obvious color in a print is my favorite way to accessorize and with smaller details like the pendant of a necklace and a pair of glasses, it's not too matchy matchy obvious. As you see, there is a lot of coordination going on (straw with straw, pearls and pearls) but because nothing is so big, it doesn't look corny just cohesive.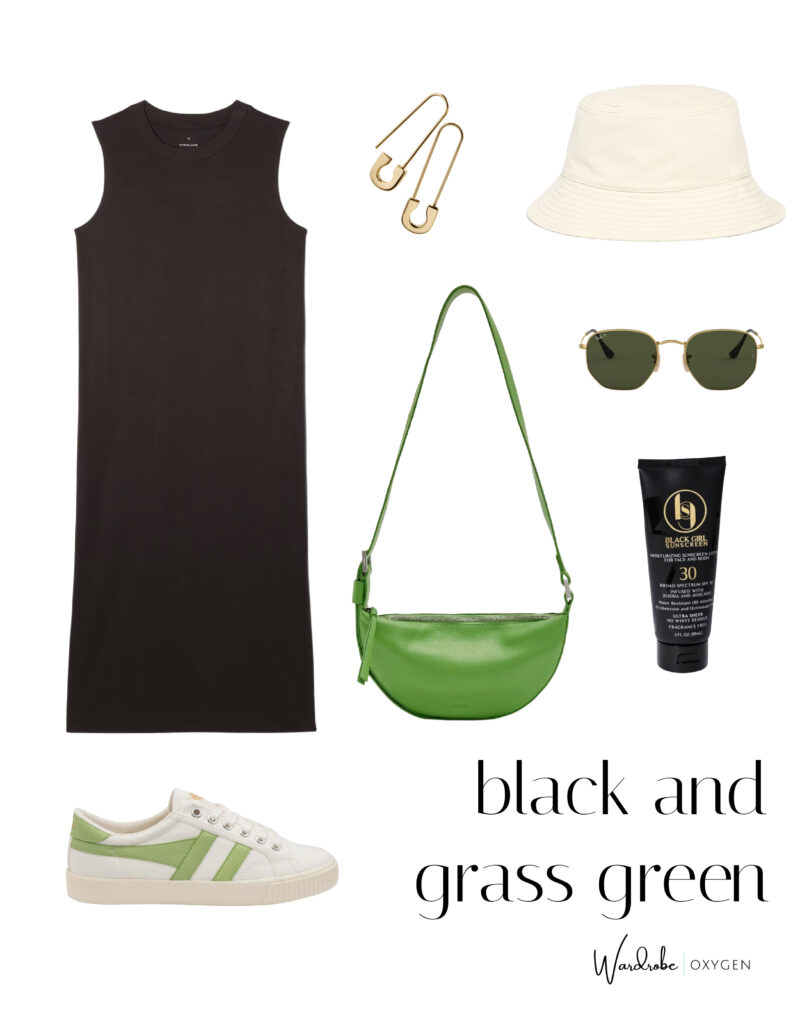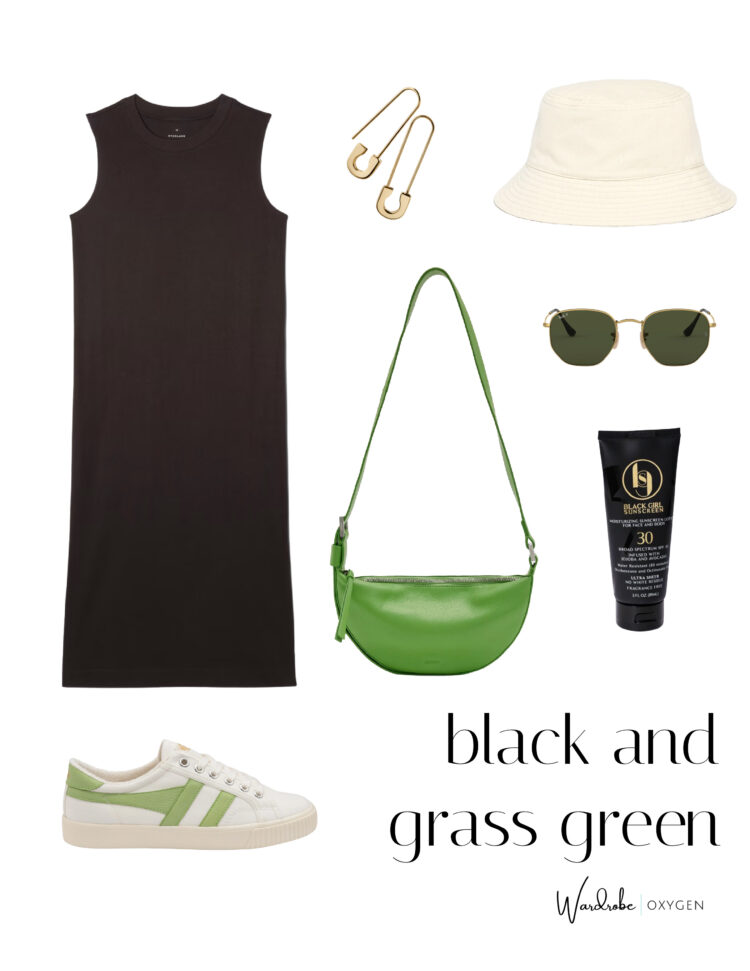 dress (sizes XS-XL) | bag | sneakers | sunscreen | earrings | sunglasses | hat

Black & Green for Spring
Green is a big color this spring, but it can sometimes feel hard to style. Don't be afraid to have green your pop of color with your wardrobe basics. It looks great with black, navy, gray, olive, denim, white, cream, and tan. Here I took a simple black organic cotton tank dress and added green touches (I own these same sneakers) for a casual yet polished look for weekend sightseeing (just add some slip shorts), coffee with a friend, the farmers market, and more.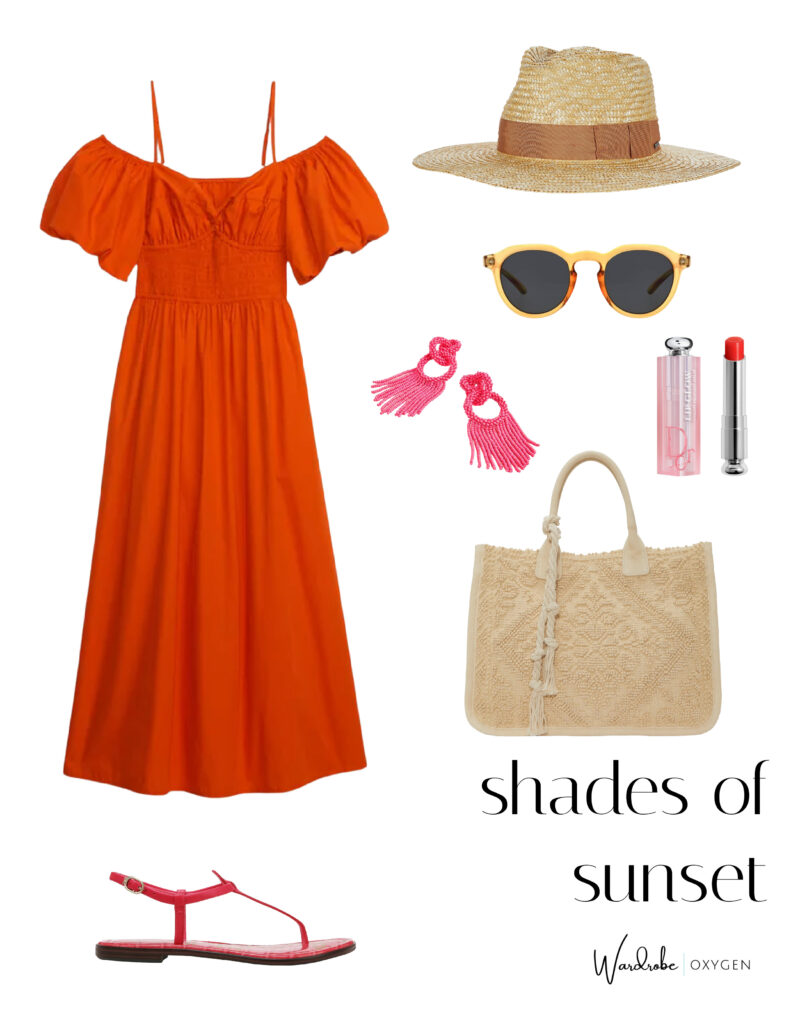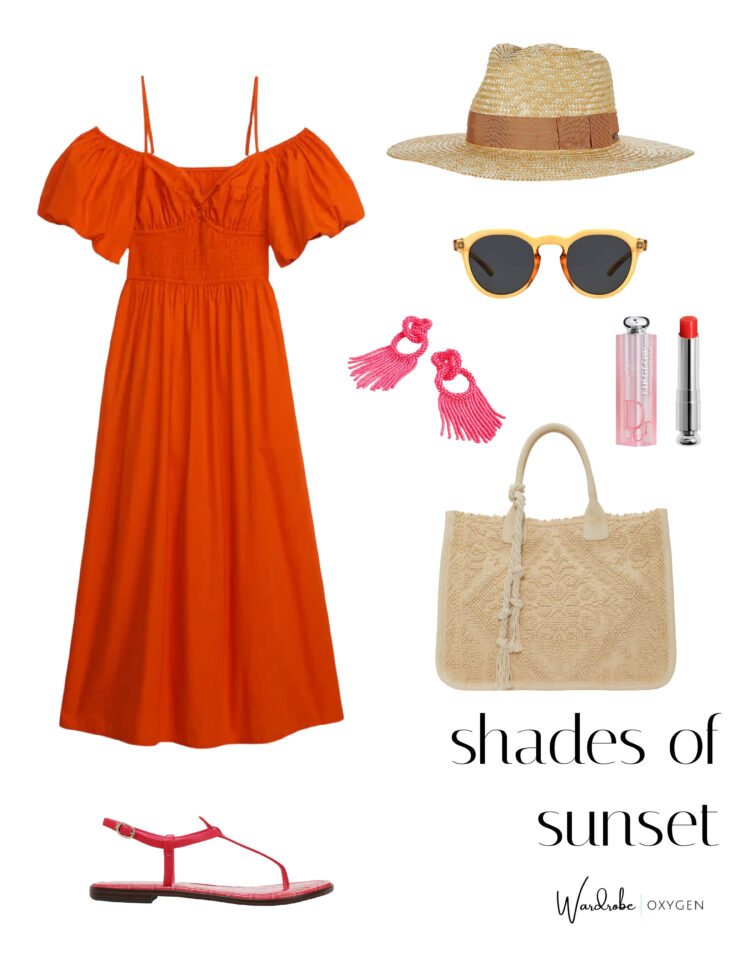 dress (sizes XXS-XXL w/ petite/tall) | sandals | bag | sunglasses | hat | earrings | lip balm

Shades of Sunset
I've been eyeing this dress for weeks and if I had a smaller bust it would already be in my closet. I liked the idea of styling it with small touches of sunset shades to keep the cheery color going without being too over the top. This dress would be easy to dress up for a day wedding, or dress down with low-profile sneakers and a denim jacket.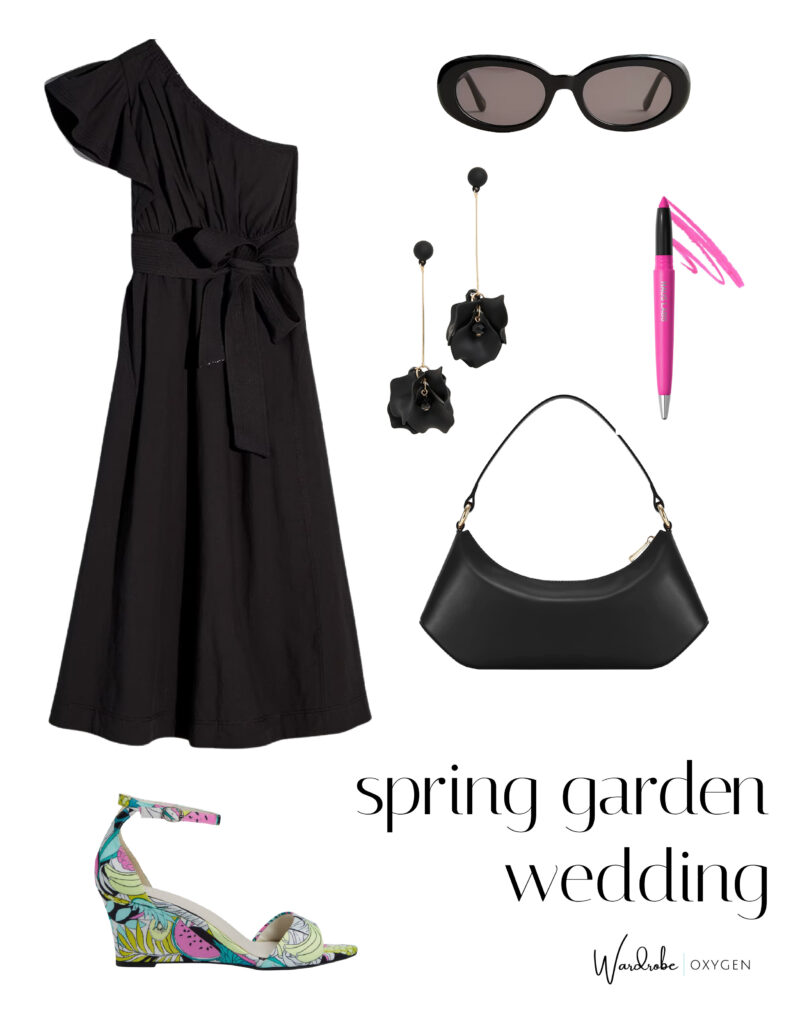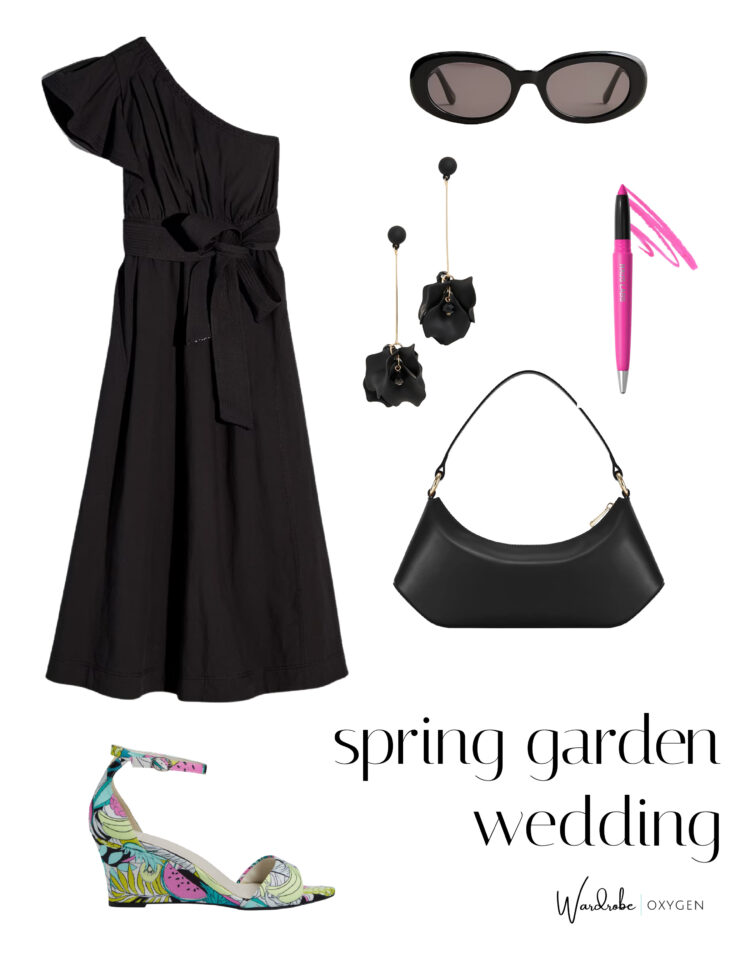 dress (sizes 00-28W) | bag | shoes (other colors available) | earrings | sunglasses | lipcolor

Spring Garden Wedding
Unless the religion, culture, or bride dictates otherwise, black can be worn to a wedding and is a chic option. While I wouldn't wear an all-white dress or something to steal the spotlight, I think black has gone beyond being a color of mourning to a classic choice for most any situation. A fun pair of low wedges add interest and keep you stable in the grass. Take that pink color and do a glossy lip and flushed cheeks in that color.
If you're so bold, consider taking one of those turquoise or green colors and have a faint line of liner along the top lash line. I have a few of these pencils and find them easy to use and budget-friendly; if you're comfy with liquid liner I also own this one in the electric blue and while it's not perfect, it can give an opaque clean thin line of color.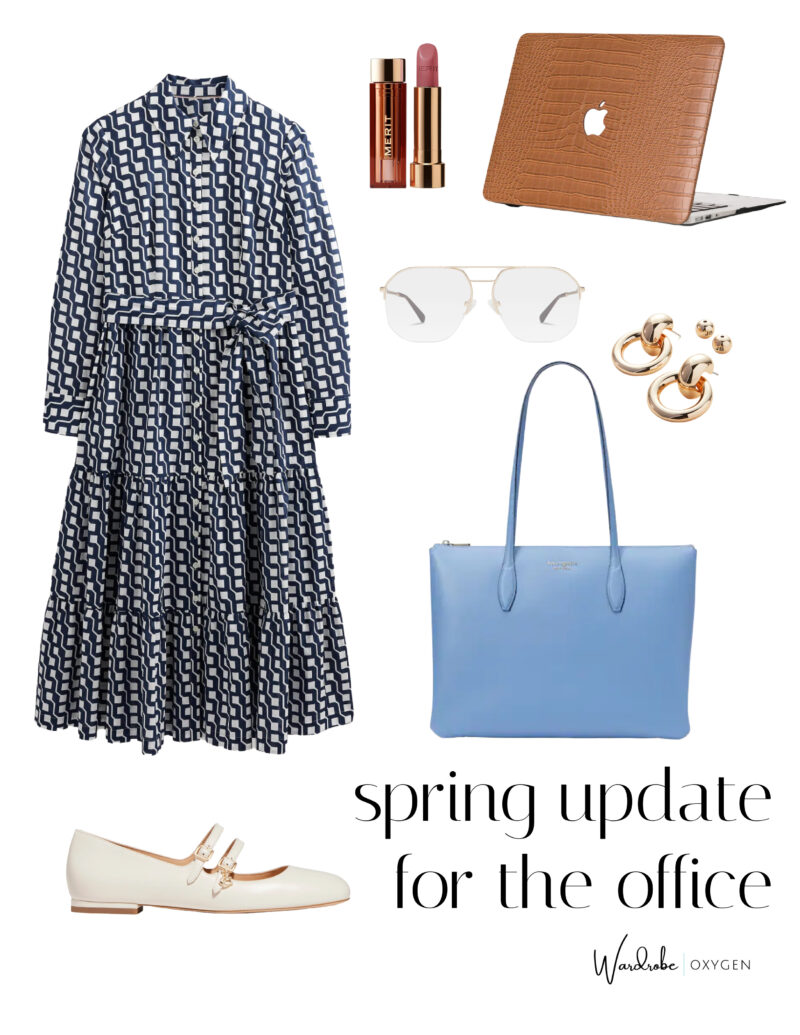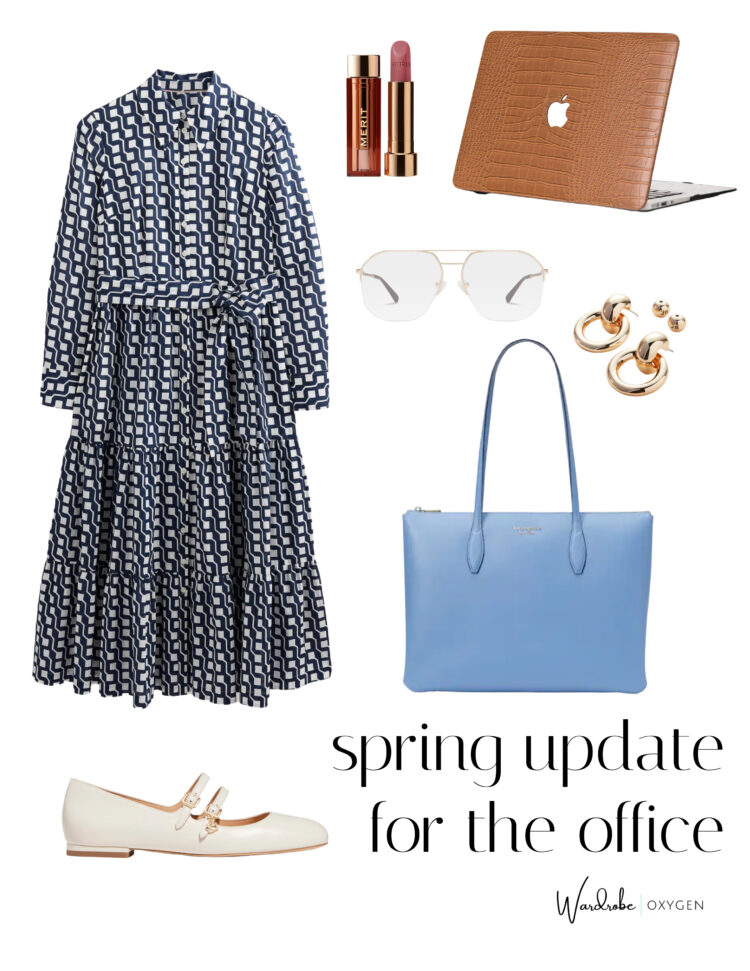 dress (sizes 2-20/22 & petite) | shoes | laptop bag (other colors available) | leather laptop case | earrings | progressive reading glasses | lipcolor

Spring Update for the Office
When I shared my review of Thigh Society slip shorts, the biggest question I got was where did I buy my dress. The dress is from Boden, a few years old, but each year they carry a similar shirtdress and this is this year's version in one of the many prints they offer. It's the kind of dress you can glam up with nude heeled sandals, dress down with sneakers, or look profesh yet comfy in structured flats.
I own this laptop case in green and love it; it's protective and elevated and always garners compliments. I also own these progressive reading glasses; they're clear on top and readers on the bottom so you can wear when reading files and looking at your screen (or using your phone while looking at the TV).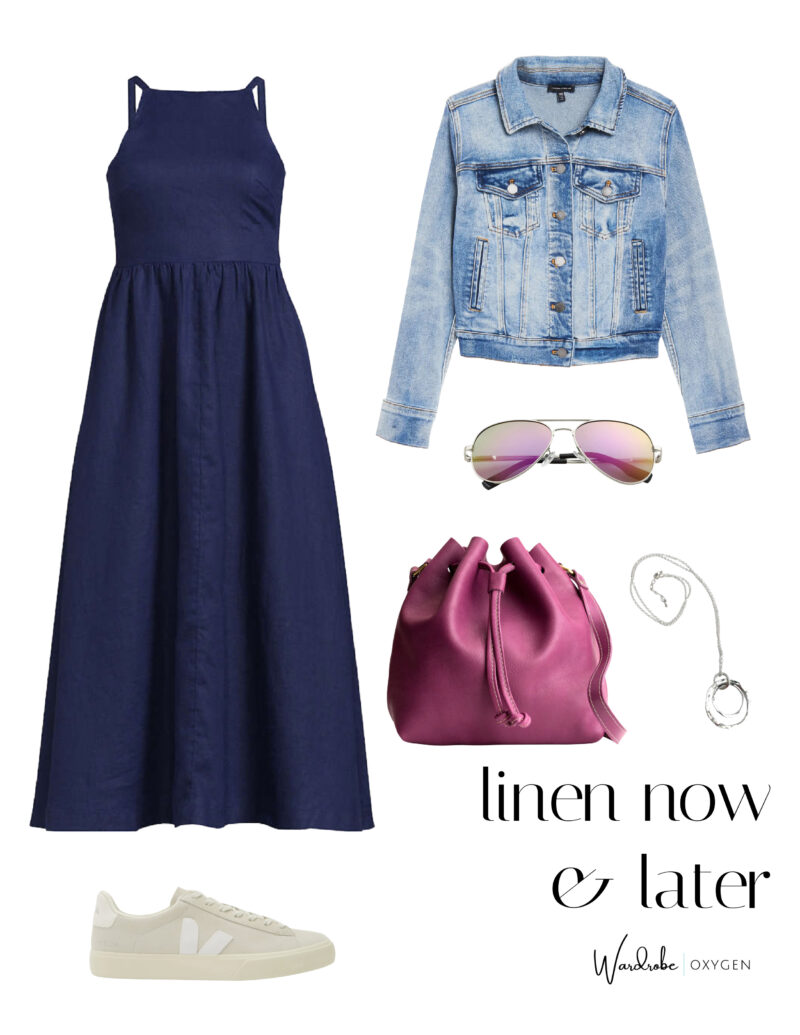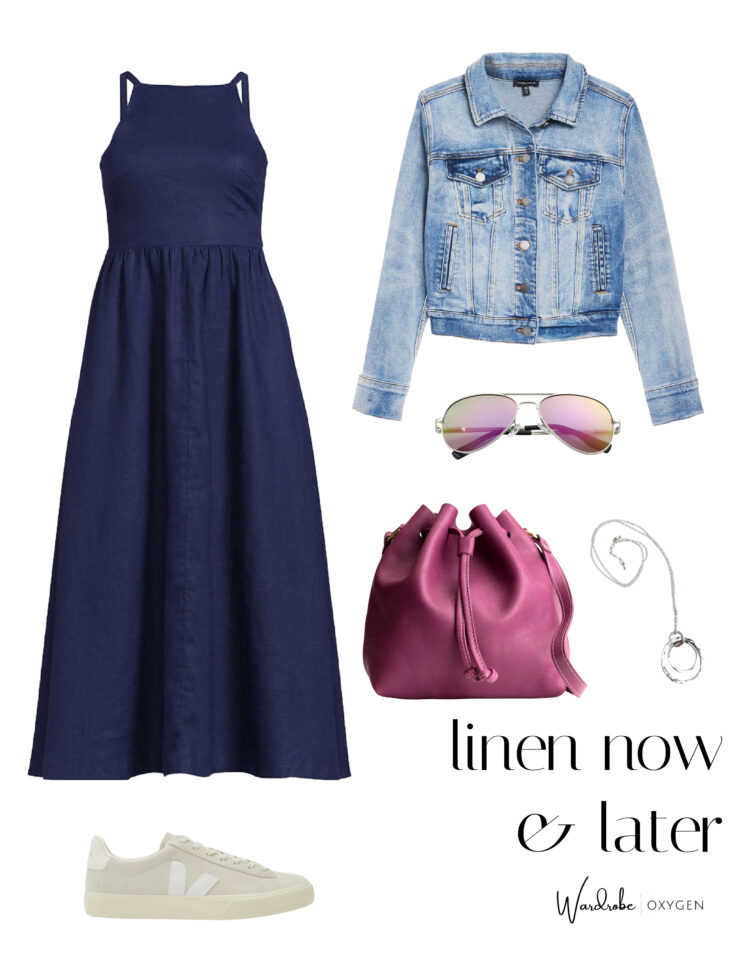 dress (1X-3X; link for misses and petite) | sneakers | denim jacket (sizes 00-40) | crossbody bucket bag | sunglasses | pendant necklace

Linen for Spring & Summer
It can feel like linen is only for summer, but it's really how you style it. I love this dress, it's such a simple style you can dress up for a wedding or nice event, or throw on with sandals for running errands. I'd love this dress for travel, hit it with a garment steamer and be okay with rumpledness during the day because you'll stay cool.
But for now, slip a denim jacket over it (this one is on sale), some sneakers, and a more solid leather bag and it will feel seasonally appropriate.