This article may contain affiliate links; if you click on a shopping link and make a purchase I may receive a commission. As an Amazon Associate, I earn from qualifying purchases.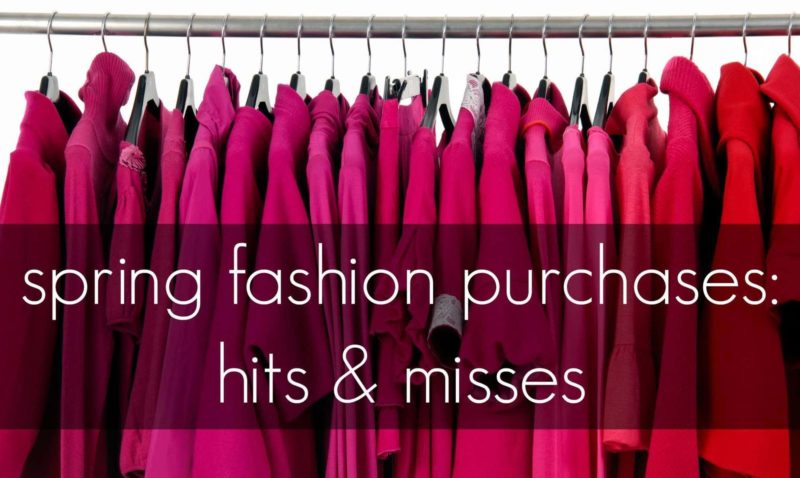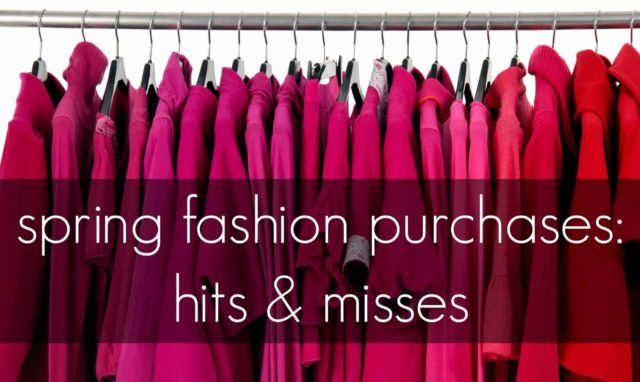 I've been doing some shopping. I had the rewardStyle conference, but I also had plenty of holes in my spring/summer wardrobe. A few of the things I ordered, and whether they worked or not. While I usually organize by retailer, this time I will organize by need/category of item:
Warm Weather Activewear
I have a good collection of cold weather activewear, but when it gets warm, I don't have much that fits well, doesn't look schlubby, and is effective. I especially needed bottoms, ones that would work at the gym or a morning walk but also great for hikes and canoe trips.
A pair of lightweight pants that will dry quickly would be so useful in my closet. I liked that these didn't look too athletic or too REI. I ordered in olive and navy in size XL, figuring I'd rather they be loose than snug. These are great pants; they have a hint of stretch, zipper pockets, and a fabric that is athletic but could be made street appropriate with a cute top and metallic sandals. The XL is a bit big, but I'd rather cinch the drawstring waistband a bit than have them straining over my booty. They wash and dry great, roll up to nothing in a suitcase. That being said, I don't think I'll keep the navy; the olive arrived first and I tried them and liked them, but I don't think I need two pairs of these same pants. But these are definitely a hit!
Shorts are either too short or too long on me. I need them long enough to not ride up and give me chub rub, but not so long I look like an Oompa Loompa. This is especially hard to find with activewear. These are that perfect in between length! I wore them on a walk and they stayed in place, didn't ride up. Again, I went with XL to be sure they weren't too tight over the rear and again I could have possibly sized down but am fine with the volume. The shorts have little tabs on the sides so you can roll them up; like camp shirts they don't stay rolled up well so they end up cinched on the sides only making them look like diapers. Without using the tab, the shorts are cute and the type you can wear on the kayak, but then throw a nicer knit top over your look and be able to grab lunch afterwards. These are so good I may eventually get another pair in a different color. Hit!
Years ago I got a pair of black knit harem pants from the Nordstrom brand Trouvé. I love those freaking pants. When I first got them, I wore them out of the house with a drapey black knit top and sandals or booties. As they got a bit faded with repeated wear, they became my favorite loungewear. They're likely the same age as Emerson and are starting to look it so I ordered these thinking they'd be a good replacement when the back ones finally kick the bucket. These are a heavier knit, more refined of a shape, but still super comfy. I work from home a couple days a week; last week my fellow home-working friend and I met at a coffee shop to work side by side to force ourselves out of pajamas and into fresh air. I wore these pants with the off the shoulder top in this post and my Adidas Shelltops. It was comfy, but pulled together. I think these are polished enough that they could be worn with a black drapey top and cute sandals and a pendant necklace. Like all Zella pieces, they wash and dry great. Hit!
Nope nope nope. I don't like the fabric, I don't like that the shirring isn't really tacked in place so each leg is like 7' long. I pulled on one leg, it was super snug on my calves with so much fabric on my lower legs I looked to be wearing legwarmers. I didn't even put on the second leg, I folded up and put back in the box to return. Miss.
I don't love showing off my sports bra. While I have one that looks like a sports bra (this one from Wacoal), it's near impossible to get on. My other sports bras look more like regular bras and I think it looks weird having them show with an athletic top like this. But it's going to get damn hot out, and I'd rather show a bra that looks like a normal bra than be miserable outside. This top is cute; the grey part is that weathered fabric that has chunks cut so they're sheer. Then there's the black mesh parts. It's really one of those tops that is enough of a top that you can go into a place with a sign that says, "No shirt, no shoes, no service" and be able to buy a pack of gum, but that's about it. From far away you look covered, up close you can see everything. But it's hard to find larger sized lightweight tanks (I got the 0X) that aren't dorky; this one looks cool and is well made. Hit!
Jeans
I need spring/summer jeans. White jeans that aren't skin tight but not frumpy. Lightweight denim boyfriend/girlfriend jeans I can throw on with Birkenstocks and a Breton tee for running errands on the weekend. A pair of ankle jeans in a lighter wash and material to pair with blazers and sandals. I haven't had much success…
I've worn Liverpool Jeans before. They recently reached out and offered to send a free pair or two to review. I gave them my selection… and never heard from them ever again. But they got stuck in my mind and I decided to order a couple pairs and see how they fit. Not sure my size with the brand, I went with 16. These fit great; they were slung on my hips but didn't stretch out and fall down. I likely could have gone with 14, but didn't mind the slouchiness of the 16. Thing is, these jeans are the goofiest color. They look like the acid wash jeans I wore in 9th grade, but not in a hipster everything old is new sort of way. The distressing looked goofy – too purposeful. They're also super long, I had to cuff them four times to get them the length seen on the model. All this, I did try them on a few times before admitting I needed to return them because they feel and fit great. Miss.
For these I went with 14 since they'd be fuller in the calf area. Glad I did, they run big. They also run long. This added to the cheesy wash made these jeans hysterically awful. I don't know what I was thinking that my short curvy solid legged self could wear crop flares. But I think these would look silly on a lot of different body shapes and types. So awful. Miss.
Nope. I got these in Moonstone in 14 petite and white in 16 petite. The 16 was huge in the waist, bum, crotch, etc. The 14 fit, but was painted on from thighs to ankles. Also both were supposedly petite but the release hem bunched at my ankle because they were so long. Miss.
I got these in 33 regular and petite in curvy, 32 petite in regular style. I returned all of them. Even LOFT's curvy cut isn't made for a booty. The combination of the stretch and the straight style and I can wear for 5 seconds and they're sagging in the rear, gaping at the waist, and I know after sitting for a half hour my pants won't be able to stay up and I'll look in the front like I'm wearing a diaper. I don't know why I even tried. LOFT's pants work for me but their jeans never do. Miss.
They always say to size up with white jeans, so I got these in 33 short. I put them on, thought I looked super cute. I added a white Beltaway because I have these jeans in grey in a 32, so I figured these may end up a bit big in the waist and wanted to prepare for possible stretching. I paired the jeans with my Banana Republic paisley blazer and a black shell and went to work. Went to the bathroom a bit after arriving and was horrified to see the condition of these jeans. They had bagged out so much; the knees were lumpy, the crotch dumpy, the rear saggy. They looked utterly dreadful. I washed them on hot and put them in the dryer hoping to shrink them up but it didn't work. I tried them on, walked around the house, had breakfast, looked in the mirror and was aghast at how quickly they went from tailored to a travesty. So now I have these heinous white jeans… I may cut them into shorts. Miss.
After my Chico's partnership, I decided to try a couple other styles of their jeans in different sizes. I got these in a 2 Petite (Chico's has a unique size chart; a 2 is like a 12/14). I find these to be too high rise for me, even with petite. They're almost an inch above my belly button. The destruction was a bit too… measured for my liking. They were also longer on me than seen on the model. However, I liked how they fit in the rise, the rear, and the legs. Promising, but these jeans are a no. Miss.
I made the mistake of ordering these in a 2.5 Petite. Chico's is generous with their sizing, and they were too big. Again, the rise was really high on me, above my belly button. Also they were long on me, not really an ankle jean, more the length to wear with flats. I did like the weight, wash, and quality of the denim. If they were in an inch shorter and the size 2 they'd likely be added to my wardrobe but these specific jeans I returned. I may come back for a pair in fall when I'd want a longer length for booties and flats. Miss.
Accessories
After my session with DC Style Factory I wanted to get a pair of sparkly statement stud earrings. I also was looking for larger statement earrings to finish a couple looks for spring.
The price made me hesitate; couldn't I get similar for half the price? But I ordered them… and I see why they're so pricey. These are well made, quality materials, tons of sparkle. They're shaped just so; there's a clear left and right earring so there's spikes, but none are spiking into the side of your face or causing pain during a phone call. Now that I have them, I find myself styling them with EVERYTHING. More of a statement than classic CZ studs, but not so flashy that they look ridiculous. I love these earrings, they're totally a hit.
I missed the part where the description stated these were ½" long. I think ½" is being generous. They came in this lovely box and I opened it and at first glance I thought the earring card was empty. These are ridiculously small. Like what's the point of making them in the shape of a spike, they're so small no one can see any detail. And being so incredibly tiny, the price is utterly ridiculous and inappropriate. Mega miss.
I don't know why I buy any sunglasses other than 62mm Ray-Ban aviators. They are my absolute favorite. I have them in gold with gold tinted lenses, gold with green lenses (my favorite everyday ones), silver with silver mirror. I had them black with grey lenses but they were lost/stolen on a trip. I saw these red mirror versions and thought they'd be a fun addition to my sunglasses collection. And they are fun, but they are so much of a statement I think they're a bit of a distraction on me. They look transparent in the photo but they're very mirrored and the color is very bold. If you're my age, they'll remind you of the Oakleys with the red lenses that were hot in the early '90s. I don't think they go with my personal style. I tried them on multiple times thinking maybe if my hair was done, I had bright lipstick… but honestly if they don't look good with me looking normal they don't belong in my wardrobe. These are fun and gorgeous and could look amazing on someone… that someone though is not me. Miss.
Bags
I wanted a new day bag for work that was a bit more structured than a tote or my hobos, but not corporate looking. I also needed a few new clutches in my collection. Meeting with a stylist I saw my clutch collection is big, but not strong. I was holding on to a lot of bags because they could work for a blog photo, but weren't used in real life or worked with my current wardrobe.
This is a purchase where I wonder if I'm crazy. I have a lot of black bags already, I don't really need another one. But this one is so clean and modern and badass yet sophisticated. My laptop fits in it, it can be filled and still stand upright. I feel cool carrying it, I love how it's not obviously some brand. This is who I want to be. But I have other black bags that are perfectly fine. But then I carry it to a work event and two new stylish colleagues stop me to ask me where I get my bag. My stylish friend visits from New York and compliments me on my bag. A stranger stops me at the Metro and asks me where I got my bag. I use it to cart pumps and laptops and lunches to the office, Shopkins and coloring books and Brownie crafts for Emerson, and I still have people stopping me to ask me where I got my fabulous bag. So yeah, I didn't technically need it, but I got my annual bonus and I love it so there. Hit!
When Rosana from DC Style Factory suggested this clutch I thought she was insane. Um, I don't usually spend over $50 on a clutch purse. They're not worn everyday, I can't justify a higher price. But Shopbop was having one of their sales that all the bloggers promote so I got it on discount. And dammit, this bag is so incredibly badass. It's ivory leather, but sliced so it's fringe all over it. A small silver clasp with the brand name on it, a detachable chain strap. It's utterly gorgeous. I had my practical and stylish BFF come over and she agreed it was awesome and worth the money. She is like me, she won't spend a ton on something like a clutch. I still have it packed in tissue and bubble wrap because I don't want to ruin it. But it's such a unique statement, I love that it's elegant and badass, it can glam up or be downtown casual. It's one of my crazier purchases, but it's a hit!
I ordered this thinking it would complete one of my looks for the rewardStyle conference. It wasn't right for the look, but dang if this wasn't the most gorgeous bag. So beautifully made, covered with little turquoise stones with a bit of sparkle between them. Gold frame, a gold detachable chain strap. This was a little work of art, on sale for about $80. I oohed and aahed over it, I tried it with multiple things in my closet, I showed it to my friends… and then I packed it back up in the tissue and box and returned it to Bloomingdale's. It's now out of stock so you can't even see the page and I can't find it anywhere else online. Likely because it's such an amazing bag all intelligent people bought and kept it. It was so beautiful but it's way impractical, even more so tan the Loeffler Randall ivory clutch. Miss.
While I am still without spring jeans, I feel pretty good about the other categories. What I got wasn't cheap, but exactly what I was looking for, which means I'll be less likely to feel the need to get replacements or more later in the season. If you've scored any fabulous items (or tried any horrible things you need to warn others about) let us know in the comments!