Denim is always in style, but the wash of your denim can go in and out of fashion. This summer, many washes or finishes of denim that have been considered dated have come back en vogue. With such a large variety of denim washes available at your favorite retailer, it can be confusing how to wear them with the rest of your closet. Different washes look better with different colors and silhouettes, here's a primer of the most popular denim washes and what they nicely pair with.

Rinse, Resin, or Dark Denim:
This is a deep indigo denim, free of any fading, whiskering, or distressing. It can vary from dark navy to a blue-black shade, and is often a stiffer fabric. This is a classic wash, and quite versatile. A dark rinse denim is a great choice for Casual Friday as it looks far more polished than other washes, and the stiffer denim gives a more refined silhouette. I love dark denim with everything from pastels and neons to crisp brights and neutrals. Dark denim can also be paired with a variety of fabrics, from your favorite well-worn tee to silk and lace.
Raw Denim:
Raw denim hasn't been treated, washed, or altered in any manner. It is crisp, rigid, but will eventually customize to your body. The color will be similar to rinse denim, so you can pair it with most anything. To keep the color rich, only wash when necessary, turn inside-out, and line dry.
Trouser Denim:
This is a lighter-weight denim, or cotton dyed to look like denim. Sometimes it is in a traditional jeans silhouette, often it is cut with a wider leg to more resemble classic trousers. Denim trousers can come in a variety of colors and finishes (they often are found with a subtle shine or sparkle finish to them), a deep indigo or black hue is the most classic and is more likely to work with your office dress code. Wear with a blazer and knit tank for a casual alternative to a suit, pair with a Breton-striped tee for a sailor-inspired classic ensemble, or with a silky camisole for a night on the town.
Stonewashed or Enzyme Wash Denim:
This is a wash that was very popular in the '90s but is now often associated with "mom jeans." Stonewashed denim is more blue than indigo, and has subtle fading from being washed with pumice stones or enzymes. I don't recommend stonewashed denim unless you are a True Fashionista, but if you already have it in your wardrobe and love it, pair with very modern or trendy silhouettes to make it look purposeful. Wear stonewashed skinny jeans with a white boyfriend blazer and tan ankle booties, stonewashed boyfriend jeans with a striped off the shoulder slouchy tee and red ballet flats, stonewashed sailor-cut jeans with a black boatneck and platforms.
Faded Denim:
Faded denim is back in fashion, but it's still a very tricky wash to wear without looking like "mom jeans." I suggest you wear it only if you have a very modern silhouette to the jean or are a True Fashionista. To keep this wash looking current this summer, pair with pastels and an "arm party" of bracelets.
Acid Washed Denim:
This wash of denim has made a return, along with everything else from the '80s. This wash looks best with '80s-inspired colors – neons, bright pastels, or solid black for a "mall punk" effect. Though acid-washed denim has returned, that doesn't mean you can whip out your oversized denim jacket from high school. This wash is best worn either tongue-in-cheek (high-waisted cutoff shorts with a retro tee), or very narrow and modern (skinny jeans with booties or a canvas shoe like Chucks or TOMS).
Dirty or Sulfur Wash Denim:
This is a denim that has a slight brown, yellow, or green cast to it. It can be subtle or quite definite. This is a color of denim that isn't as versatile – paired with the wrong color and it can look very dated or mismatched. In fact, sulfur denim on a fellow commuter inspired this post! Pair with black to showcase the color, or with neon or a pastel where the tinge will make the top really pop.
Garment-dyed Denim:
When jeans are dyed after being sewn together, you get a saturated color free of the white threads typical in denim. Most colored denim is garment-dyed, but there are also jeans out there in indigo shades that go through this process. Such jeans can either look quite refined and can pass as business casual trousers, or look quite cheap. I only wear garment-dyed denim in non-traditional denim colors because I find navy jeans to look strange on me. However if you do like them, I recommend you keep the rest of your colors classic – navy and white stripes, white, cream, or pair with chambray to give it a more modern edge (yes, the Texas Tuxedo is back en vogue!).
Sandblasted Denim:
These are the jeans that are blue on the sides, but may be almost white on the front and back. They truly look as though they were sandblasted while on your body. Baggy sandblasted denim had its heyday, and right now sandblasted can look very dated unless you are a True Fashionista. If you adore your sandblasted denim, consider a DIY project and made them look vintage (see below) with some shredding and fraying.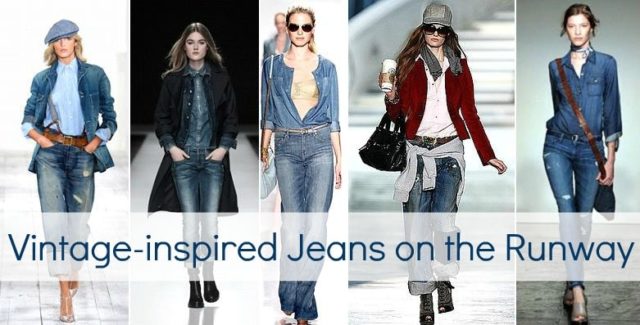 Vintage or Aged Denim:
This is a trend from my past that I am thrilled has made a return. Whether they come right off the shelf or are bought in your neighborhood thrift store, vintage-looking or truly vintage denim is worn, weathered, and occasionally has rips or frayed spots and edges. Cuff for a "boyfriend" look and pair with a blazer and band tee shirt for a modern weekend look. Wear with a crisp white shirt and some killer heels for a fabulous happy hour ensemble. Go boho with a simple ribbed tank, colorful beads, and leather sandals. As long as the jeans have a flattering cut (nothing hanging off the rear, too short, dragging on the ground, too tight, has holes in the bum), vintage jeans can be quite versatile.

Some great denim tips and DIYs from around the Internet:
Follow Me | Twitter | Facebook