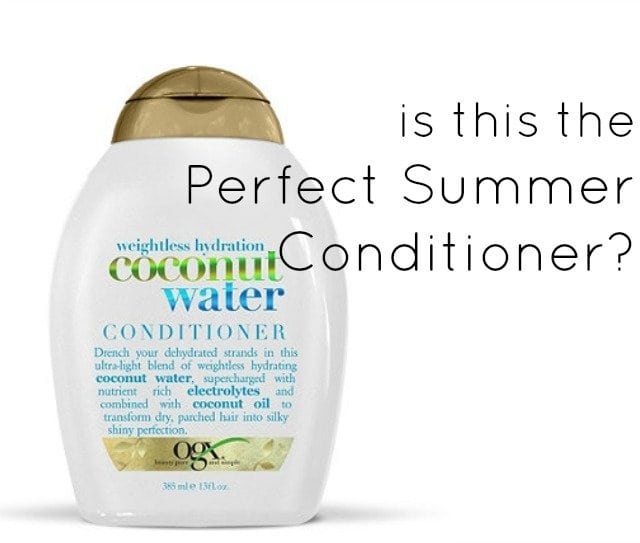 In the winter my hair is like a sponge, gobbling up as much moisture as possible yet still looking dry and dull. Come summer, my heavy moisturizers just make my hair look greasy by noon yet don't seem to do a thing for battling frizz. And let's not talk about trying to cleanse and style hair with your non-dominant hand and having your other arm wrapped in plastic!
So color me surprised when I found that the best cleanser and conditioner for my fine yet a lot, wavy/curly/Kip Winger-esque hair this summer is ONLY CONDITIONER! Yep, I have gone sans-shampoo since the beginning of May and I can't recall my hair ever looking so happy in the summertime!
One day I got in the shower and realized I was out of shampoo. My head was mega greasy and sweaty so I couldn't go without washing at all, so I decided to just try conditioner. I was pleasantly surprised by how great my hair looked, but it got greasy pretty quickly. I wondered if it was because I was using a heavy-duty conditioner for dry, color-treated hair. On my next trip to CVS I picked up a bottle of OGX Coconut Water Conditioner (not the Coconut Milk, the Water version). While it's not made for color-treated hair, I've had success with the line before and loved the smell. I tried it that night…and didn't get greasy for three days. THREE DAYS! That's longer than traditional shampoo!
Since then, I wash my hair every 2-3 days with OGX Coconut Water Conditioner. Sometimes I scrub the scalp with it, sometimes I just put it on from my ears down. I always rinse it right away and rinse thoroughly. My hair feels great, styling products seem to work better, and it's not stripping away my color any faster than my old shampoo and conditioner.  I know many swear by the no-poo method and while I love the idea, right now already feeling a mess with the cast I just can't tolerate the break-in period and I like having sweet-smelling hair to counteract the funk of being in a cast in the middle of the summer.
I wondered if my success was because I let my hair air dry thanks to the arm issue, so one morning this week I wedged my hairdryer into my towel bar and single-handedly blew out my hair. And next day my hair looked AWESOME. It wasn't greasy at the roots, but it had that lovely piecey yet shiny look. So nice I Tweeted that I didn't want to go for my morning walk and ruin my lovely hair. So nice I stayed up late to write this post!  I was already a fan of the OGX body wash, but now that I'm a conditioner fan I'll be checking out more from this brand!