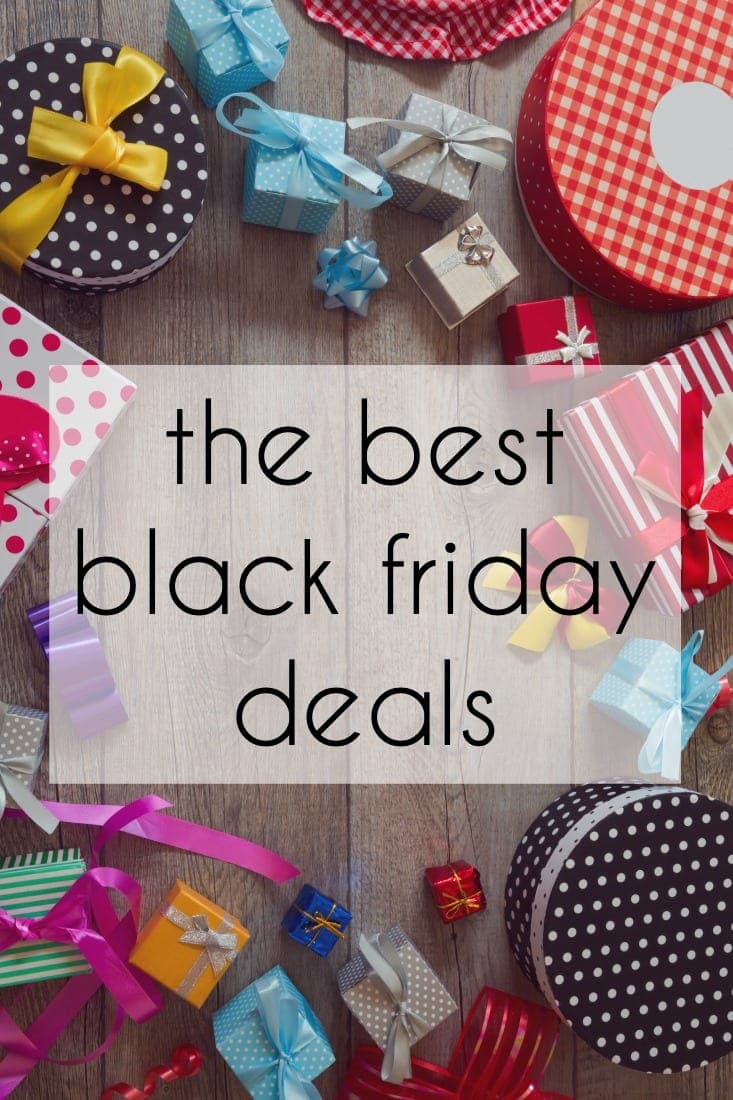 Good morning, Black Friday shoppers! Alison here with a list of the very best sales across the internet to get your holidays looking stylish for much less. As I hear of new sales I will update this post, and please share in the comments any amazing deals you score today. Happy Black Friday shopping!
Colleen Rothschild
As I mentioned in this blog post, Colleen Rothschild has 30% off the entire site with promo code BF2018. My personal favorites are the cleansing balm, retinol oil, and find their Discovery Collection a great way to try the brand (and they are all TSA-friendly sizes and refillable containers).
American Eagle
I've shared my love for American Eagle denim, well right now they're offering 40% off everything plus free shipping. On top of that, flannel shirts are $25 and always a great gift for all ages and types of people! FYI, these are the jeans I wear on a weekly basis.
And Comfort
And Comfort is offering 15% off through the weekend with promo code THANKS15. I've worn And Comfort a couple times on the blog and recently got their wool and cashmere sweater which is thick and cozy and soft and awesome.
Ann Taylor
Ann Taylor has 50% off the whole store and they have some great stuff right now. As a reminder, Ann Taylor now goes up to size 18. This velvet ankle pant will turn any blouse or sweater into a holiday look and still be chic after the season, I am obsessed with this velvet belted blazer and matching smoking pants, and these slides make every look dressy and fun without sacrificing comfort.
Baublebar
Baublebar has 30% off their site, no code necessary. Baublebar is a favorite for quality yet reasonably priced costume jewelry. They're always ahead of the trends, and I have pieces several years old that still look new. I preordered this ring and can't wait for it to arrive. If you're looking for Christmas earrings, they have a couple that are both adorable and stylish; this pair and this pair are faves.
Boden
Boden doesn't do sales often, but when they do they're worth taking advantage of. For Black Friday weekend, score 30% off plus free shipping on orders over $49 with promo code V4N9. I shared the Jasmine Ottoman Dress in my latest capsule wardrobe and think it's a beautiful closet workhorse. I can't decide which of the Arabella sweatshirts I like best, and how can I resist a sparkly Breton top?
Bombas
The best socks, period. They're well made, they come in sizes, they make great gifts, and they donate socks to homeless shelters. And right now you can get 20% off with promo code BIGHOLIDAY20. Click here to shop for men, women, and kids.
Chico's
Chico's has 40% off EVERYTHING, seriously everything including the things that are usually excluded from such sales. Promo code 70490. Clearly based upon this blog post I am a fan of their Coolmax turtlenecks. Their Juliet pants are truly flattering and comfy, the velvet stripe on these jeans makes them holiday ready, and these are the kind of pants that make your favorite sweaters perfect for a festive affair.
Clare V.
I adore Clare V. bags but the price is usually out of my budget. This Black Friday they're offering 20% off select styles at this link with promo code HOLIDAY20.
Crate and Barrel
While not fashion or beauty, Crate and Barrel is a place I often buy Christmas gifts and they have 20% off today and free shipping over $49. They also have 30% off holiday items and a lot of furniture up to 40% off. No promo code is needed, shop here.
Dagne Dover
Dagne Dover has 20% off! Woo, get these popular bags (bags I've loved for years, read my Dagne Dover reviews ) on sale with promo code GRATITUDE. Great gifts at a variety of prices (their adorable card holder is my night out wallet, is years old and still looks new).
Denisa Piatti Jewellery
Denisa Piatti is a DC-based jewelry designer and I am OBSESSED with her pieces. I've had the pleasure of visiting her studio and even was photographed in her jewelry for one of her campaigns. For Black Friday weekend she's offering 15% off with promo code BF2018 and with this code you'll also get free gift wrapping! The Arame Hoops are one of my personal favorites.
eBags
eBags is my favorite place to buy luggage and travel accessories. Their prices are often the lowest plus they have tons of customer reviews to help make a smart purchase. They're offering 30% off with promo code DEALS. Also if you click this link they have up to 70% off select items that are customer favorites or overstocks. I bought this carry-on sized spinner and larger spinner a couple years ago off eBags and they have been utterly amazing; I recommend them to everyone!
ELOQUII
ELOQUII has 50% off your purchase and free shipping. Yes, you read that correctly. Get your sequins and suiting and cute shoes and fab coats at half off. Plus, if you spend $100 or more you get an additional 10% off! No promo code necessary, click here to access the sale. I love this velvet jacket that works with jeans and boots, or glammed up with black skinny ankle or wide-leg trousers and some sparkly earrings. I've owned two of this dress and it is flattering, versatile, and fabulous. And um, hello pink moto jacket!
Gap
Gap is offering 50% off positively everything, no exclusions with promo code BLKFRIDAY. I'm loving their old-school logo sweatshirts and last month got myself this rainbow-lettered one and it's super soft. This teddy pullover looks amazing; I bet it's super soft because my daughter has the kid version and it's like a cloud. And how pretty is the stripe of this sweater?
Glossier
Glossier has 20% off the whole site which is pretty exciting as this makeup and skincare brand never goes on sale. I did an initial Glossier review last year but continue to use and love the brand. Their concealer is a fave, Boy Brow makes my brows look groomed and dense but still natural, and I plan to buy their mascara during this sale.
J. Crew
Woo-hoo J. Crew has 50% off your order with promo code TGIF. I think they have some super cute things this season. Their graphic tees and sweatshirts are so witty, cute, and chic. This tissue-weight striped turtleneck is the base layer you need this season. And you need this leopard velvet wrap dress which is already on sale and is available in up to size 24.
J. Crew Factory
J. Crew Factory is also in on the Black Friday madness offering 40-50% off everything on the site with promo code ADD2CART. Their sweater blazer has been featured in my capsule wardrobes before and is a reader favorite, I love the options of this striped sweater, and this pink faux fur vest is utterly adorable.
Jenny Bird
Y'all know I'm a big fan of Jenny Bird jewelry; they're having a sale with 30% with the promo code BFEVENT. Shop quickly because styles sell out FAST. Pieces come beautifully boxed ready to gift, though at 30% off it's a good time to add some of this modern jewelry that is loved and worn by people like Michelle Obama, Priyanka Chopra, and Celine Dion to your own collection.
Knix
I'm obsessed with their boyshorts, they're by far my favorite undies. And their Catalyst sports bra is so good, it made my Alison's Favorite Things gift guide. They're offering up to 50% off across the site (prices reflected, no promo code needed). Shop here.
Lands' End
Lands' End has 50% off full price styles with promo code BLACK and pin 4231. Also, flannel shirts for men and women are priced from $20. I recently got this flannel shirt and positively adore the weight, fit, and bright color.
LOFT
LOFT is also offering 50% off the whole store, use promo code FRIYAY. Those of you looking for a sweater dress, this looks like a nice one that will hold up and not cling, these luxe fur slide slippers are tempting me (and would make a great gift), this scarf is really calling to me, and this is the kind of dress you can wear to work or a party, three seasons of the year, and be comfy.
Macy's
Macy's always has amazing deals for Black Friday, I think better than any department store. Well on top of their deals they're offering 20% off your purchase with promo code BLKFRI. Shop here.
Madewell
Madewell has 25% off your order with promo code DEALWITHIT. If you haven't shopped Madewell recently, their collection is better than ever and they have expanded their size range to 3X and most of their denim styles have petite and tall options. Just sharing this striped t-shirt in a Weekend Reads caused it to be one of the best selling items on Wardrobe Oxygen for 2018; it's back in stock and so freaking cute. The Madewell Transport Tote is a classic; in the medium size, it's perfect for every day for you or a loved one (consider getting it personalized with initials for a truly special gift). Their Rivington Sweater Coat has been in my capsule wardrobes for its perfection, and their denim is a must-try for quality and fit.
Old Navy
Old Navy has 50% off the whole site, and no promo code is needed. They have some great things this season. I love the whole Mini Me collection (great idea for family photos or Christmas day jammies), this sweater rivals the cute ones from Boden and J. Crew, this lightweight quilted vest is great for those in warmer climates or for those in colder areas to layer under coats or wear indoors, and these beautiful slippers are a great gift to give (or treat yourself).
Second Base
Second Base makes great base layers, I adore their demi camis which give you the coverage you need only where you need it. But they have all sorts of tops and bottoms and even intimates that are great quality They're having 30% off with the promo code THANKS.
Shopbop
If you don't normally shop Shopbop, the holiday season is a perfect time. They have amazing gift ideas and right now an amazing promotion. Use promo code MORE18 and you'll get 15% off orders of $200+, 20% off orders of $500+, and 25% off orders of $800 and more. They have already curated a list of gifts under $50, stocking stuffers, and more.
Sole Society
Black Friday Weekend: 30% Off All Shoes & Bags (excludes UGG®)
I think Sole Society makes really cute shoes and bags for amazing prices. I also find their shoes to run a bit wide and are surprisingly comfortable.
Soma
Soma has 30% off everything with promo code 36760. In my recent Alison's Favorite Things I shared that Soma makes my favorite strapless bra and pajamas but there's so much that they make that is utterly fantastic. And the Embraceable Pajamas bottoms come in lengths! Woot!
Talbots
Talbots has 50% off one full-priced item and then 40% off the rest of your order PLUS free shipping! Shop early, the 50% off one item promo ends at noon (the 40% off continues through the weekend). I'm super excited about their Black Watch Collection which just dropped TODAY. I got an advance look at the collection and was gifted the Black Watch Blazer and it's as awesome as you can imagine – great fit, classic yet modern with the collar, and will go with so much (I'll have it on the blog soon). Want more inspiration on what to get from Talbots during this sale? Just check out my holiday capsule wardrobe!
Universal Standard
Universal Standard is offering $210 for your pick of any three things from their Black Friday collection which is available at this link. This is an amazing deal as the collection includes outerwear, sweaters, special occasion dresses, casual dresses, pants, and honestly a good portion of their collection. I've worn a lot of Universal Standard over the years, you can see the pieces on me at this link.
Thank you to Colleen Rothschild for sponsoring this Black Friday list. And if you have any great deals you've found online, share them in the comments to help others out. Happy shopping!
Dagne Dover Promo Code
Dagne Dover has offered Wardrobe Oxygen readers 25% off their Signature Collection. Use promo code Alison-25 at checkout!