This article may contain affiliate links; if you click on a shopping link and make a purchase I may receive a commission. As an Amazon Associate, I earn from qualifying purchases.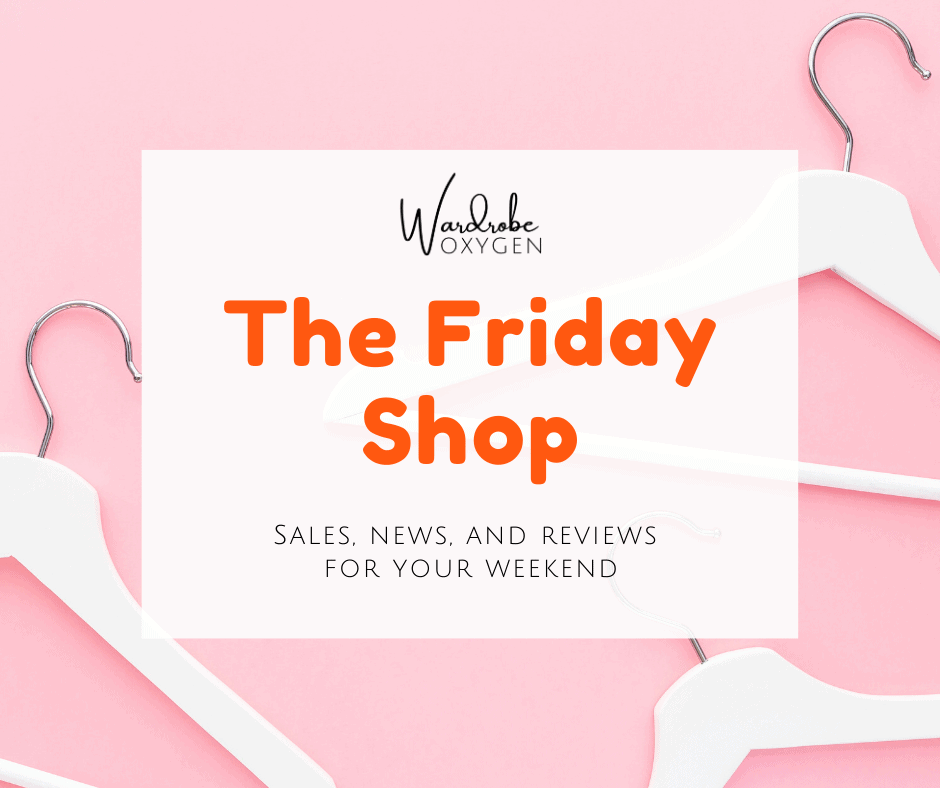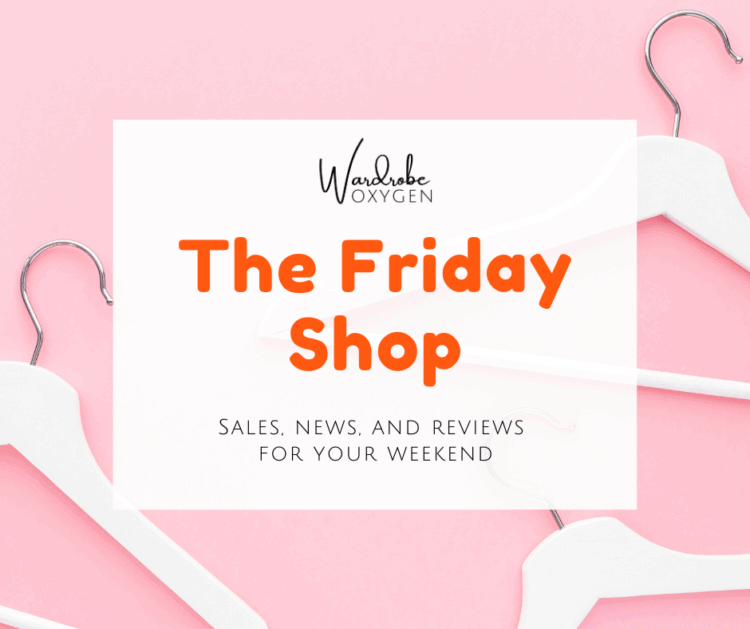 Retail News
Trailblazing Designer Kenzo Takada, best known for his namesake line Kenzo, passed away following complications due to Covid-19. He was 81. (Business of Fashion)
Can I shop my way out of the climate crisis? (Grist)
Rent the Runway CEO Jennifer Hyman, one of the most successful female founders, is fighting to save her company. (Business Insider)
Levi's is launching a buyback and resale program. (Fashionista)
Cole Haan collaborated with the messaging platform Slack on a collection of sneakers. No really. (Cole Haan)
Instagram's shift from photo diary to next-gen shopping mall. (Vogue Business)
Sale Alert
Soma Friends & Family Sale!!! Through the 12th you can get 25% off your entire order at Soma! Bras, sleepwear, and they also have apparel/loungewear/athleisure that is pretty fantastic.  A few of my favorite things and items I've recently tried:
eShakti this weekend is offering a free matching mask with any clothing order. There is no code, just when you go to order the garment, you'll see they will have a mask in the same fabric if available; if not it will be a black mask. Many of you have purchased eShakti's masks and like the fit as well as the built-in neck strap. eShakti offers clothing up to size 36 as well as custom-made clothing that is good quality, good price, and a brand that has good customer service. If you're on the eShakti newsletter list, you know the company is great about keeping customers informed about their labor practices and how they are protecting their employees as well as customers during the 'demic. I placed an order; I've been meaning to do a recent eShakti review and decided to order something to review along with what is in my closet.
TOMS is having their Friends & Family sale as well, it goes through the 12th and you get 30% off sitewide with code FAM30 (excludes accessories). I forgot about TOMS until I got this sale notification and spent a decent amount of time going through their selection and saw so many shoes that would be great for now. Like these, they're a sneaker/slipper hybrid. Or these actual slippers that come in a great variety of colors and prints. Or these water-resistant booties that look stylish and are easy to slip on and off. TOMS continues to be a brand that gives back; for every $3 they make they give $1 away to support a variety of organizations and have given away over 100 million pairs of shoes to people in need.
Aerosoles is… you guessed it, having their Friends & Family event! You get 30% off sitewide, but this excludes New Arrivals which I found kind of weird. But the items at this link are part of the sale and there are literally hundreds of shoes perfect for fall and winter, whether you want to be comfy at home or heading back to work.
What I Bought and What I Thought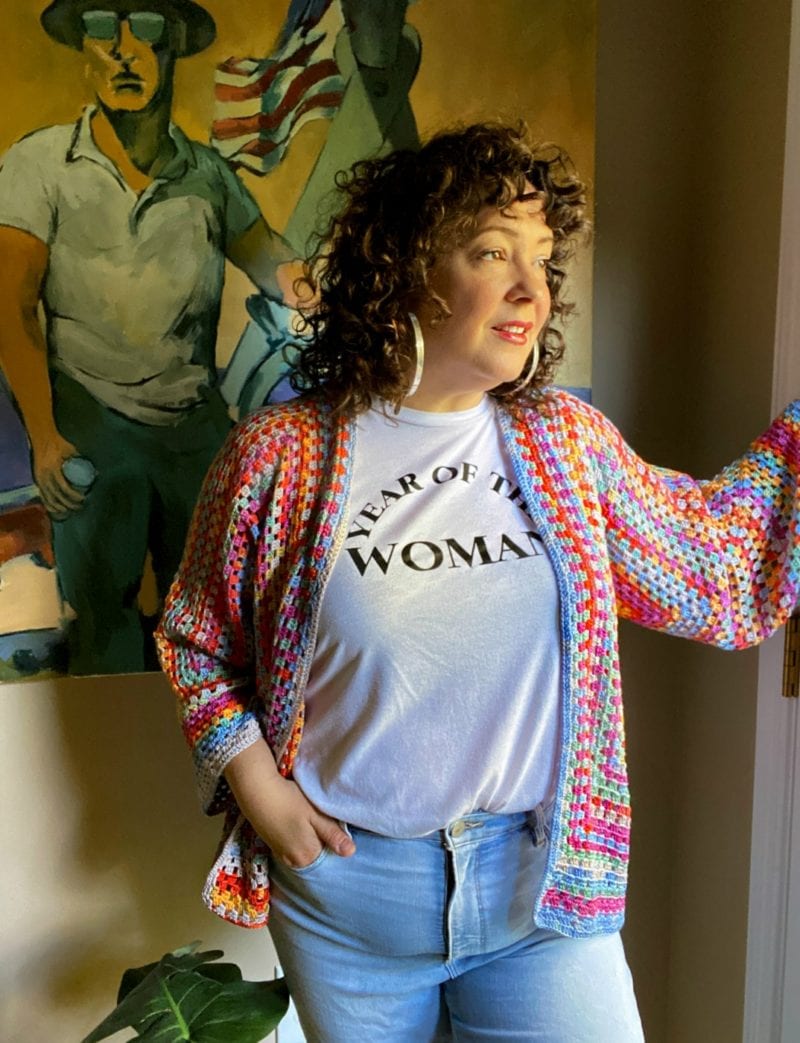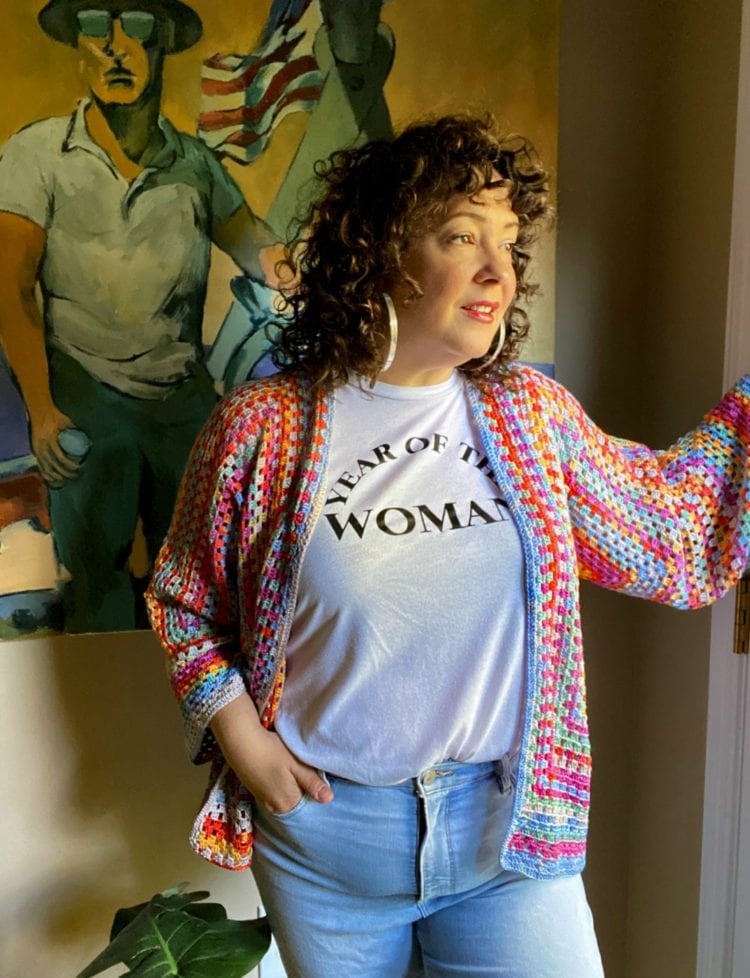 A while ago I mentioned that I liked a crocheted cardigan from FarmRIO but they didn't have my size. I went to Etsy to find something similar and found this one. I decided to treat myself to it at the beginning of September and it arrived yesterday. While I chose a size XL, the seller contacted me and asked for specific measurements to ensure it would fit. The cardigan arrived carefully packed, wrapped in brown paper with a blue twine bow, then in a cardboard box, which was then shrinkwrapped in clear plastic. It smells like perfume and maybe a hint of cigarettes, but not so strong it won't go away after spending a breezy day outdoors. It's not itchy at all and while it's the same colors as seen on the model it doesn't look quite as bright. It could just be the placement of the colors. It's more spring/summer of colors but I'm okay with that. It's also lighter weight than it appeared to me in the photo, but again I like that so it's not stiff and bulky. It is a soft and silky tight-woven yarn (don't know exact material) that isn't the kind that will get fuzzy or pilled. The cardigan is seamless with the centers of the crocheted squares under the arms so there's no weird box on any body part.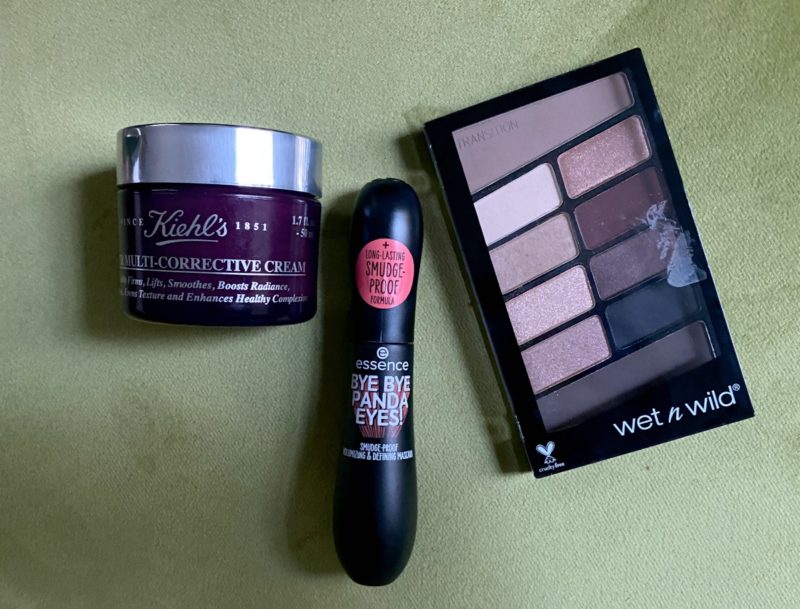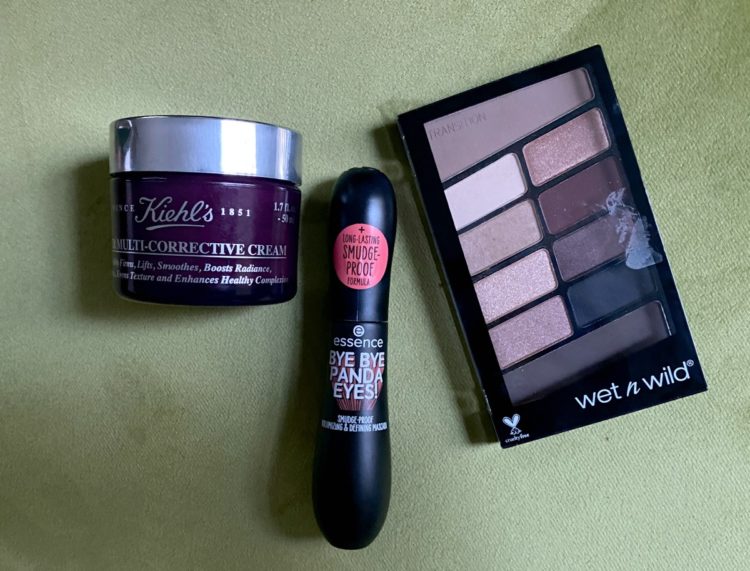 So I mentioned in a previous Friday Shop that I bought this cruelty-free mascara from Essence that's only $4.99 that people say is amazing. And my first wear, I liked it a lot. But then I started wearing it outside, with sunglasses and blue light glasses, when I've cried, and sweated, and got something in my eye, and just lived life. And yeah… I don't like this mascara. It totally gives me raccoon eyes. Several suggested I try Bye Bye Panda Eyes mascara from the same brand, so I got a tube. Many of you said it's a dupe for Thrive Causemetics' mascara, which is my absolute favorite. This is a good mascara. Like Thrive Causemetics, it's a tubing mascara which means it doesn't paint your lashes, it creates a coating which doesn't smudge or flake and holds up well through basic life, yet is easy to remove at the end of the day. However, it doesn't give the length and fullness that I get from Thrive Causemetics. This is a much more subtle effect and reminds me of Blinc mascara.  I've tried a lot of tubing mascaras and have shared previous tubing mascara reviews at this link. I will continue to use Bye Bye Panda Eyes until it's finished, but I won't buy another tube. While Thrive Causemetics is much more expensive, for me the results are so good it's worth the price.
I also bought this shadow palette from Wet & Wild because I've been on a hunt for something that will look like I don't have on eyeshadow but everything is too light, too dark, too warm, too taupe, too shimmery, too creasy, too something. And dang this is good! From the eight smaller pans in the center, the beige that is second down on the left is like my actual eyelid color, and the large color at the top is just a bit darker to give a subtle contour. And considering the entire palette is less than $5 I am okay with never using the other colors (though I can see me using the darkest ones with an angle brush in place of eyeliner).
Often when I share my skincare routine, I have comments saying it's so complicated and what should one use if they want to keep things simple? Kiehl's sent me back in August their Super Multi-Corrective Cream and I've been using it several nights a week ever since. This is a great choice for those who aren't down with multiple products and just wants to clean and put on a moisturizer and be done with it. Containing PhytoMimetic vitamin A, chaga mushroom, and hyaluronic acid, it claims to reduce the look of wrinkles and fine lines and improve skin's tone and texture. It's fast-absorbing, not greasy, and hasn't caused breakouts (and I'm famous for getting a mondo zit each time I change my skincare).  I've used it with and without other products and it does a great job of hydrating my skin and having my skin look happy and soft in the morning. I don't know if it or any product can truly remove wrinkles, but it makes my skin look cared for and achieves that even when I don't use any other treatments with it. For those who have tried this in the past, Kiehl's has changed the formula.  Some prefer it (no heavy fragrance), others hate it (no heavy fragrance, some say it's not as effective). I never tried the old version so I can't compare but I am a fan. This cream is available on the Kiehl's website, at Sephora, at Nordstrom, and Blue Mercury.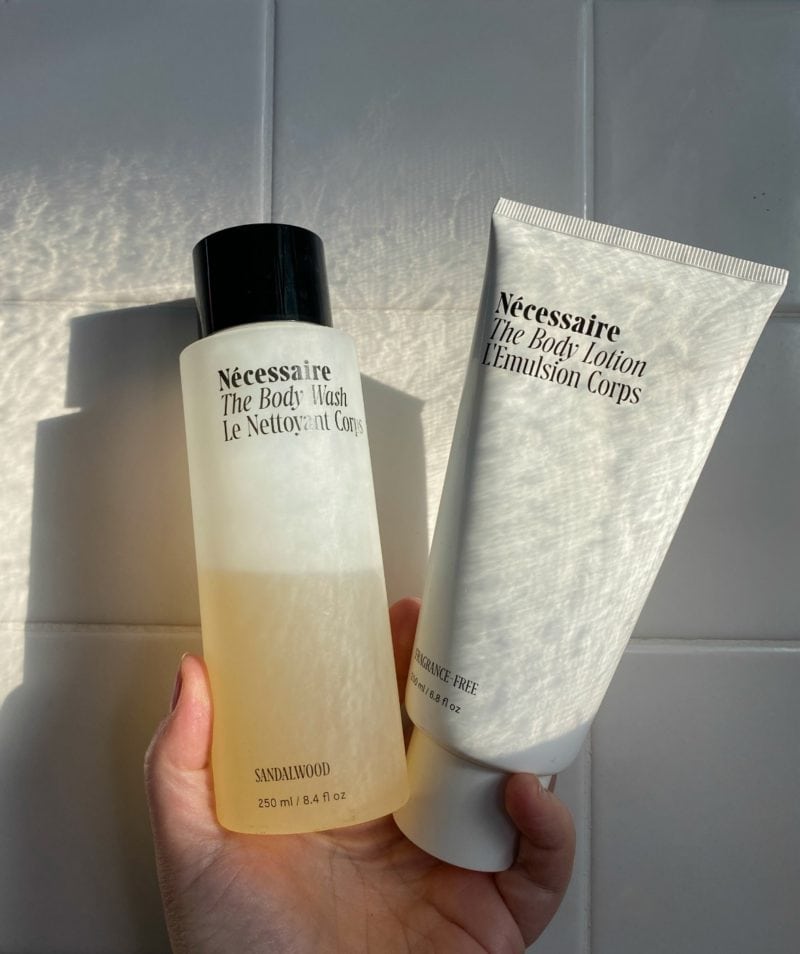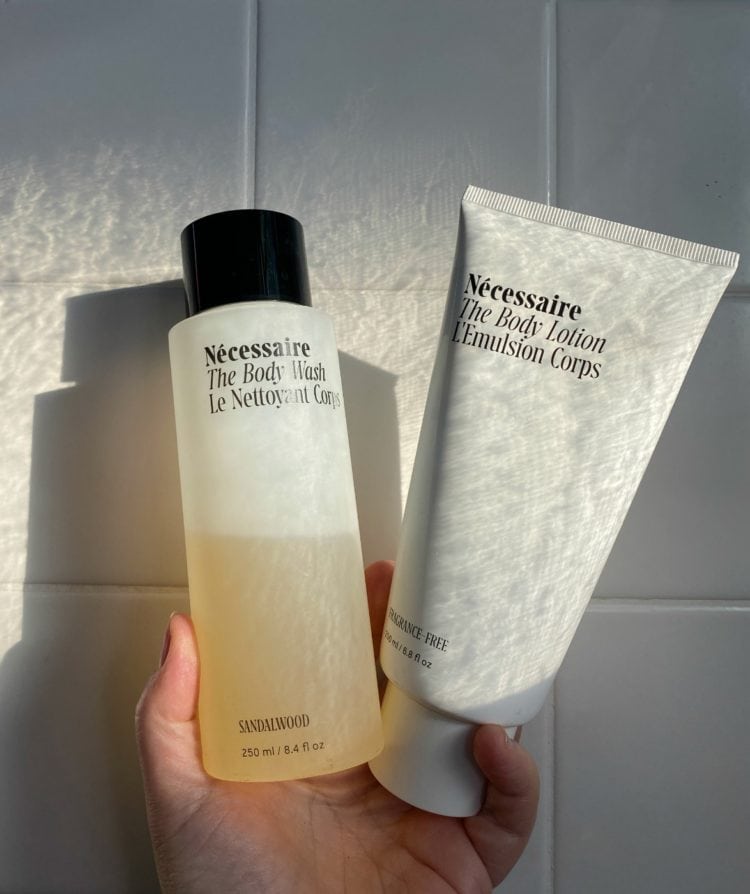 I know I recently shared my favorite body wash of all time is Atoderm (OMG use it with one of these scrubby washcloths for the best skin!) but I got another one. The temps are dropping and it's the season where I like warm cozy scents and Nécessaire makes this sandalwood body wash that is soooo good. I had a travel size in my toiletries (I'm working through all my travel sizes since I won't be using them any time soon) and it smelled so good and felt so nice that I got a full-sized bottle (I actually got this set). While a lot of body washes make my skin dry, Nécessaire doesn't do that to me. And it's not cheap but you need just a little to get the job done and the whole bathroom smells decadent. My husband doesn't like scented candles but he loves the scent of the upstairs after a hot shower with some Nécessaire Sandalwood. And if you desire a truly fragrance-free body moisturizer that is really rich but absorbs fast and keeps your skin happy and hydrated all day, you can't go wrong with their body lotion. It's also quite decadent. When I run out of my Aveda hand cream I may try theirs next just because I've been so impressed with their other products.  As for the body exfoliator… it's fine. I don't think it's as beautifully fragranced and since I use my scrubby cloth I don't find as much of a need for this. My husband has been using it and likes it, but it's just not the kind of body product that fits into my routine.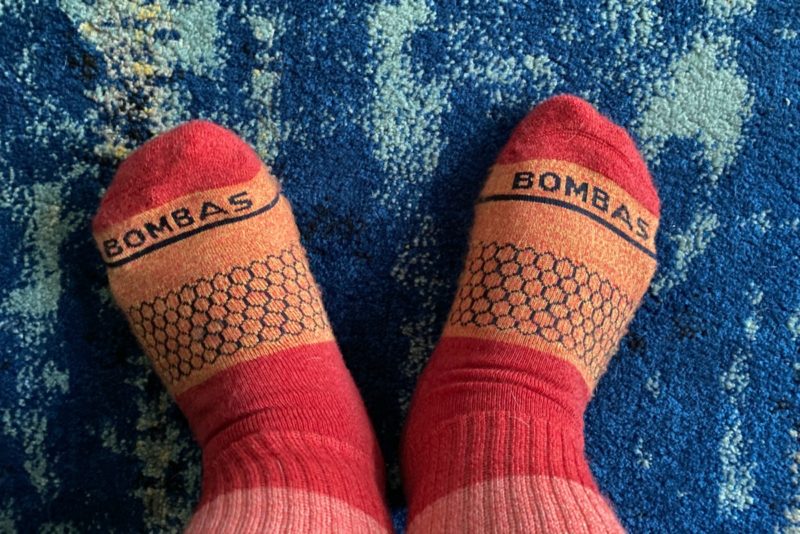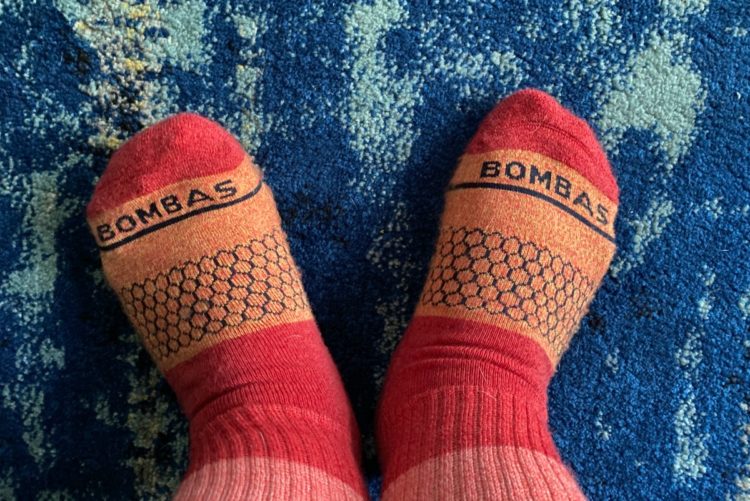 Finally, I bought socks because it's sock season and when looking at my sock selection it's not a good fit for work from home life.  Like, do I really want to be wearing trouser socks? I want cozy, but also able to be worn with shoes and boots, and I also need some new athletic socks. I got these from Bombas because I love Bombas and they're cozy and pretty colors (I got the Rose Aurora) and I got these in Hot Pink which are thick enough to be cozy but also comfy in my sneakers and cycling shoes. And I got these from Smartwool and these also.