This article may contain affiliate links; if you click on a shopping link and make a purchase I may receive a commission. As an Amazon Associate, I earn from qualifying purchases.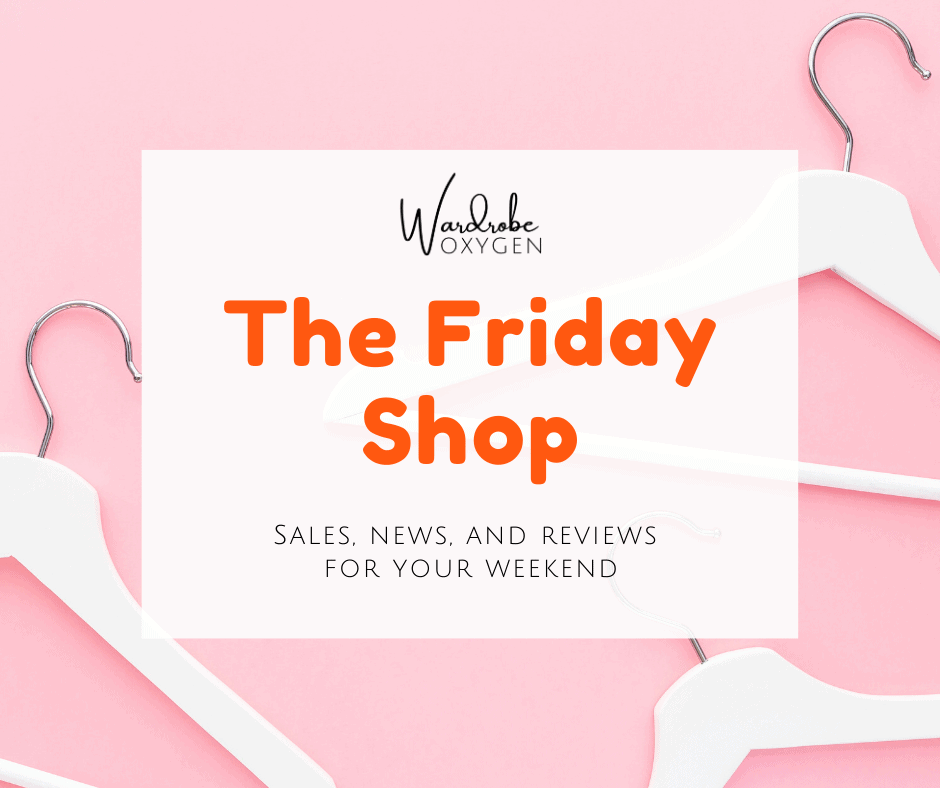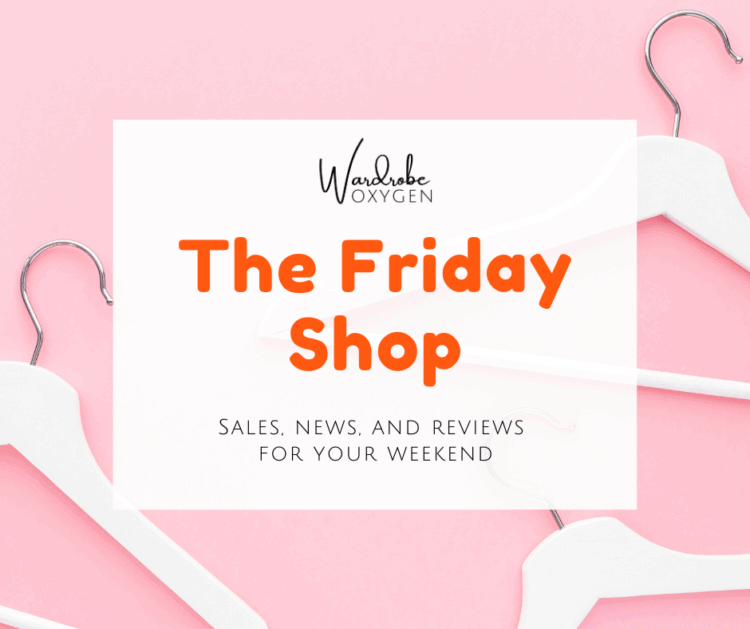 The world is still a mess, but looking at my site's traffic, clicks, sales, and the traffic on social media, I know many of you are heading back to work and activities and shopping to dress for those situations.  And from your comments, DMs on Instagram, and discussions in the Wardrobe Oxygen Community, I know many of you are looking to update your WFH looks for a variety of reasons. And so, I have brought back The Friday Shop.  The Friday Shop is a weekly post all about shopping – retail news (there's quite a lot of it these days), reviews of recent purchases, sales taking place, and a spotlight on a small business making stylish offerings.  I've added a new category: from the mailbag. These are style-related questions I receive in comments, DMs, and by email that I think are questions others may be wondering about. Let me know what you think of The Friday Shop!
Retail News
Just 16 months after it opened, Neiman Marcus is closing their location at Hudson Yards in NYC. (Footwear News)
Rethinking the store of the future. (Vogue Business)
Which retailers have taken the hardest hit with covid? (Retail News)
Brooks Brothers enters a purchase deal with Authentic Brands and Simon Property Group. (Business of Fashion)
Selfridges axes 450 jobs in 'toughest year in recent history'. (Yahoo Finance)
Stores need to hire security guards and give management the go-ahead to crack down on shoppers who refuse to wear masks, the head of a union that represents retail workers. (NBC)
How Ascena (the company that owns Ann Taylor, Lane Bryant, Catherines, LOFT, and more) went bankrupt. (Retail Dive)
To piggy-back on this topic, The Curvy Fashionista has the scoop on the future of plus-size retailer Catherines. (TCF)
As retailers reopen with health and safety restrictions to keep their staff and consumers safe, will retail traffic trends return to pre-COVID-19 levels? The data for July Week 1 seems to indicate otherwise. (Retail Next)
16 Black business owners on what the past few months have been like. (The Cut)
And ICYMI, my thoughts on retail cancel culture and the state of some of your favorite fashion retailers.
From the Mailbag
"I'm a large busted petite woman (34G) with a defined waist and am struggling to find dresses that properly. For most companies, my waist falls into the category of an 8 or 10, but my bust pushes me to a 12 or 14. Dresses that fit appropriately from the front (no pulling across the bust, waist doesn't ride up) are too big in the back and the waist and hem droop. If they have an elasticized waist or I add a belt, I end up with a flap of fabric in the back. Are there styling tricks I can use or companies that design for women with my body type?"
Have you ever shopped EShakti?  They will make custom clothing from your unique measurements and many with large busts love them for that feature. The prices are really reasonable and they are quite transparent with how the clothes are made and how they have been keeping employees safe during covid. I know many readers with large busts love Karina dresses because they are shaped to accommodate a larger chest. And finally Bravissimo is a UK company but they offer free US shipping and returns and they carry dresses specifically for women with large busts.
In general, when shopping off the rack retailers, the only true way to get a great fit is to size up for your bust and then have a tailor bring everything else in.  It's not cheap, and not easy to do right now, but it's really the only way because hacks like belts as you have seen ruin the line of clothing and you deserve to have clothing that works with, not against your figure.
What I Got and What I Thought
Running out of our CBD, this time I ordered from Brown Girl Jane, a company I mentioned in this blog post about Black-owned businesses I've shopped from.  We bought two bottles – one for Balance, and one for Rest. From stress to achiness from a hard workout, the Balance is a great options.  Rest is a wonderful alternative to meds used to help get to sleep and stay asleep.  My husband and I have used Balance, my husband uses Rest.  For both, we put the recommended dropperful under our tounge for about 30 seconds.  The CBD is mixed with orange essential oil so it has a subtle citrus scent and taste.  The brown bottles are elegant, the shipping packaging beautiful yet thankfully minimal, communication and delivery were excellent, and the product quality and effectiveness is equal to what we used to buy from a larger company at an organic market.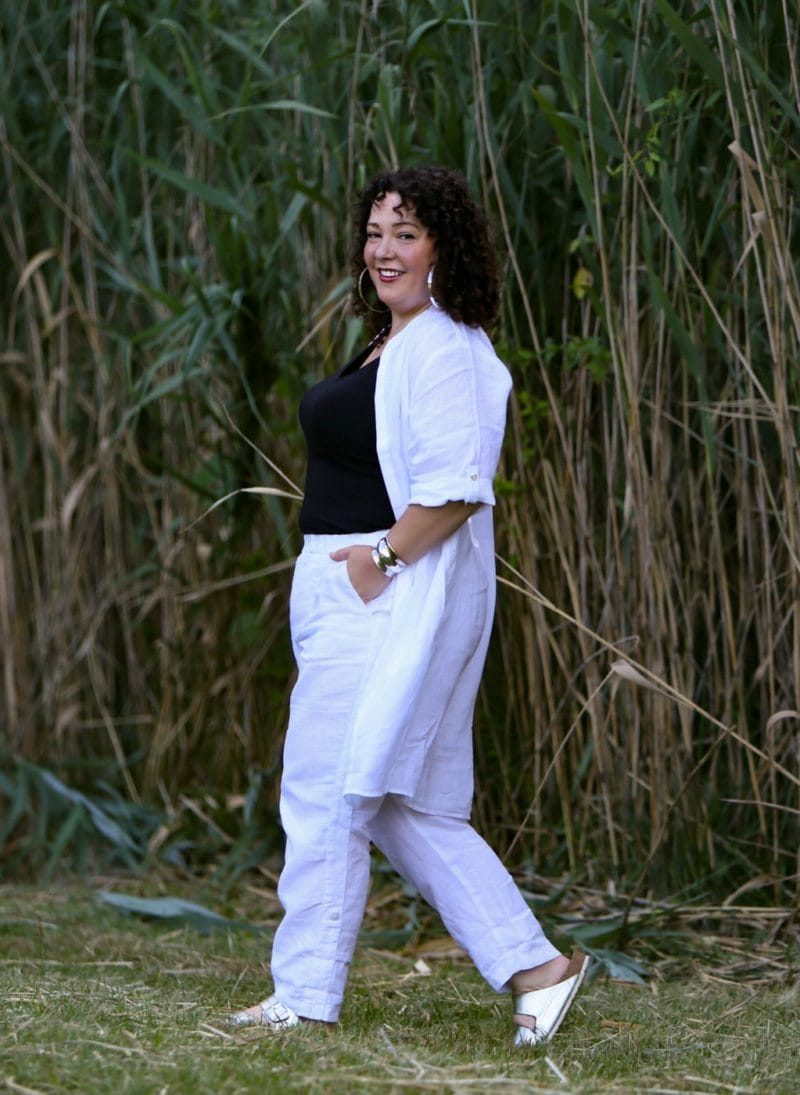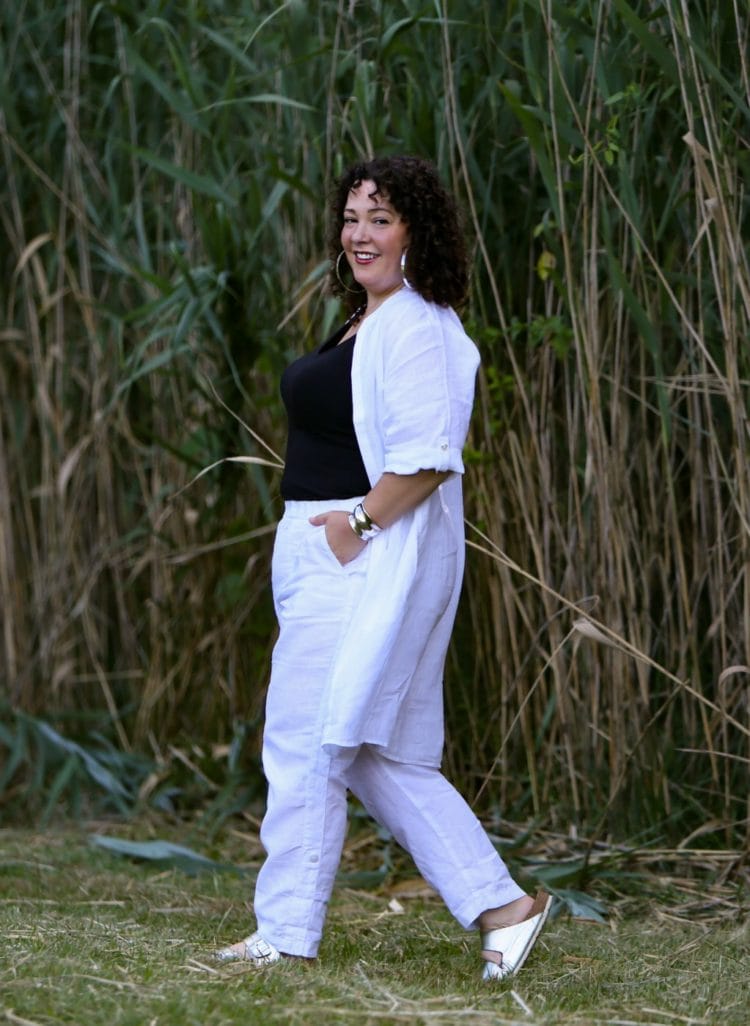 I featured these J.Jill linen pants in this outfit post, but since then I have washed them four times, put them in the dryer, and well, it's clear by how often they've been laundered I am a fan. I got a Large Petite, I wish I sized down.  Since riding the Peloton, my body shape has changed and I think I am more a 12 now than a 14, and the Large, especially after wearing (because linen stretches), are hip-slung.  One version of my Summer at Home uniform is a navy and white striped Breton tee with white linen pants; I wear the shirt untucked which does enough to hold the pants in place but if you're not sure, size down.  They are opaque enough that I can get away with my skin-colored non-seamless underwear, but not enough to go wild and wear pink or blue. The pants are styled online cuffed; they have one of those tabs to unroll to full length as you see above.  I prefer them on me this way but that's just because the cuffed length is not exactly the length I like best on me. FYI, J.Jill has 50% off all sale styles at this link and while the sale doesn't include these exact pants it does include the topper I'm wearing and several other styles of linen pants.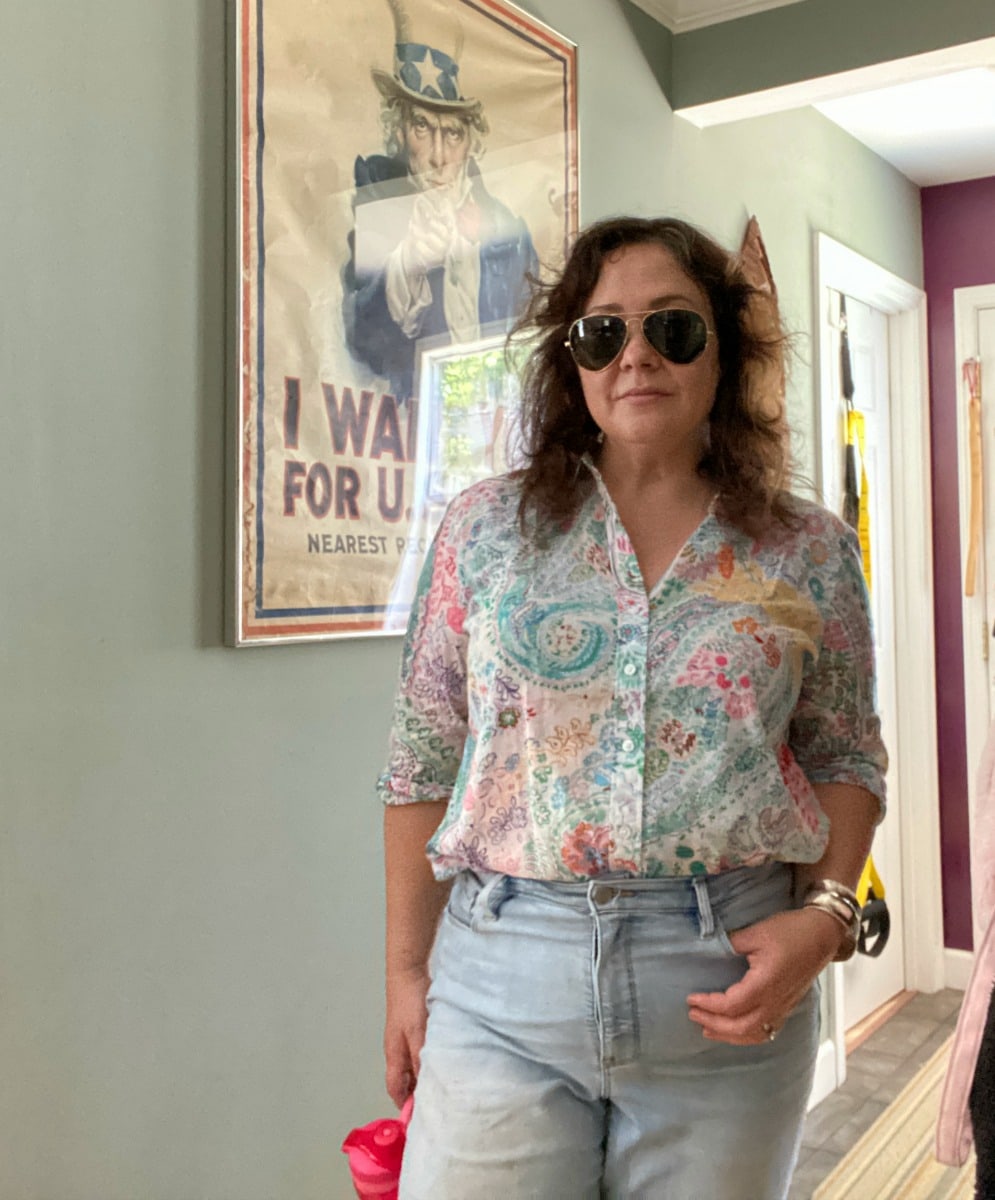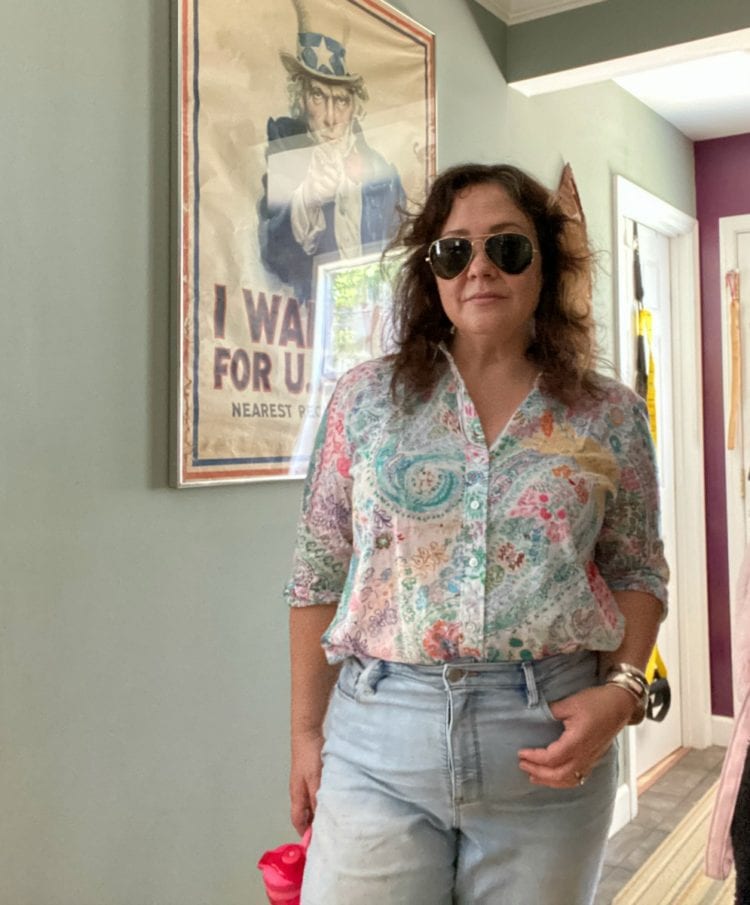 I shared recently on Instagram that I got this shirt from Talbots.  While in such hot weather it is appealing to wear as little fabric as possible, this super lightweight shirt has been a favorite for keeping the sun off me and also keeping me breezy cool.  Not as sheer as cotton voile but still super breathable, the print is so pretty.  I got it in size 0X petite thinking I needed it to accommodate my bust but if I went back I'd get XL petite.  Sizes are really limited because it's on sale for $29.99 but Talbots also has it this Liberty-esque floral, an animal print, black and white gingham, a black and white print that has a Marimekko vibe, and a simple blue and white Dobby stripe.
Many years ago I invested in the Rodan + Fields LashBoost and it really did make my lashes grow.  However, that stuff is hella expensive! I ended up canceling my autoship and went back to my stubby lashes.  Thrive Causemetics Liquid Lash Extensions does help my lashes look longer, but especially now wearing less to no makeup I wished my lashes were more… visible. I received a sample of GrandeLash with a Sephora order back in January and finally decided to try it when we were stuck at home.  It took six weeks, until it was used up, to see results but there WERE results, and I think just as effective as the R+F serum. So I bought myself a full-sized tube. A full-sized tube is $65, which is half the price of R+F.  I put it on most nights but there are many nights when I forget yet it still works great.  I tried a lash booster years ago that caused my lashes to get so weak that my curler ended up pulling all of them out of one eye; I haven't had any issue like that with GrandeLash.  No irritation, no darkening of skin, and I use so little there's no crustiness when I wake. You need to keep using it to see the results, but I'm so happy with the results I have visible lashes even when not wearing mascara. Sephora has the sample 6-week size for sale as well as the full-size so you can do a trial without spending as much.
Sale Alert
ENDS TONIGHT!  J. Crew has an ADDITIONAL 72% off select sale styles available at this link with promo code SALETIME. This isn't leftover winter stuff but summer things you can rock right now like this gorgeous tunic dress, this sweater blazer that is perfect for cold offices and working from home, and this candy-colored striped t-shirt.
This weekend only, Soma has a fantastic selection of their popular bras on sale for only $39!  Seriously, every single bra I have raved about at Soma are part of this sale including most of the ones I shared in this best wireless bras post and in my post where I shared my favorite bras and undies.
Through the 2nd, Bare Minerals has 25% off your entire order with promo code BESTSALE. You'll also get free shipping! If you only know them for their powder mineral foundation, know they have expanded to offer award-winning cosmetics of all sorts of formulas as well as skincare. I love their Gen Nude Patent Lip Lacquer; it's not too sticky and not glittery and provides color as well as shine. I have "Everything," "Addicted," and "Pout" and they are great "your lips only better" colors that look great for day but are also a nice balance to a more dramatic eye for evening. Bare Minerals is vegan, cruelty-free, paraben-free, and free of most of the things you don't want in your cosmetics.
Through the 3rd, Madewell has an extra 30% off sale merchandise with promo code WHATADEAL. The size selection is limited, so I recommend filtering by your size so you aren't disappointed. This sundress is a silhouette so similar to the one I have from J. Crew and wear all the time; this sundress is also awesome.  I also love this jumpsuit.
Ministry of Supply is a company that offers clothing for men and women that is designed to perform and has a lifetime guarantee.  Climate-neutral and offering free returns and exchanges, this company offers wardrobe staples up to a size 16.  They have a few promo codes that don't seem to be expiring any time soon:
2SMARTERSOCKS will get you two pairs of socks for $25
3BLOUSES will get you three blouses for $215
3PANTS will get you three pairs of pants for $365
3RESPONSIVETEES will get you three of their responsive tees for $75
MASK will get you one of their mask kits with any order of $100 or more
Ample Bosom is offering 20% off Fantasie swimwear with promo code SWIM20.  If you're like me and feel most secure in swimwear that comes in bra sizes, Fantasie is a great brand.  Ample Bosom is also offering 10% off first-time orders with promo code WELCOME. Since 1999, Ample Bosom, a UK-based online retailer (that ships internationally), focuses on offering fashion, swimwear in plus sizes and bust sizes 28AA to a 58N.
Bare Necessities is also offering 20% off select swimwear at this link with promo code SWIM20.  You know this is one of my favorite destinations for bras, and I have bought swimwear from BN almost every summer.  While I haven't bought a new swimsuit this summer, I have done swimsuit reviews from Bare Necessities in 2019; here is another swimsuit review from last year featuring Bare Necessities.
Looking for a way to add fun and color to your outfits without spending a lot?  Novelty earrings from Baublebar are a great option. For a limited time, their novelty collection available at this link is 20% off with promo code NOVELTY20. Included in the sale are some holiday styles for Halloween, Christmas, and generic winter styles; smart to get now so you're ready ahead of time (and how fun for Zoom meetings!).
ELOQUII is having a pretty major sale with 40% off new arrivals at this link, select tops at this link under $20, dresses at this link under $35, and skirts and pants at this link under $30.  For all these promotions, use code SALETIME at checkout.
Karen Kane, a sustainable clothing company that offers up to size 3X is having their sample sale with styles up to 80% off.  Selection is limited, so don't delay in checking out this fantastic brand run by a fantastic family (I've partnered with Karen Kane in the past and have communicated directly with Karen and her son and they even were a sponsor for my 10-year blog anniversary party).
Small Business Spotlight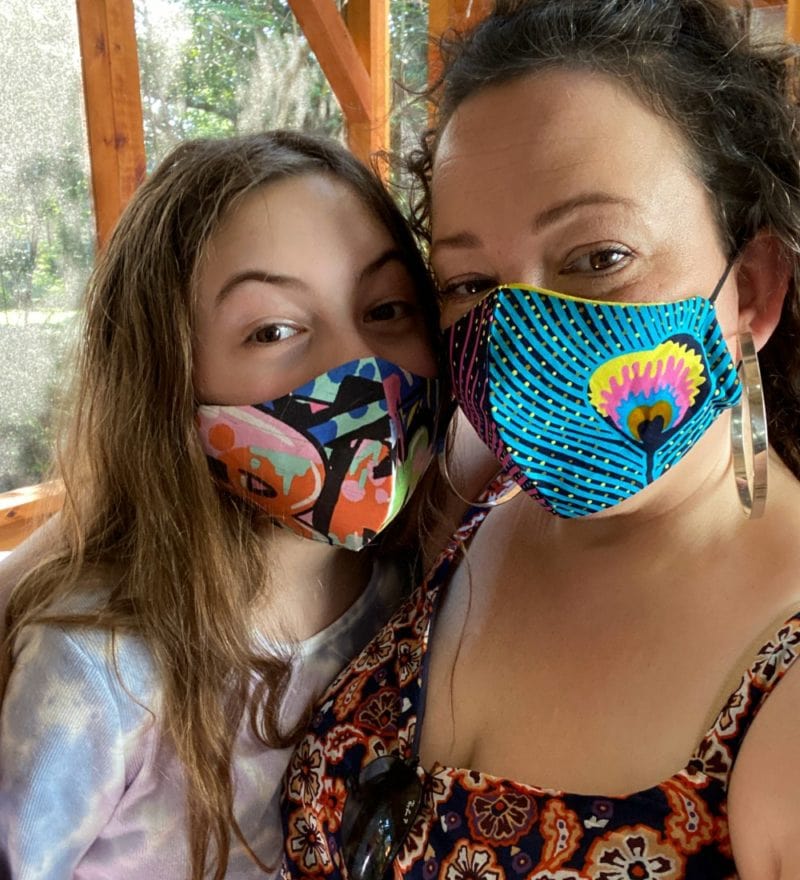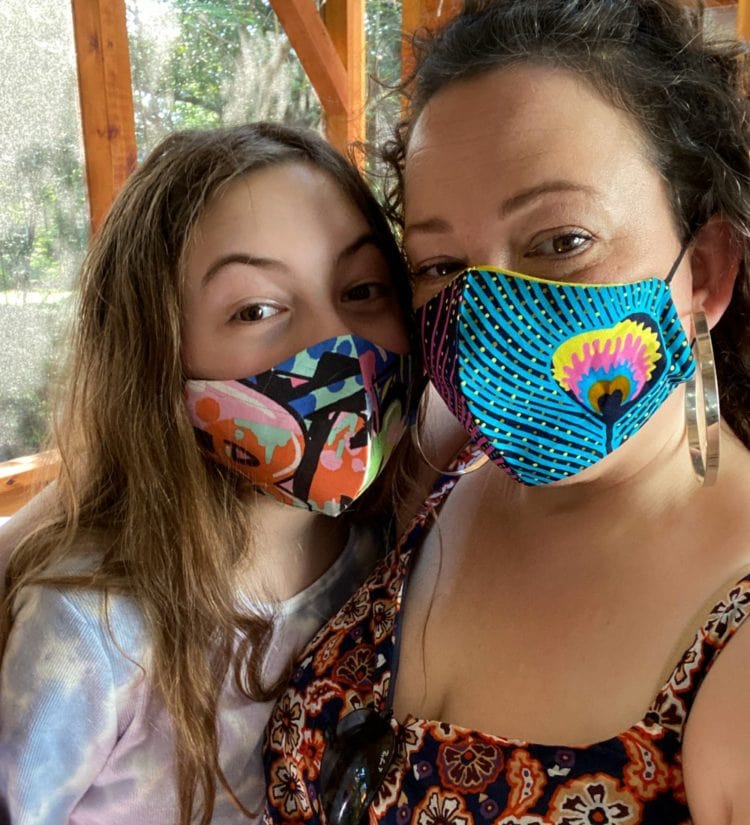 I mentioned previously that I ordered cloth face masks from Candace Cort, a Black woman fashion designer based in NYC.  The masks came this past weekend and I really like them.  They are the contoured style (this post breaks down the different styles and shapes of cloth face masks) but unlike many I've found that are too long for my face, these fit quite nicely. They are made from two layers of 100% cotton, the front is printed and the back is a contrast color with mostly hidden stitching making them reversible (there is no filter pocket). Candace Cort also sells ear savers to go with the masks. I got the Featherweight and Tag It Up prints and they look just as beautiful in person. The package came with a hand-written note, the masks sealed in a plastic bag. Candace Cort may be selling face masks, but she is a fashion designer and her site offers her selection of colorful fashion available up to 3XL.
What I'm Digging
My child is doing 100% distance learning this fall, my husband and I work from home, I don't see a need for a lot of new clothing.  However, since being at home my diet has changed, my fitness has changed, and with it my body has changed.  While a lot of my loungewear/athleisure is a style that still works, I am finding I need to replace a lot of things that are more fitted. The biggest change is activewear.  While my tops and even my sports bras are still fitting, my leggings and bike shorts aren't.  I've also found over this time at home and riding the Peloton that my legging and bike shorts needs have changed.  I need a thinner fabric and tighter fit so they don't ride up and bunch in my groin and behind my knees.  And while I loved black and dark solids before because they hid sweat, didn't make me feel like my rear was on display at the gym, and could look more like streetwear when I threw on a fleece or jacket and went shopping after a workout, now I want crazy prints and bold colors because it's fun and it makes me feel more like an athlete.  A few of the bike shorts and leggings I have been eyeing:
I also need layers – cardigans and wraps and zipper hoodies. The kind of thing I can throw on when I am sitting in front of my computer all day and my lack of movement makes me a bit chilly, and will be very needed come fall. I don't want them heavy, but I don't want that tissue-weight that clings to knit tops and gets stretched out when you push up your sleeves or put your iPhone in your pocket. It also needs to be machine washable. I have my Soma wrap which I wear often (and BTW still looks new after all this time) but I miss sleeves and want something that isn't black (and while we're at it I don't want gray or beige either). Everything else I have for this purpose in my closet is without pockets and I am finding this is surprisingly hard to find. I'd love suggestions on where to find such a unicorn because below are the ones I was able so far: