This article may contain affiliate links; if you click on a shopping link and make a purchase I may receive a commission. As an Amazon Associate, I earn from qualifying purchases.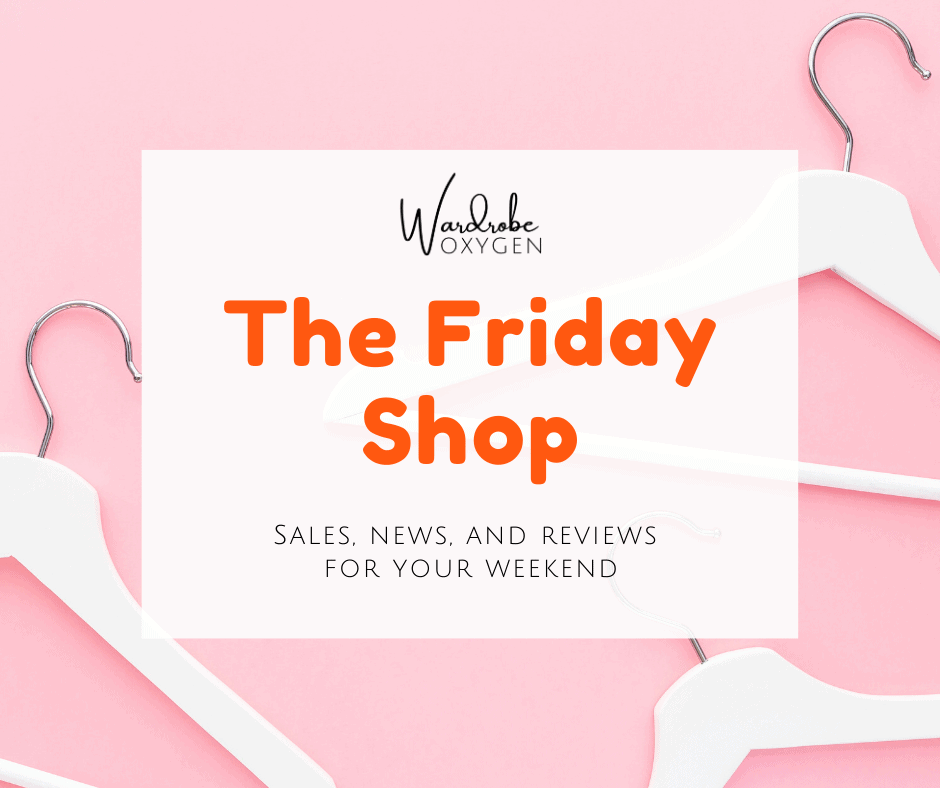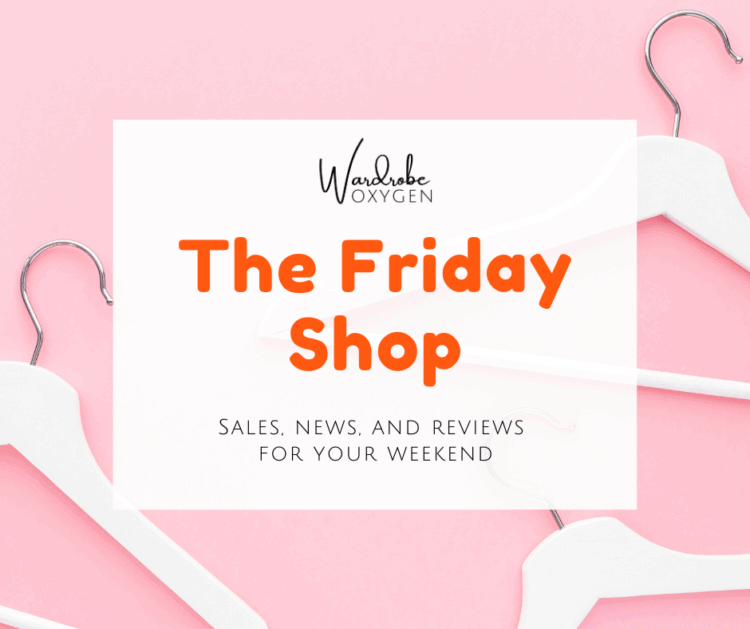 Retail News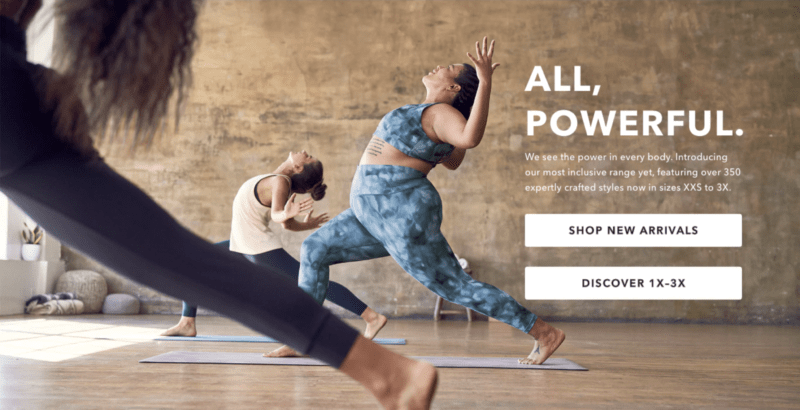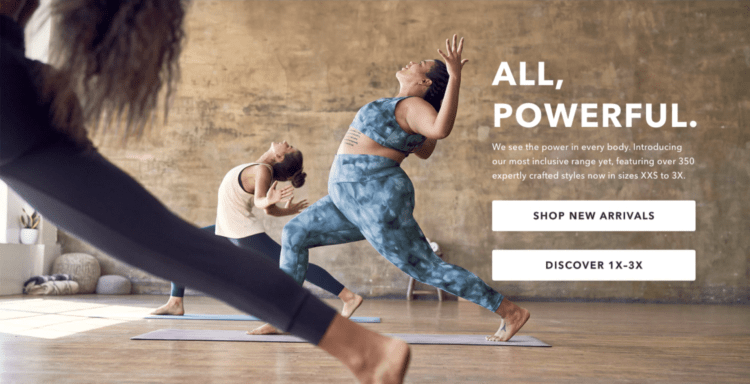 I don't know if you all heard the news, but Athleta just increased their size range to 3XL. And while it's not the full collection at Athleta, at the time of writing this there were 361 different items available in 1X – 3X. They also have the items modeled on plus size (or at least not size 0) models. It's like FINALLY, brands are realizing that all women like activewear, like variety, and want to be able to go beyond the black leggings!
From the Athleta 1X – 3X collection are a lot of athleisure/casual/lounge pants WO2 readers adore. The Brooklyn Jogger, Brooklyn Ankle Pant, Salutation Jogger, Trekkie Bermuda Short, and Elation Tight all get rave reviews from those who read Wardrobe Oxygen so if you're not sure where to start, these may be good choices for you!
Sale Alert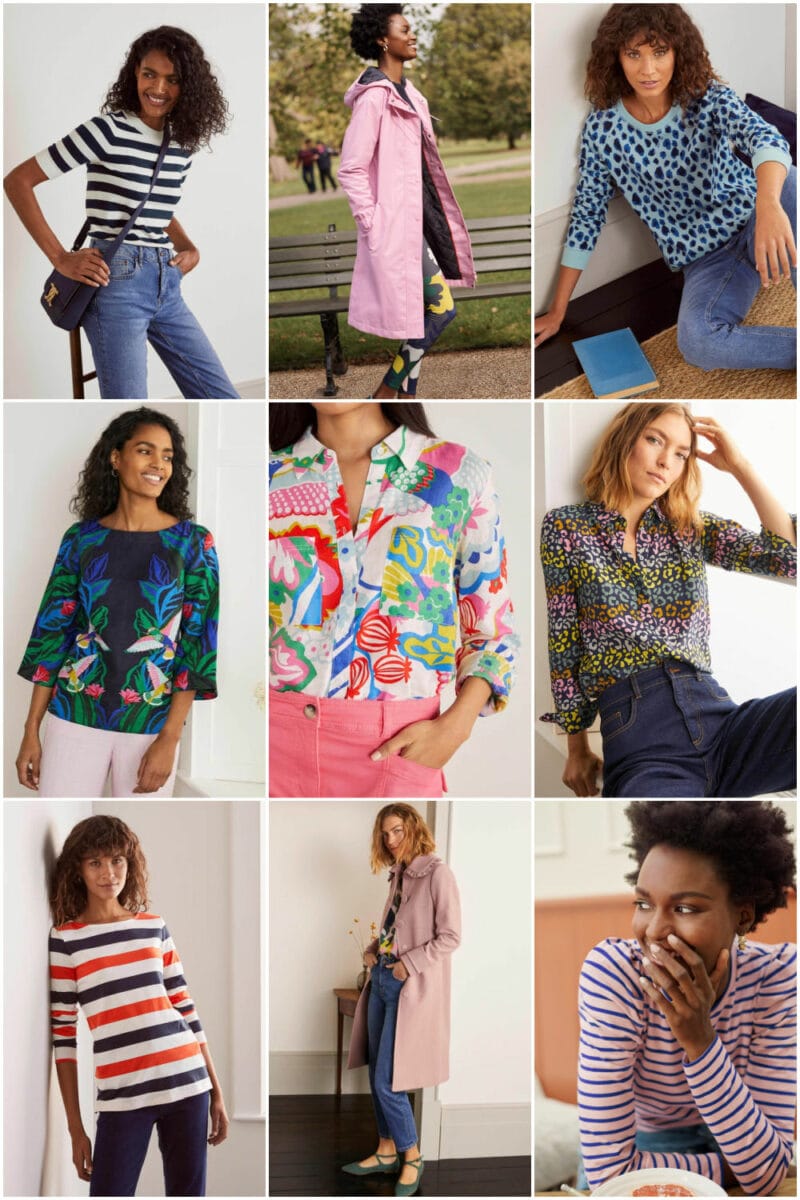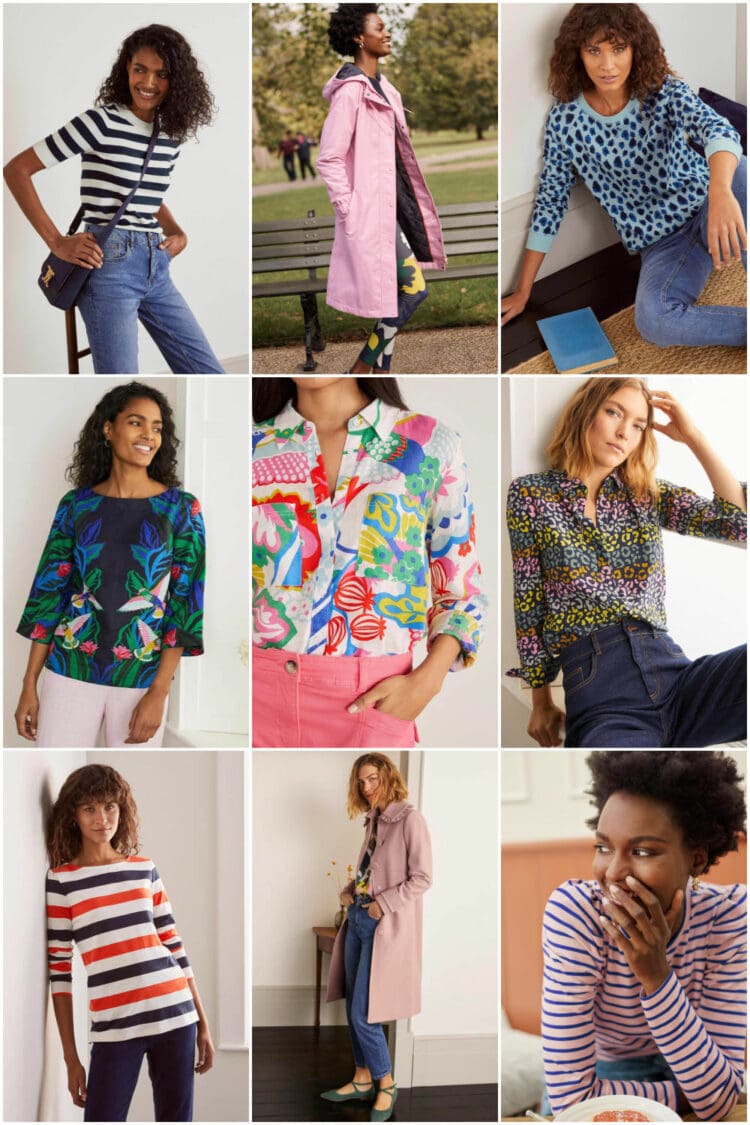 Boden has 20% off women's tops, knits, and outerwear. This sale is only through Sunday so get to shopping quick while the selection is still there. Boden carries well-made and cheerful clothing up to size 20/22 with some styles available in petite and tall.
You know I have regularly mentioned Boden for Breton tops and many WO2 readers attest to their quality and fit. While Boden offers classic styles, they also have some fun ones like this one with puffed sleeves and this one's collar.
I think their outerwear is fantastic; well made, smart details (hello raincoats that are actually waterproof), and fun details (like the ruffle on the collar of this coat). I have this silk shirt and this linen shirt in my virtual cart. And if you're wanting a comfy sweatshirt that isn't boring, check out this selection; I want almost all of them in my wardrobe!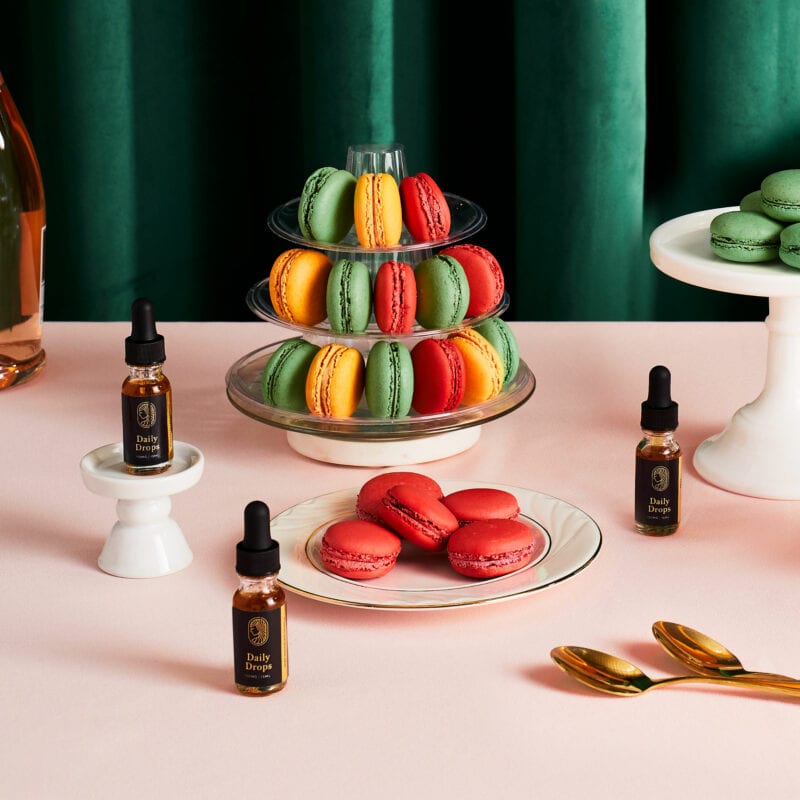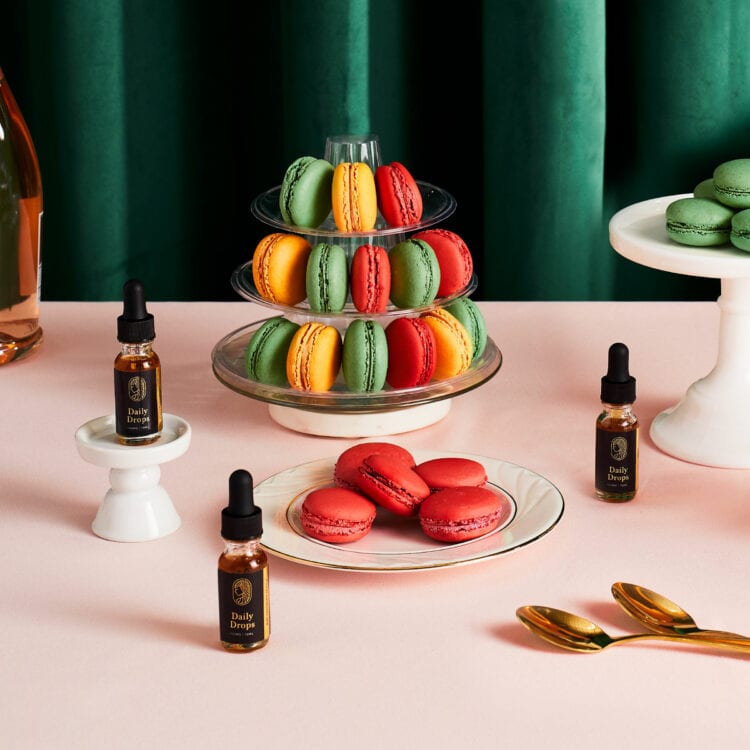 Equilibria has come out with what they call their Indulgence Collection – a limited-edition collection of CBD Daily Drops in three Parisian patisserie inspired flavors. I take unflavored CBD drops daily (read my Equilibria CBD review) and I don't mind the planty/weed taste, but for those who prefer a different flavor this is a great option as the three flavors are Peach Gelee, Mint Chocolate Truffle and Strawberry Shortcake.
This trio of Equilibria Drops comes in a cute giftable box, though TBH the bottles are pretty on their own so you could break it up into three gifts. And let me tell you from experience, CBD is a very well-received gift from folks of all ages and most walks of life. As always, if you use WARDROBEOXYGEN at checkout you will get 15% off your first purchase of anything at Equilibria.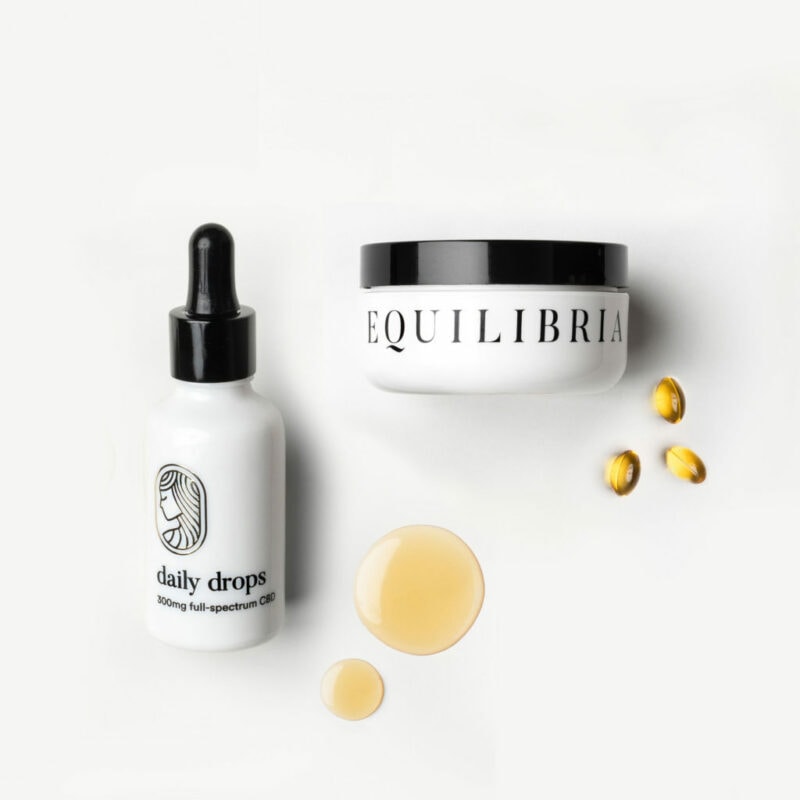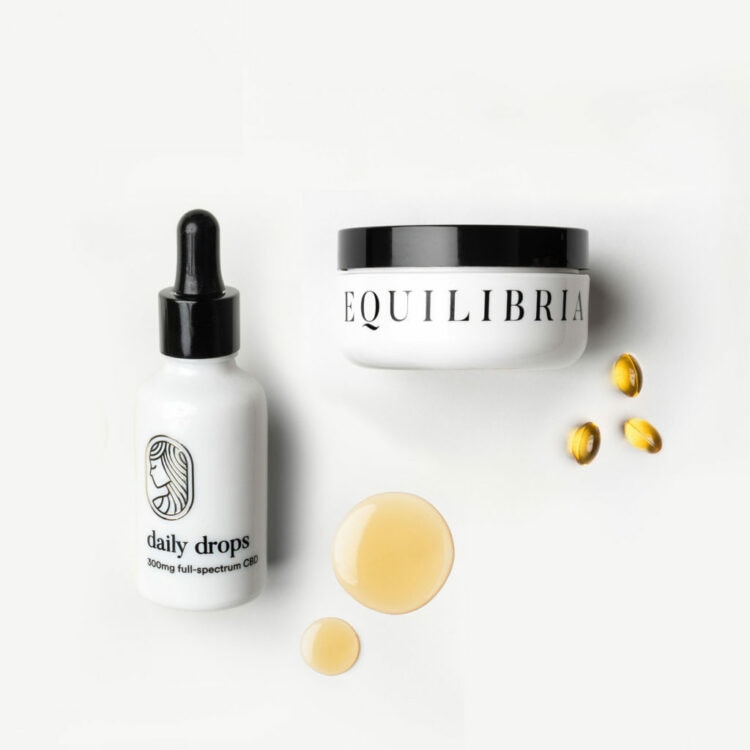 EQUILIBRIA UPDATE! I took off yesterday for my birthday but just found out Equilibria brought back their 50% off the first month of subscriptions for new customers and it's this weekend only! When you subscribe to a product with Equilibria, you get 20% off each month of that product and don't have to worry about ordering, it will show up on your doorstep. You can pause or cancel any time. Well right now, if you use this link and promo code WARDROBEOXYGEN50, you'll get 50% off the first month, and the 20% off every month after that!
With subscriptions, it can be for one of their signature boxes (multiple products at a reduced rate) or for individual products. I know for some, they feel more comfortable using CBD topically; you may want to consider their Relief Balm which is ridiculously good, and the best CBD lotion or balm I've tried (review of several to come, so spoiler alert you now know the winner). If you, like me, take CBD internally for anxiety, inflammation reduction, or sleep, you may want to subscribe to their drops or softgels (I use both, one for sleep and one during the day). If you want to know more about CBD check out my unsponsored Equilibria review from a couple of months ago.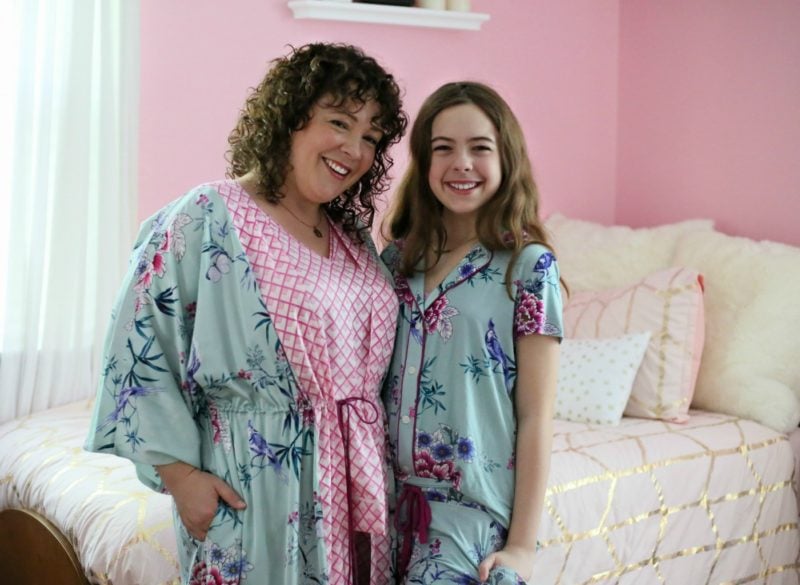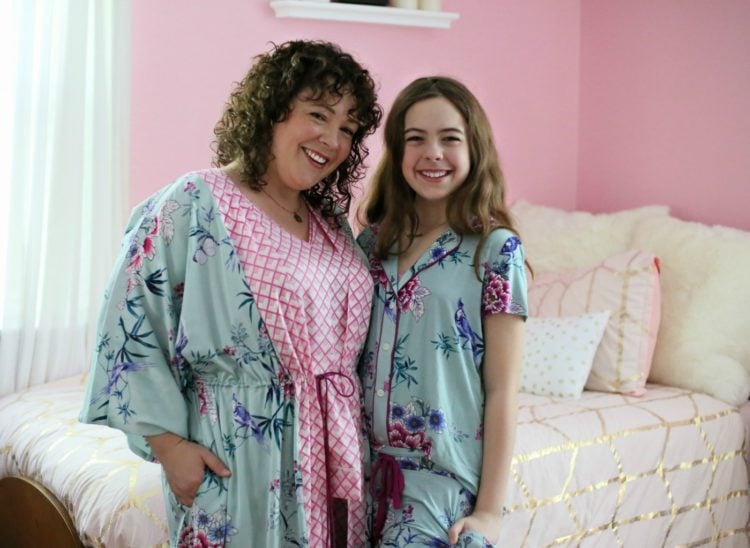 Soma has a Sleep Sale through February 1st with 30% off sleepwear (sets are excluded). I think you know by now I am obsessed with their Cool Nights pajamas and they have recently launched some new prints and silhouettes.
I recently got these pants and matching wrap/jacket thingie and LOVE them. The print is cool and they look like new even though I've dried them twice. I wear them with a black cotton cami I've owned and feel very Lady of Leisure as I drink my coffee in the morning. Their cropped pants are my go-to for comfy sleep and for lounge when it's warmer. I love this matching tee for soft, silky, cooling basics. This print combo is calling to me! And how fun is this print? I also love this one.
What I Bought and What I Thought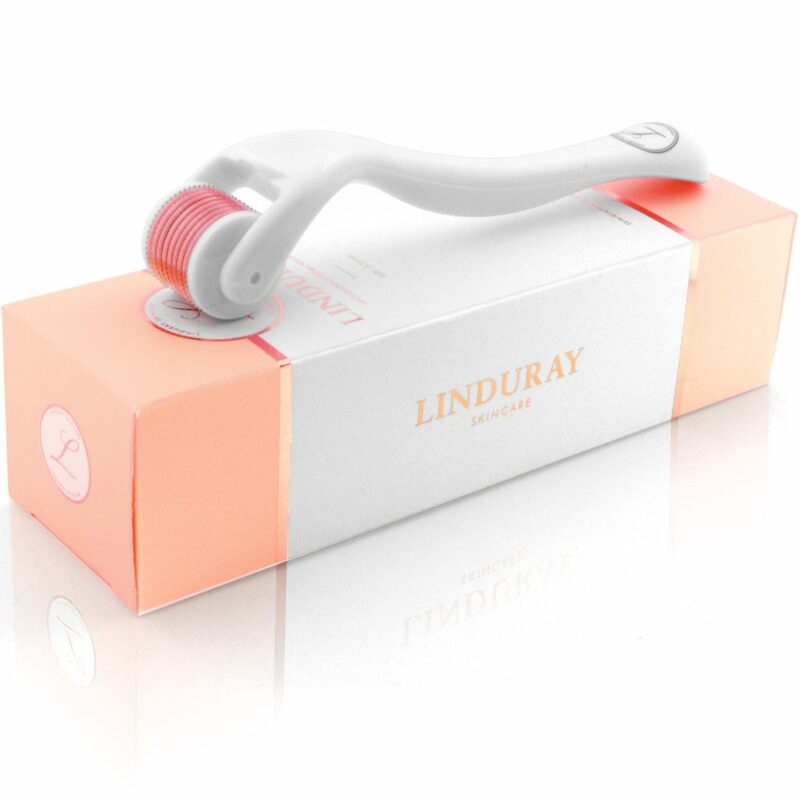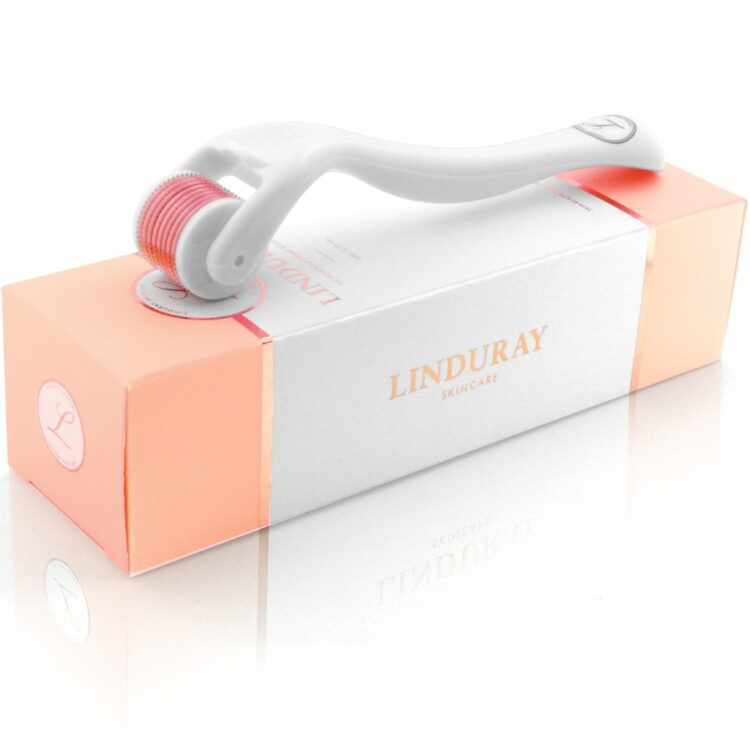 I bought a dermaroller, this one which is less than $10 but highly rated and one a friend also has. These are controversial, many say not to use them at home, but what I read is because people use ones that are 0.3mm and higher (longer prickly things on the roller), they don't keep them properly sanitized, and they use them on acne and broken skin.
The one I got is 0.25mm, comes in a protective case to keep it clean between uses, and I sanitize with alcohol. I've only used a couple of times so I won't do a full review until it's been a couple of weeks. Do any of you use a dermaroller? What is your method for using it? What do you put on your face before and after?
My first time I did hyaluronic acid before and my night cream after. The second time I got wild and did retinol before and moisture after. The third time I did hyaluronic acid before, retinol after and then moisture over that. I actually liked the retinol before, it seemed to penetrate well. I don't get a reaction from retinol anymore because I use it every 2-4 nights (this one to be specific) and have for years. I think if you're sensitive to retinol mixing it with a dermaroller would be uncomfortable. So yeah, I'd love to hear your experiences and recommendations!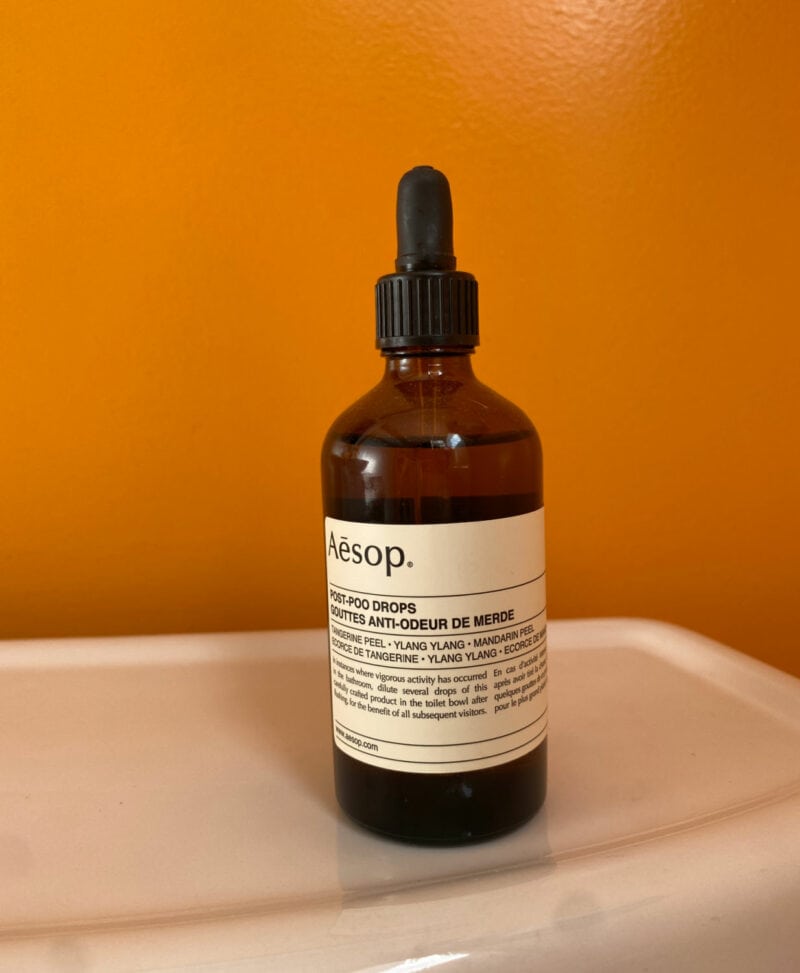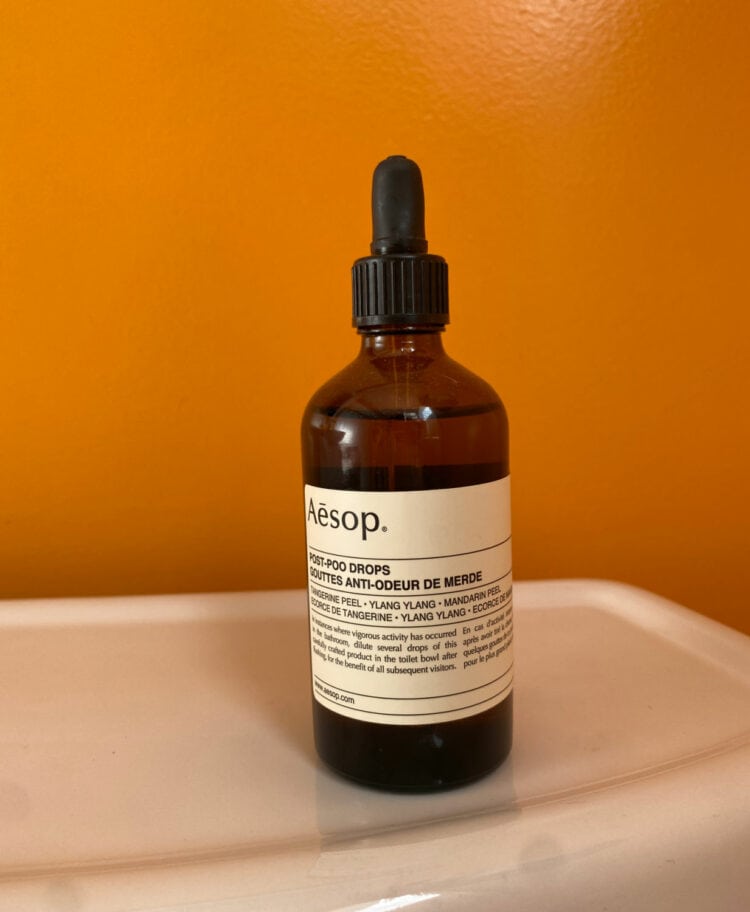 Sometimes I buy ridiculous things and wonder what I was thinking when I ordered them. One of those I recently bought was Aesop's Post-Poo Drops. I got them at Nordstrom but they're sold out there… and everywhere else including the Aesop site. I guess people are pooing a lot these days?
Anyway, I've used Poo-Poori for years, it's a travel must and nice for our half bath which is right next to the kitchen but that signature scent… it's like Febreeze, soon the smell itself starts making you think of the smell you're covering so I wanted to try something different.
This smells like citrus mixed with poop. I don't know why this gets such rave reviews, it doesn't mask anything and you need to use half a bottle to even smell it. Maybe I got a bad bottle? Maybe the world got a bad batch and it's why it's sold out? Anyway, Poo-Pourri works far better, and so does opening a window.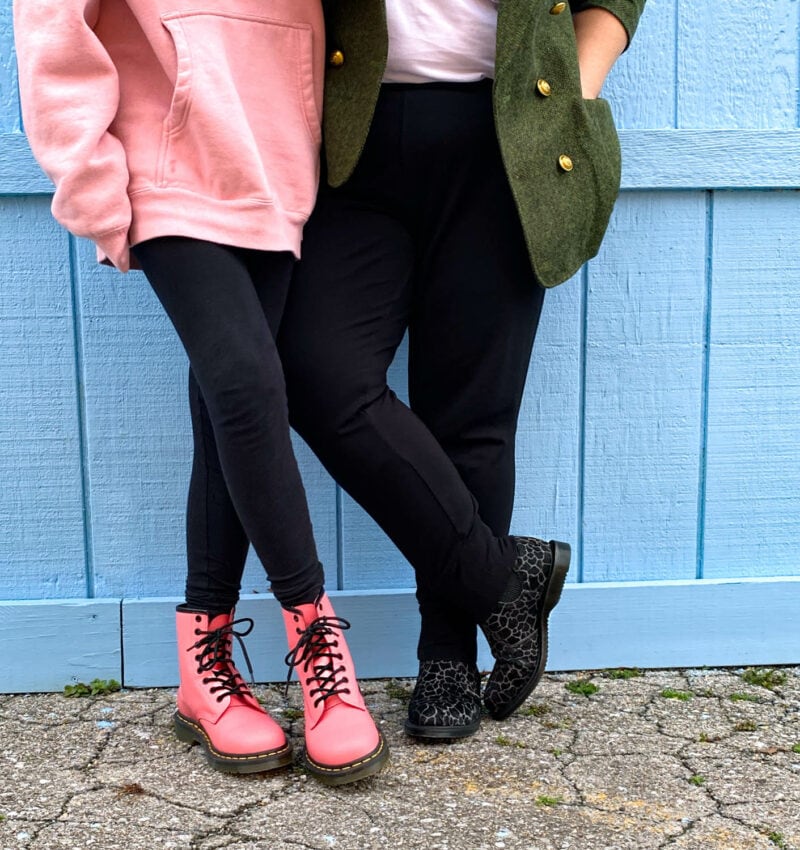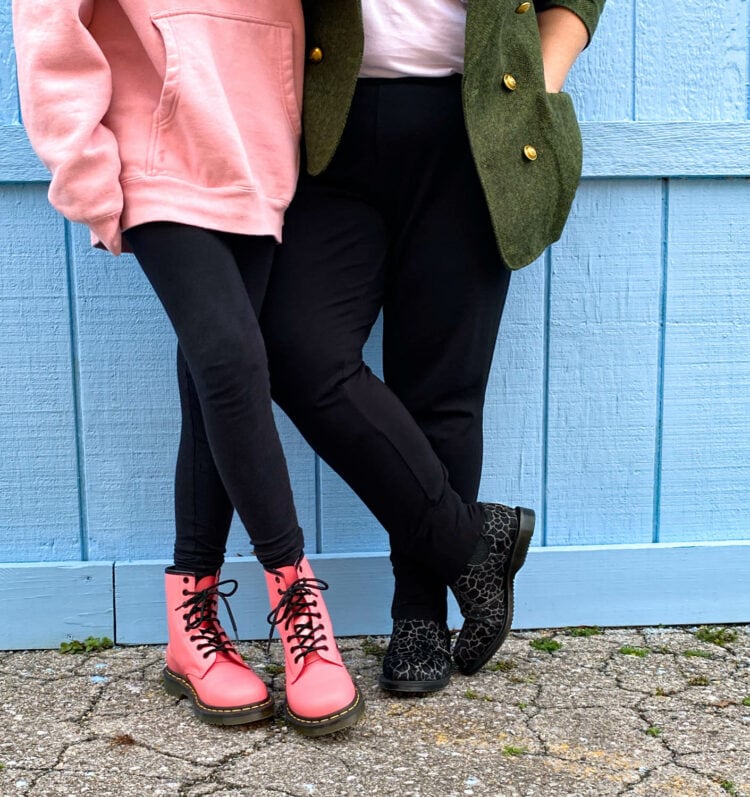 My daughter is now the age where she cares about fashion and trends and brand names and she has been beyond obsessed with a pair of Doc Martens. When Zappos reached out asking if I'd like to partner with them for an Instagram post and what I had in mind for it, I knew exactly what to get. I let her pick out the style and the color and wasn't surprised she picked this style pink, her signature color.
I got my first pair of Docs around the age she is now and felt so fierce and strong wearing them. She feels the same, she says they make her feel powerful. When looking at Docs for her, I found these giraffe-print calfhair Chelsea boots, also Doc Martens, but a better fit for my current style aesthetic. Not as heavy or as thick of a sole, but they still make me feel strong when I wear them and have been rocking them with leggings, joggers, and jeans.
For those who also need wide-with shoes, I find these boots so roomy I can even wear them with thick socks and pull them on no problem. And speaking of thick socks for winter, this version of the Doc Marten Chelsea boots has a cozy faux fur lining. If you loved wearing Docs in the past, don't think you can't wear this trend again. Whether you want a pair of nine holes like you had in the '90s, or want a more streamlined version, I was pleased to see such an extensive variety currently available from this iconic brand.