This article may contain affiliate links; if you click on a shopping link and make a purchase I may receive a commission. As an Amazon Associate, I earn from qualifying purchases.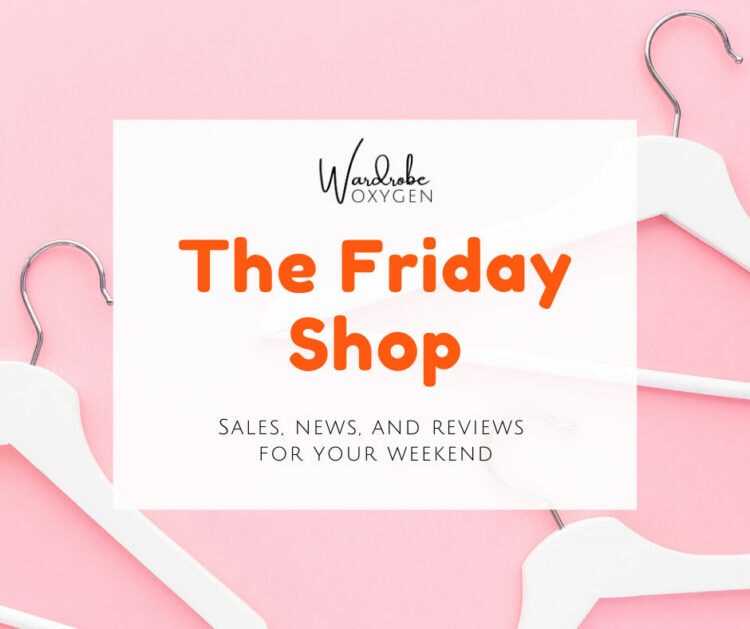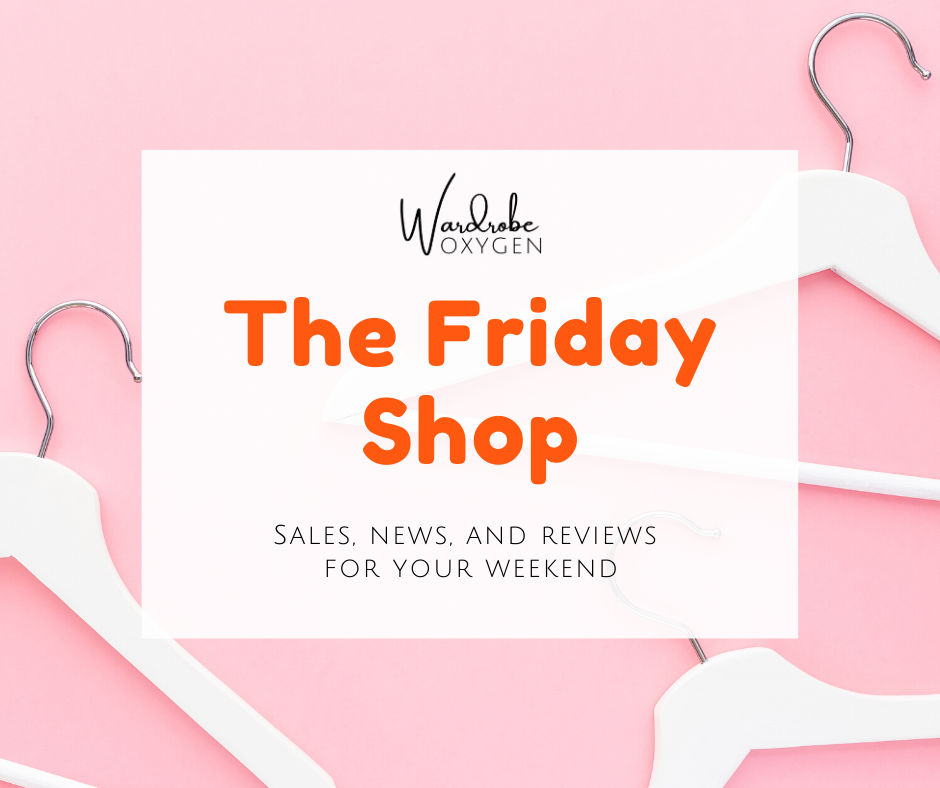 This week I went and got my hair done. In Beforetimes, I used to go every 6-8 weeks like clockwork, but since 2020, I kind of forget and next thing I know I'm parting my hair on the side to keep my bangs out of my eyes and I have 1″ roots of pepper with a dash of salt and my ends are fried. That's how my hair looked before Tuesday when I went to see my hair stylist, Billy.
I started seeing Billy after ending a long-term relationship with a different stylist who was also talented, but over time we had moved in different directions and didn't have the same aesthetic. I was wanting stylish but subtle hair that would go with a range of beauty and fashion trends. Their aesthetic was a lot of creative color, and most of the time it included some shade of red.
I came to Billy letting him know I did NOT want any kind of red hair. No auburn, no copper, no burgundy, no cherry, none of that. He got it, and as he listened and gave me skilled cuts and simple styling, I came to trust him. Billy is the one who pushed me to embrace my natural hair texture and is why I now have curly hair. This summer, Billy suggested blonde highlights which seemed a bit "creative color" to me but I let him do it. And I LOVED it.
This week, Billy suggested dark roots, keeping the blonde, and adding some coppery pieces. And I let him! And I love it! I am sharing this because a lot of times we find something that works and we never branch out. But sometimes going outside our comfort zone may be just the jolt you and I need.
This week in the Facebook community, a member shared she was feeling the way I and many others have been feeling, "I am in a funk, a pissed off, lethargic, unable to concentrate kind of mindset that current situations in our nation are bringing on. I am dealing the way I usually do, yoga, lots of walks, staying busy helping family, but the stress of very elderly parents and their issues and life has been difficult." She shared how she felt guilty even mentioning this considering the problems others around the country and globe are facing. But then,
"I had to go to the mall and return something for my daughter, and I saw some jeans at Chico's, embellished with scraps of brocade, etc. [I think these are the jeans] and it hit me OMG those are in style! I DO wear jeans! I can wrap my head around that one thing, if nothing else, so I bought them and didn't even wait for a sale (unheard of for me). The line [from this blog post I wrote about fall fashion trends] kept coming back to me, 'the most stylish tip I can give you is wear what makes you feel good. …it made me feel like I can manage things, I have a fall wardrobe. Yes, just one pair of jeans, but worn with an outlook of I can do this."
We are all having a difficult time; your time is tough, separate from the issues of others, and shouldn't be compared or diminished. You are important, and so are your feelings. If the old stand-by ways of finding peace and clarity aren't working for you, I recommend getting outside your comfort zone, trying something new, something unexpected, something joyful for your unique self. It may be a new hair color, a new pair of jeans, a new route for your evening commute, a romance novel instead of a thriller.
Sometimes the best thing to feel serene is a jolt to the everyday. It's not selfish; this is a form of self-care in these unprecedented times.
What I Bought and What I Thought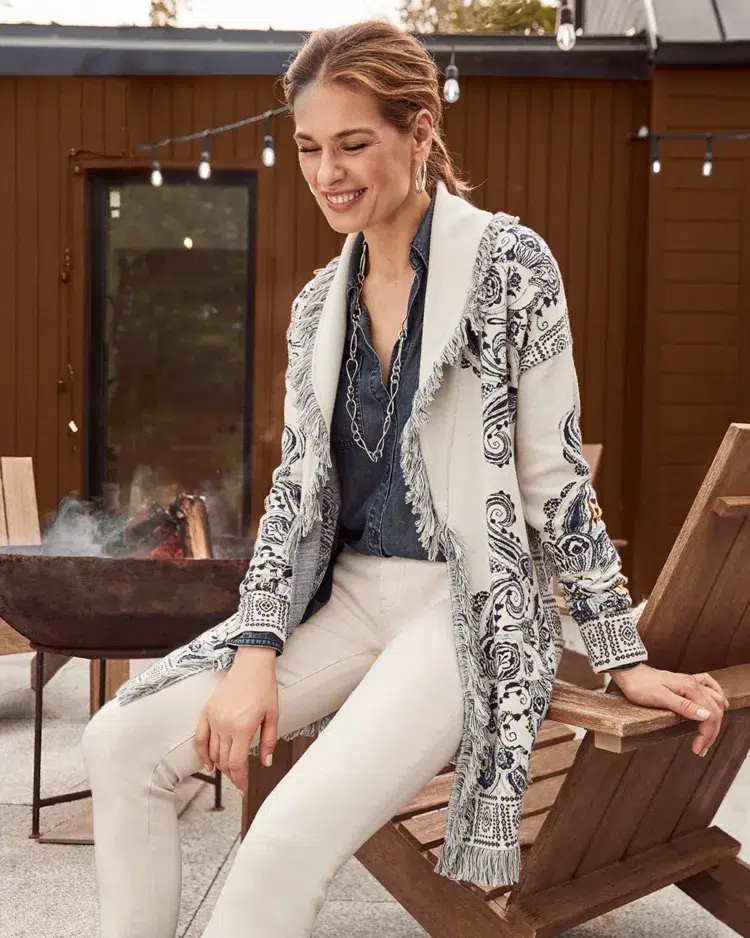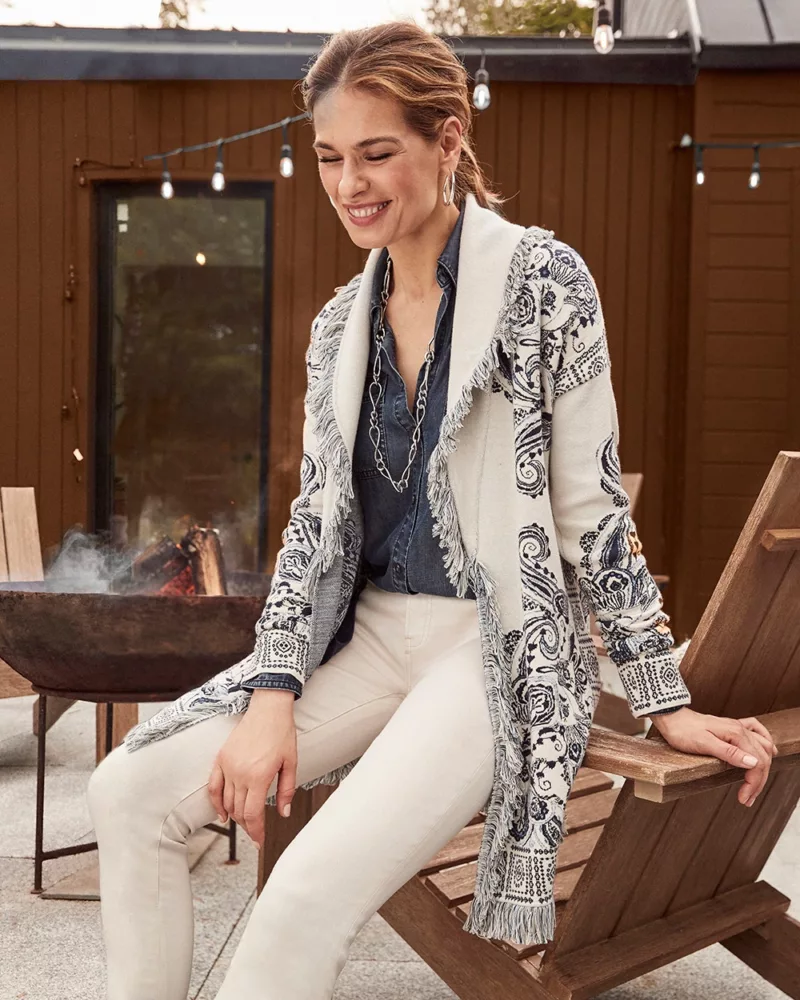 I am typing this while wearing this sweater from Chico's. It's even prettier in person. It is winter white with navy, cornflower, and cadet blue print. It's soft and a nice weight and no weird threads on the inside. I plan to rock it with some flare or wide-leg jeans and boots, maybe with a camisole or maybe with a turtleneck. Heck, even some well-worn denim and a white graphic tee would look great.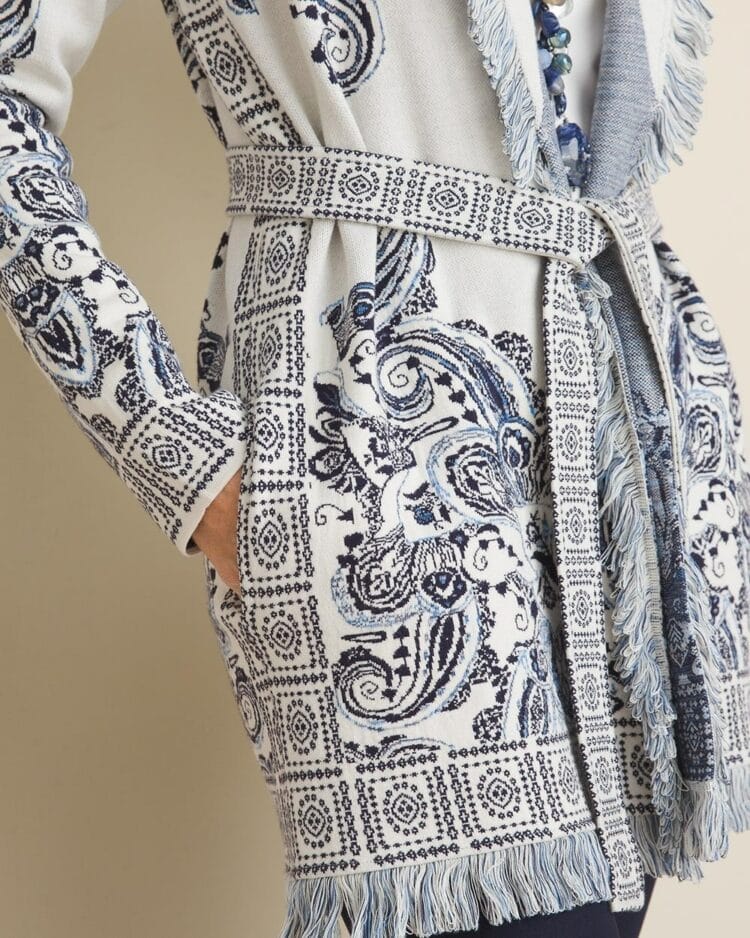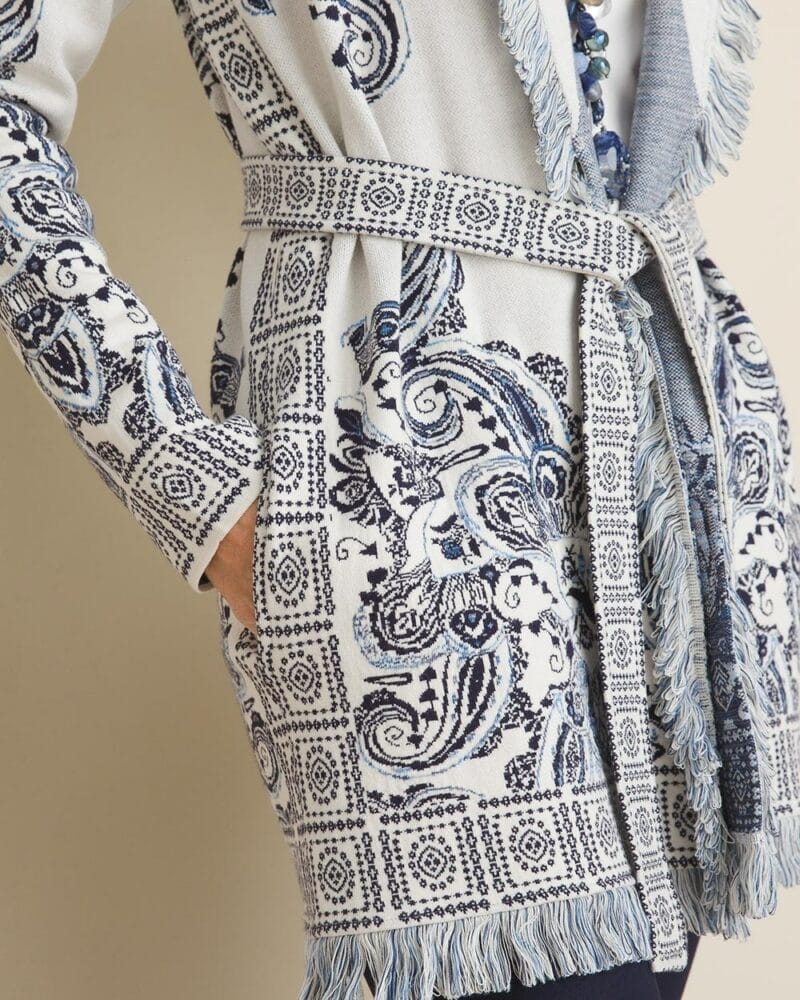 The only issue is I got a size 2, my standard with Chico's, and I find it… trim. Not too small or tight, but fitted. This isn't a throw on over whatever kind of cardigan; this is the kind you could wear with a blouse and trousers to work and look chic and professional. Or pair with linen pants and a straw hat and walk along the beach in late September. You don't need to wear the belt or wear it closed; I think it's pretty versatile (and pretty too!).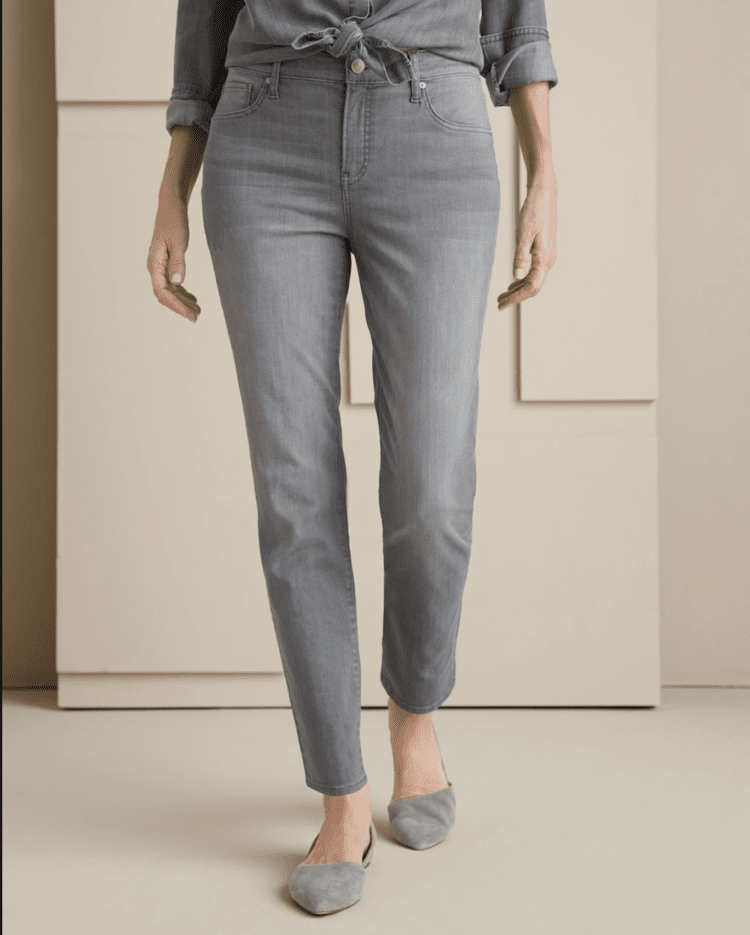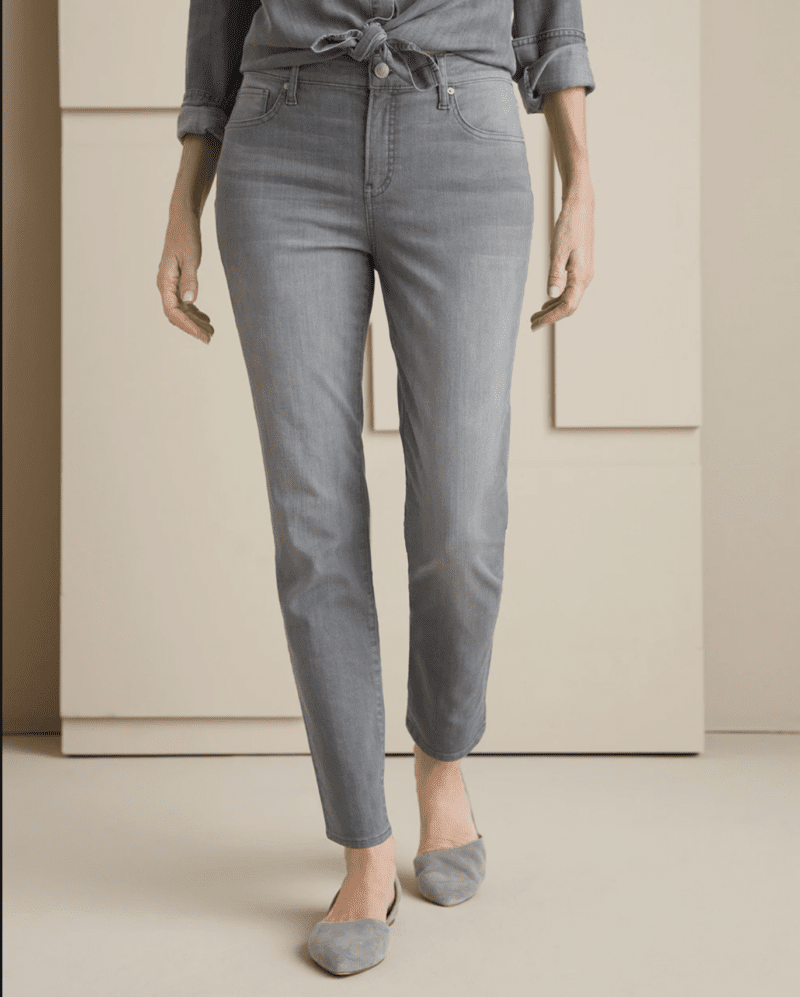 I love Chico's Girlfriend Jeans. On me, they fit like a slim straight leg but the denim quality, the rise, the fit seems made for my body. I usually go with a 2 Short in Chico's jeans, but I got these gray girlfriend jeans in a 2 regular and they are a great length for fall shoes. The gray is a nice change from blue, but not so extreme they are limiting. I even wore them with a blue denim shirt and liked the effect!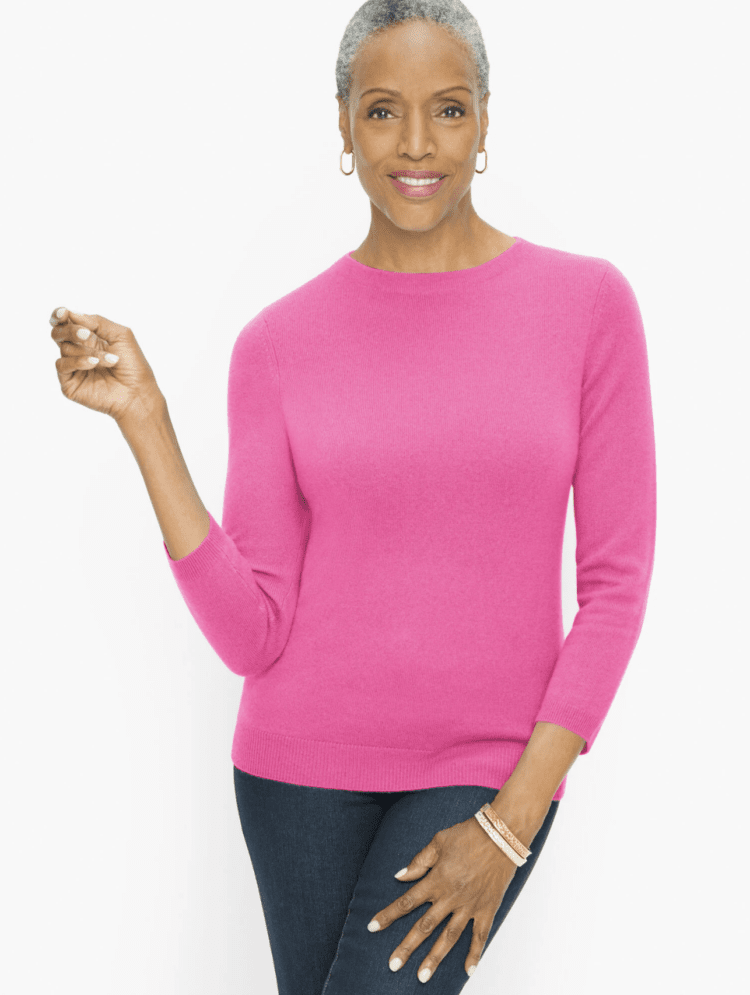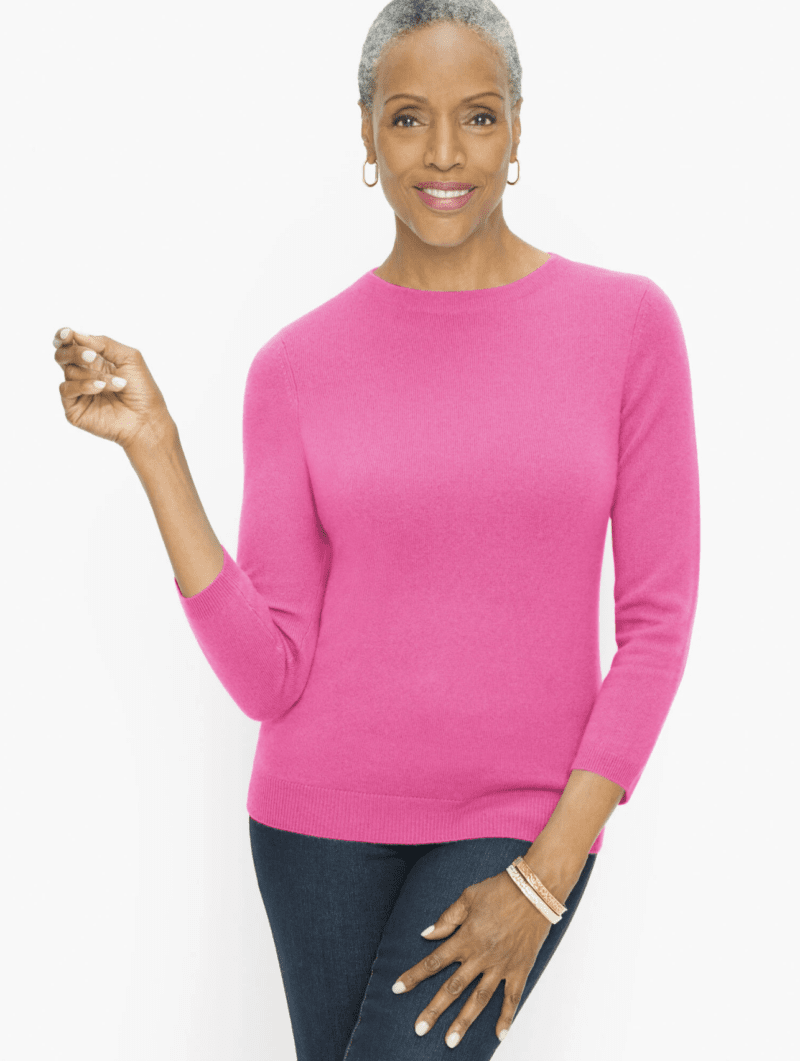 I am a fan of Talbots Audrey sweaters. Thick lofty cashmere and plenty of great colors, the Audrey has a slightly higher neckline than crew. Last year's relaxed vibe made my size Large Audreys feel too fitted and dressy; this year I asked Talbots if I could get this year's Audrey in an XL so it would be a relaxed fit. I regularly do this with Talbots sweaters; I own a few in 0X which is a slightly different measurement from XL and worked great when my body was a different shape. I'd say going up a size on my curvy self makes it a bit looser than it looks like on the model.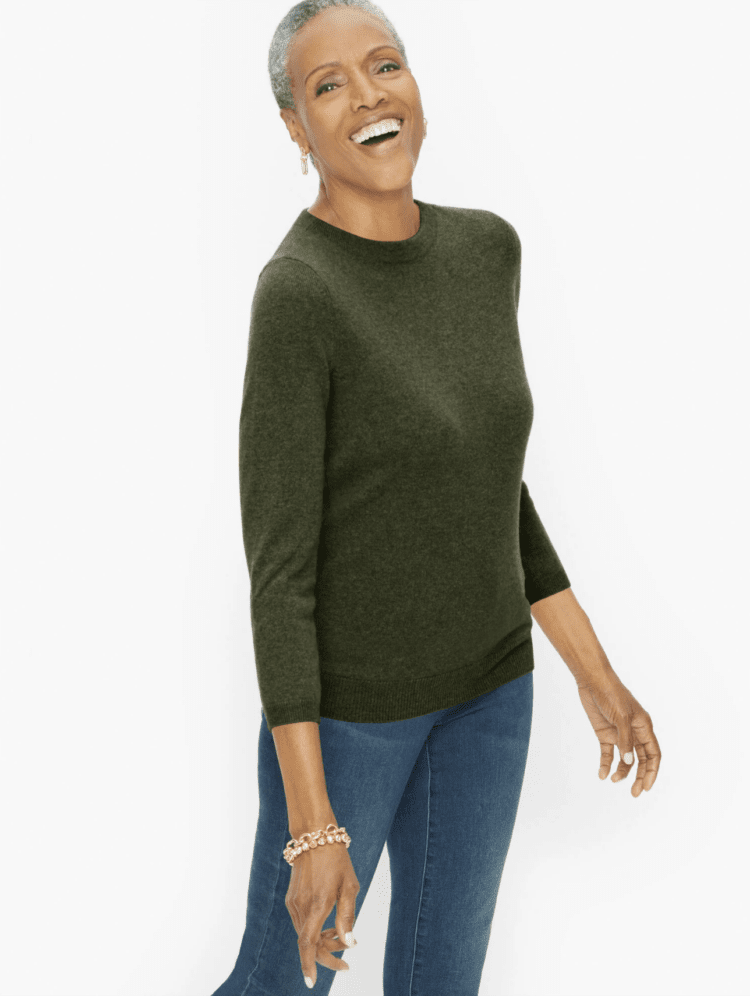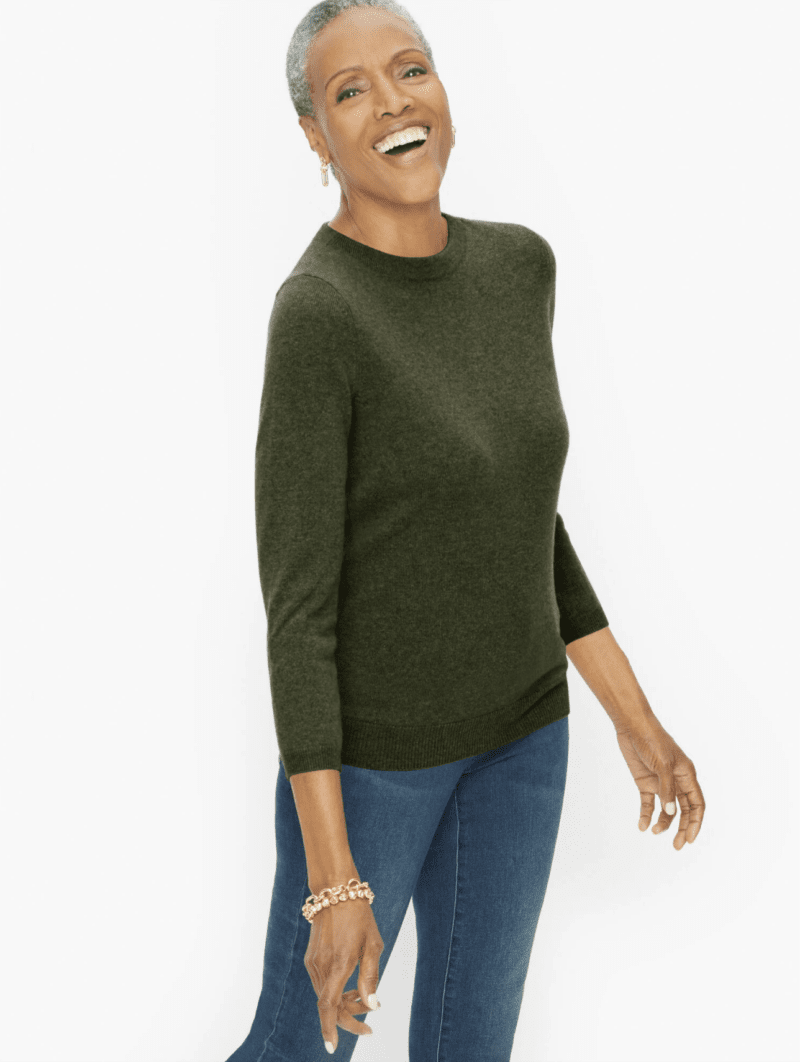 I got the sweater in Cheerful Pink, which is just as highlighter bold as it looks online, and Deep Olive Green which also looks like the photo online and will be so chic with cream and tan as well as denim. I am envisioning them with my Spanx faux leather joggers and gold jewelry. And yes, the quality is the same as the past two years!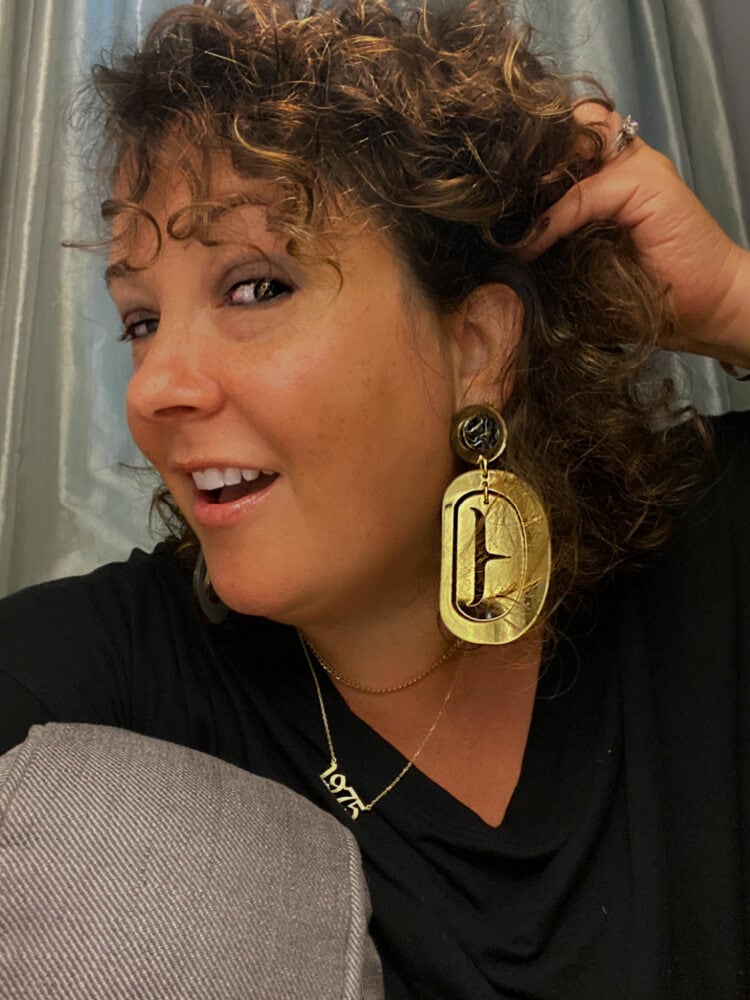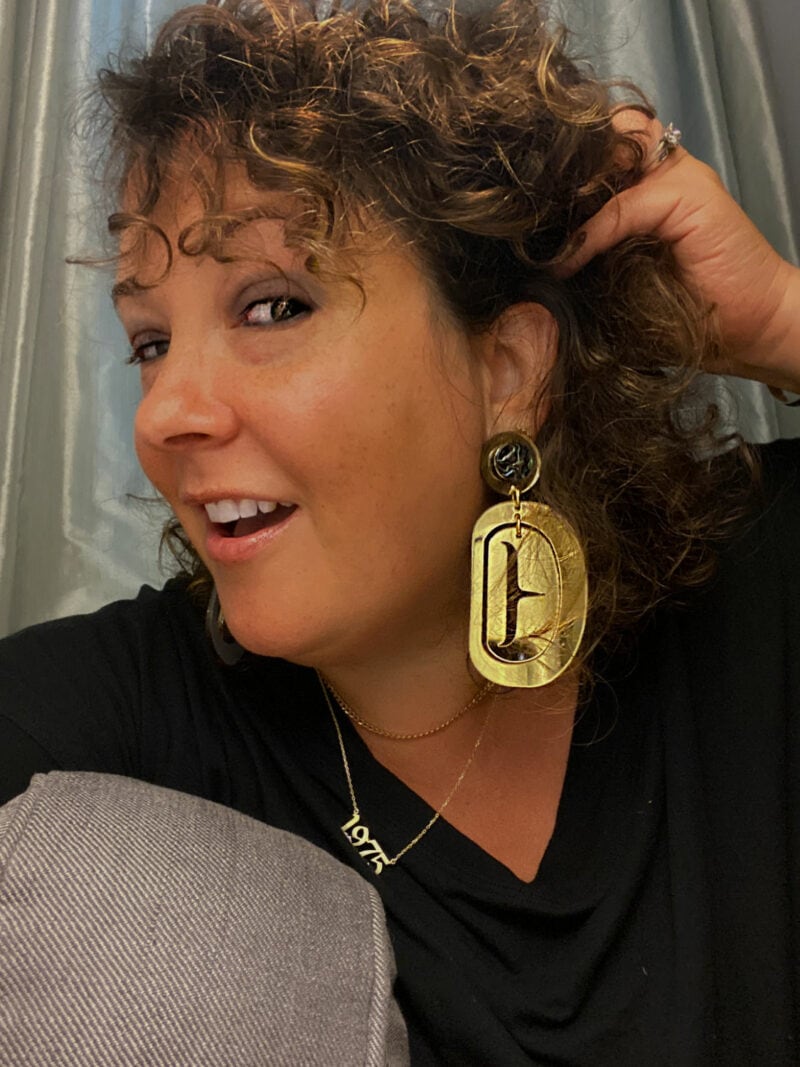 Wanting a statement earring for fall, I checked out B. Yellowtail, a Native American woman-owned brand and retailer founded by Bethany Yellowtail. The site offers apparel in sizes XS-4X as well as beauty, art, and accessories. B. Yellowtail also showcases other Native and Indigenous artists. I found these earrings from artist Copper Canoe Woman. They also were available in silver; they are mirror acrylic with abalone.
Unfortunately the earrings are sold out, but I did find a white version on the Copper Canoe Woman website. She also has several other similar styles in an amazing array of colors. These earrings are lightweight, wellcrafted, and even cooler in person. Shipped from B. Yellowtail, the earrings were on a heavy board card, inside a muslin pouch, which was inside a drawer-style gift box. Included was. a little card about the artist who made the earrings.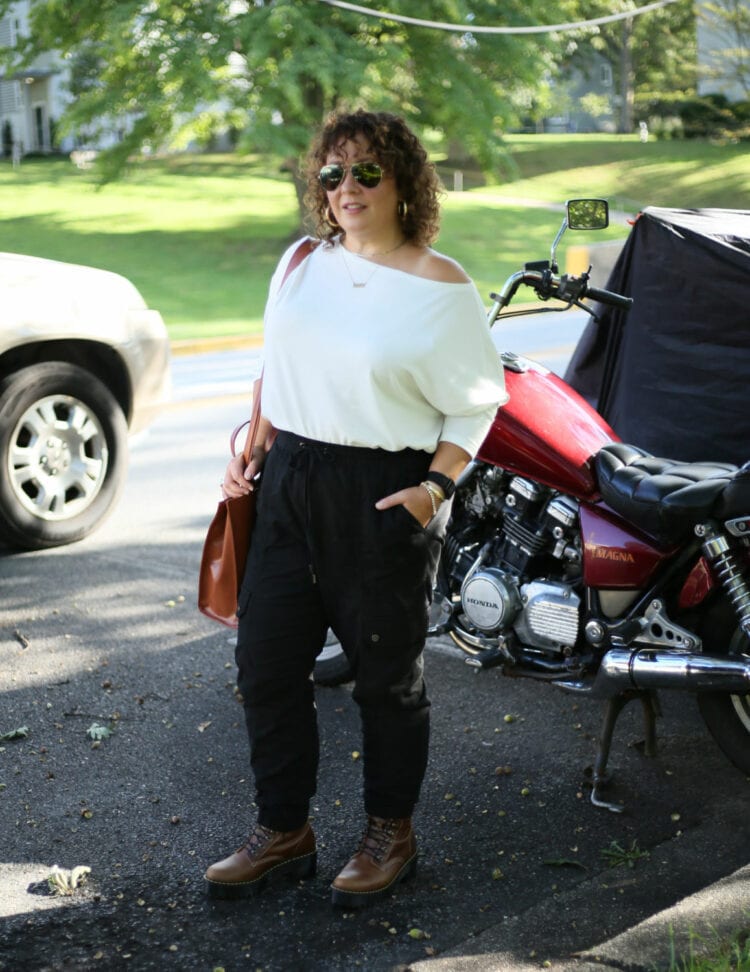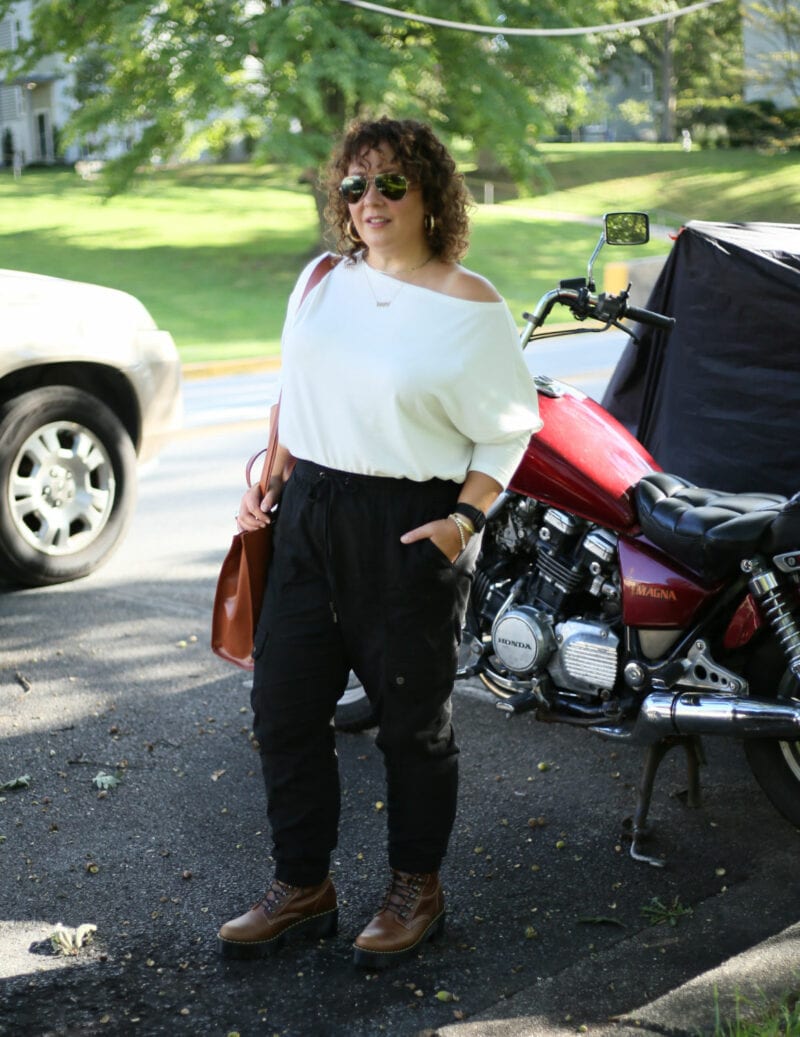 Y'all know I got these cargo pants from Banana Republic and showcased them Monday on the blog. In the comments, Sadie shared that while the pants were sold out in her size, she found very similar at Banana Republic Factory and has had success with Factory items from Banana. In case you missed it and wanted the pants, I updated the post with the link.