This article may contain affiliate links; if you click on a shopping link and make a purchase I may receive a commission. As an Amazon Associate, I earn from qualifying purchases.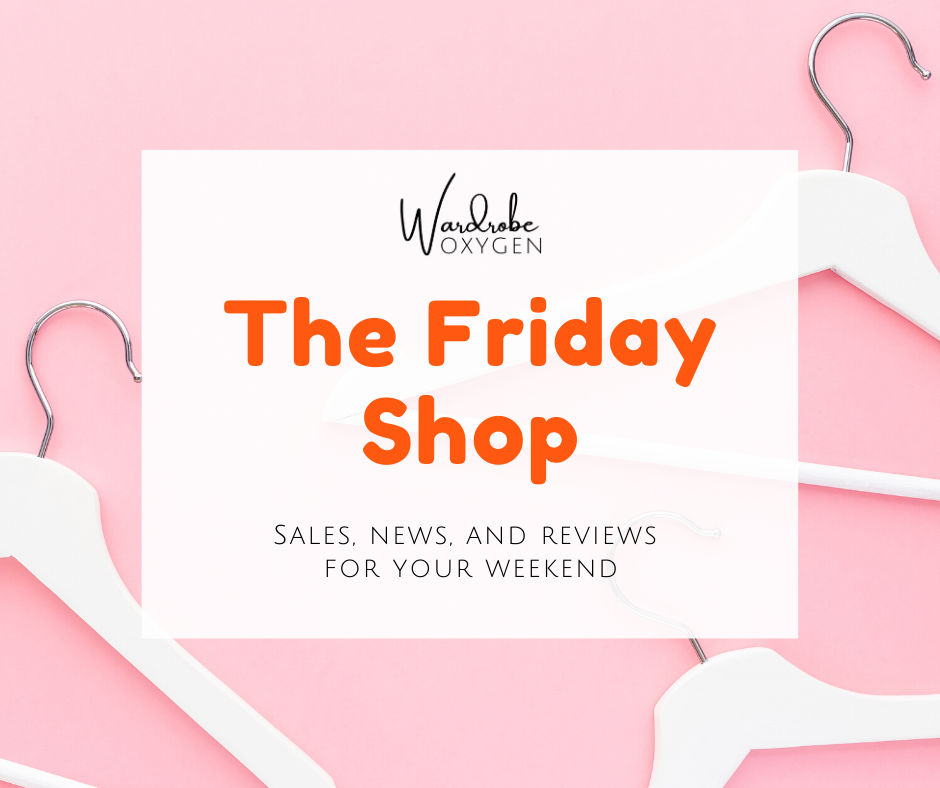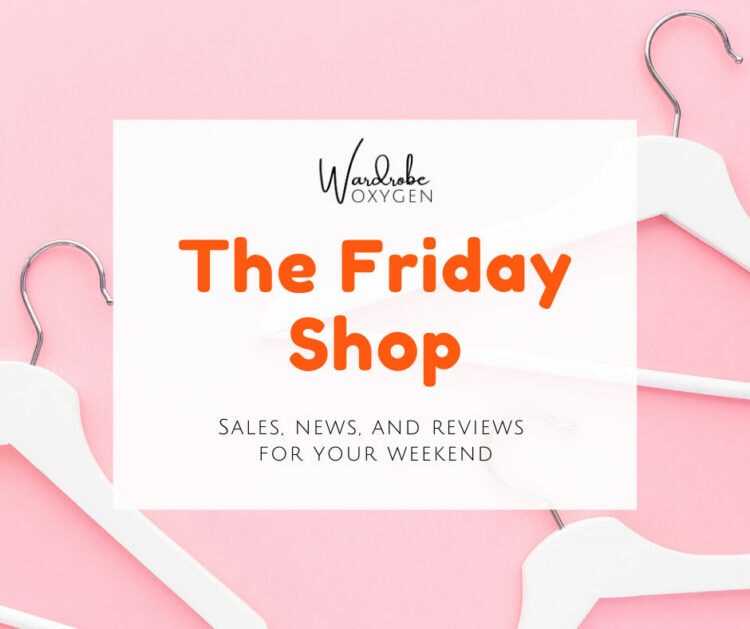 Sale Alert
Today through Sunday, Soma has all their Soma branded bras on sale for just $29! Yes, you read that correctly, only $29 for Soma brand bras! Each customer can purchase up to EIGHT bras at this low price. Also, you can get one pair of undies (Soma brand as well, styles under $24) for just $5. Each customer can get one pair of undies at this price with an order including a bra.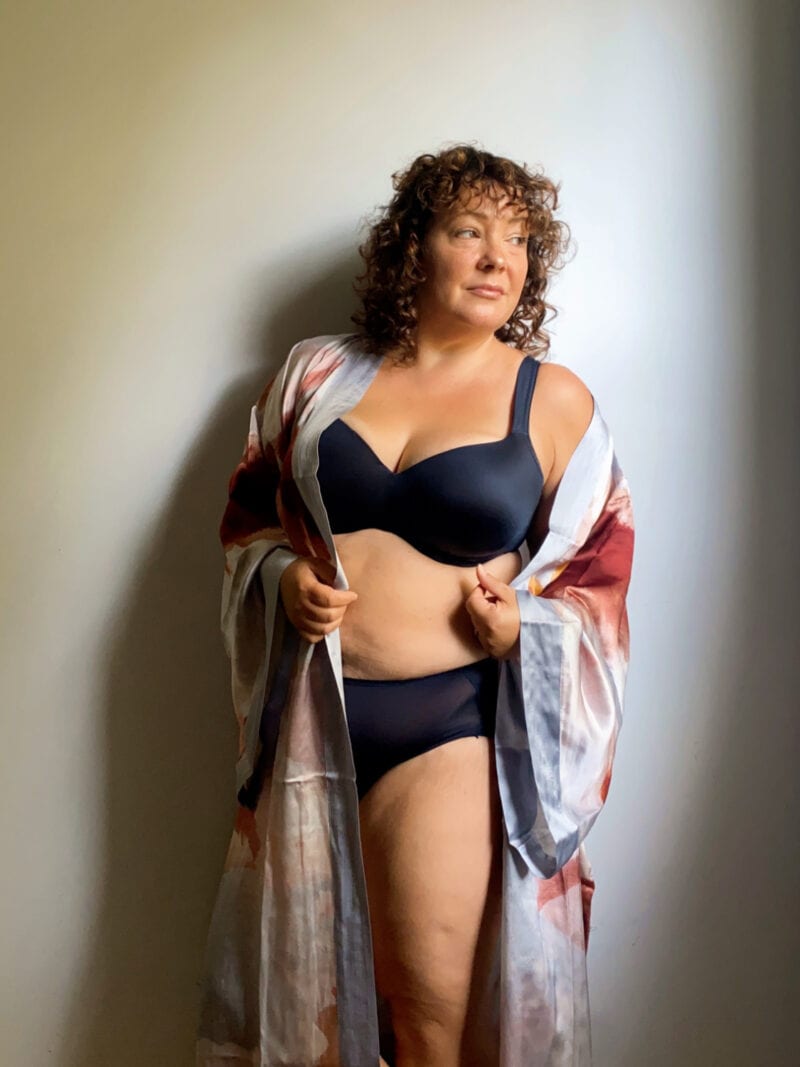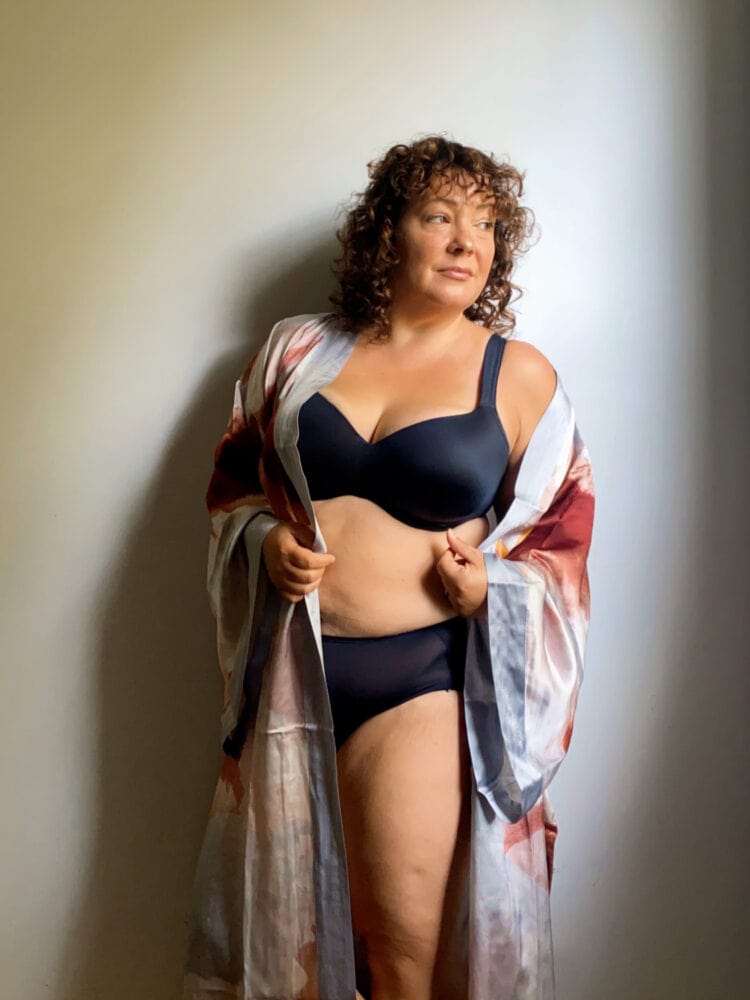 Here I am wearing the Stunning Support Smooth Balconette Bra and the Microfiber Modern Brief in navy with Soma's silk kimono robe in L/XL and matching pajama pants in L. FYI, the robe and pants are different fabrics but the colors and the effect work together quite nicely. The pants are heavier than any other satin Soma PJ pants I've owned, like these could be streetwear.
The robe is the same fit/quality as their previous silk robes. This is a very supportive bra that hides under clothes nicely but is very structured and some may feel it's a bit too structured, after a year of being at home in no or wireless bras. The undies are that perfect "next to naked but not a thong" pair that will disappear under everything (like seriously, even under thin leggings).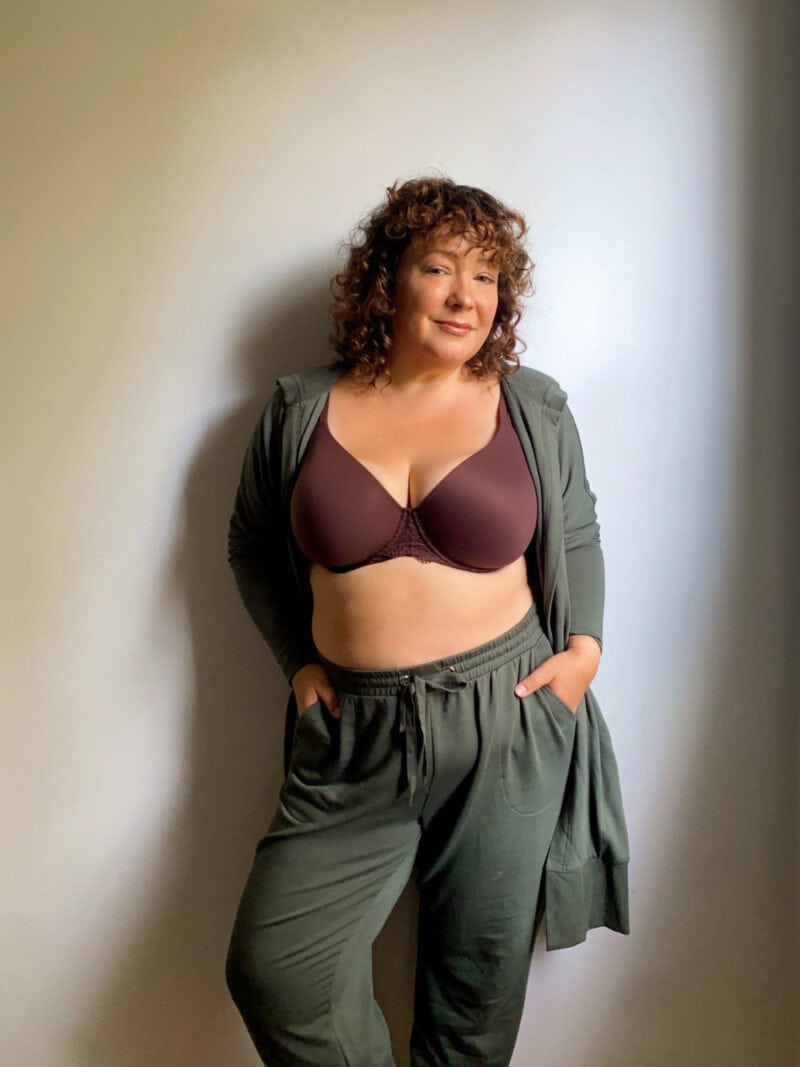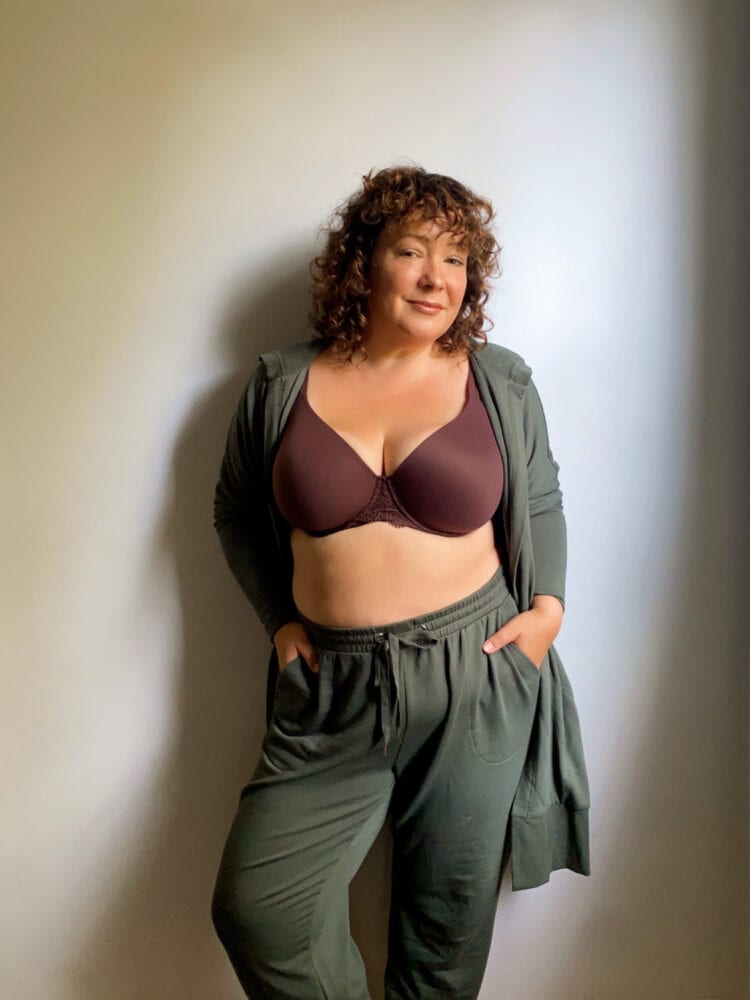 Here I am wearing the Embraceable Enchanting Lace Bra and the Vanishing Edge Cotton Blend High Leg with Lace (not seen in this post, but I have others on IG where they will show) with the Soma joggers in L (this is now my 4th pair I LOVE them) and this matching hooded wrap in L.
I'm not a big wrap person but I like the weight and softness of this one and the color is awesome; with the joggers it's such a pretty yet easy care athleisure set. This bra isn't one to lift my breasts to my neck, but it is comfy and lightweight and not obvious under a tank top. The undies have been a mainstay all summer because they disappear under clothes, look cute, and are breathable.

When Soma reached out telling me this sale was happening and would I like to do a paid promotion on Instagram about this sale I said hell yes (no, I said yes I would love to, thank you so much for the opportunity). Because I freaking love Soma, y'all know I wear it all the time IRL, have worn it for YEARS and would have told you about this sale anyway. But since they did tap me to do a paid promotion, if you are on Instagram, I'd love if you came over and gave the post a little love (heart it, save it, share it, leave a comment, all is appreciated and nice to do for any Instagrammers you love).
I have drastically reduced sponsored content on this site to give me more space to create honest content that I love making and you love reading; suporting my social media sponsored content gives me that creative freedom here at WO2. Thank you!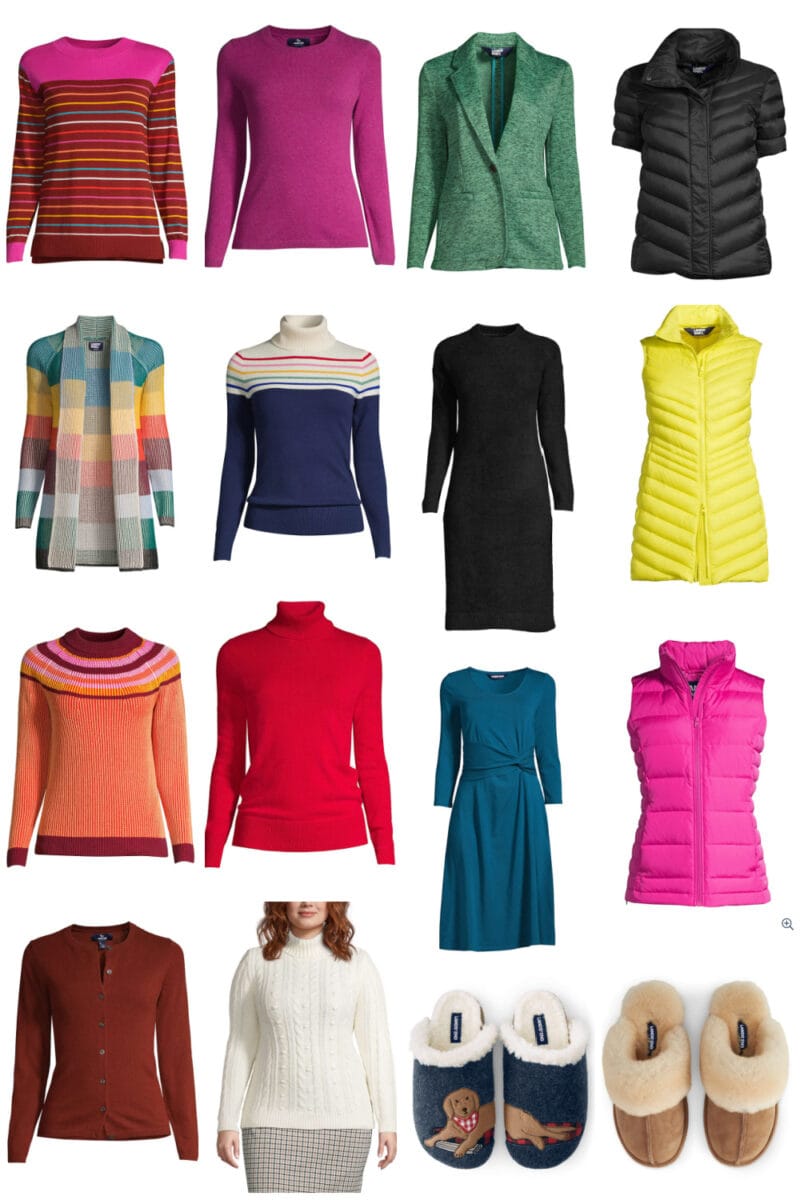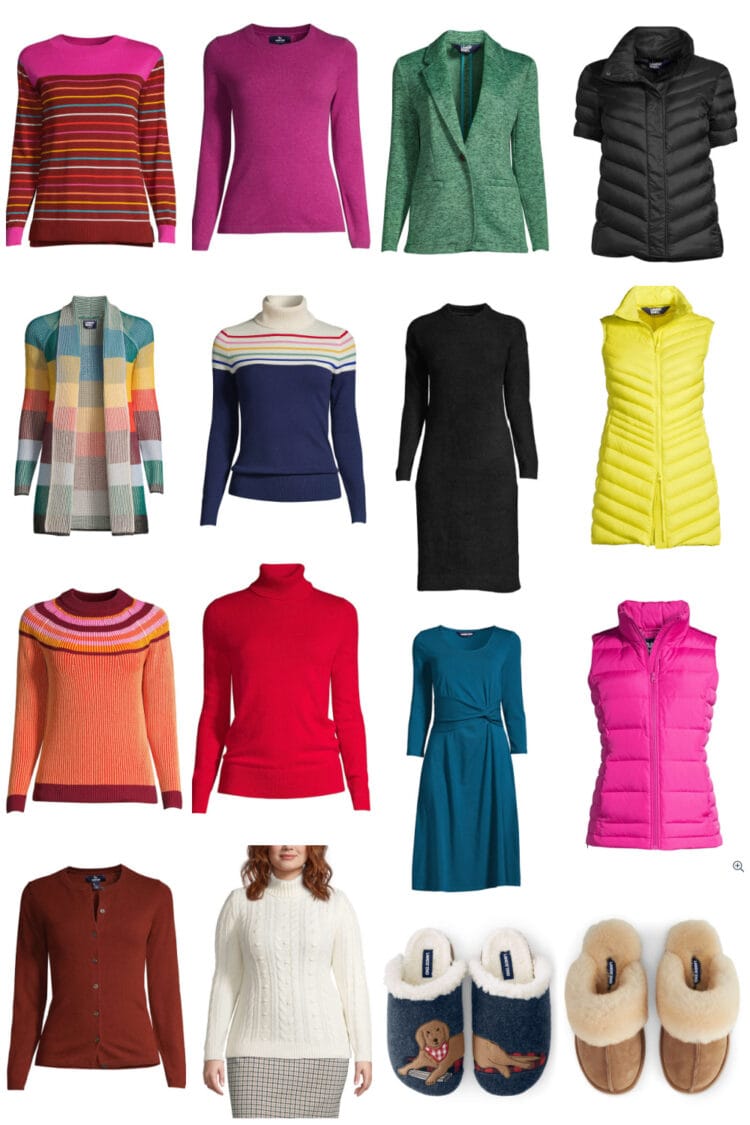 burgundy and pink striped sweater | striped open cardigan sweater (straight sizes) | orange sweater with stripes at neck (plus sizes) | burgundy cashmere cardigan (straight sizes) | berry cashmere crew neck (plus sizes) | navy and stripes turtleneck sweater (straight sizes) | red cashmere turtleneck (plus sizes) | cream cableknit sweater | green sweater fleece jacket (plus sizes) | black dress (straight sizes) | teal dress (plus sizes) | dog slippers | genius short-sleeved puffer (straight sizes) | yellow elongated vest (plus sizes) | pink puffer vest (straight sizes) | suede sherling slippers

Lands' End has their Friends & Family sale going on through September 20th with up to 60% off and free shipping. The promo code is FRIENDS, the PIN is 1234. Lands' End has sales all the time, but what makes this sale great is free shipping, no mimimum purchase to receive it too. There have been many times in the past months I've considered buying from Lands' End and then get hit with their shipping and leave my cart abandoned so I am totally going to take advantage of this promotion!
Let's face it, shopping Lands' End isn't what it used to be. Their weird CGI models make everything look horrible, they took away a lot of the reviews, plus is a different page from other sizes, and it is so hard to find things on the site. But Lands' End continues to be a place to buy quality basics, especially for cold weather. And, Lands' End is one of the few retailers that offers petites and talls as well as plus up to 26W (and the occasional plus petite).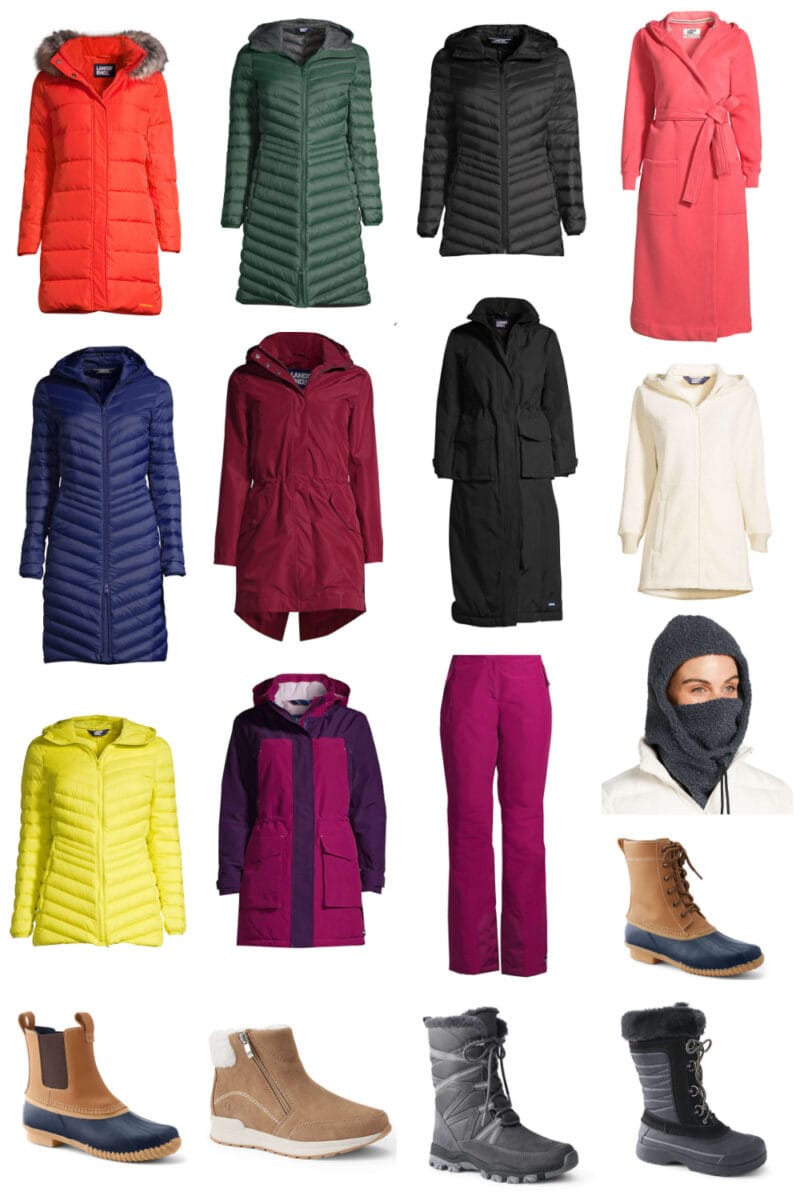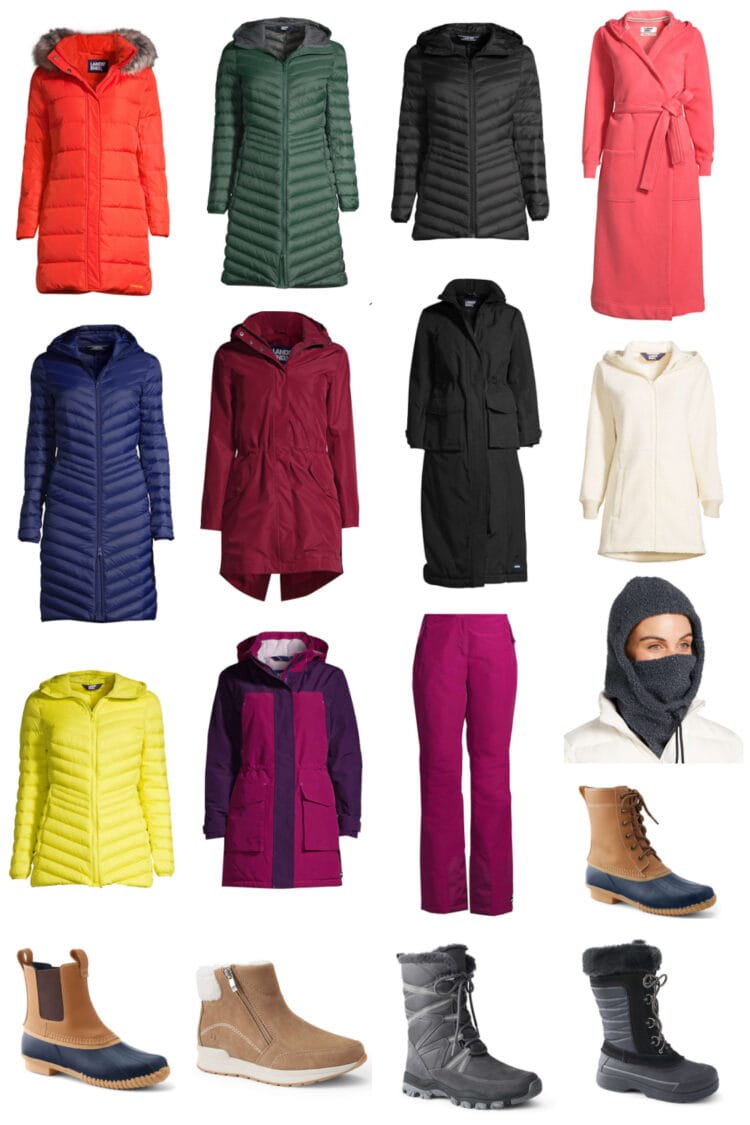 orange coat (plus sizes) | navy packable hooded coat (straight sizes) | yellow packable down jacket (plus sizes) | insulated Chelsea duck boots | green coat | dark red 3-in-1 insulated rain coat (plus sizes) | purple and berry Squall coat (straight sizes) | tan snow boots | black packable jacket with hood | black waterproof insulated stadium coat (straight sizes) | snow pants (plus sizes) | gray snow boots | cozy sweatshirt-like bathrobe (plus sizes) | boucle fleece jacket | balaclava | lace-up insulated duck boots | black and gray snow boots

Winter is coming; shop now when the items are on a good sale, shipping is free, and you still have lots of selection for sizes and colors. I highly recommend their easy-care Thermaskin; it's moisture-wicking long underwear that not only fits under jeans and work pants but doesn't feel gross and lumpy. And don't forget holiday gifts; Lands' End is a great place for them. My favorite gift for Christmas, showers, housewarming, moving into a dorm and more is one of these totes monogrammed with the recipient's name (or initals, or a private joke) alone, or stuffed with kitchen essentials, dorm room necessities, bed linens, diapers, etc. Lands' End also has a bunch of new luggage, weekenders, coolers, picnic totes, and more.
What I Bought and What I Thought
Every fall I crave a new bag. I think, hey last fall I used X bag over and over and over again. Maybe this year I should "invest" in a higher-end bag that will be worn all the time, but also be a bit more of a fashion statement. And every year I order one, get it, and return it because it just seems ridiculous to spend that much on a bag when the one that cost a lot less did just as fine for me. This year is like no other.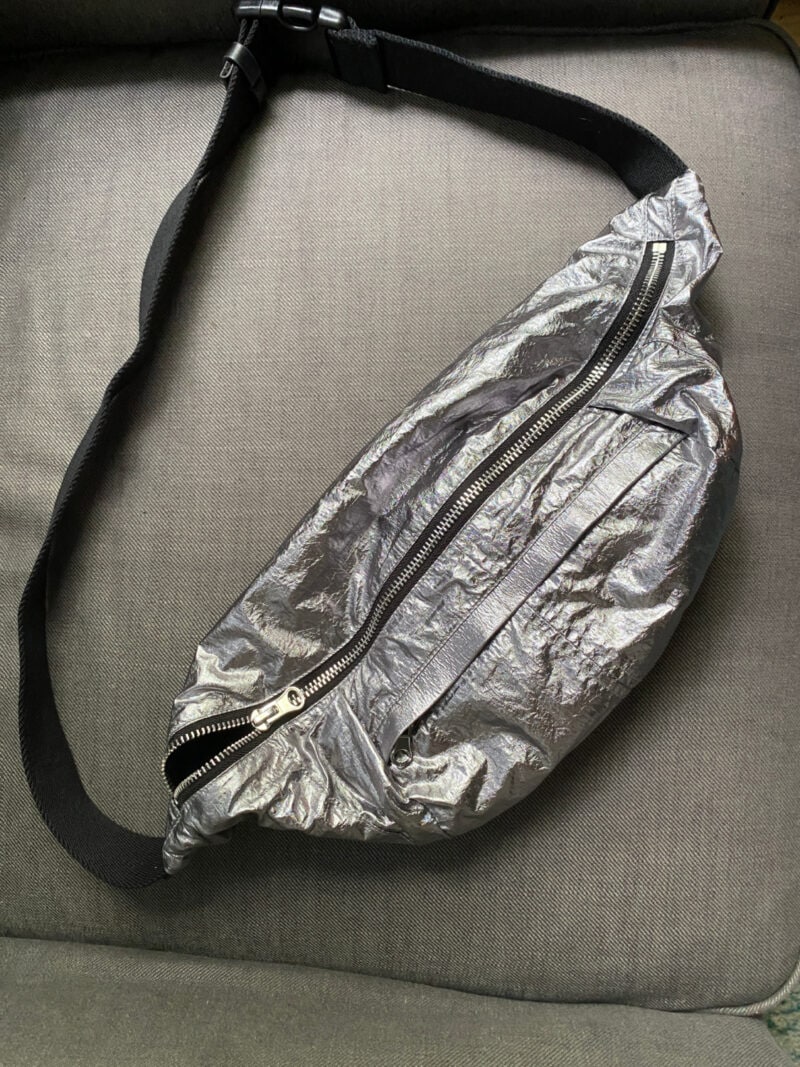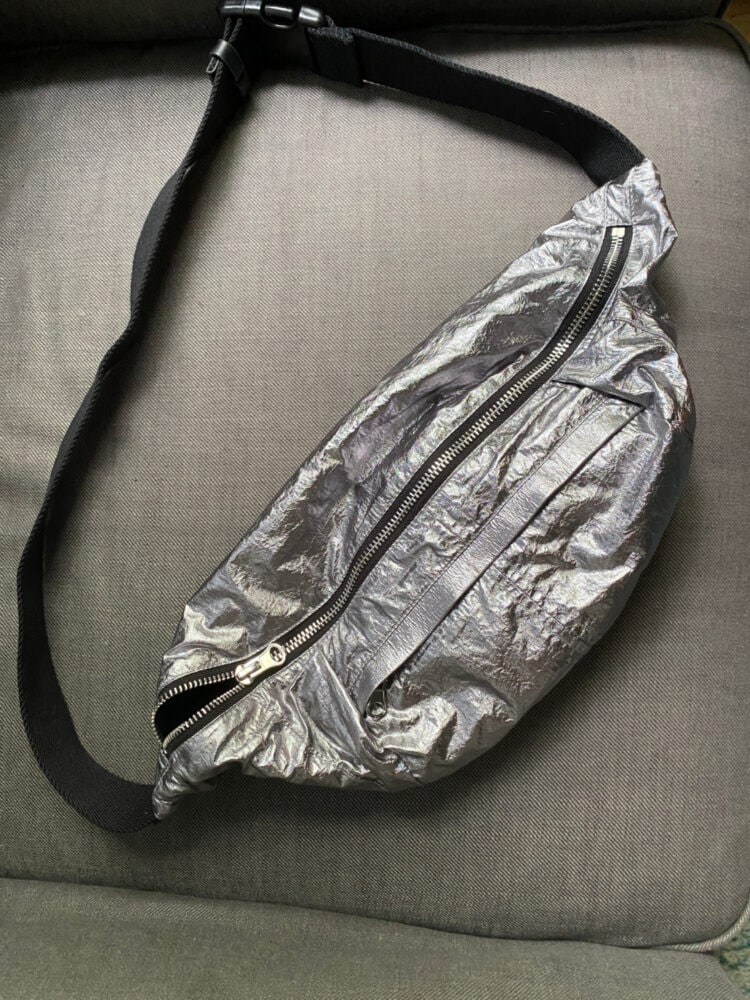 All summer long I LIVED in my Girlfriend Collective belt bag. I also loved it this past spring and know it will also get used this fall. I thought, a higher-end belt bag would make sense for my life, and if it's a fashion statement one too, it will elevate my outfits. I have always loved the vibe of Isabel Marant, but little from the brand fits either me or my budget. But I saw this belt bag, gasped at the price for a belt bag ($355), considered cost per wear, and ordered it.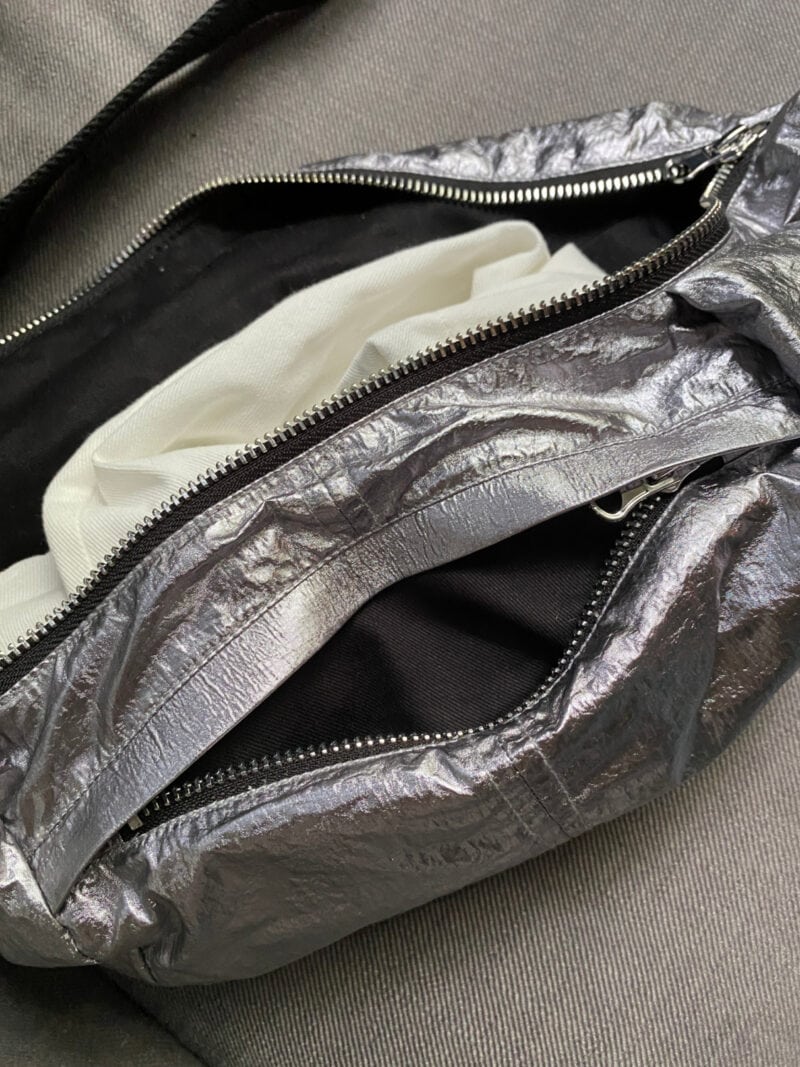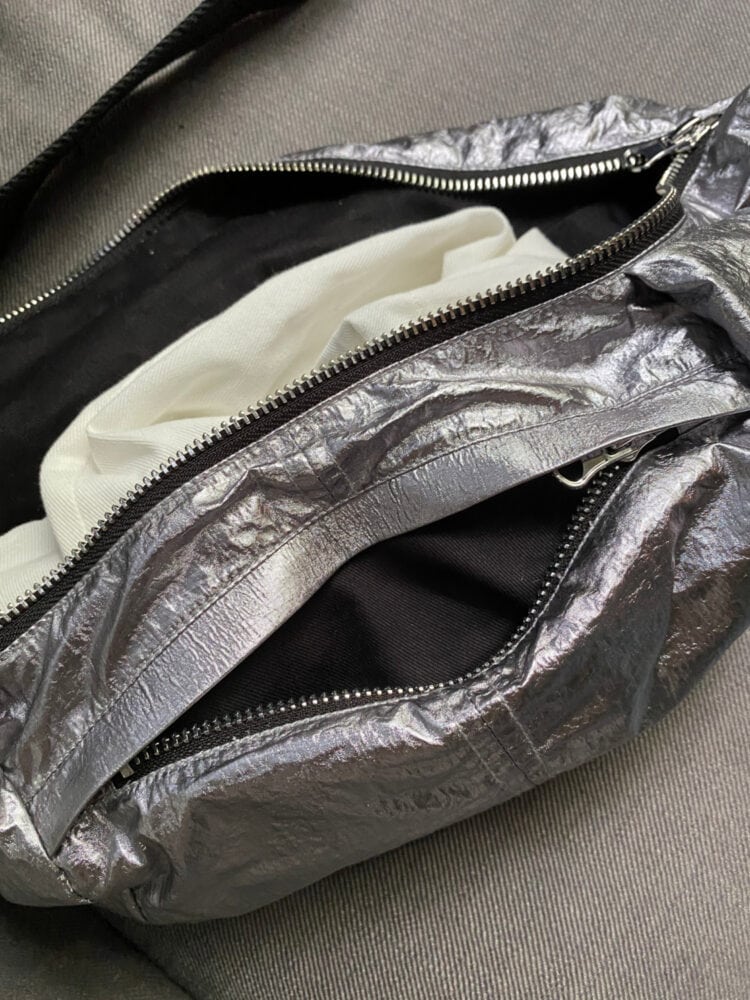 I don't know how I missed the fact that this $355 bag ISN'T EVEN MADE OF LEATHER! It is NYLON! When I was little, I loved making dresses for my Barbies. My mom once got me a remnant of this fabulous silver metallic fabric on one of her trips to Minnesota Fabrics. I draped it around Barbie, added a snap at the small of her back and it was a super glamorous high-low strapless gown. This bag is of the same exact fabric, though I actually think Barbie's dress was higher quality.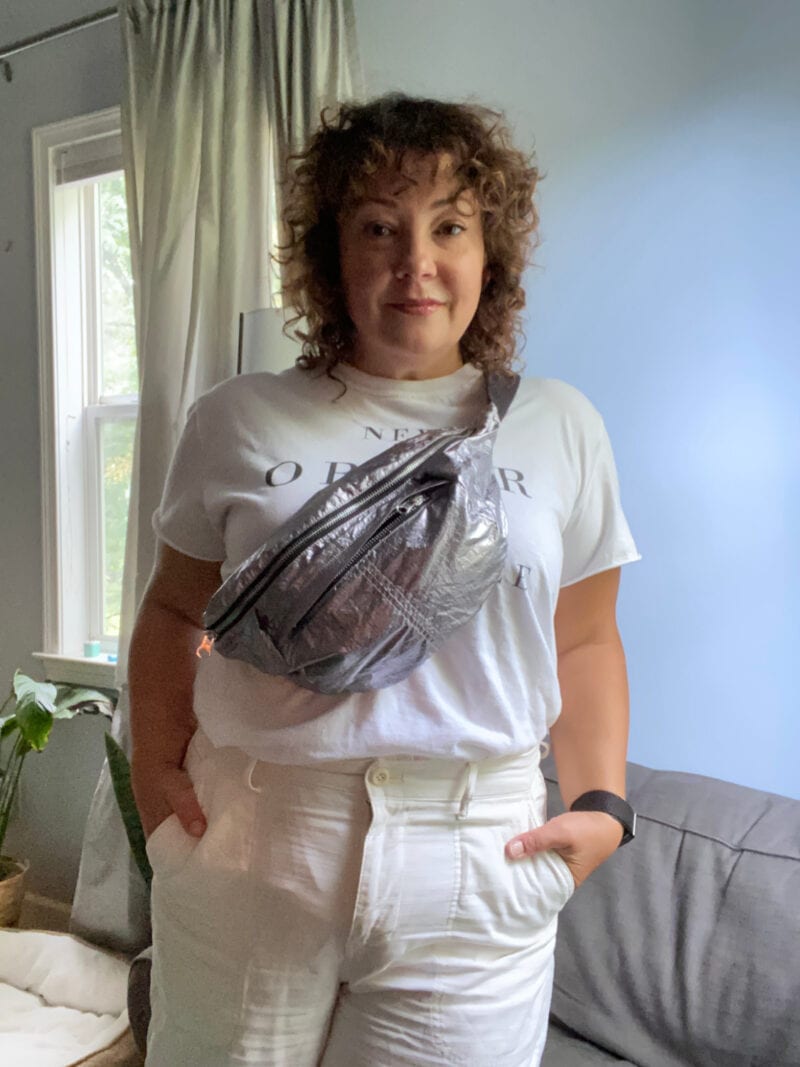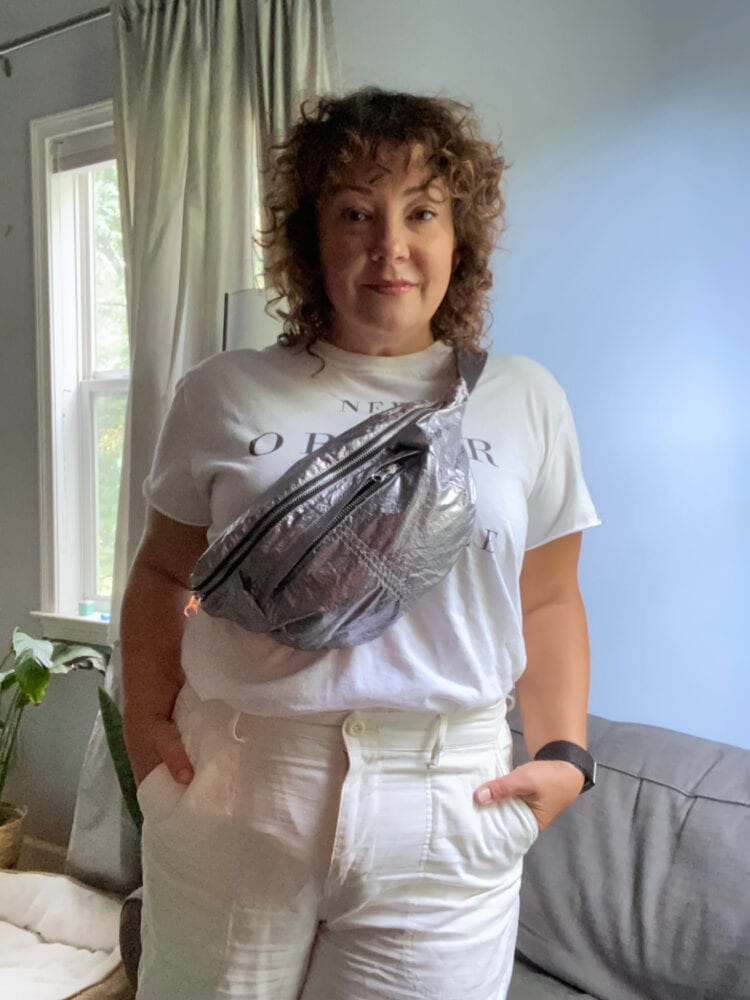 The exterior is crinkly nylon, the interior is heavy black cotton, the combination makes the bag sort of fill with air and look quilted. The belt strap is that fabric straps are often made of that is a bit fuzzy and will collect lint, drop lint, and feel super itchy on sweaty or sensitive skin.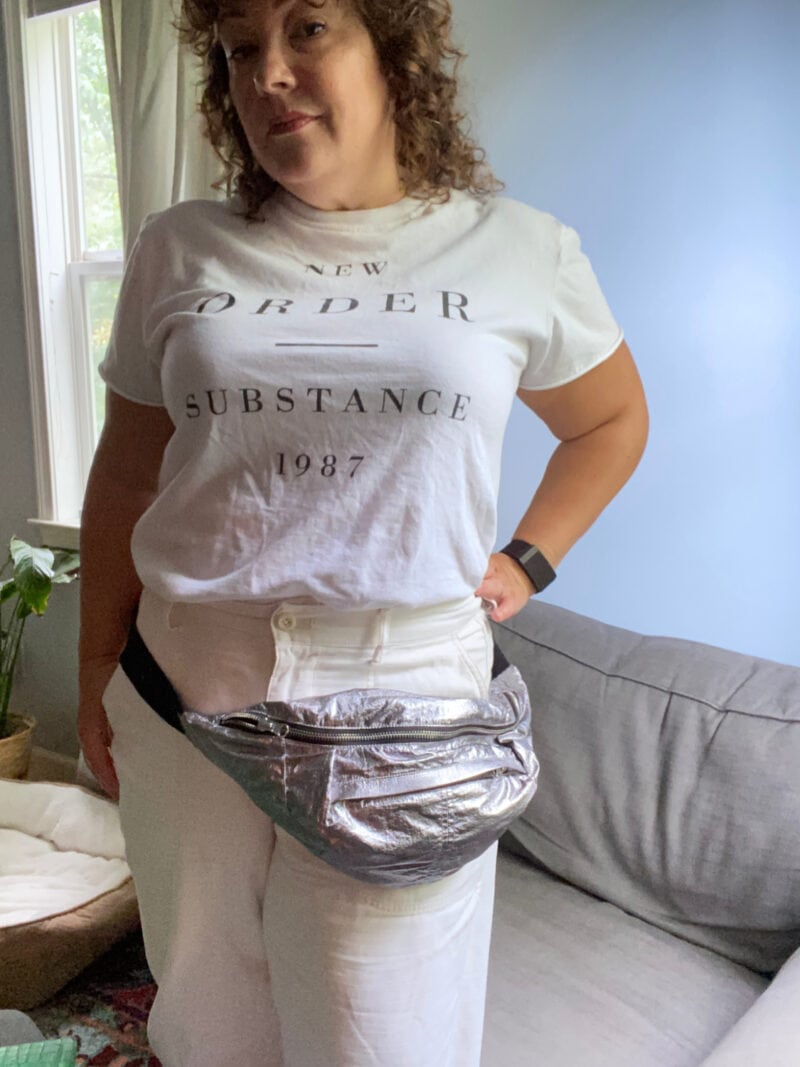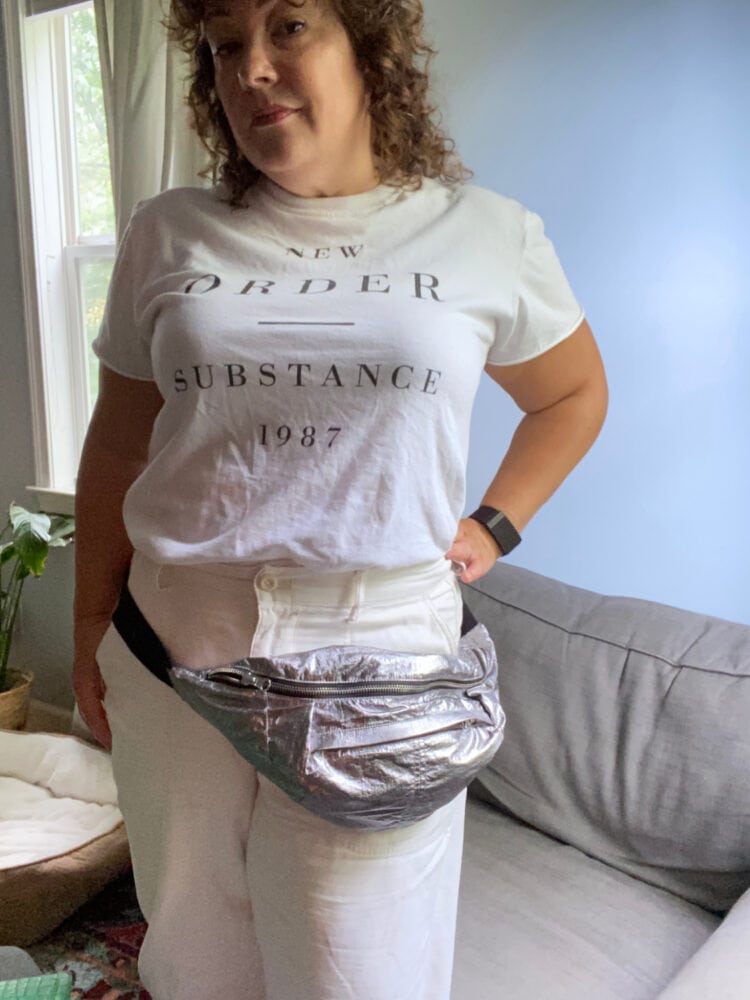 And fully extended, this belt will fit maybe a size 18 at most. I expected that, but I hate to expect that, especially for a freaking $355 NYLON BELT BAG! And now this bag is sold out EVERYWHERE; I just ordered it September 7th at Nordstrom and it's sold out there and literally every other place that sold it. You can find it on Poshmark for $420 and eBay for $349.99. The Outnet has a mixed-metal version for $242. The RealReal had a similar version for $342 but it sold.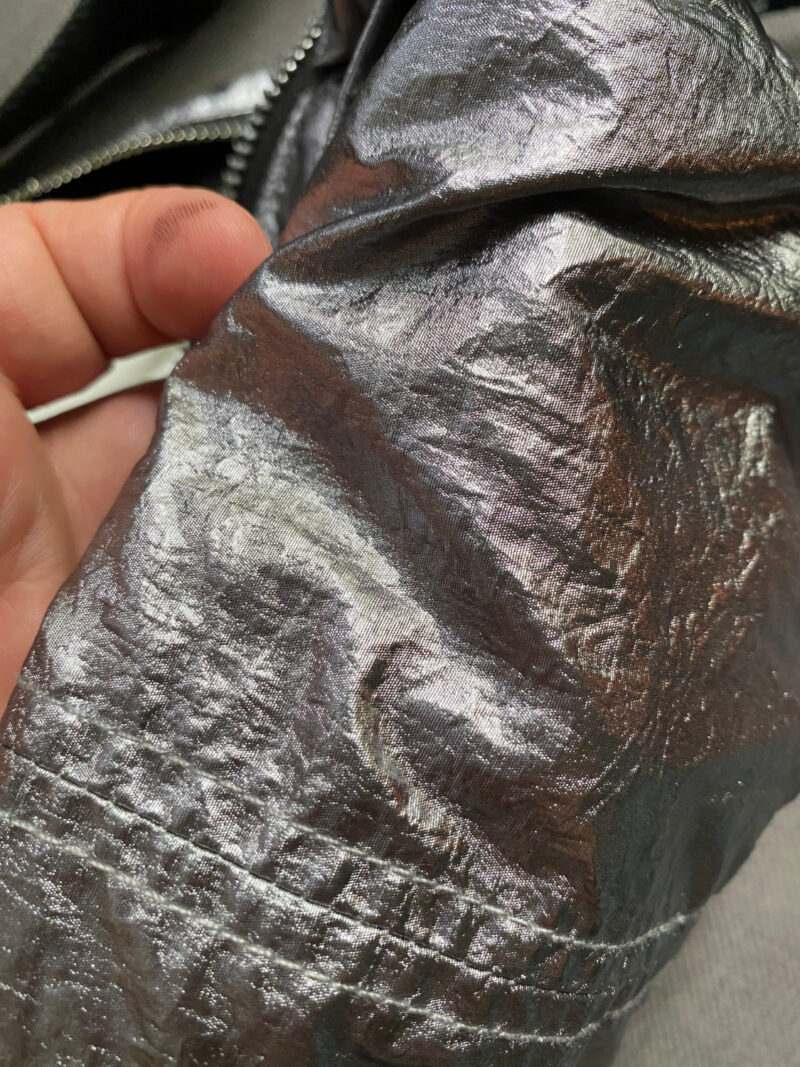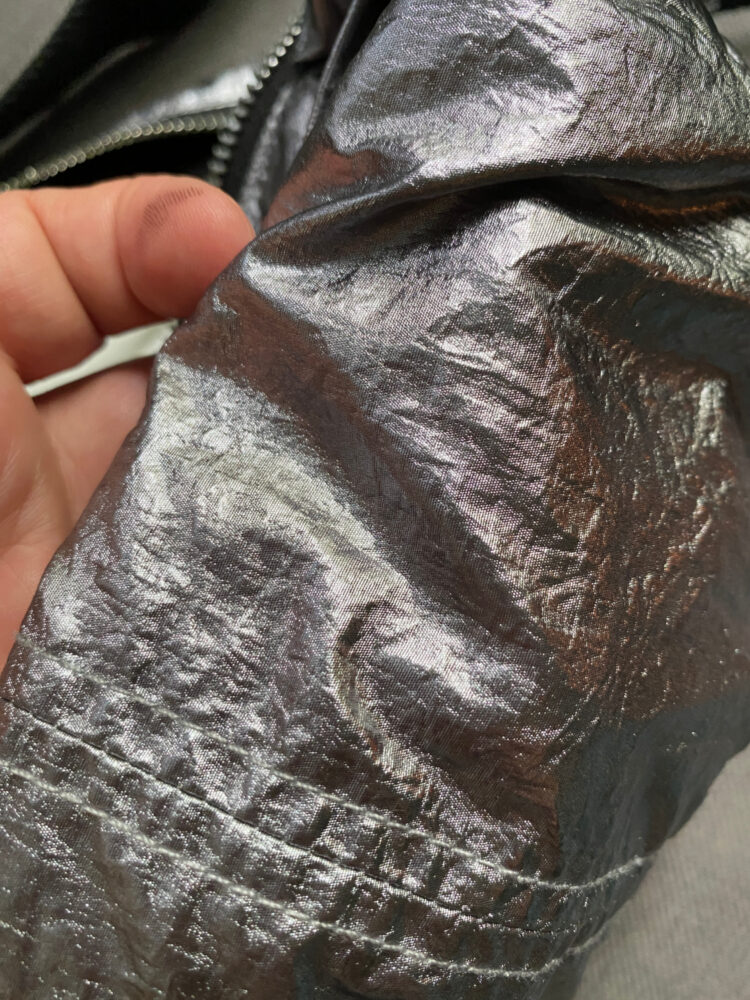 If this bag sounds like your kind of bag even with this review, let me know by email before Monday when I plan to mail it back to Nordstrom. Tags attached, dust bag never removed from its interior, brand spanking new $355 nylon bag for $355, I'll sell to you for $355 and the postage for USPS priority mail.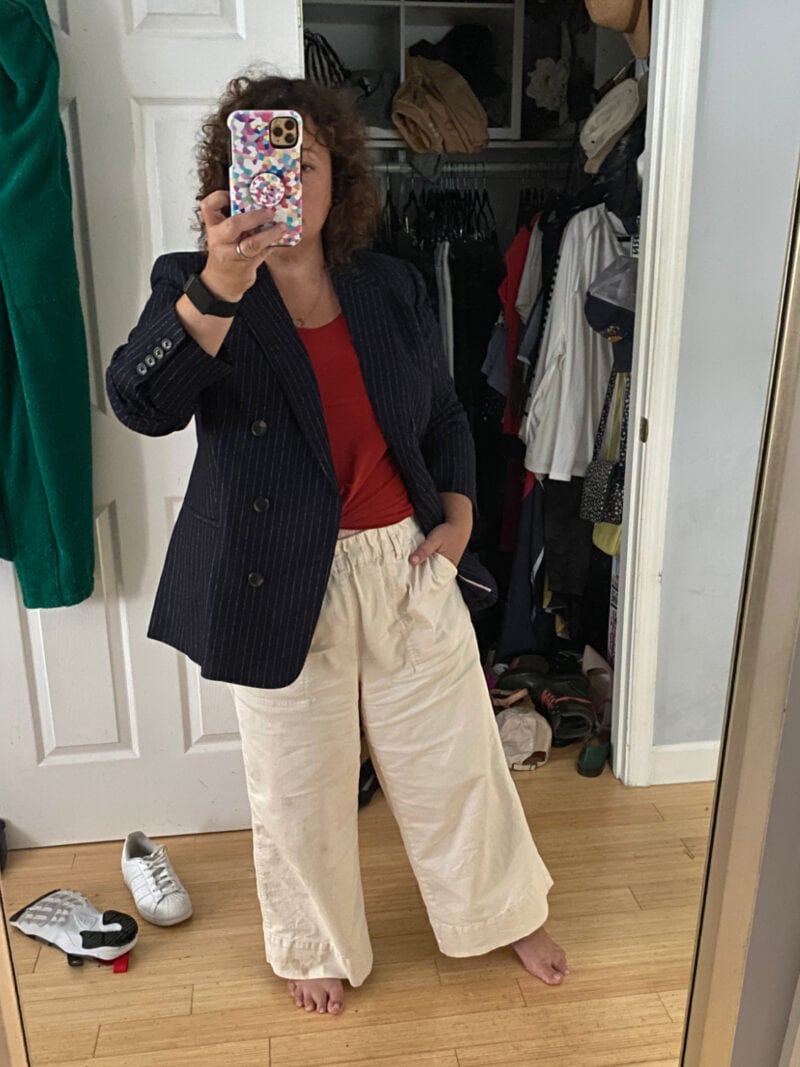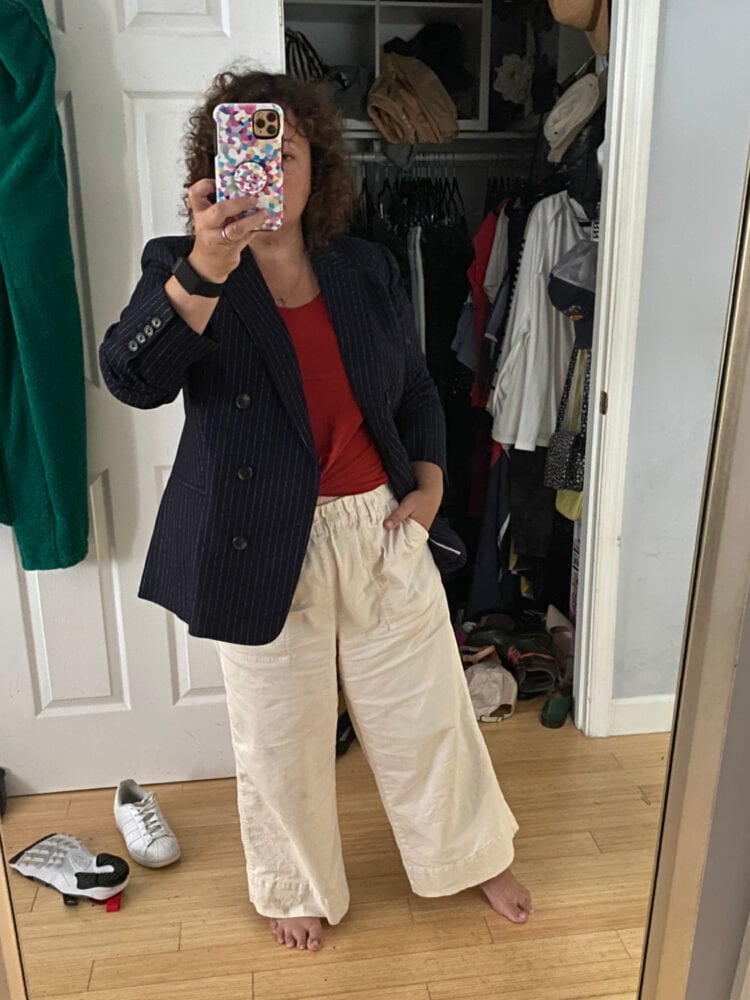 Loving my green J. Crew blazer from last year so much (they have a similar one this year in a gorgeous hazelnut color), I decided to order their Bristol Blazer in navy pinstripe English wool. This fall, a navy double breasted blazer will be a great wardrobe addition and would look great with wide-leg trousers, jeans of all silhouettes, with joggers and relaxed pants, and would look great styled with faux leather leggings. I ordered 14 regular, the size in my other J. Crew double breasted lined blazer.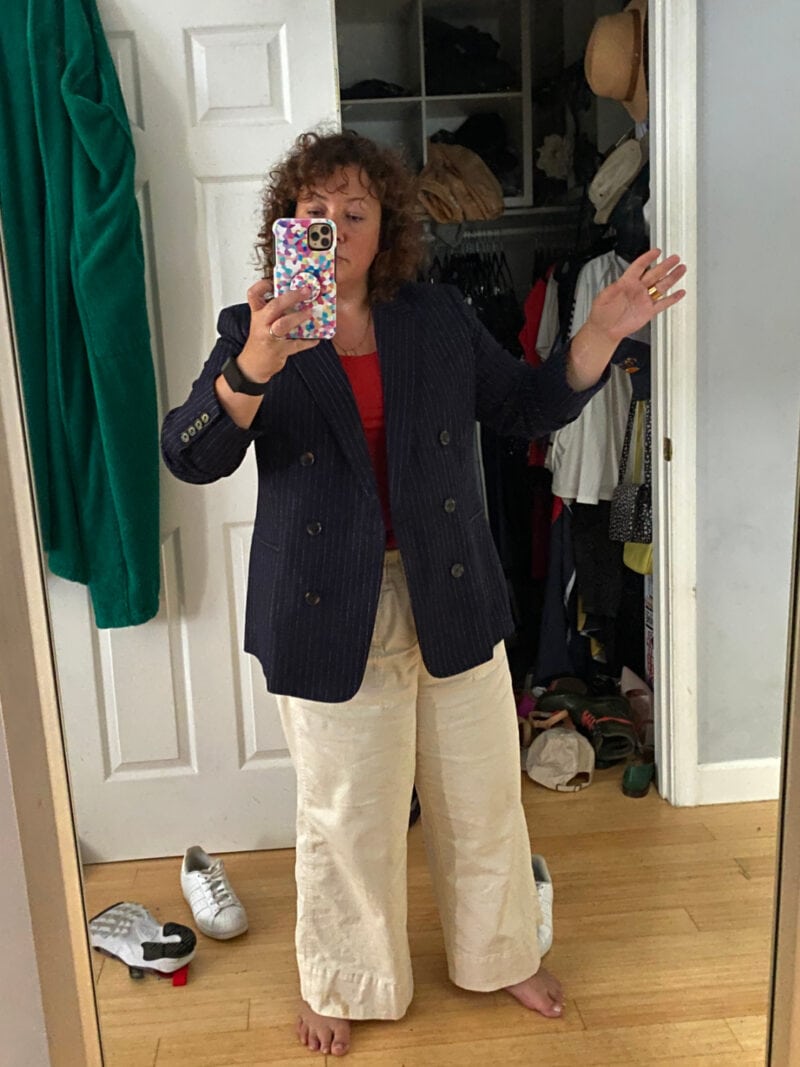 This one runs a hair more snug, but because that is the style. This is tailored, but I don't think too small. The wool is itchy; on this hot and humid day, even with the A/C running, it was not enjoyable on the back of my neck. But no wool is this time of year. Otherwise, I really like this. I think the white stripes feel more "me" than plain navy, and I think it will make it look even better with distressed denim or even my Spanx faux leather joggers.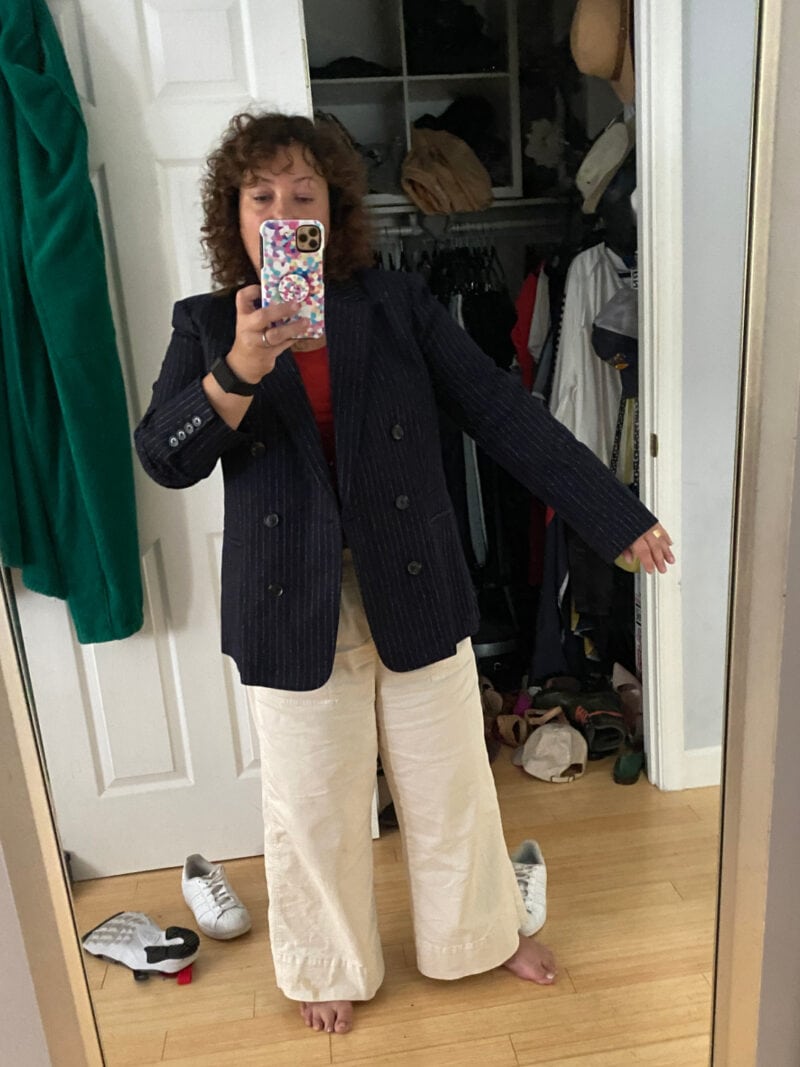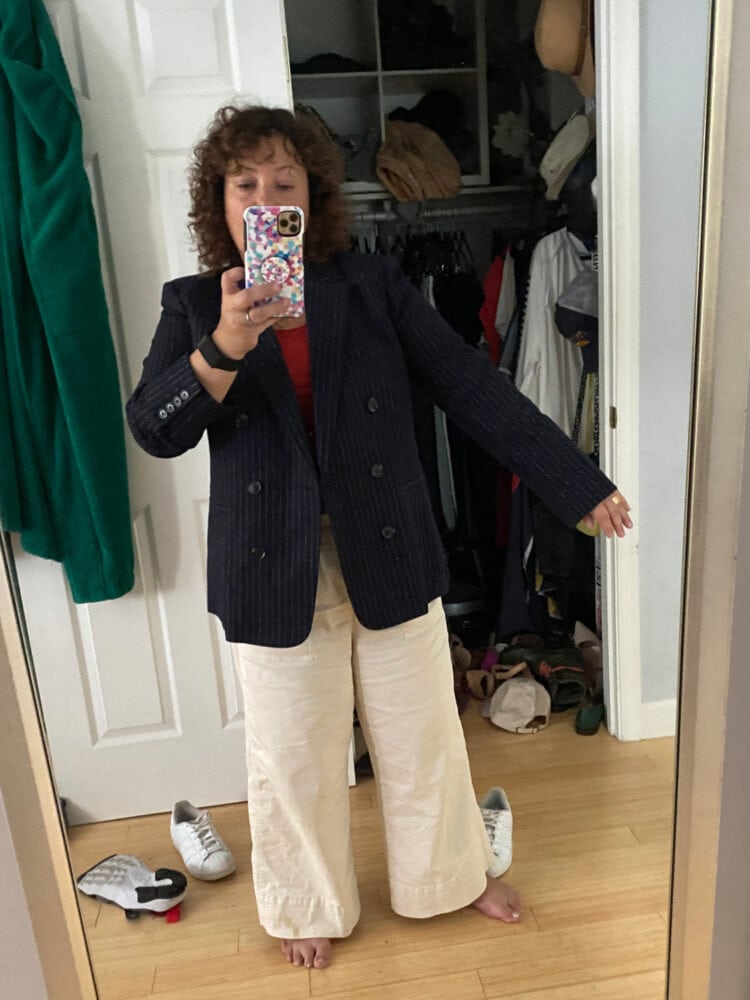 I figured if I got it and loved it, I would consider the matching pants (actually not sure if they match; they do match this single-breasted blazer) for a chill 2021 style of suit. But I am not going to get the pants; I think it will be pinstripe overkill on my short curvy self. But don't be surprised if I wear it over my Saint James Breton; I do love me some pattern mixing and adore me some stripes!