This article may contain affiliate links; if you click on a shopping link and make a purchase I may receive a commission. As an Amazon Associate, I earn from qualifying purchases.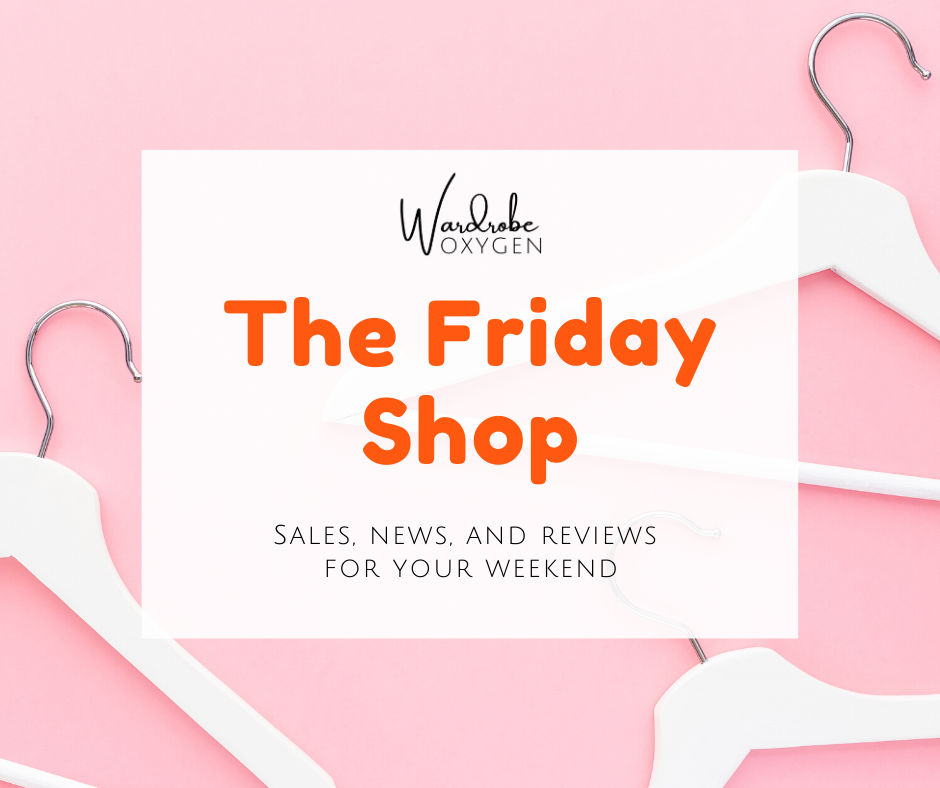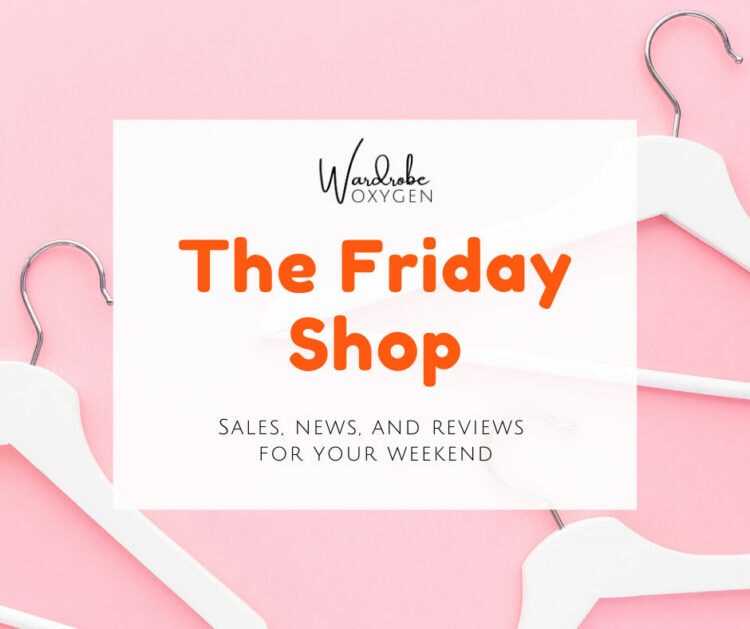 Am I the only one looking at her big wallet from 2019 and finding it utterly ridiculous? Like, really, why did I carry around all those cards? All that weight? Since the pandemic started, I've been using my Dagne Dover card case as a wallet, but am finding as the world has opened up, it's too small. While it is still my go-to for nights out and travel, I need something that's still small enough to tuck into my belt bag and smaller purses (or even a jacket pocket) but big enough to hold more than two cards and a single dollar bill.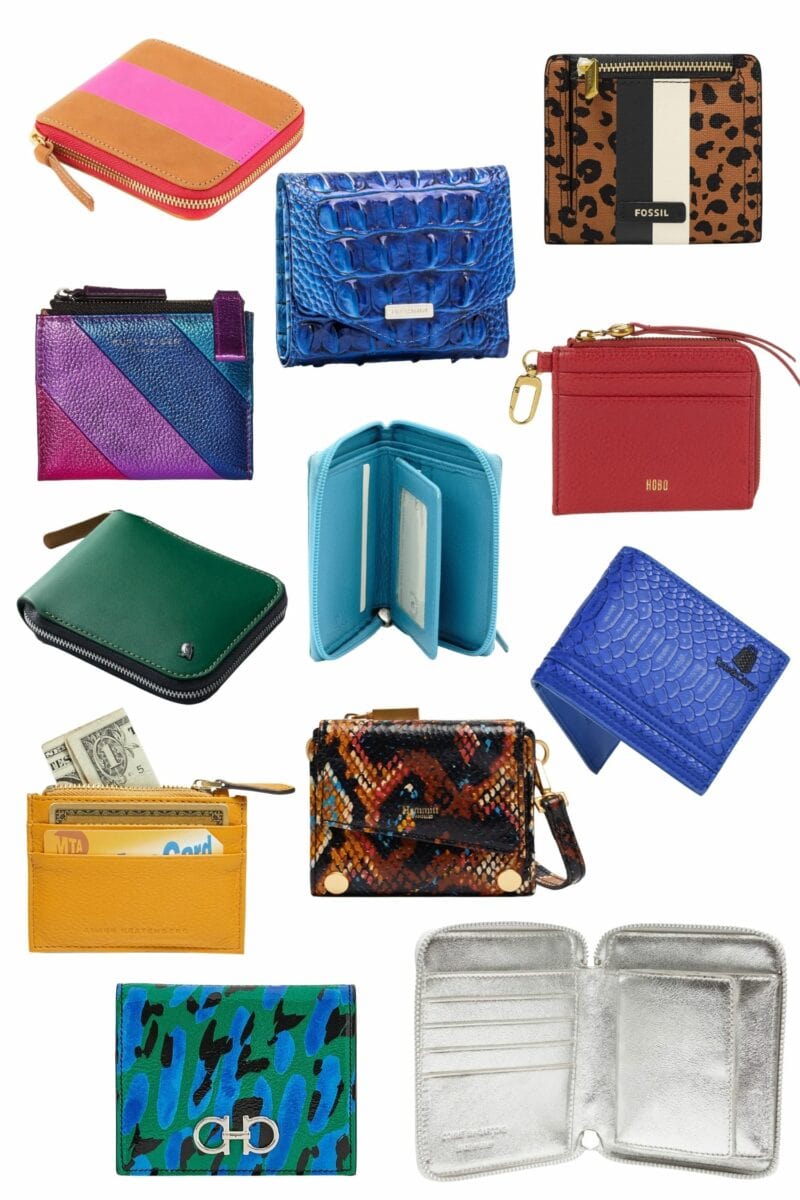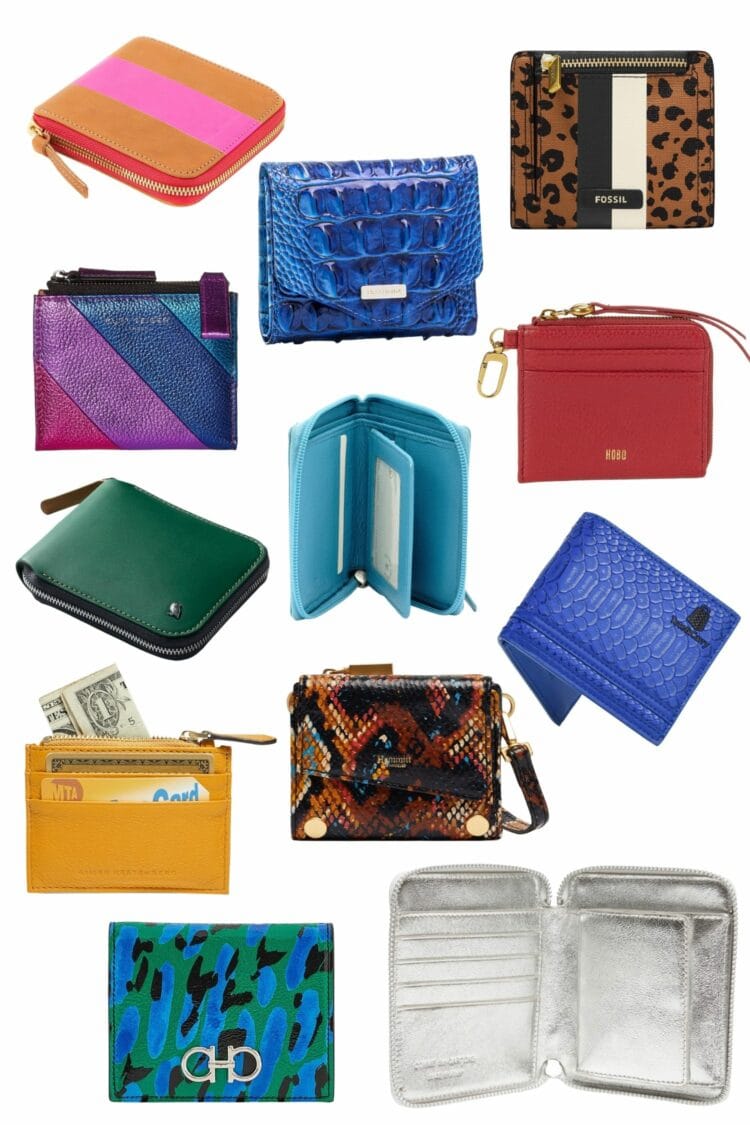 camel and pink | blue croco | leopard with stripe | metallic diagonal stripes | red | green | pale aqua zipper | yellow | dark snakeskin | blue snakeskin | green and blue print | silver

I am hard on my wallets, and I've learned a non-black wallet and one with some texture or hardware makes it easier to find at the bottom of a bag. The blue croco from Brahmin is my current frontrunner because my old heavy wallet is Brahmin (this style) and it has held up beautifully for years. While I don't love the color choices, the red one from Hobo is second because I also have had a lot of success with Hobo wallets. The blue and green Salvatore Ferragamo is totally out of my pricerange, but it was too pretty not to include in the collage!
Sale Alert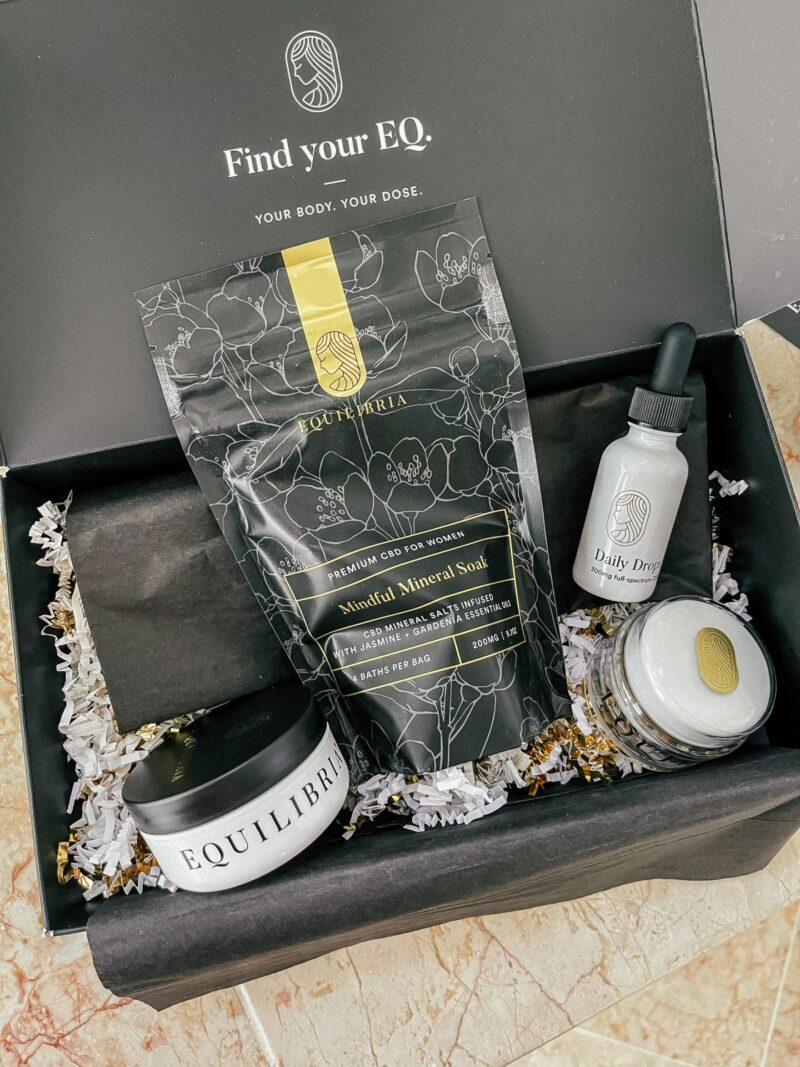 Through the end of the month, Equilibria CBD is offering 20% off subscriptions for months 1-3. Usually, if you use my promo code, you can get 15% off a new subscription for the first month. But this deal it's up to 20%, it's for THREE months but even better… EXISTING CUSTOMERS CAN USE THIS PROMO CODE! This is a different code from what I've shared before: use wardrobeoxygenfall20 to get 20% off subscriptions for new and existing customers.
I KNOW Equilibria usually only has discounts for new customers so I had to share this. Subscriptions can be on boxes of items that work well together (and that is already at a discount from shopping individually), but subscriptions can be for individual product as well. For example, my husband's friend is subscribed to the Relief Balm. As a runner, he uses it on his knees and feet and likes getting a new jar each month so he doesn't ever go without. My cousin subscribes to just the softgels, which she takes after dinner to help her stay asleep at night.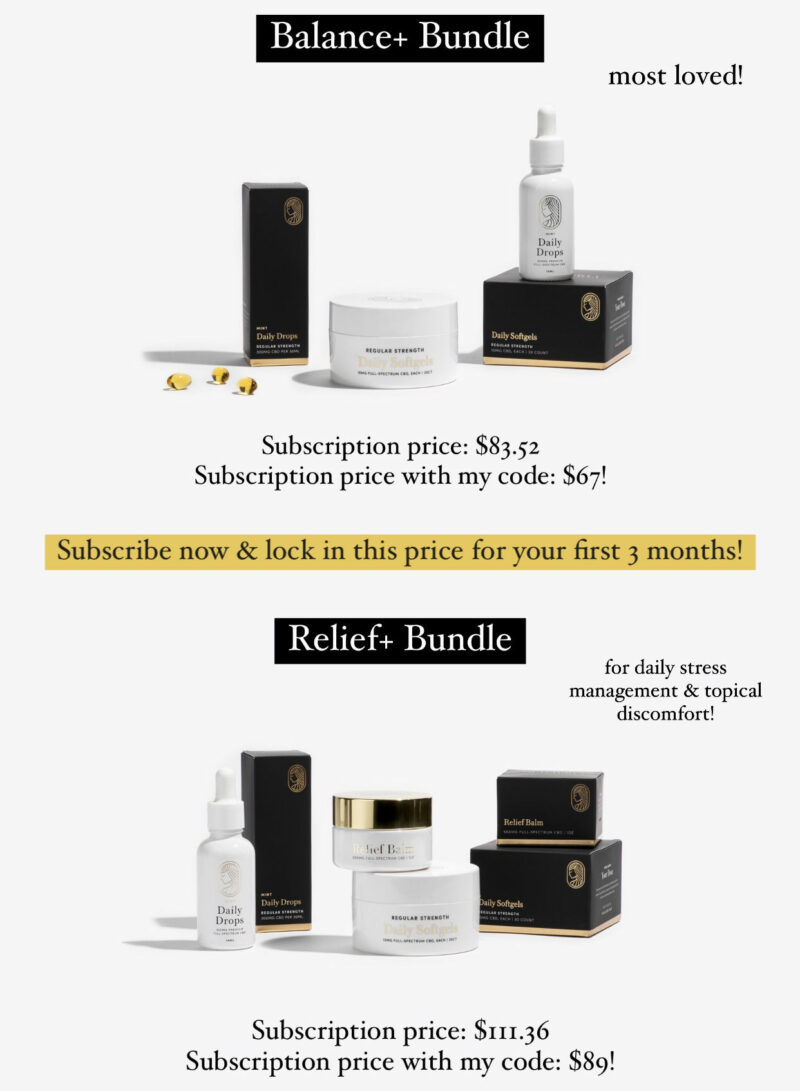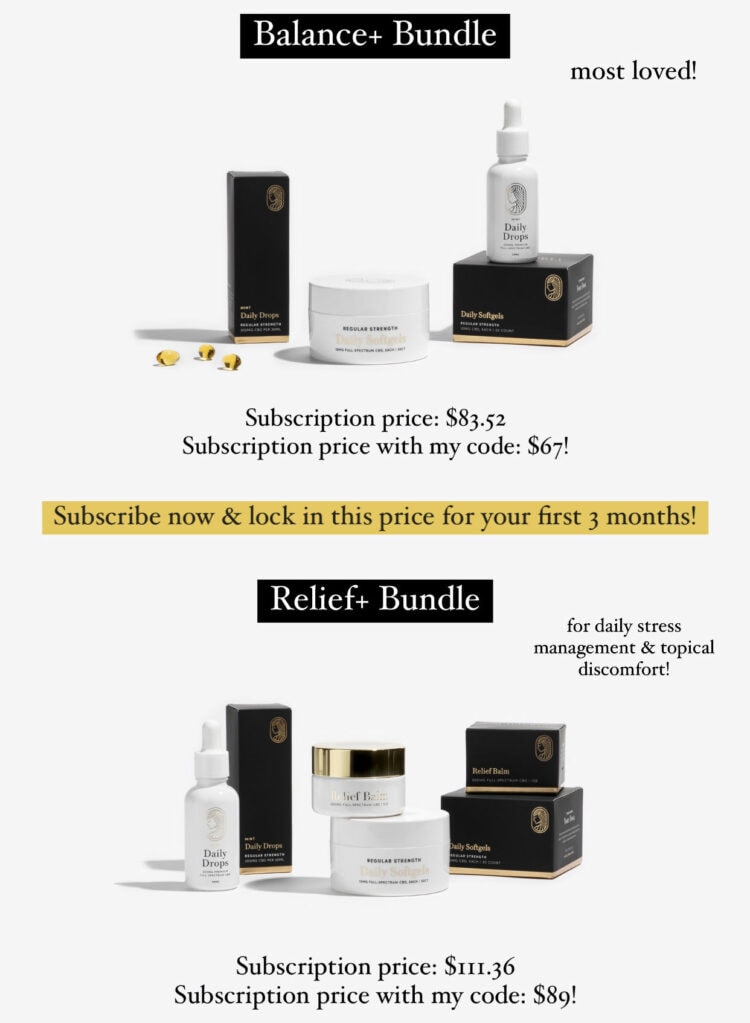 Subscriptions can be hella sketchy with lots of strings attached but Equilibria makes it super easy to change, pause, and cancel a subscription. Not trying to throw my mom under the bus but if she was able to do it without any stress, it shows how they care more about you being happy than them getting another month out of you.
I swear by Equilibria's Relief Balm, but I use their softgels, drops, melts, and gummies. Karl loves their bath soak, softgels, and Relief Balm. My daughter even uses the Relief Balm for cramps, mosquito bites, and put it on her feet after a long hike. For more information, read my skeptical Equilibria CBD review.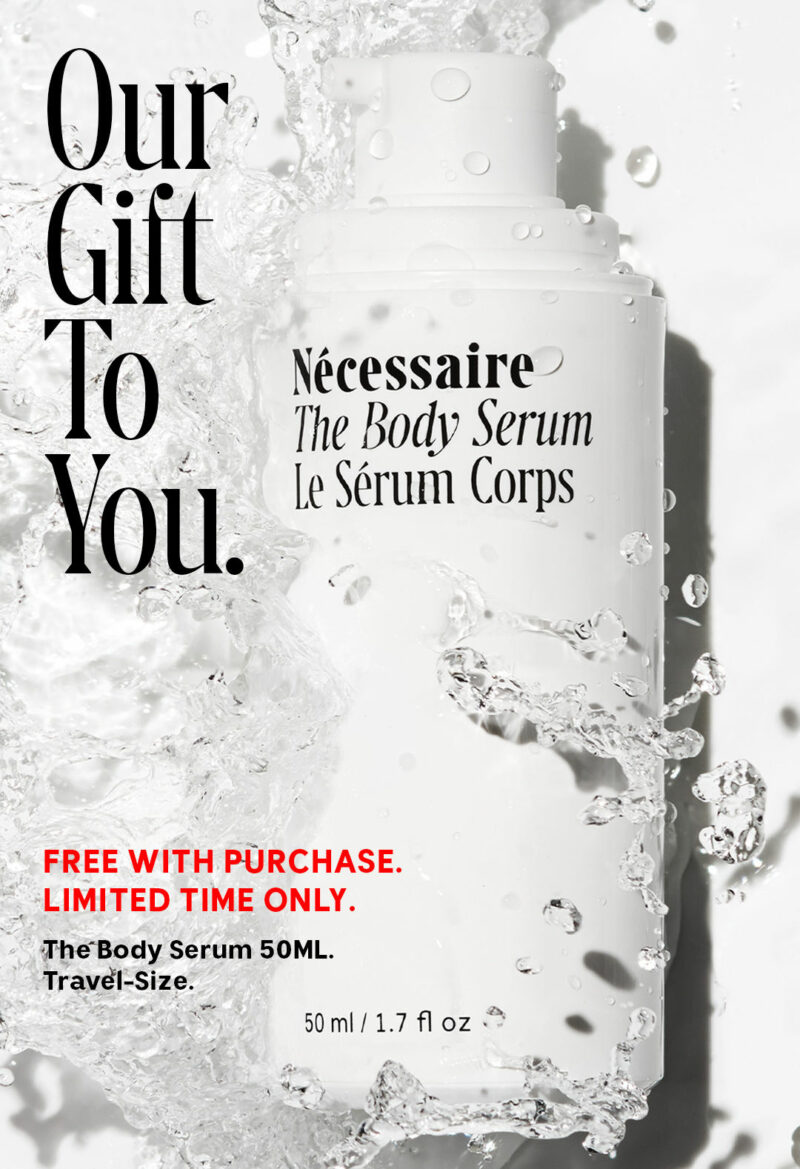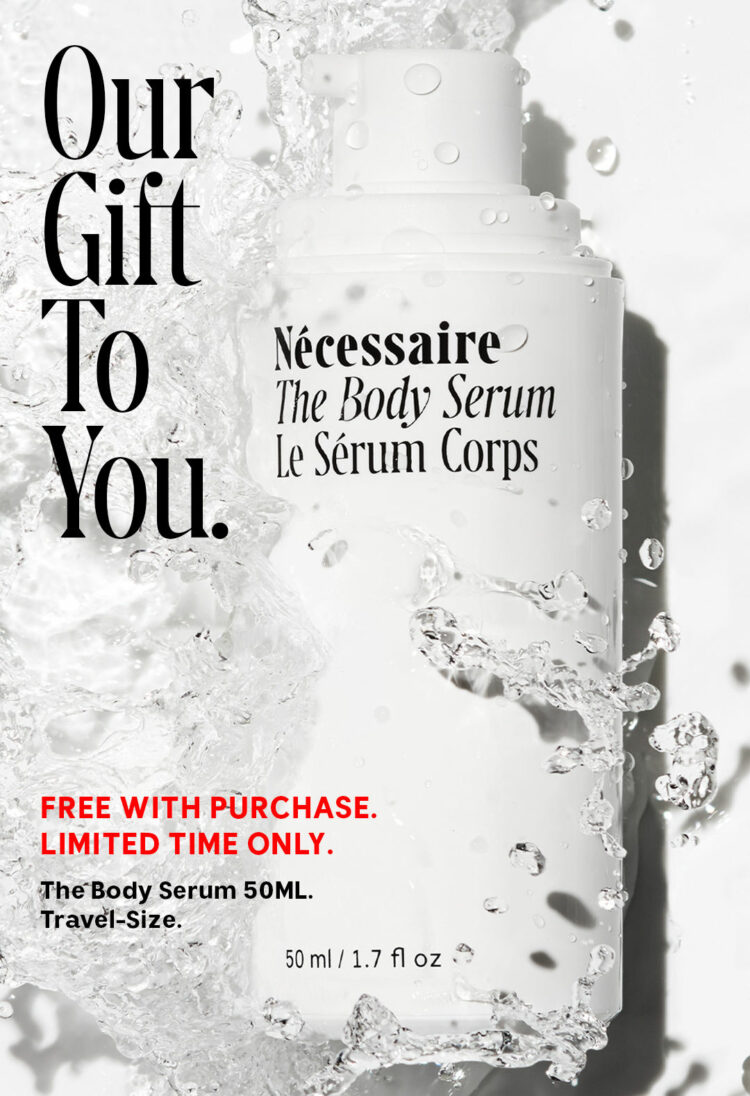 Y'all know by now that I am obsessed with the body care brand Nécessaire. Amazing ingredients, great ethics, and the products really work for me and my family. I use the body wash, body lotion, and body serum daily. My daughter also uses the body lotion and loves their new shampoo and conditioner. My husband likes the body wash and exfoliator. The unscented is truly unscented; no weird plastic or chemical smell. The scents are natural; we love the Eucalyptus and Sandalwood though the Bergamot has also been enjoyed.
Well right now with every Nécessaire purchase you get a bottle of their Body Serum for free. This is an amazing deal; the serum absorbs beautifully for silky hydrated skin. You can use it alone or with body lotion (theirs or another brand). Also as always, if you use WARDROBE_OXYGEN at checkout you get 10% off your order!
What I Bought and What I Thought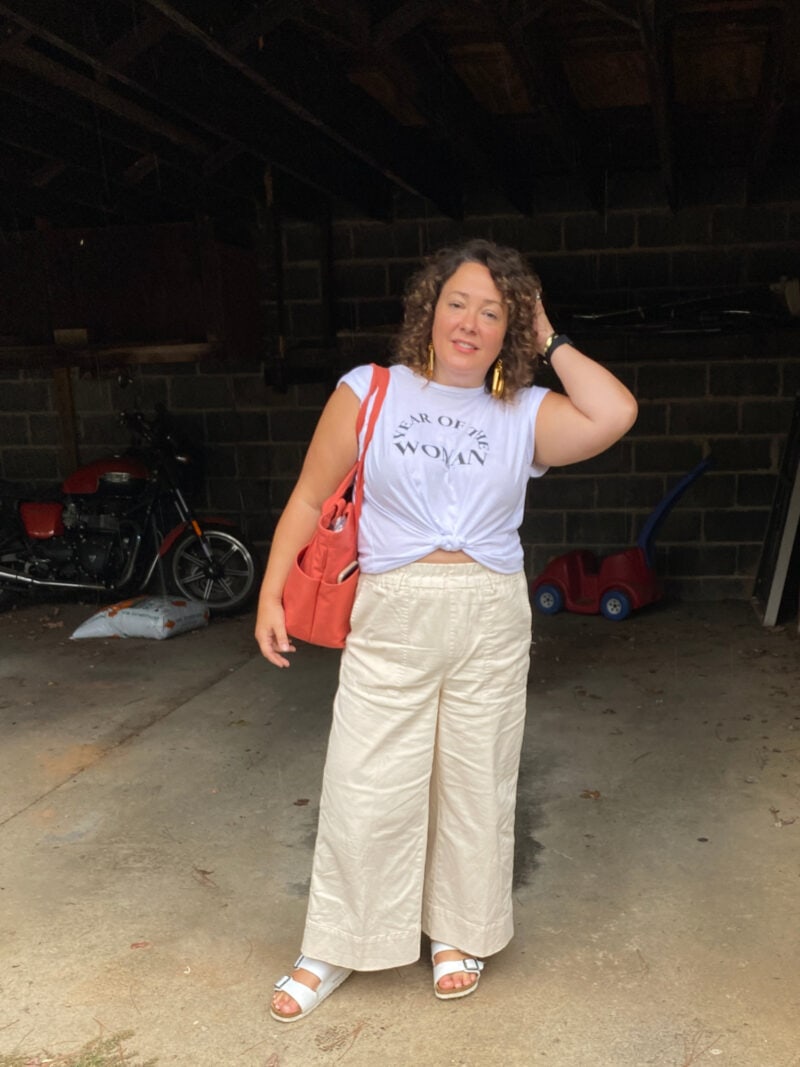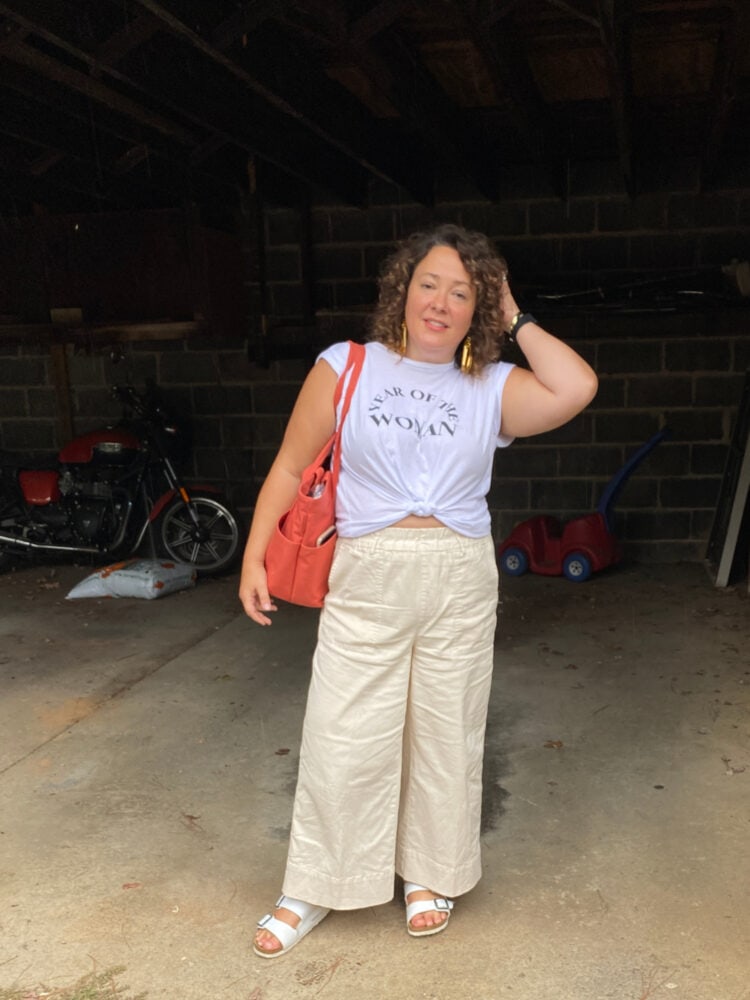 In last week's Friday Shop, I shared a J. Crew blazer I bought and several asked me on social and email where the pants were from. I realize I never shared them here! They are these pants from J. Crew and they have become my go-to pants. Last year my go-to was a pair of black joggers, but this late summer has been these easy care wide-leg elastic waist chinos. Functional pockets, a waistband that doesn't fold over, a fabric that looks good right out of the dryer, six colors to choose from with petite and tall options… who could ask for anything more (other than an extended size range… you were doing so well J. Crew and have sunk back to where you used to be).
I have worn with a tank or fitted tee, belt and sandals. I've rocked them with a cami and cardigan and loafers. I think they'd look cute with sneakers, a graphic tee, and a denim or leather jacket. My usual look is them with Birkenstocks and either my Saint James Breton or a graphic tee tucked in or knotted at the waist. I am wearing size Large Petite.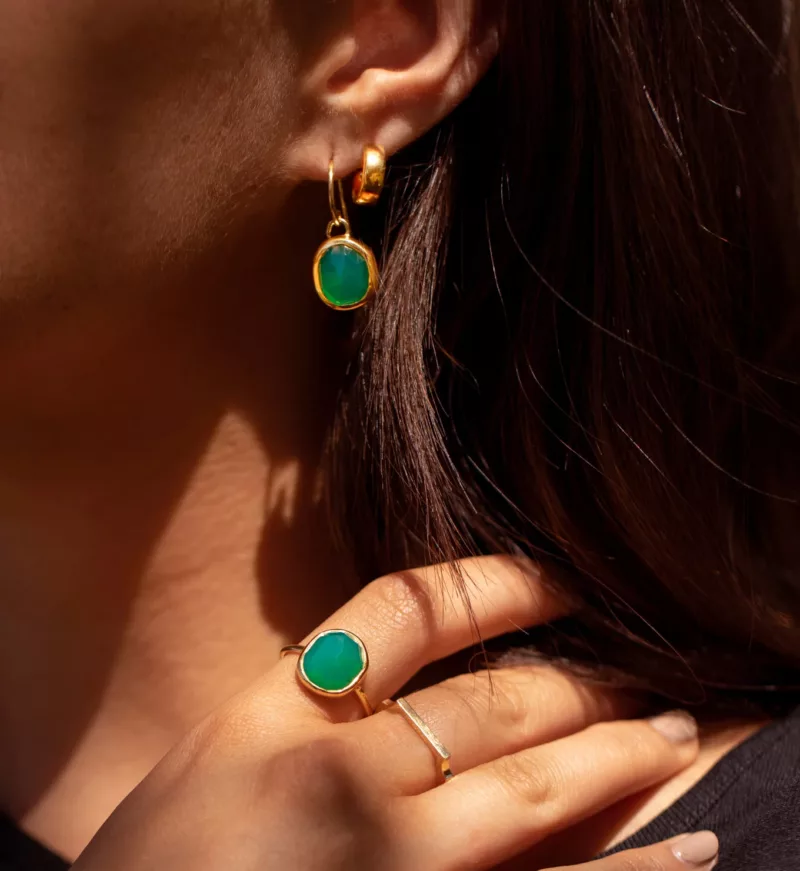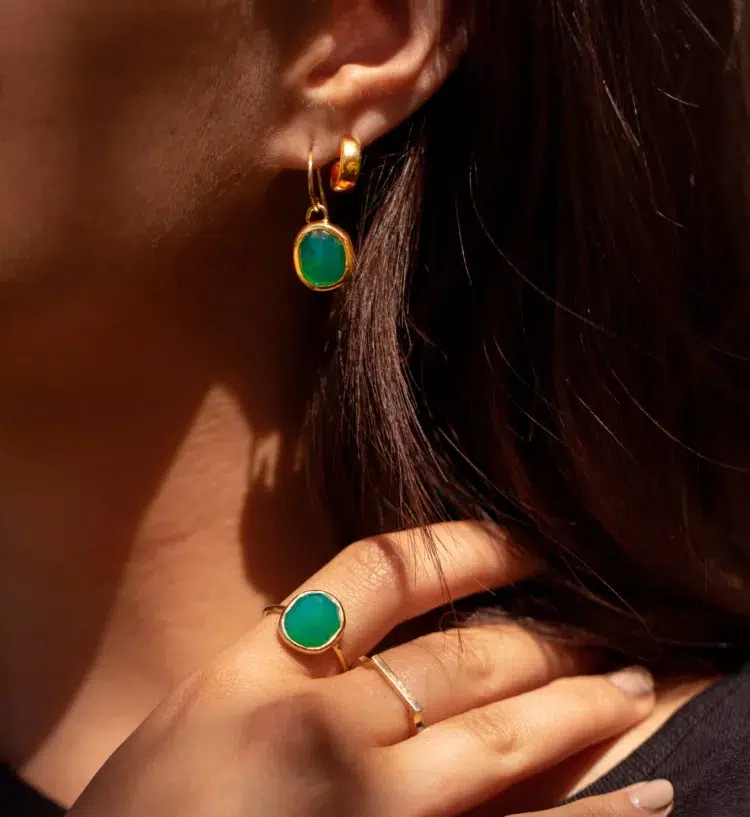 When I wrote this post about how to wear fall fashion trends in a warm climate, I mentioned how green is a big color this season. I added this Monica Vinader ring to my collage. And then watching the Met Gala live stream, I saw Ilana Glazer wearing a ring that looked awfully similar to it (after seeing the photo below I know it wasn't but at the time I thought it was the same ring). Gosh, everyone was wearing green jewelry accents! I LOVE green and was so excited to see this trend really making traction!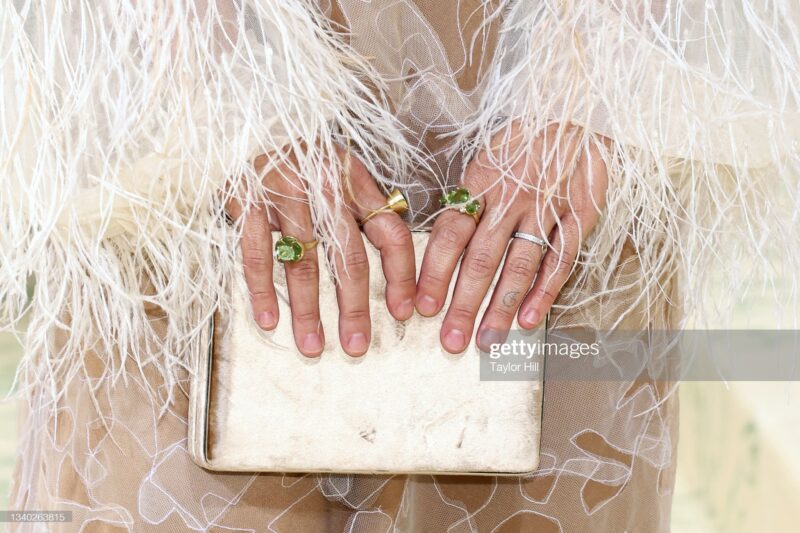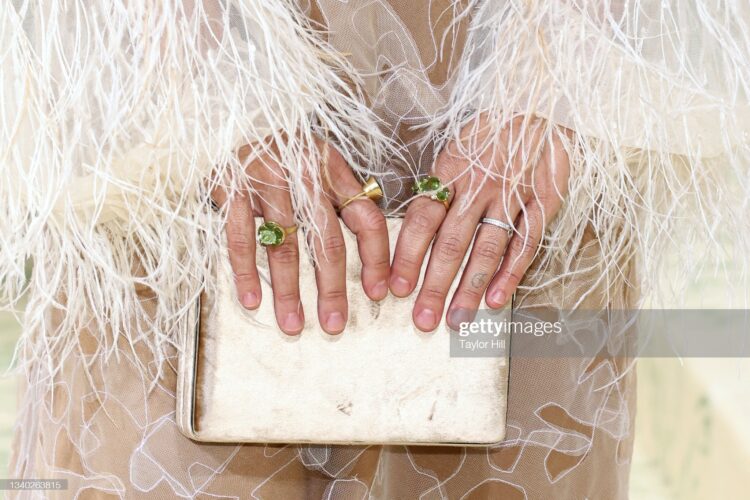 I decided to treat myself to this ring. Monica Vinader uses recycled gold and silver and everything is responsibly manufactured. As usual, the Nordstrom site didn't have the full size range. When I went to the Monica Vinader site I found this ring in a range of colors, sizes, and available up to size 9. I bought a 9, the size of my right ring finger and occasionally in the winter, the size of my left middle finger.
The ring came quickly, it was packed in a low-waste but still elegant way that could be a beautiful gift (small shipping box designed to cradle the gift box that slid open like a drawer to feature the ring). The ring looks exactly like it does online. It fit. But even with the medium version of this ring, it's still a delicate ring on my hands and my hands would never be described as delicate.
I remember when I got roasted on multiple websites and message boards within the same week about my choice in rings. I didn't seek out this criticism, it came to me in Google Alerts and well-meaning readers. One site made a collage of all the rings I had worn in the past year, sharing how I always pick rings that are either too delicate or too big for my short chubby fingers and I have no concept of proportion. Others agreed how bad I was at picking out jewelry that flattered me.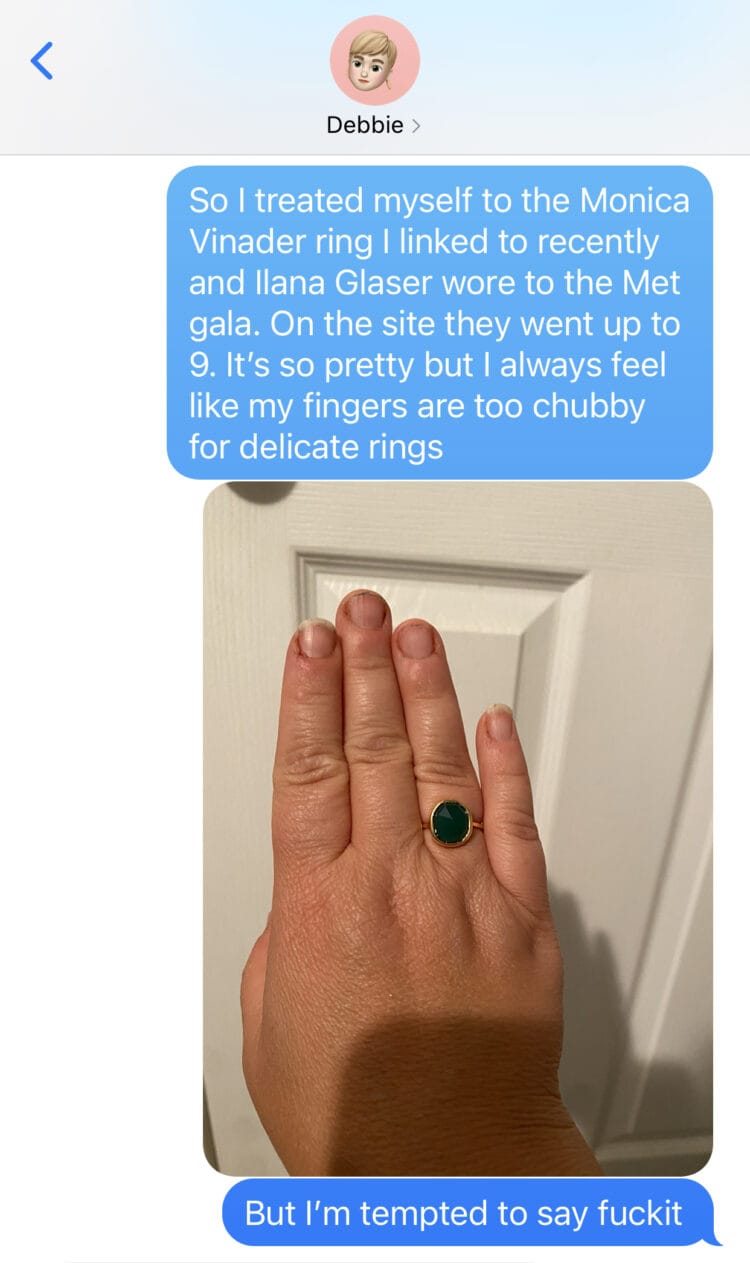 When I put on this ring all those comments came rushing back. My hands are too chubby for this delicate ring. But I really liked the ring, I just thought it was so pretty. And do I have to sacrifice what I think is pretty because I have to wear what is proportional/flattering? If I say hell no to such rules with my clothing, I should be saying the same with my jewelry.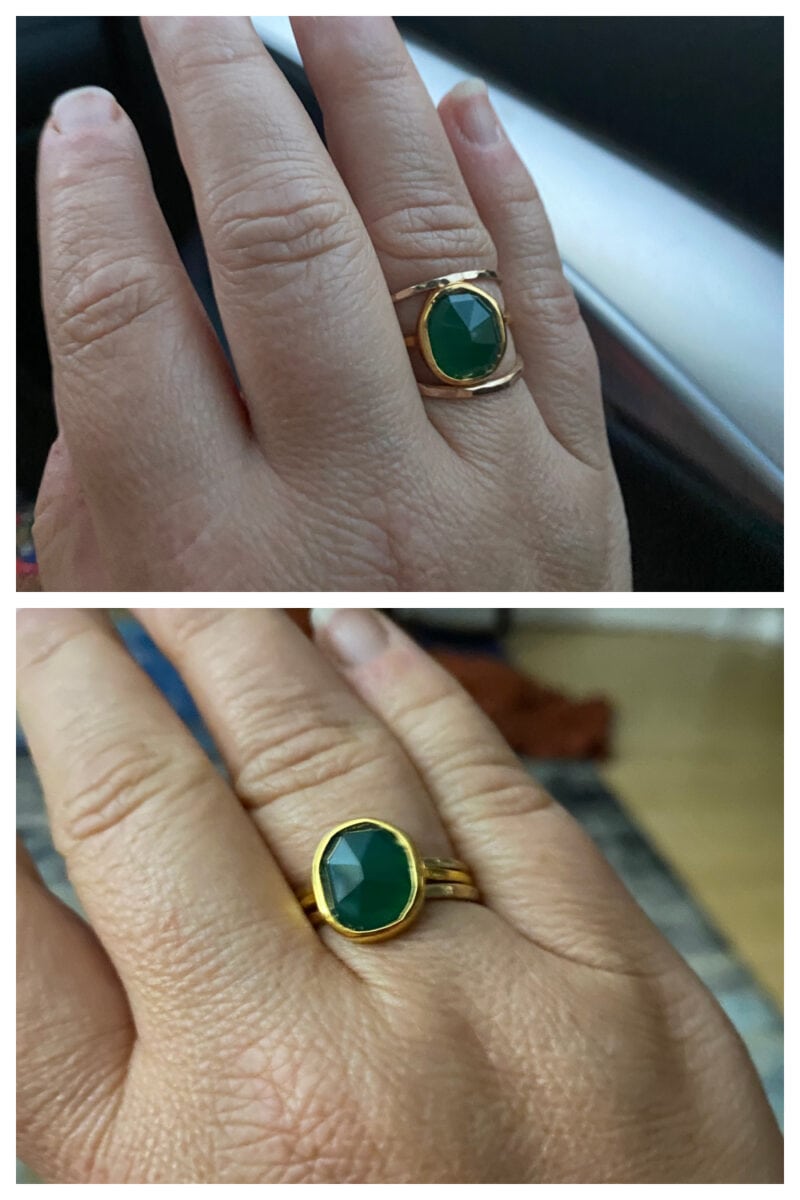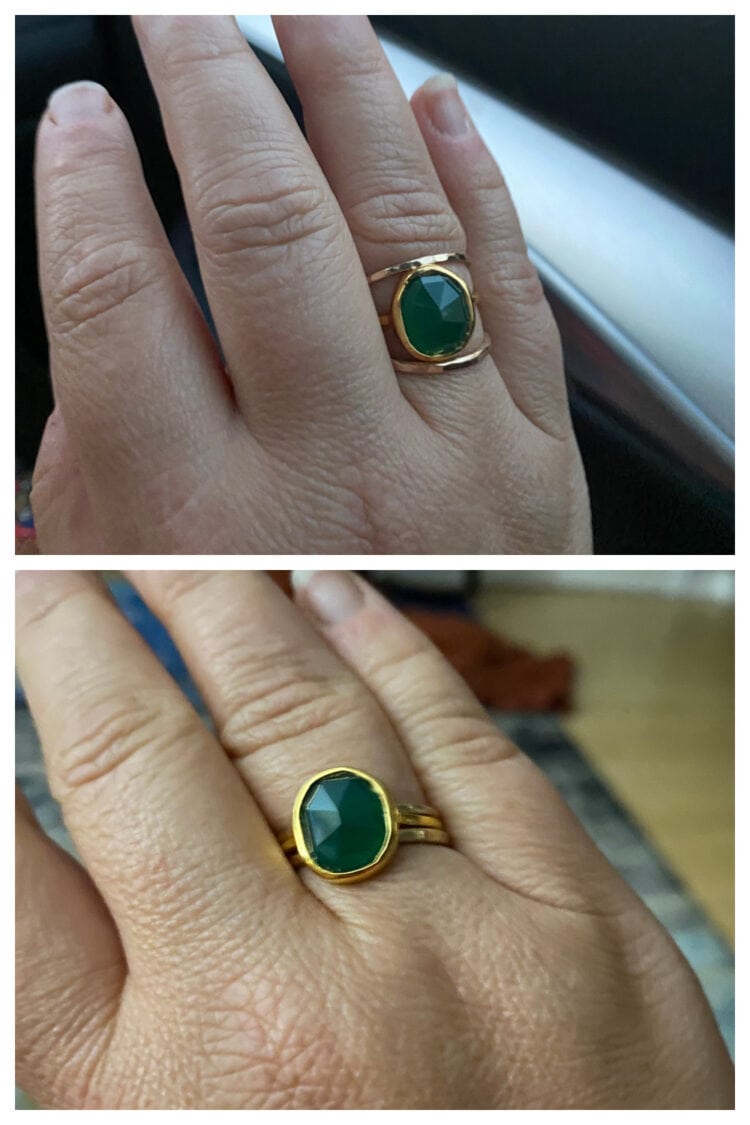 I took two gold wire stacking rings I got on Etsy back when I was critiqued for my poor ring style and put one on either side of the Monica Vinader ring. They are a little loose and separated and made the ring look even cooler. And when they slid down to properly stack, the extra gold added that something that felt right. The right was still delicate and pretty, but it felt… like me. Comfortable. I have been wearing this combination ever since.
And I'll likely wear the ring by itself as I get comfortable with it (and as my fingers shrink when it gets cold so I can wear it on other fingers) but right now I'm digging this. It's such a small thing but we're hit with so many rules about what is considered flattering. Sure there are the clothing rules to make everyone's body appear as thin and long as possible with curves in just the right places. But we also have these rules tell us what haircuts we should wear for our face shape, what lipcolors we should wear for our skintone, what prints or bag sizes are appropriate for our body size, and even what size of jewelry is best for our proportions.
We keep growing and learning as we get older, lessons come from all sorts of places. It feels like I'm putting up a gold and green onyx-embellished middle finger to those rules by keeping this ring.