This article may contain affiliate links; if you click on a shopping link and make a purchase I may receive a commission. As an Amazon Associate, I earn from qualifying purchases.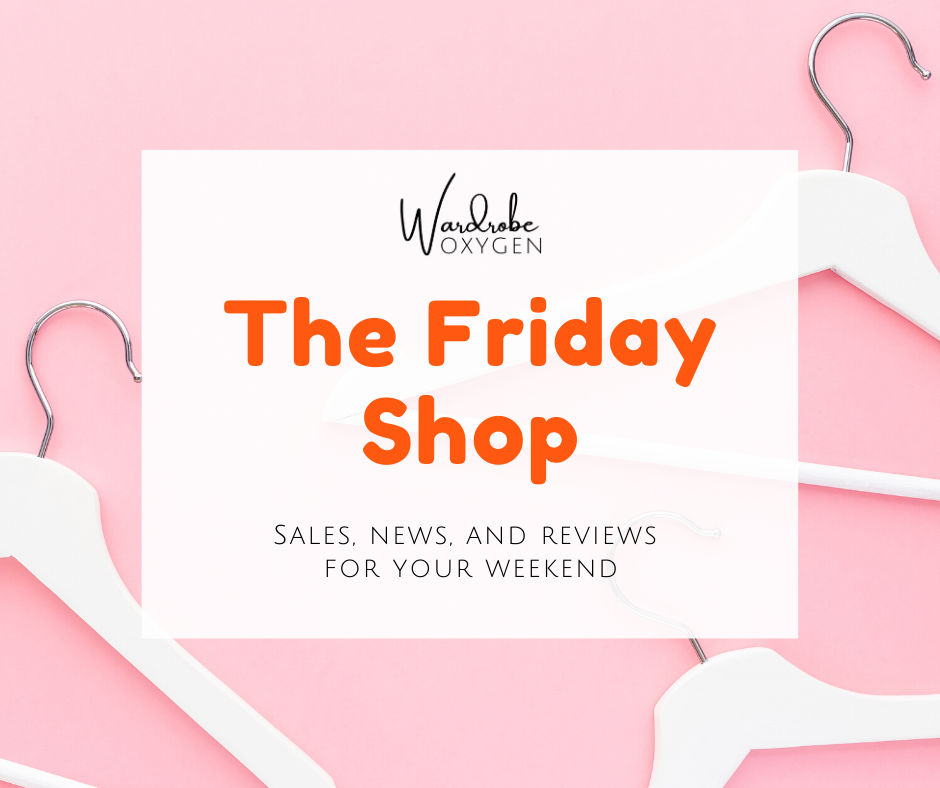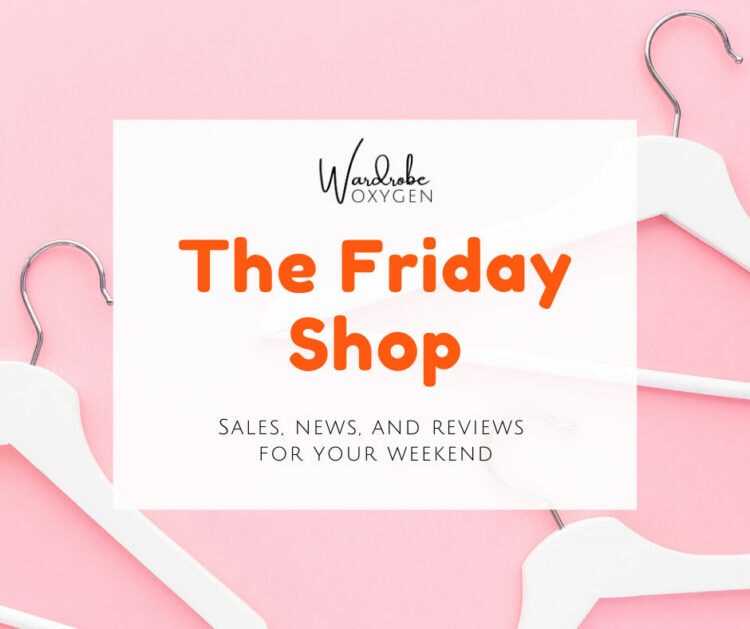 I am part of the Zappos influencer program and through this, I am able to craft Collections. This is where I can make pages of my picks for certain categories. Think how influencers do this on Amazon and a few other sites. I played a bit with this feature this week starting with my Zappos picks for wide width shoes. I also have one of items I own in my own closet and love. I plan to continue doing this and updating it periodically. What category would you like me to create next?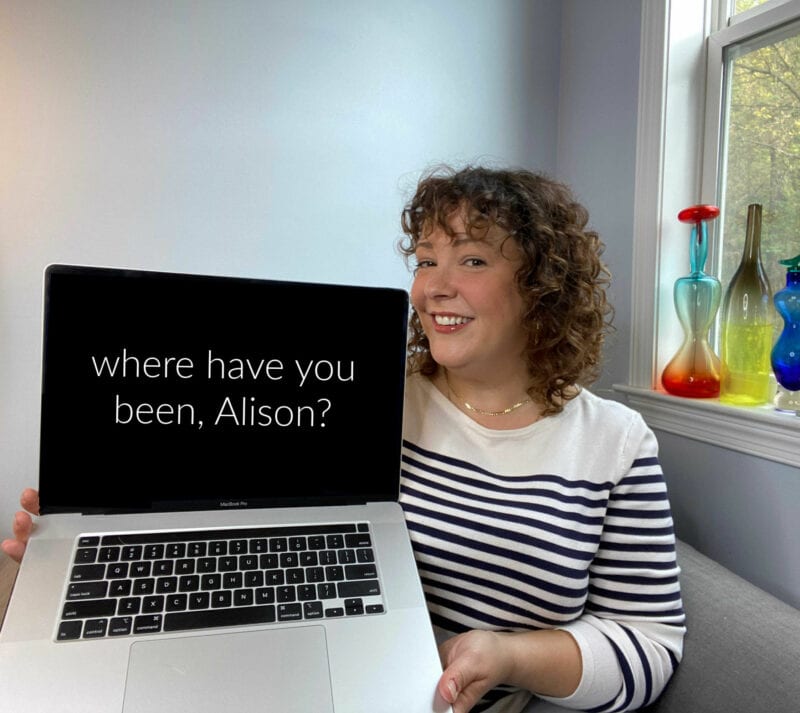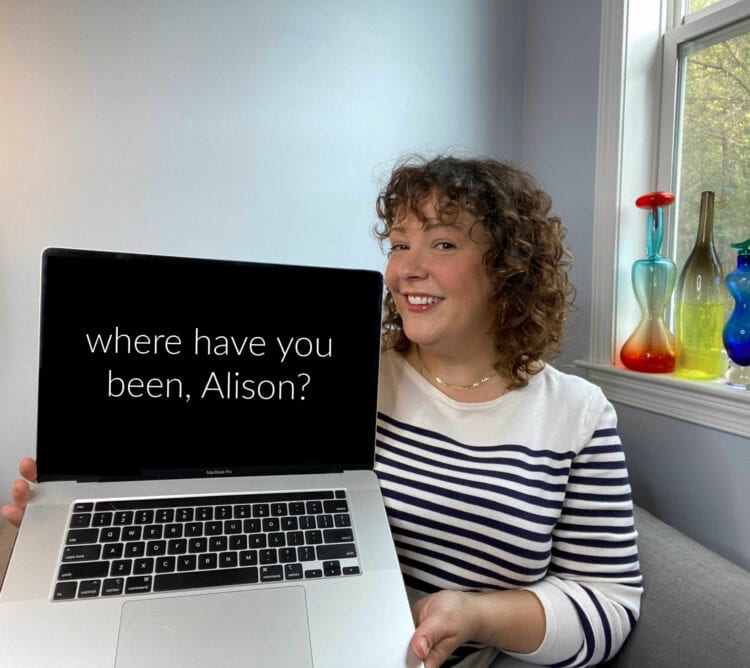 This week was a bit light with content because I am working on two projects for content that isn't necessarily going to be on this blog or my social media. One, I mentioned on Instagram: I was picked to be part of a focus group with Google to create Web Stories and learn best practices.
When you're using Google Discover or the Google app on mobile, you sometimes get these stories of 7+ slides, sometimes photos with text, sometimes video, that will share reviews, tips, recipes, and more. I have been making them since the beginning of the year, some have been successful and some not. I'm excited to learn from Google how to improve on this product that can bring traffic to my site, revenue via affiliate links, and recognition to me and Wardrobe Oxygen from a new arena. You can see old Google Web Stories my VA has made and the new ones she and I will be crafting through this multi-month project at this link. This Web Story is the one I made this week after learning from the Google team!
The other project that took up a lot of this week is I am creating paid media for a major company. Paid media is when content is created not for us to share ourselves on our platform/s, but to give to the company to use on their platforms. I am creating four videos, and they're the kind of videos you see before a YouTube video, between paragraphs on a website like Apartment Therapy or Forbes, or between TikToks or Instagram Stories. I'm also creating still images; those may show up like ads between Instagram posts in a feed, or maybe on Facebook.
I don't do a lot of video because. I have always found it time-consuming. I chose to be part of this paid media project specifically for that reason. I want to, and to say relevant in this field, need to learn video and there's no better way to push myself to learn something than a signed contract. Once the content is complete, if I see it out in the world I'll be sure to share with you!
Both projects are challenging and I am learning so much. I am stressed and overwhelmed but feel more alive than I have in about a year. It has been a tough time for all, and I think a lot of us have been questioning parts of our lives, our jobs, our purpose. To be challenged in such a manner is awakening creative parts of my brain and pushing me and I really needed it to stay creative and having fun with Wardrobe Oxygen.
This has been a financially successful year for me but has been one where I am wondering my next step and my why. I didn't get into this to become rich or famous, but because it is creative and because of the community, and because I love it. And challenges like this remind me of why I do what I do!
What I Bought and What I Thought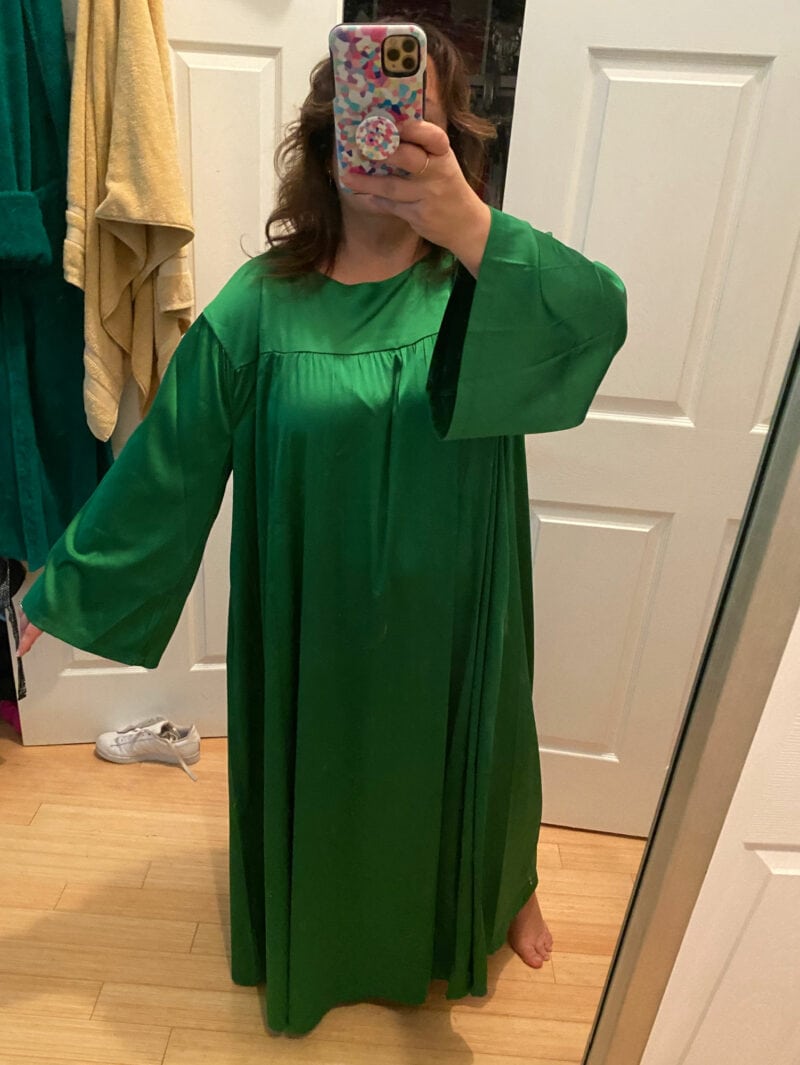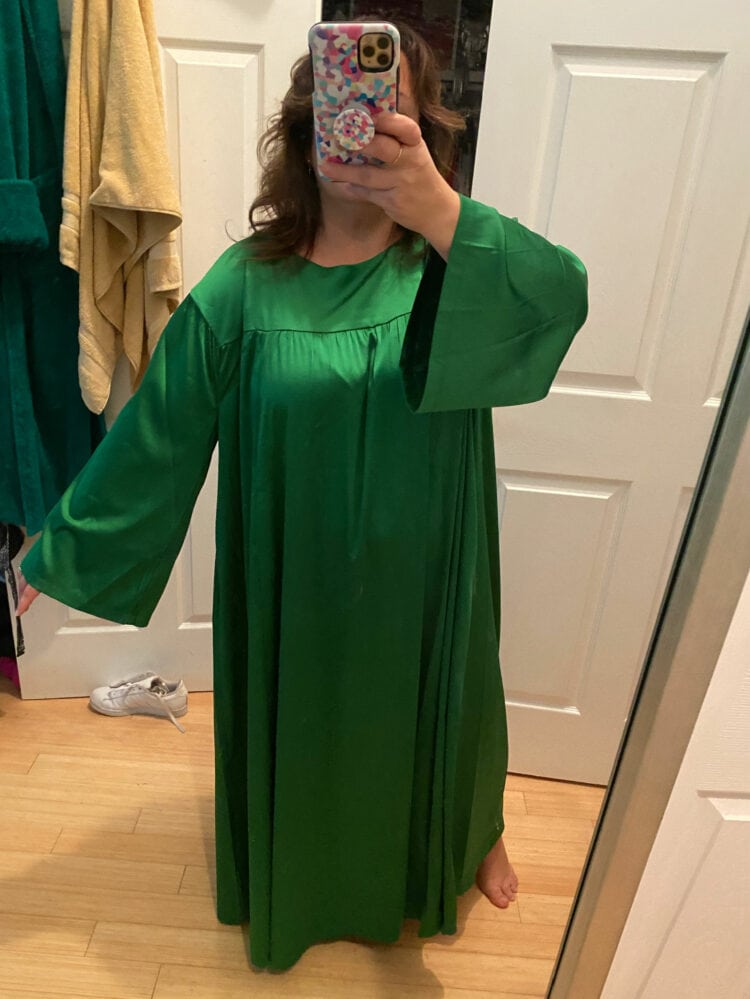 I mentioned in this Friday Shop that I bought this dress from fellow influencer Kellie B.'s The Drop collection. And it arrived. And I returned it. The color was gorgeous, the fabric was so soft and silky. But this was a choir robe. Like… it was a really nice choir robe with pockets. I belted it and I looked like a Friar. It was not good. If it had different sleeves (maybe elasticized at the hem so more of a blouson than a bell). If it had a cooler neckline. If instead of the seam at the bust it had darts, or a band for some definition. Or a slit. Or a… something.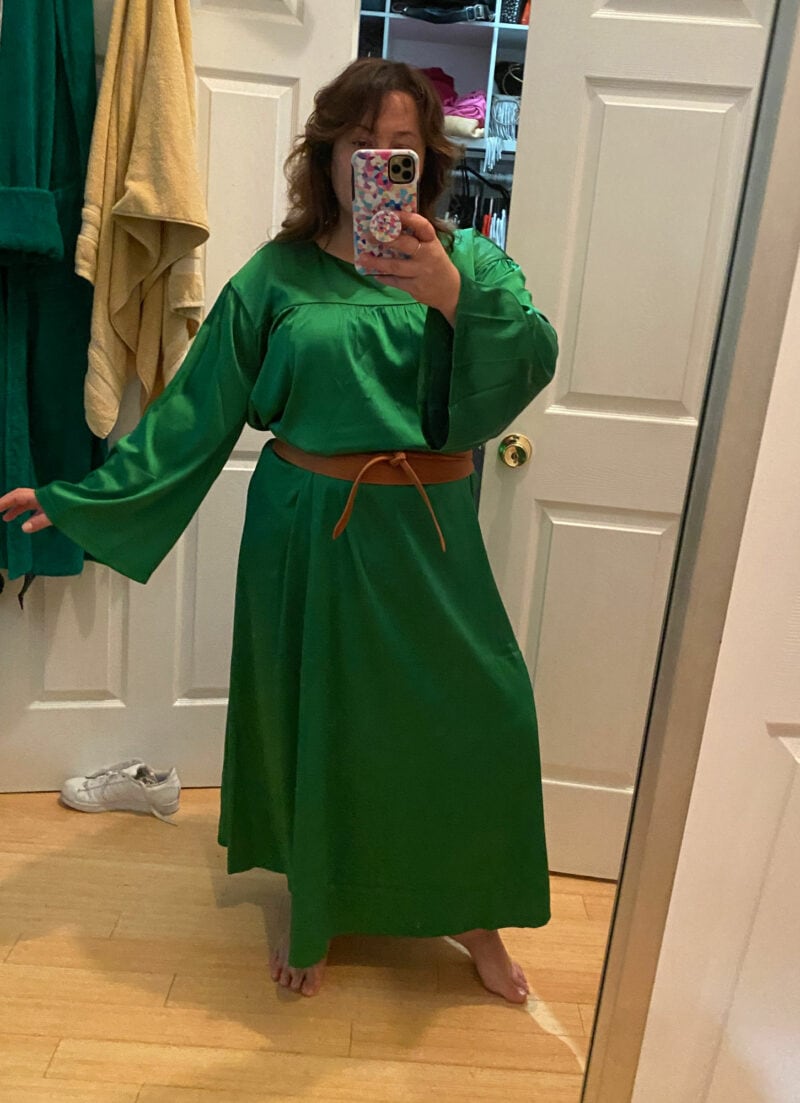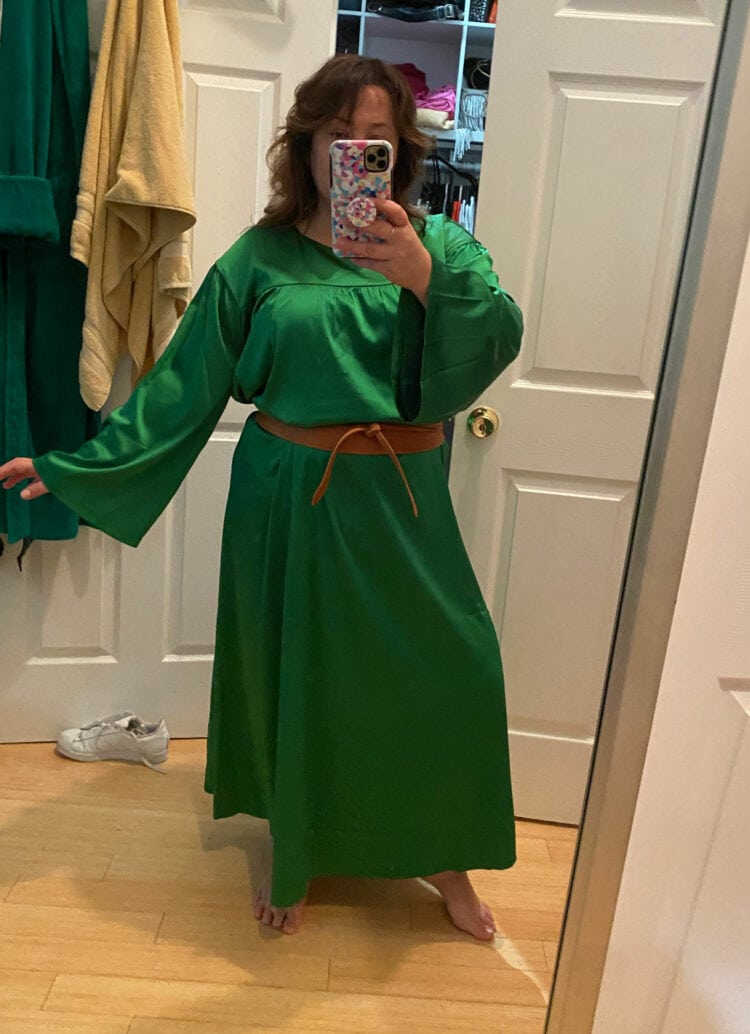 But I don't need a choir robe so it went back. Let me know if you ordered one and what you thought. My sister saw the photos I took of myself in it and canceled her order. My friend Emily shared on Instagram Stories that she too got the dress in a different color combo and was feeling choir robe. It's a shame because Kellie is so freaking cool, I hope it's just us and it actually looks fierce on others. Did you get it?
Speaking of caftans, I don't think I have yet shared this caftan I got from Etsy. I actually got it at least a month ago and I think it only has made an appearance on Instagram Stories. I was looking for a caftan, likely after watching The White Lotus, and this print SPOKE TO ME.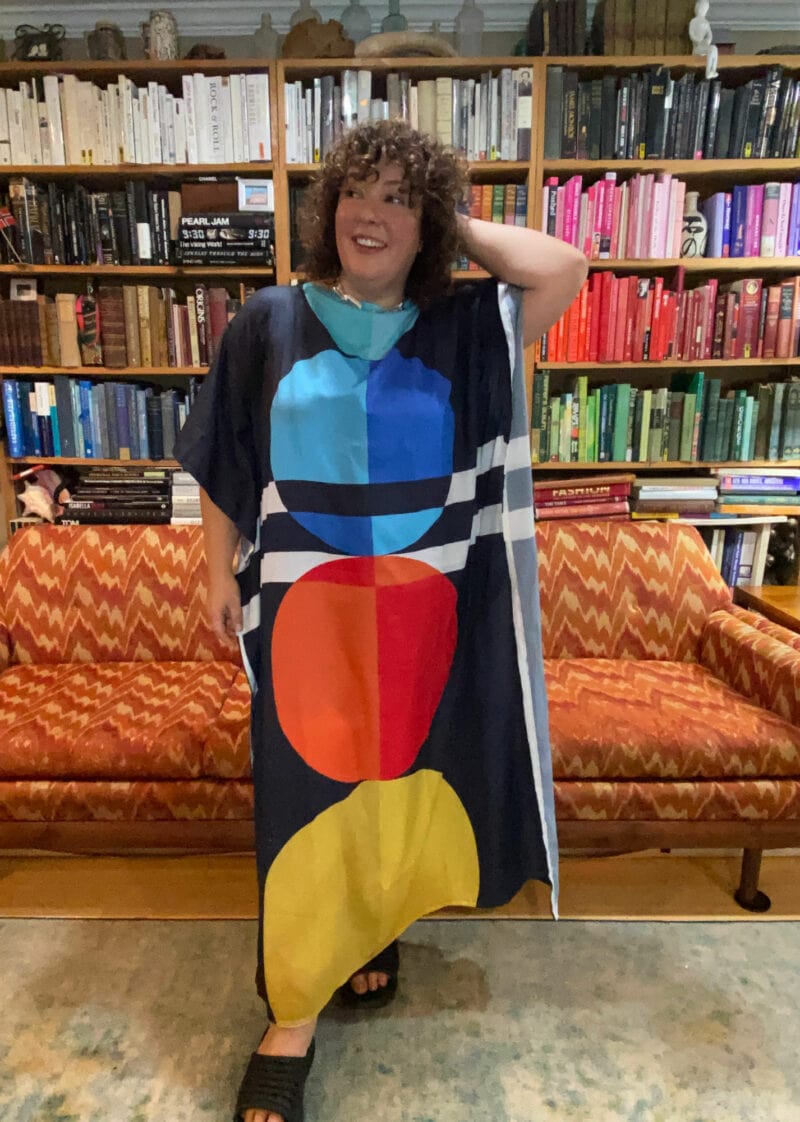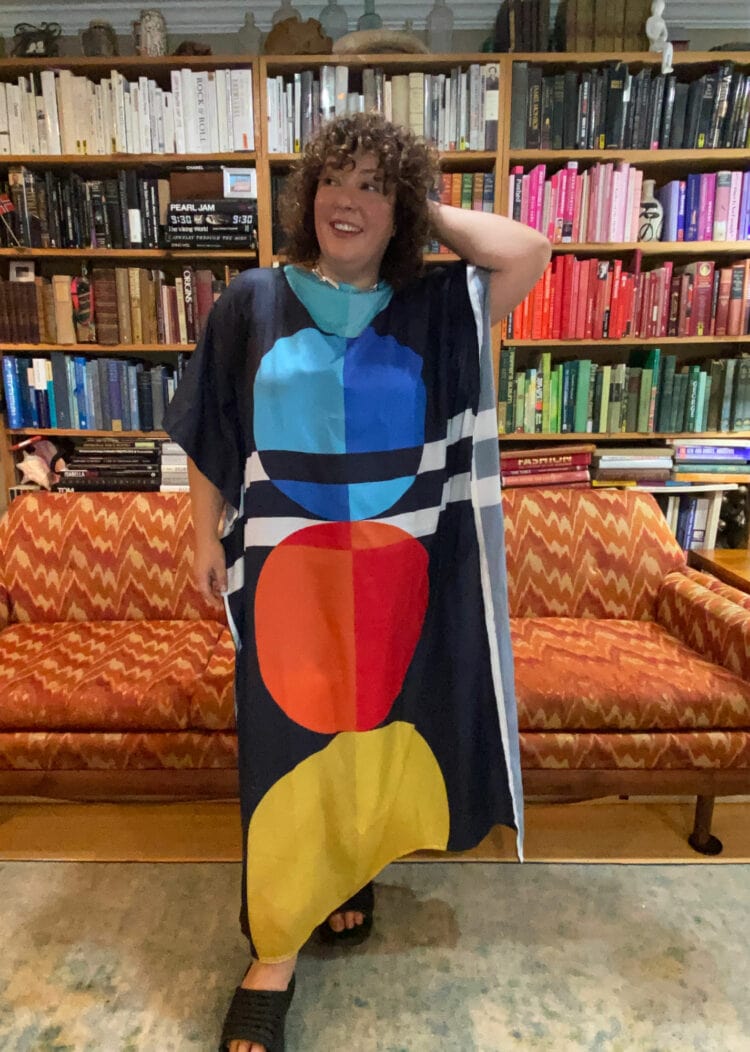 This caftan is exactly as it appears on Etsy. I cannot confirm the actual fabric, the description says silk satin, silky, etc. It feels like silk and looks like silk. It's a giant rectangle with a neck hole and the sides sewn shut. No pockets, no darts, nothing fancy beyond the badass print. It's so basic there is no label or defining front from back. I am a busty size 14 and I really don't think it would fit any larger and still be comfy and caftan-like. That being said, the Etsy shop has the same print (and a bunch of other cool prints) in plus sizes and the shop says they will make custom sizes.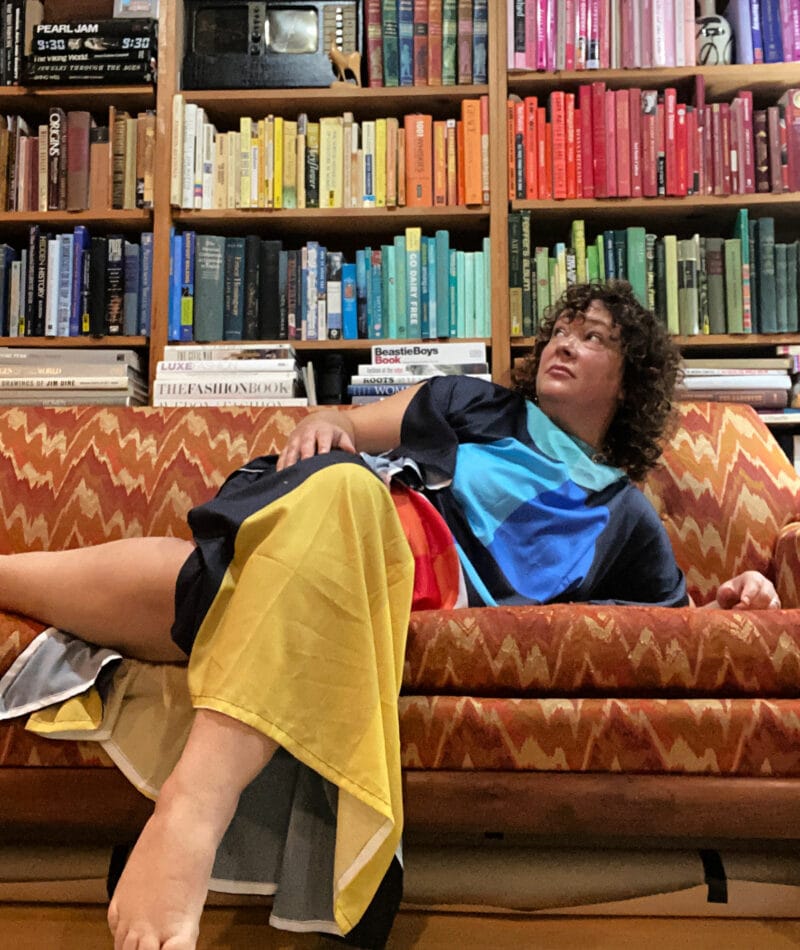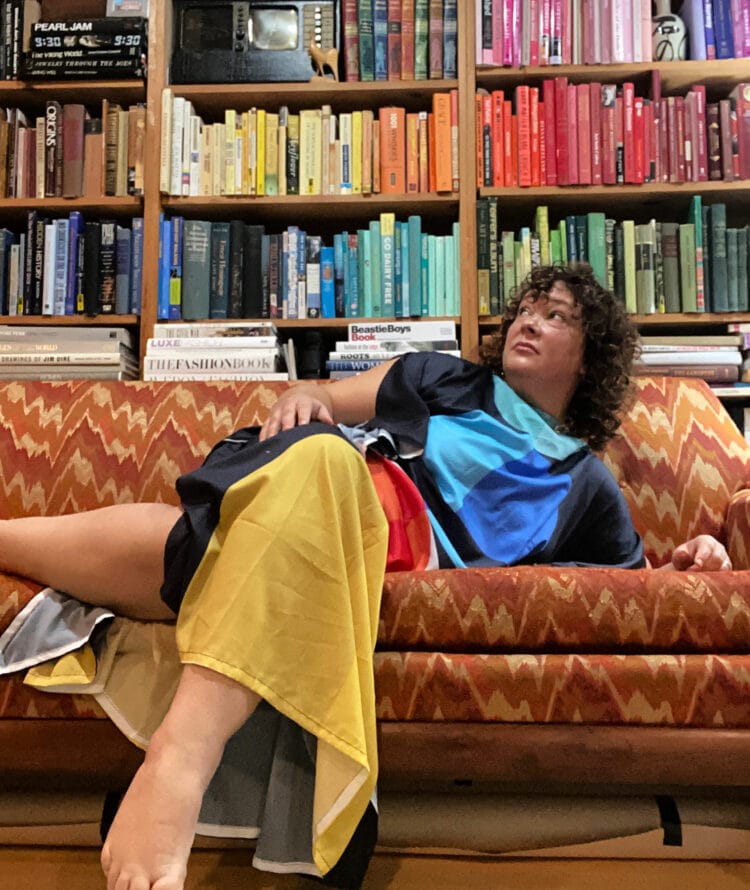 Essentially, you're buying the cool print. The rest is a Home Ec project (though neatly finished stitching). But the caftans are all under $80 with most of them under $70 and they are exactly as advertised and feel all swishy and drama and are opaque enough you can wear as a dress with skin-colored underpinnings.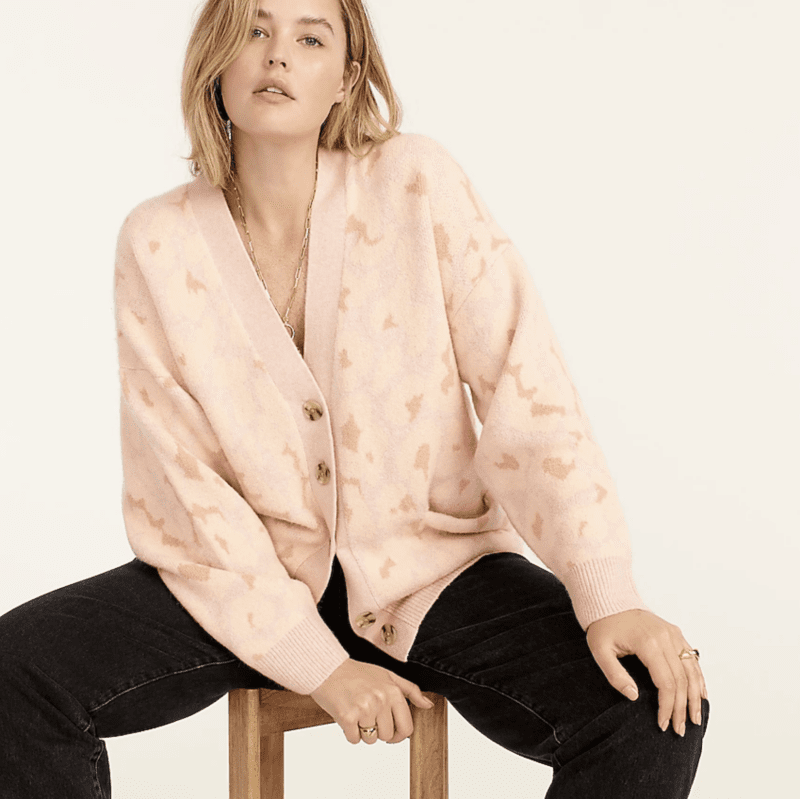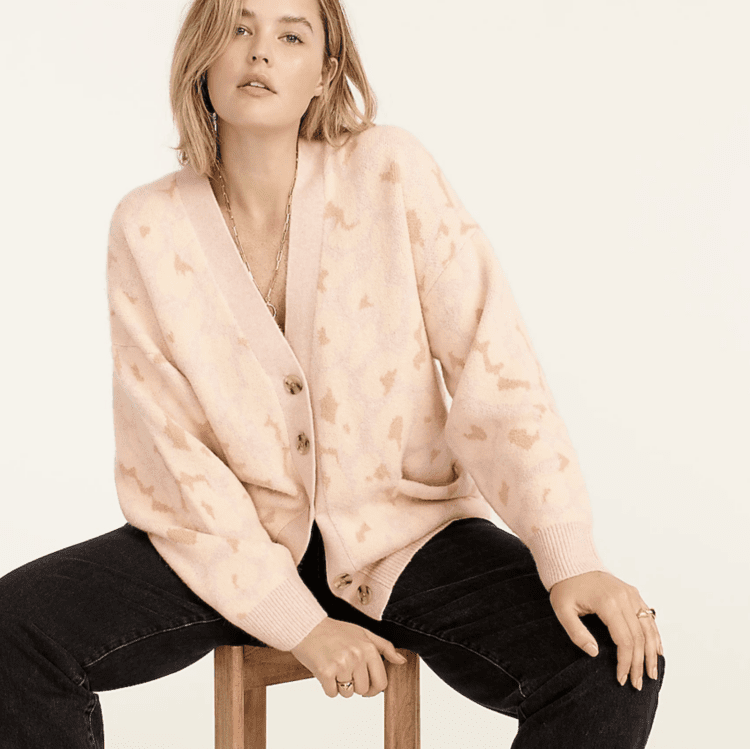 Does anyone else have a gift certificate or store credit with a retailer and you buy with it and then return and then have the credit again and keep shopping hoping to use up that credit so you don't lose it in your inbox? Just me? Well I had one with J. Crew and I ordered this sweater with it. It's not my usual color or my usual style, but it looked like the thing I could pull on over my pajamas on a cold morning as I pad downstairs for coffee. I could throw it on over a t-shirt when working from home. And I could possibly dress it up super cute for leaving the house.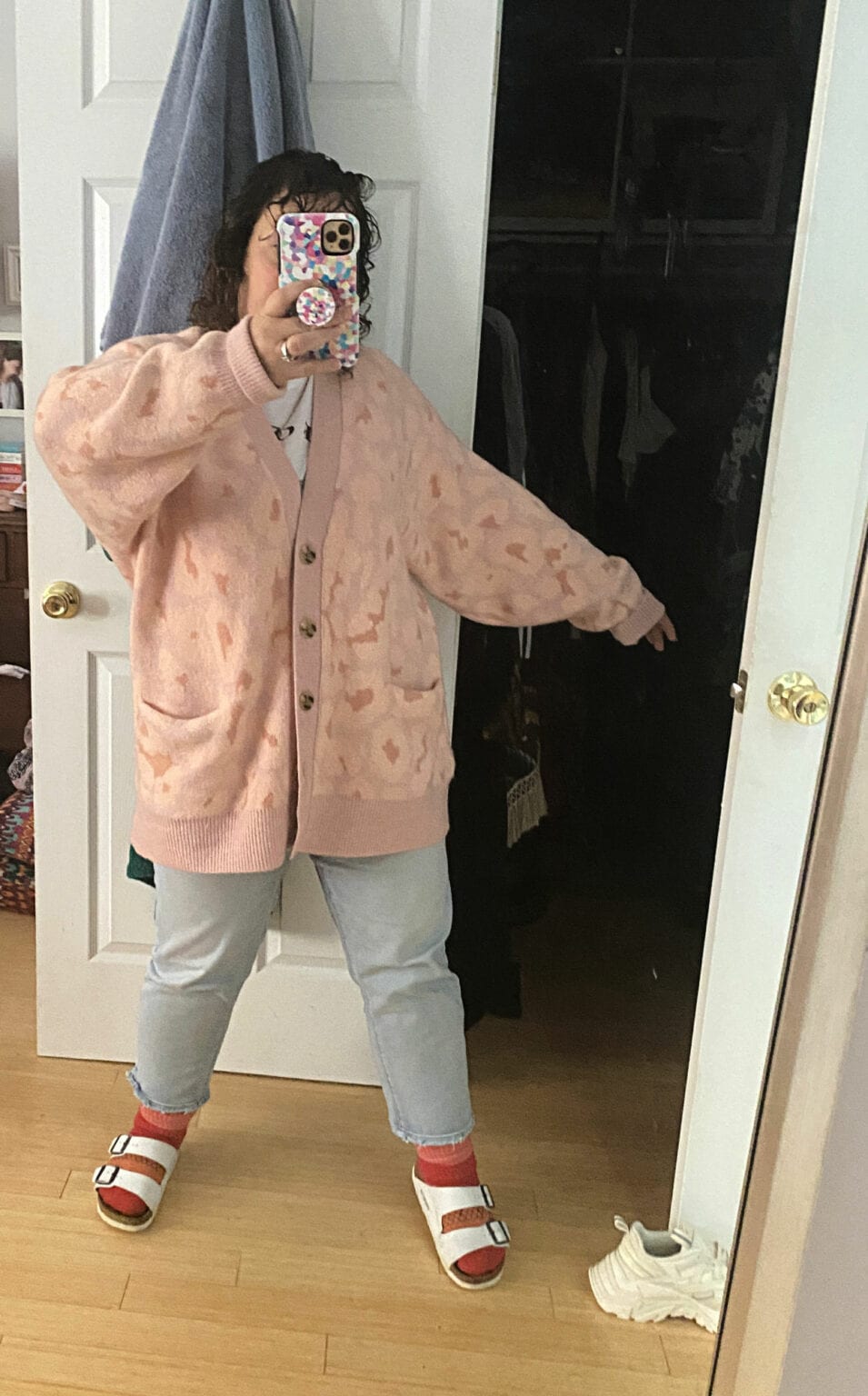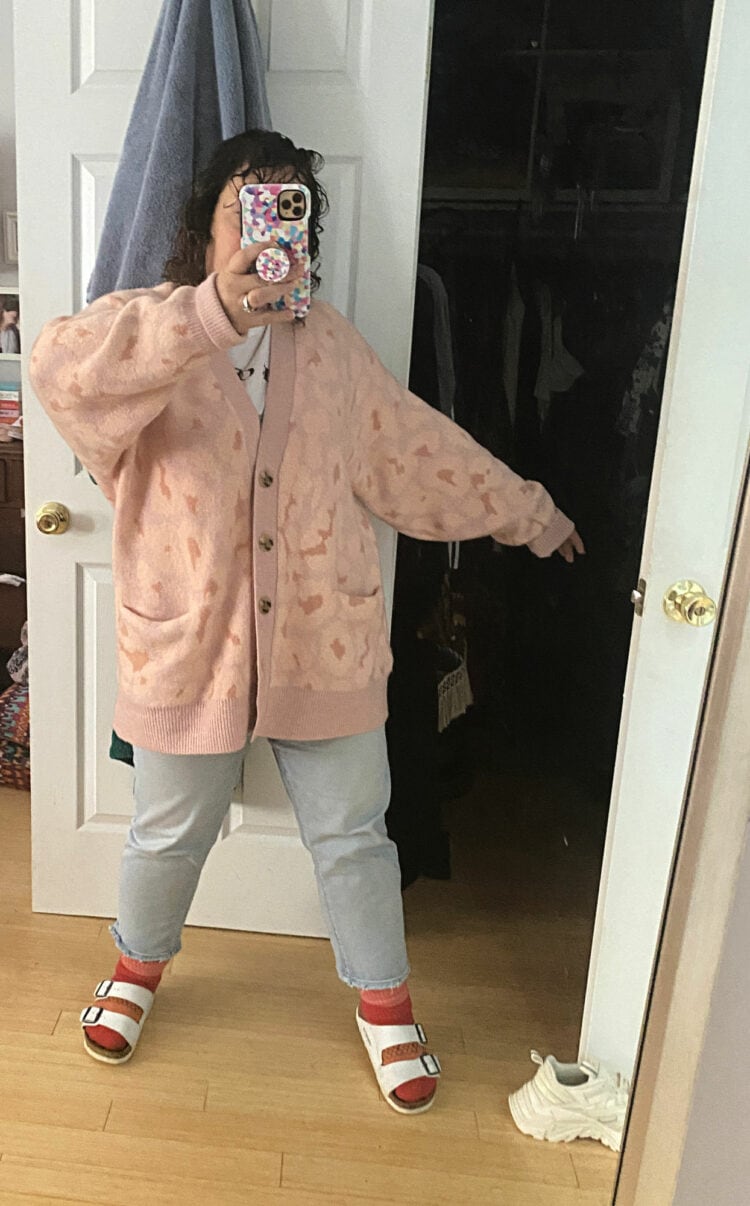 I got the L/XL even though reviews said this runs large because I haven't been a medium in a couple of decades and I would prefer this to be slouchy comfy than tailored. Well, the L/XL is BIG. I'd say it fits more 16/20 than 10/14. But I'm keeping it because it's super soft and comfy and cute and has patch pockets for my phone. It says dry clean but I plan to wear it over things and spot clean and once it's needing a proper washing, I will do inside out gentle cycle in a lingerie bag and air dry it.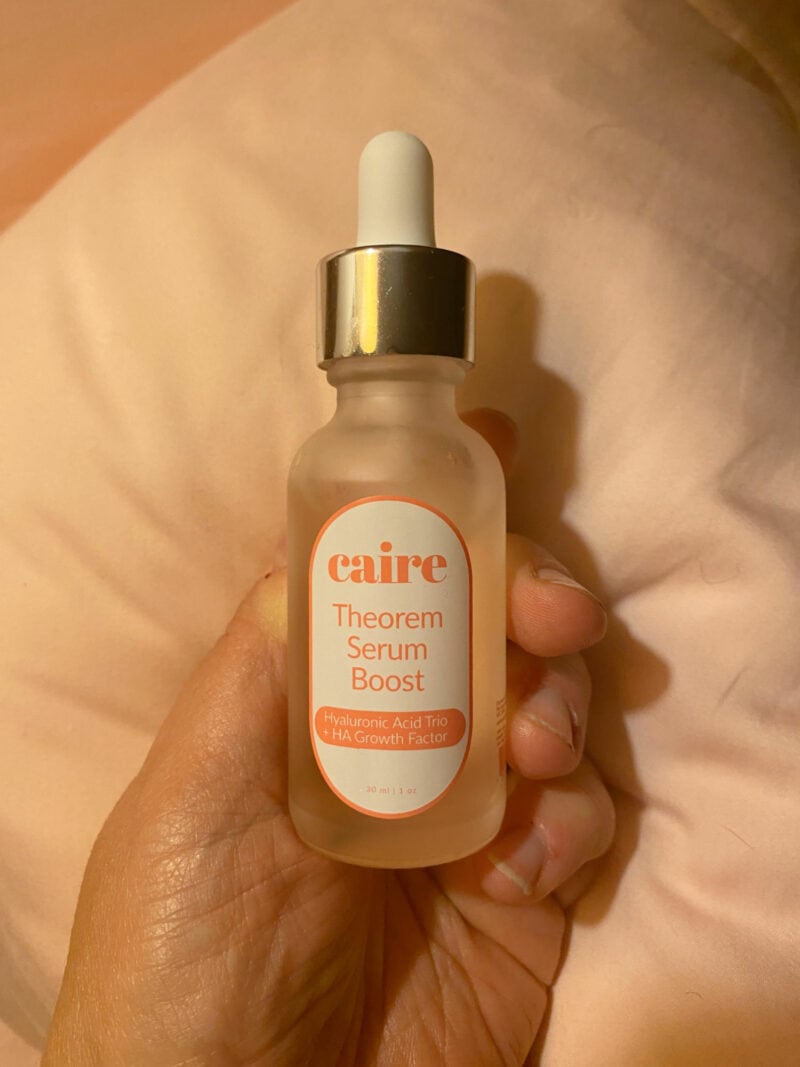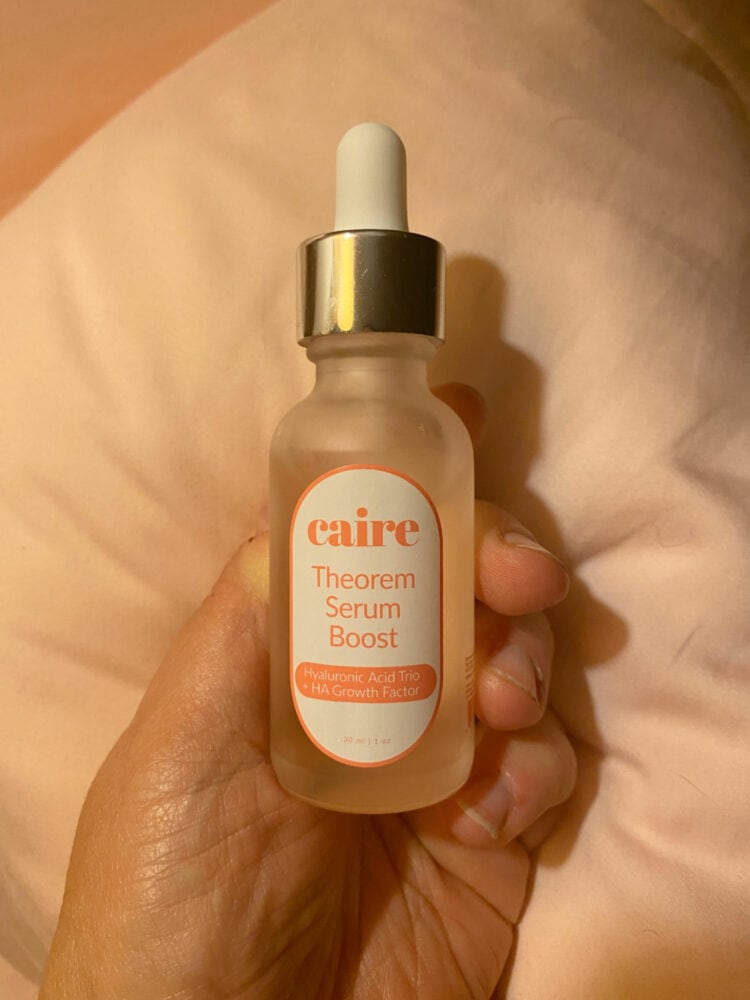 Caire Beauty sent me some of their products to try in exchange for an honest review, knowing I am not afraid to blast a crappy product here in the Friday Shop. Caire Beauty is geared towards us grown-ass women who may be feeling the effects of perimenopause on our skin. It's clean vegan skincare and they have two hero products: their Theorem Serum Boost and Triple Lift Molecule Mask. To be honest, I haven't tried the mask yet but I have tried the Theorem Serum Boost.
With Triple Hyaluronic Acid (HA) and HA Growth Factor, the serum claims to absorb more deeply into skin (face, eyelids, eye bags, neck, chest & back of hands) to instantly nourish & glow and boost Hyaluronic Acid synthesis; helps to restore skin firmness lost due to hormone decline and menopause. I don't know if any of that is true, but I figured I'd try it for at least a week each morning and evening after cleansing.
I have used hyaluronic acid before, and had mixed experiences with it. I didn't get fancy when trying this stuff out; I cleansed as usual, then applied this, then my treatment (currently using this from SeroVital Beauty), then my night cream. Usually, I apply oil over everything, but when trying this out, I didn't. And I really like this. It's thick clear goop, but doesn't feel sticky. I apply to my face, my neck, my chest, and any leftover on my hands. It makes my skin feel good, no irritation, no issues, and I wake with glowy hydrated skin. I like it so much I'll be trying the mask too.
Prive Revaux reached out this summer asking if I'd like some sunglasses. And I said sure, because hey summer and sunglasses! And then things happened and the sunglasses didn't arrive until October. I got two pairs, The New Yorker in green which are very Karen Walker-esque (the brand, not the character on Will and Grace), and The Bruce 2.0 in tortoise.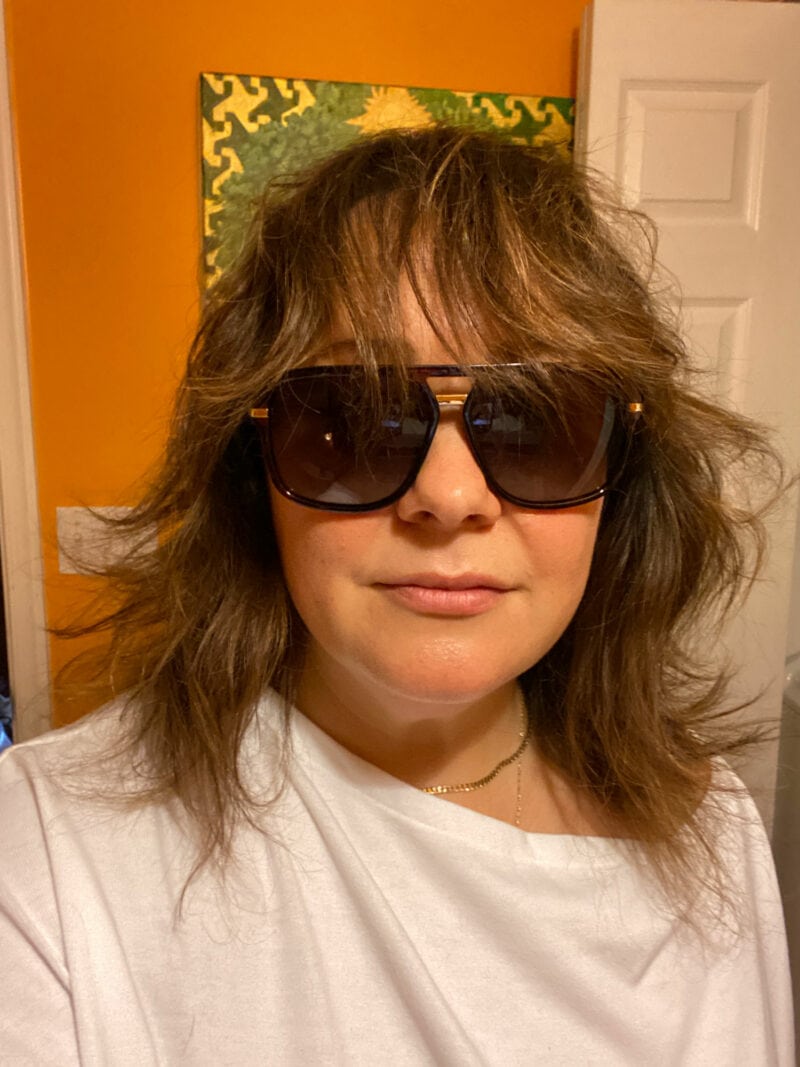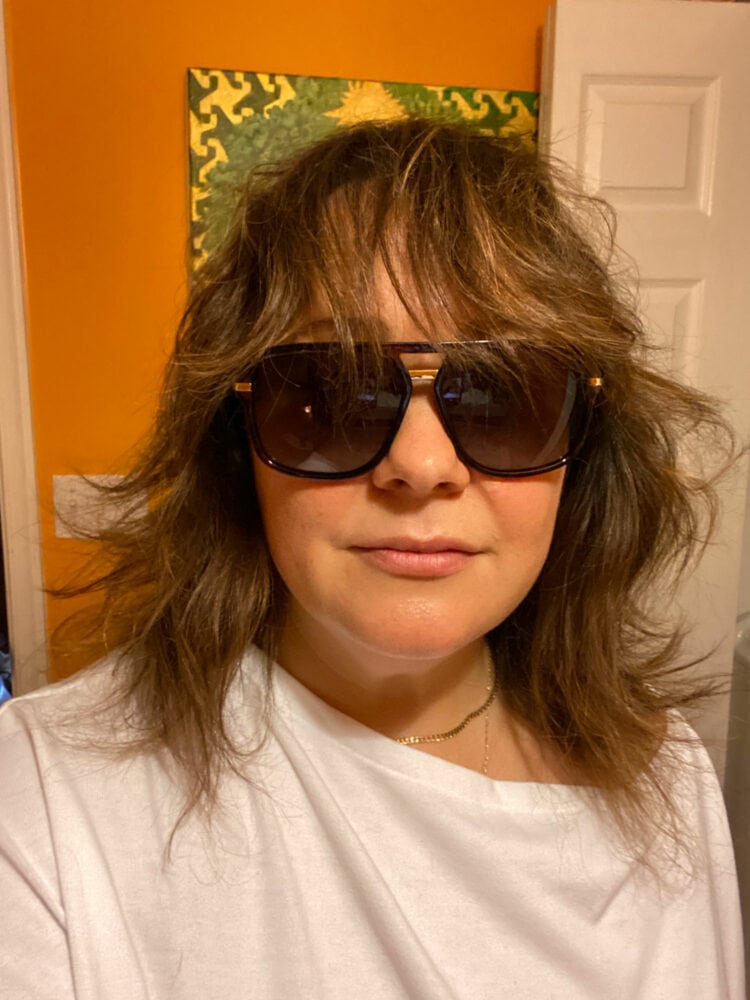 The New Yorker are awesome… but I have a big-ass head. Like I can't wear the standard Ray-Ban aviators, I have to get the 62mm. And these are a hair too small on my face which means they'll look fabulous on 75% of the female population. Well made, cool color, nicely done, too small. But the Bruce 2.0 are my jammmmm.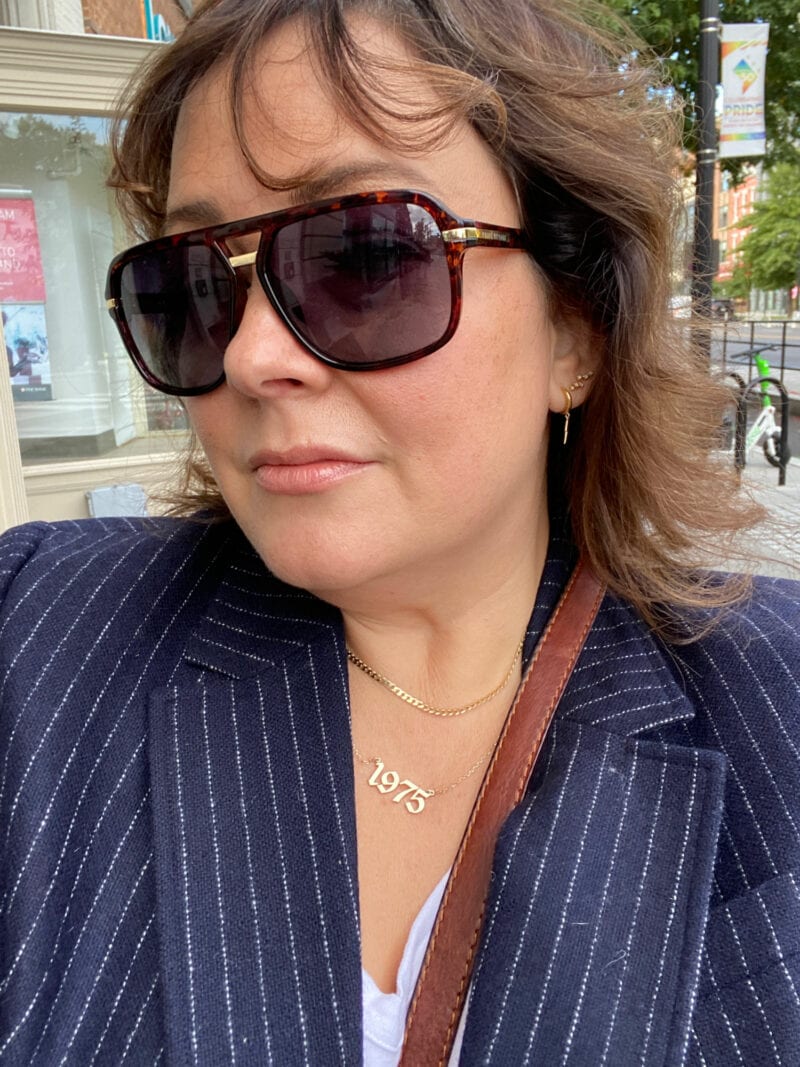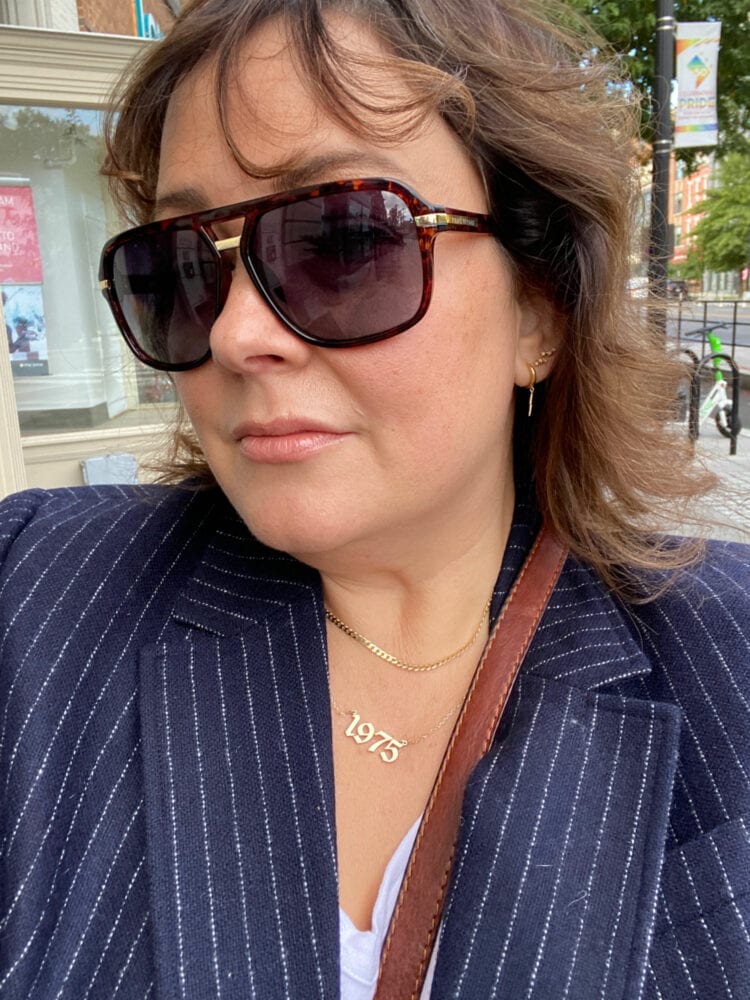 They're not heavy, they fit my face, they're polarized, they truly are anti-scratch, they don't slide down my face, and they're $40. They are very Tom Ford-esque without being a "dupe". They are a good fall to winter pair of sunglasses; the tint is slightly blue and not too dark and the frames look better with coats and heavier knits than my usual gold aviators.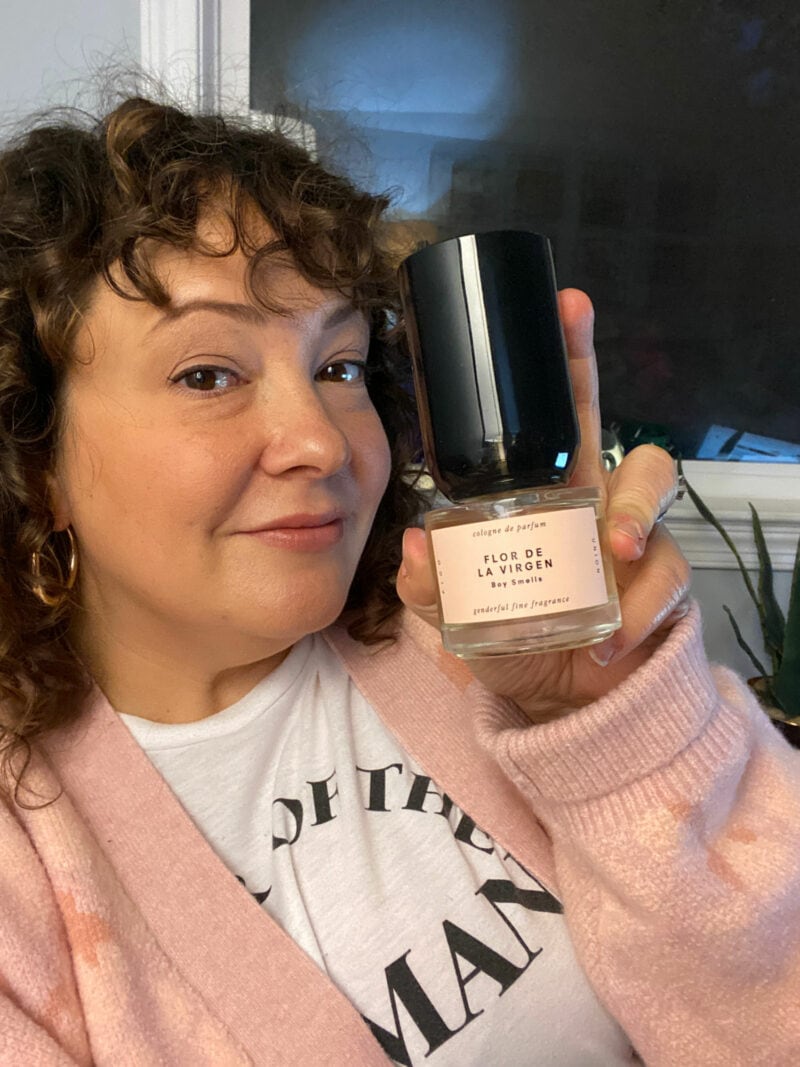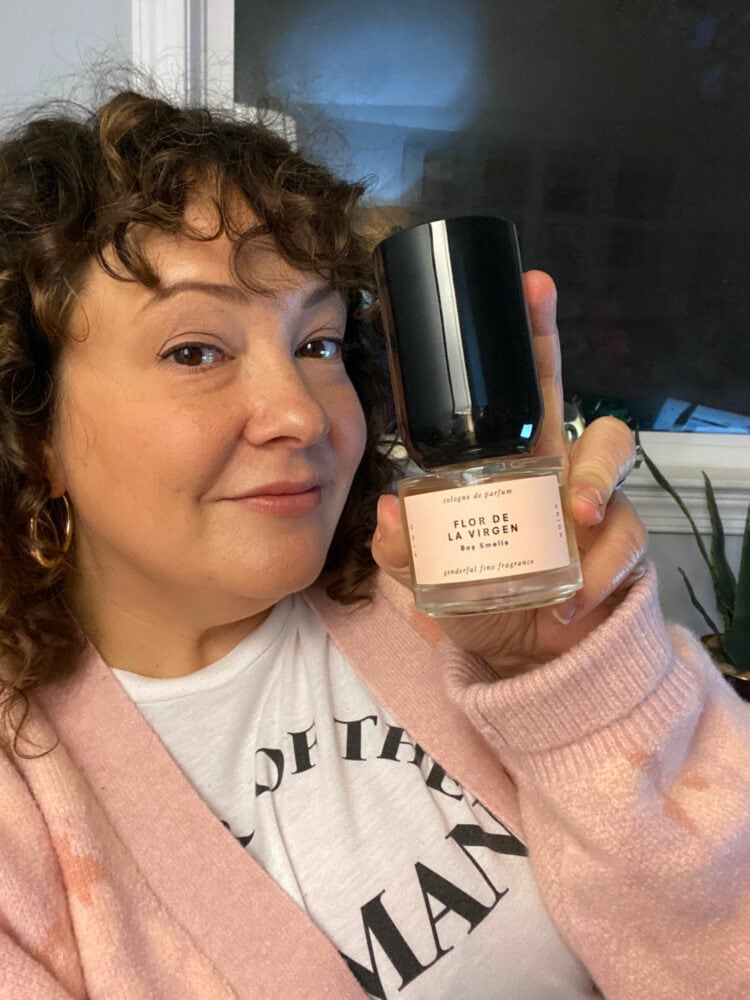 Finally, I have been looking for a new fragrance for a while. I wore Burberry for eons and got to where I just didn't like it anymore. I keep trying fragrances and they're fine or they annoy me, or they're eh. My most recent fragrance I wore through the summer was Tom Ford's Mandarino Di Amalfi which is very pretty, so pretty I bought one travel spray and bought a second. But with winter approaching it doesn't feel right. So I cold bought this scent from Boysmells based just on online descriptions and reviews.
I wanted something that didn't smell traditional but didn't smell weird. Something cozy and elegant but not too feminine. I don't like florals, I don't like sweet, I don't like powder, and whatever is in Estee Lauder's Escape makes me cough. And Flor de la Virgen (Nordstrom exclusive) for now is giving me the vibe I desire. I have only been wearing it a couple of days so I may end up hating it too, but if you're looking for a different kind of fragrance, try Boysmells. The Boysmells website has a variety pack for $28 and with it you get a credit for $28 towards a bottle.