This article may contain affiliate links; if you click on a shopping link and make a purchase I may receive a commission. As an Amazon Associate, I earn from qualifying purchases.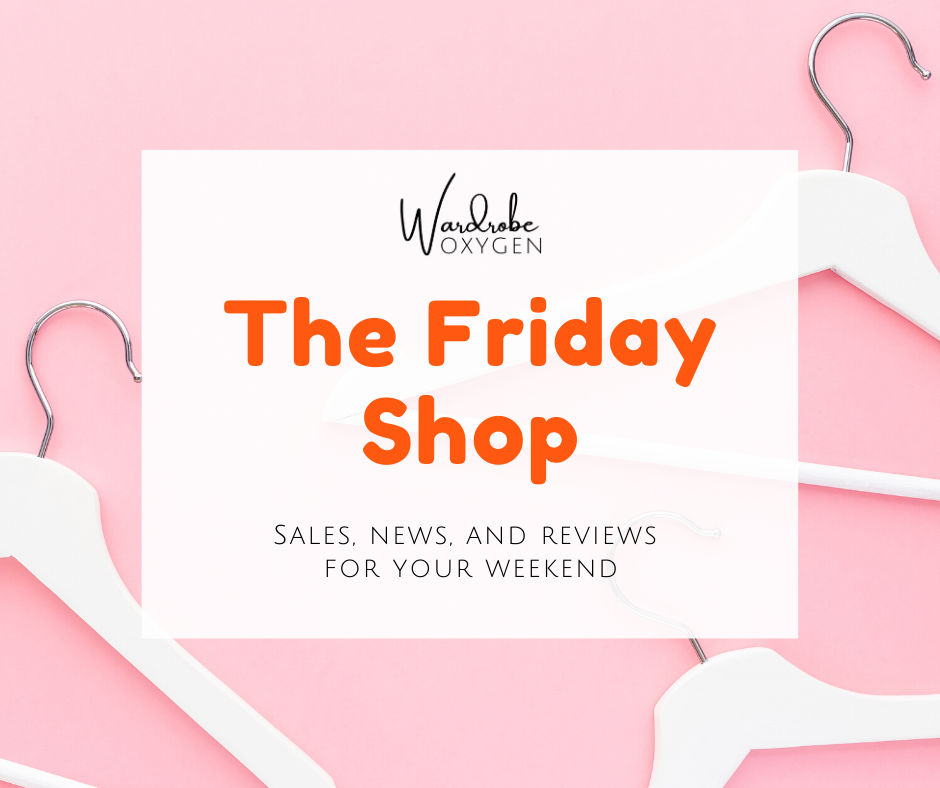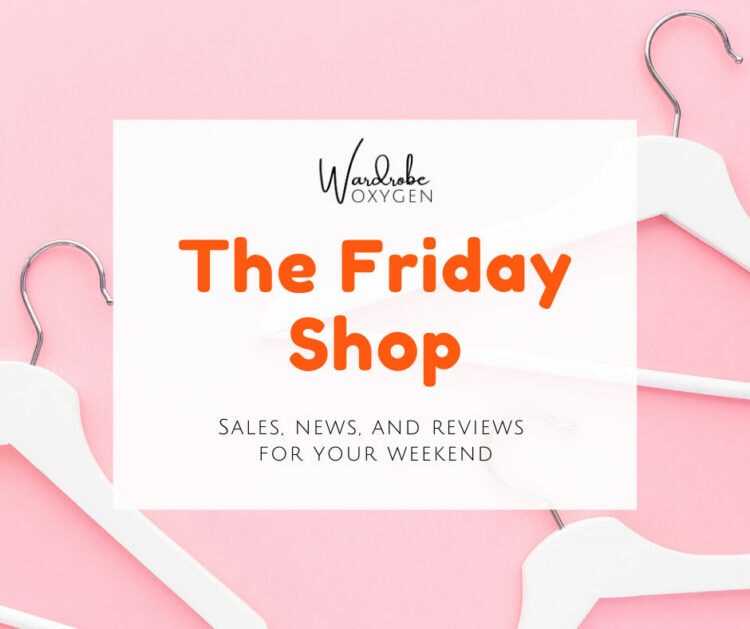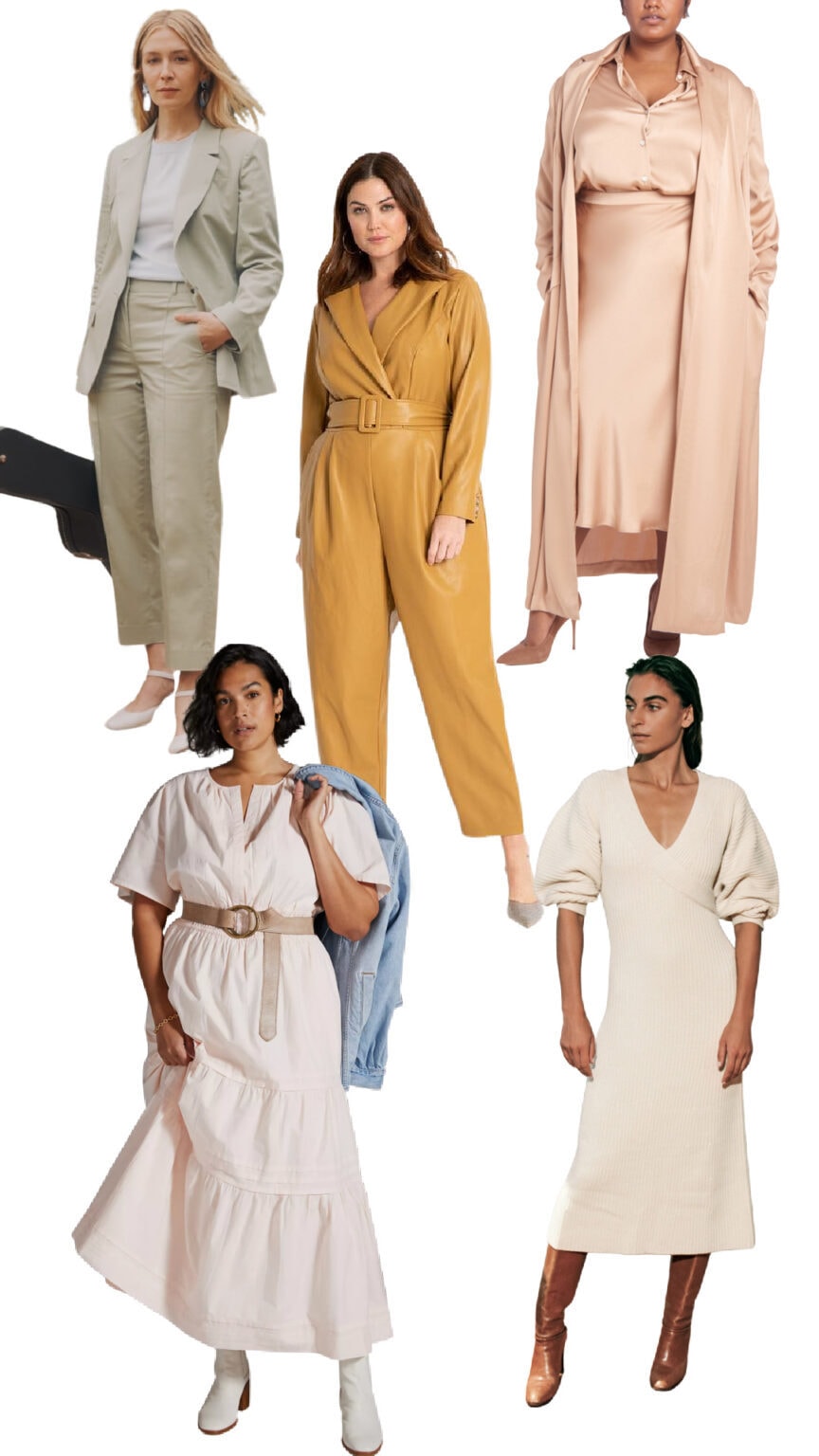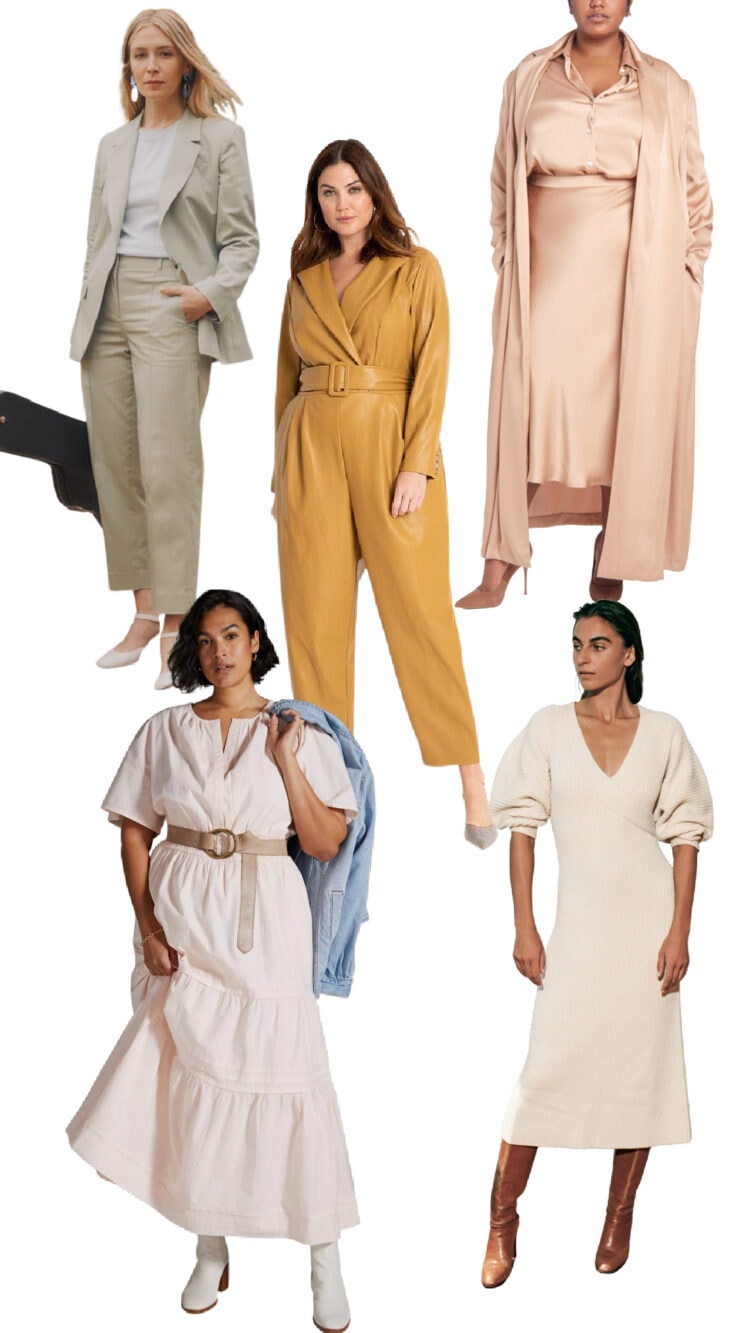 green suit from J. Crew (separates available sizes 00-24) | faux leather jumpsuit from Eloquii (sizes 14-28) | blush champagne ensemble from Pari Passu (unique sizing with three shapes from waist 34″-52.5″; tap here for size chart) | belted dress from Anthropologie (8 colors and prints in regular, petite, and plus sizes XXS-3X) | sweater dress from Mara Hoffman (3 colors, sizes XXS-XL)
Don't get me wrong, I don't think I'll ever have a closet full of neutrals, but these soft tones are really appealing to me for spring. They do such a great job of showcasing texture and luxe fabrics, and I love the combination of these textiles with leather boots for the upcoming season.
Speaking of boots, if you're wondering what shoe to get to make your existing closet look fresh and modern for spring, consider a light-colored boot. Flat or heeled, a bootie or over the knee, this is going to be the easiest way to update your wardrobe for now… and I am darn sure these boots will still be chic into the fall and early winter if not for several seasons from now.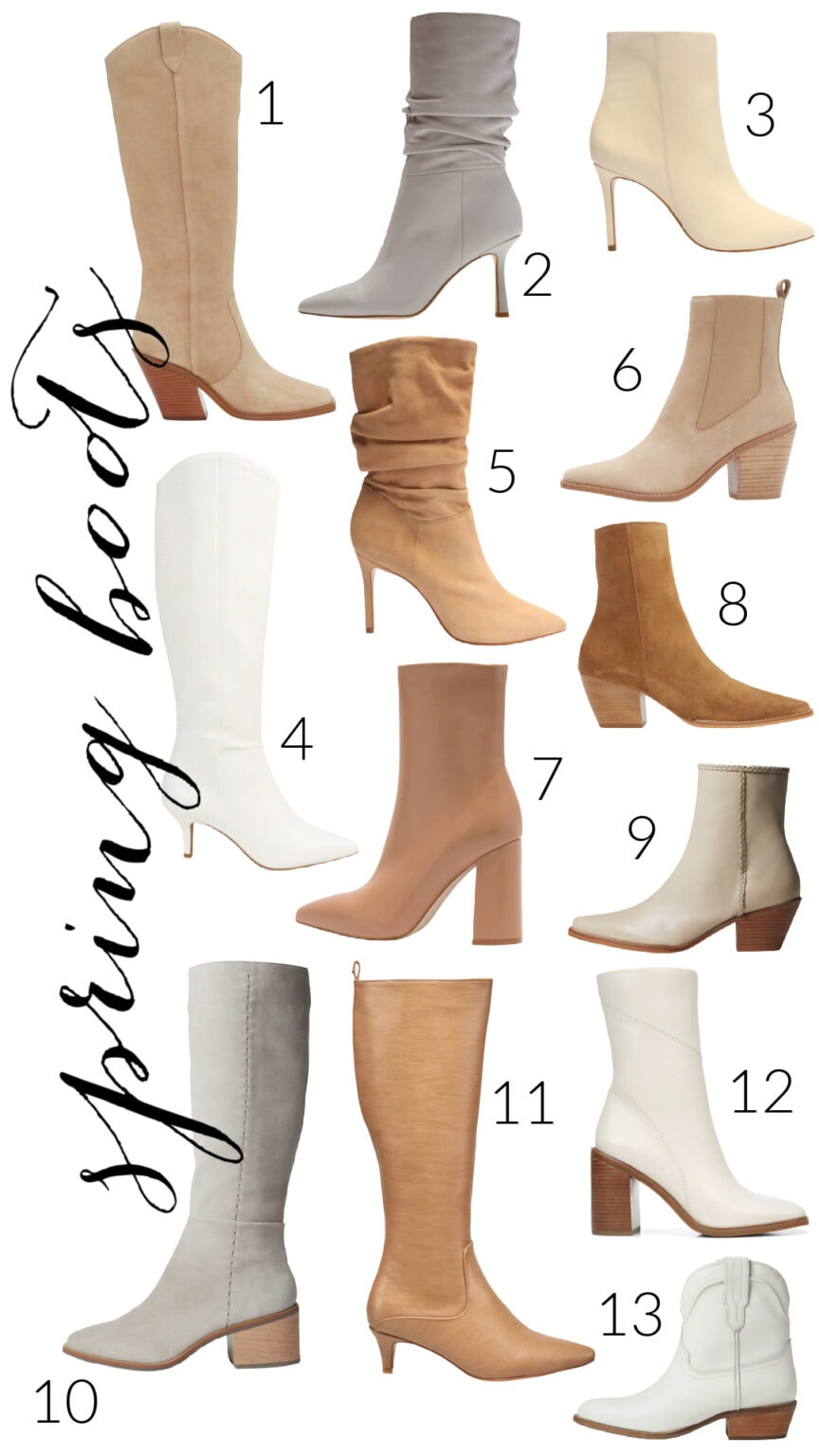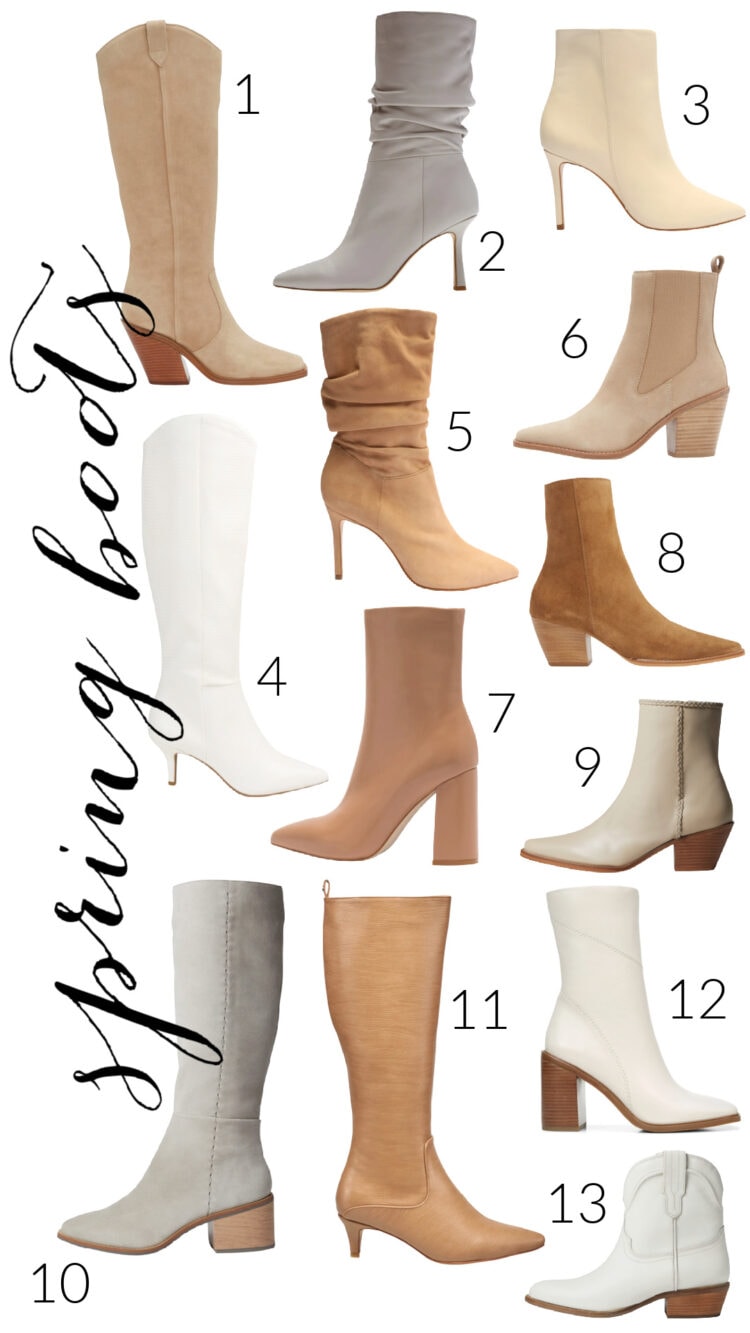 one | two | three | four (Wide Calf) | five | six | seven | eight (some colors/sizes available in Wide) | nine (comes in Wide) | ten | eleven | twelve | thirteen
Boots can be pricey, but I picked some with reasonable prices in a range of heel heights, and some are wide width and/or wide calf. I have additional styles that didn't fit in the collage in the carousel below. Note these don't have a bunch of hardware and bling; they're sleeker (or Western, which is a big trend this year) to let the outfit take the spotlight.
Pair these neutral boots with your dresses and skirts of all lengths, wear with your cropped pants and jumpsuits, consider tucking your pants (not just leggings and skinny jeans) into them. Don't be afraid to mix leathers; you can wear a cream boot with a camel belt and a cognac bag or a suede boot with a leather purse. The mix of neutrals and textures feels modern, not sloppy. A low-contrast color to your skintone will be an on-trend alternative to the nude-to-you pump or ballet flat you sported last spring.
Sale Alert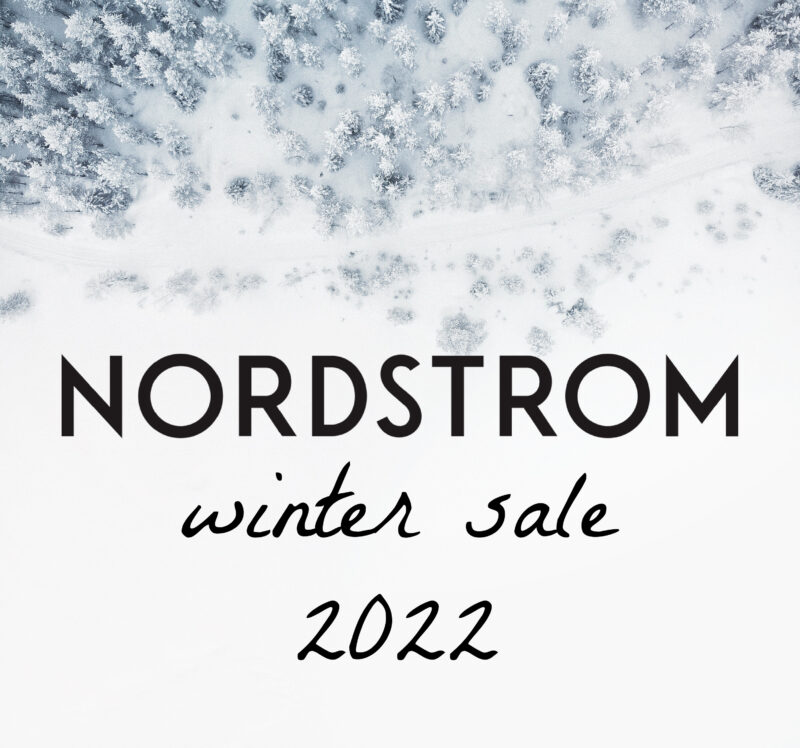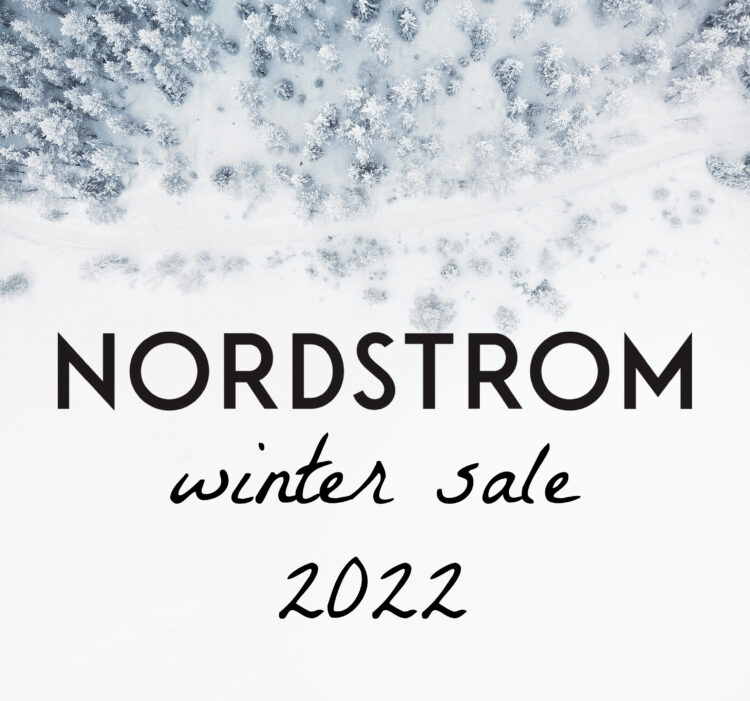 The Nordstrom Winter Sale starts today and goes through the 27th. This is a true clearance sale, where items from this winter are on major discount to make room for spring looks. I have no idea what will be in this sale since I am writing this in advance, but in the past I've gotten great deals on sweaters, boots, and winter coats for the following winter (or let's be honest, for much of the US for now and several weeks to come).
But the Nordstrom Winter Sale also has other unexpected deals – luggage and handbags, jewelry and other accessories, and a lot for home since Nordstrom stocks up on that category for holiday gifts. This is actually where I have gotten some of the best deals – Pendleton blankets at 40% off, towels 30% off, sheet sets at great prices, dog clothes and accessories for less, and really cool ornaments I normally wouldn't buy because they're pricey but this sale makes them Target prices.
I won't lie, I often buy a few of these gift-like items now on clearance and store them for next holiday season or to use for upcoming shower and wedding gifts. Because a Le Creuset is a Le Creuset and a Smeg is a Smeg, whether it was bought full price or on a discount during the Nordstrom Winter Sale!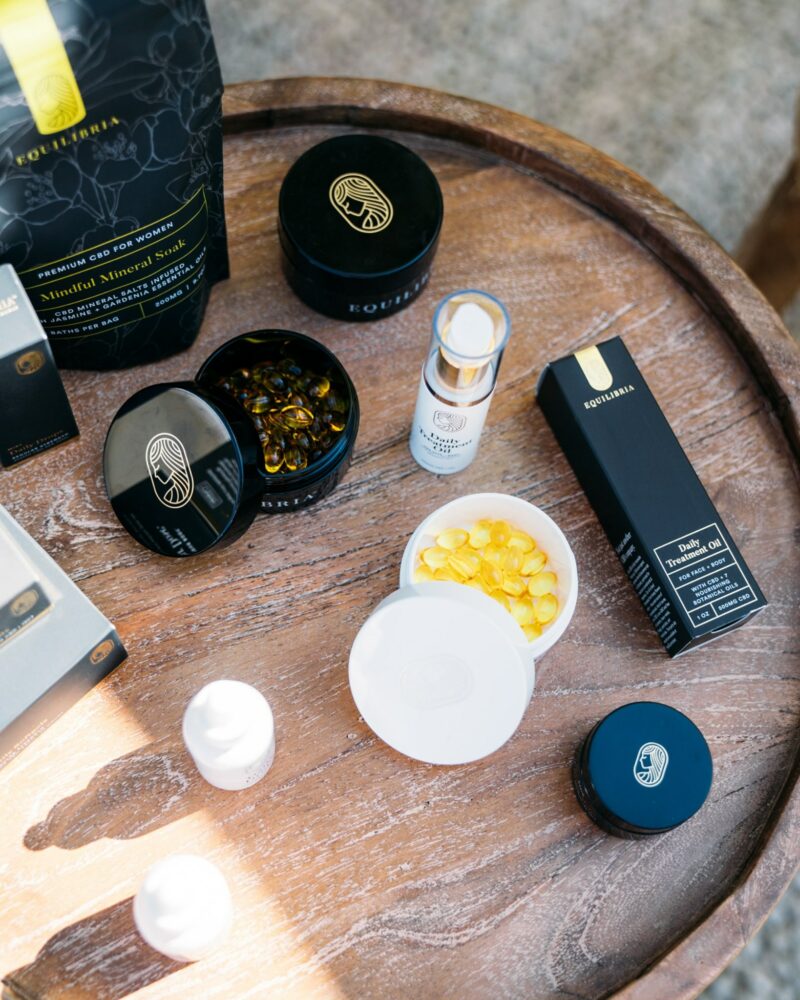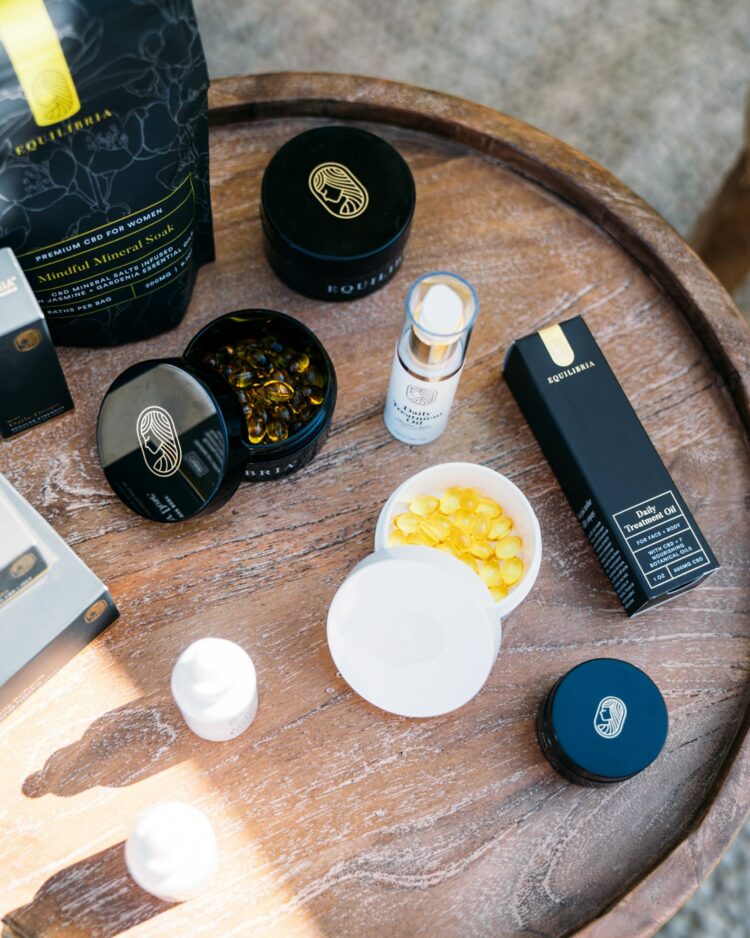 I know a lot of you have become Equilibria fans like me. Well the woman-owned organic full-spectrum CBD company is having a Galentine's event through February 27th where the entire site is 14% off. This means you can buy a single product for 14% off, stock up at 14% off, or subscribe and get 14% off your first month. On top of that, you get a 15-count pack of their Daily Gummies free with your purchase.
PLUS, if you are new to Equilibria, use WARDROBEOXYGEN at checkout and you will receive an additional 15% on your order on top of the sitewide sale and the 15 count pack of gummies. This is a great way to save on a product I have found helps me with sleep, stress, and inflammation.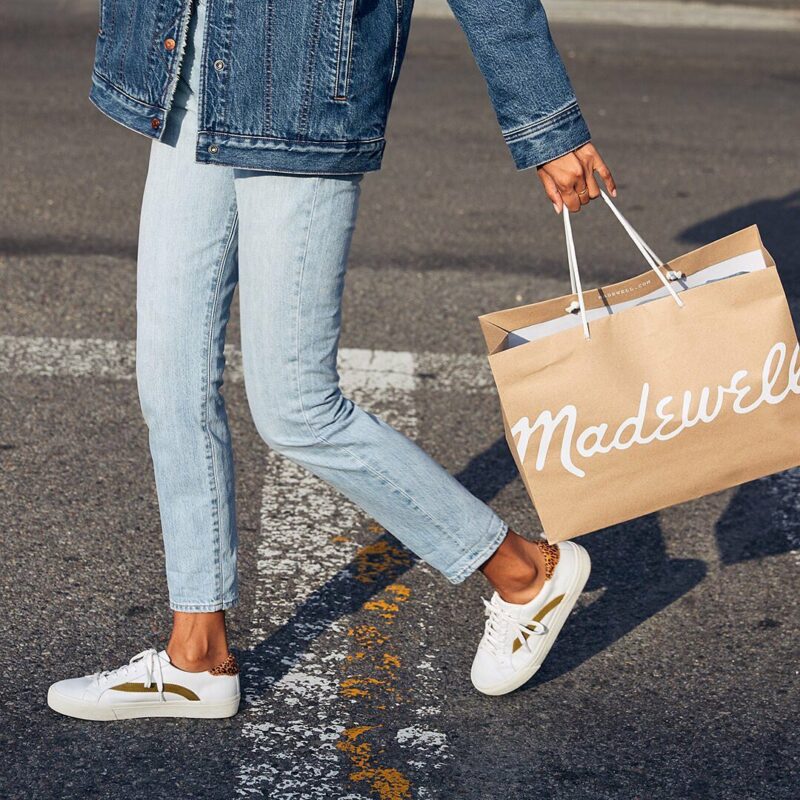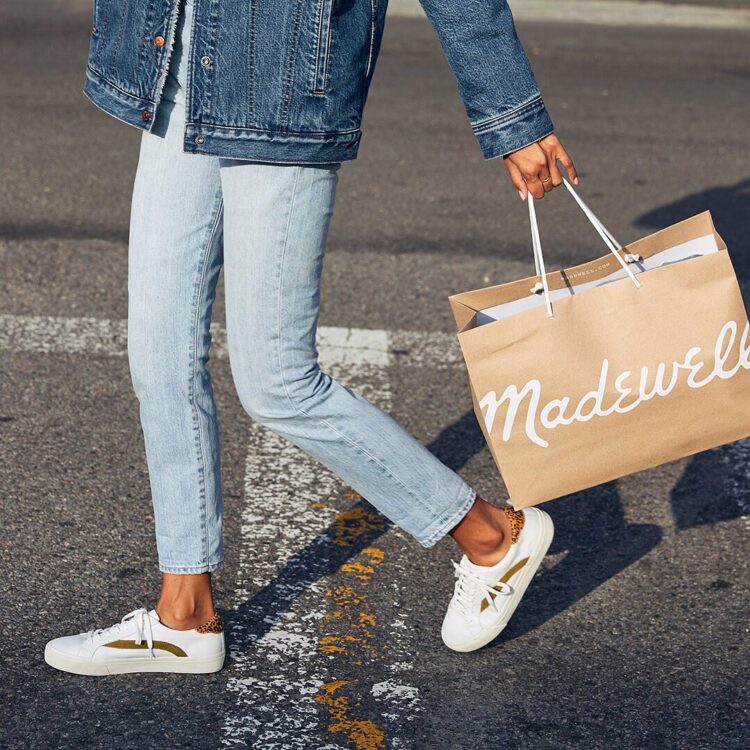 Madewell has an additional 20% off sale merch with promo code SPREETIME. Plus with this promo code you will receive $25 off if you spend $150 or more. This sale ends the 24th of this month; I recommend shopping early to get the best selection of items and sizes. Madewell offers extended sizing and beyond fashion has great bags, shoes, and other accessories.
What I Bought and What I Thought
Some time at the end of last year I came across a TikTok of a woman who used KT tape between her brows to smooth out her 11's. She did a strip from the center arched up over her brow and then another overlapped over the other brow, creating a wide "V" which she wore overnight. The next morning, her 11's were reduced.
I was sold… well I didn't have to be sold because I had a half-used roll of KT tape in our linen closet. I tried it and was impressed that it did work, though it's not permanent. You really need to do it every night and it won't turn back time or stop more from happening, but it does help relax the brow a bit.
I shared my experience on Instagram Stories and folks said I should instead try Frownies, which is a woman-owned business, the product is gentler to the skin AND the used product can be composted since the ingredients are only natural weighted unbleached craft paper and Dextrin, a corn-based adhesive. I'm down for creating less landfill waste and being kinder to my skin so I bought a box.
In a box of classic Frownies, you get 144 triangular-shaped pieces. They're all connected in a long sheet that is folded up, with perforation to easily tear off a triangle. They look like brown craft paper with a glossy side that when moistened, gets a bit sticky (and has a slightly minty smell so it feels a bit like a heavy-duty postage stamp). Apply it to dry skin and hold until it dries. It will hold your skin in place, preventing you from furrowing your brows while you sleep and smoothing any creases.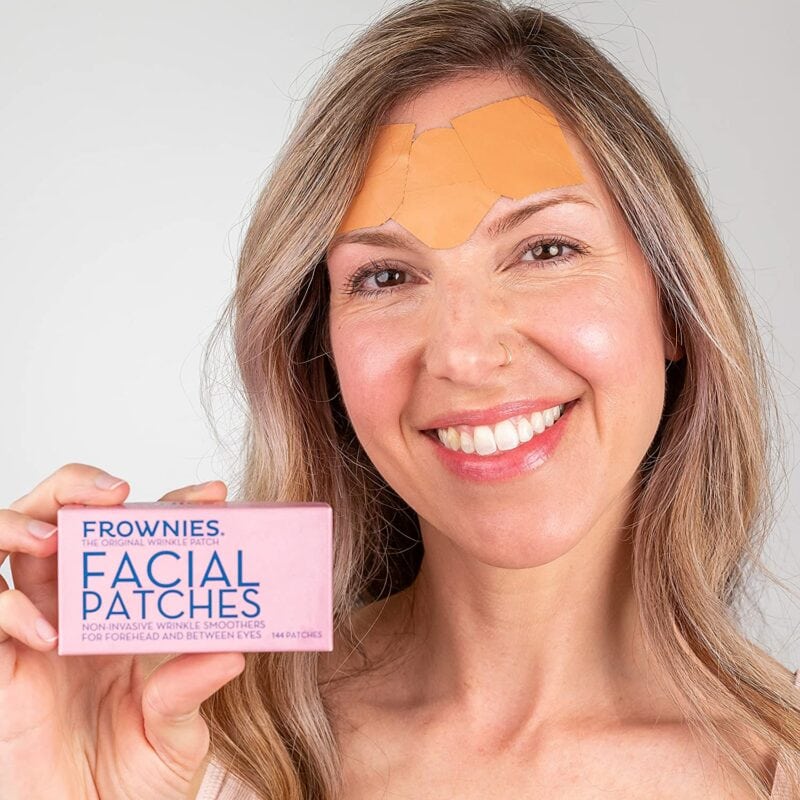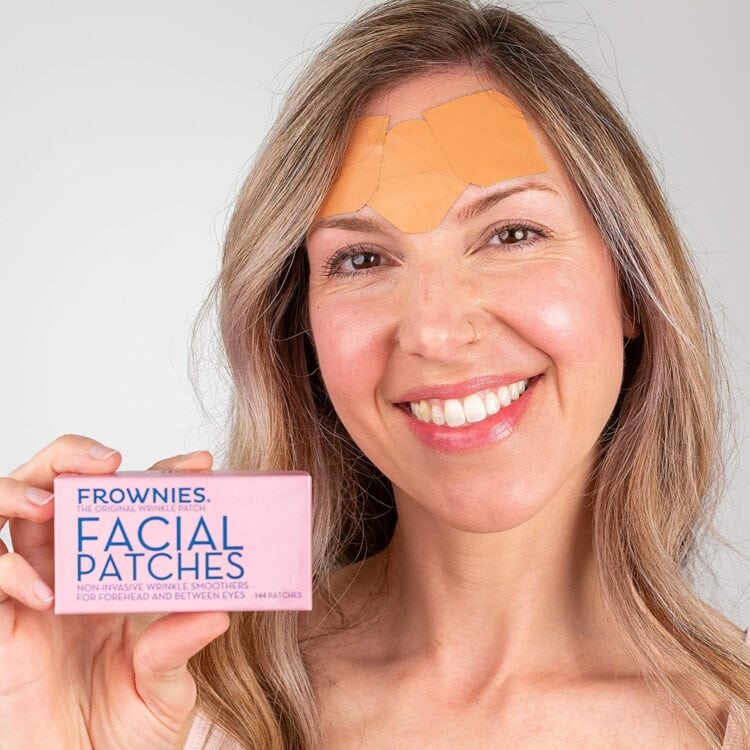 You can actually use this anywhere on your face and you will see folks from Frownies on social media layer them up covering the whole forehead. They layer well, and stay in place if your skin isn't all oiled and serumed up. Frownies says to let moisture absorb before applying, but I find that they really don't want to adhere unless they're going on freshly cleansed and dry skin that has not been moisturized. I wash, pat dry, apply Frownies, and then apply my serums and creams around them.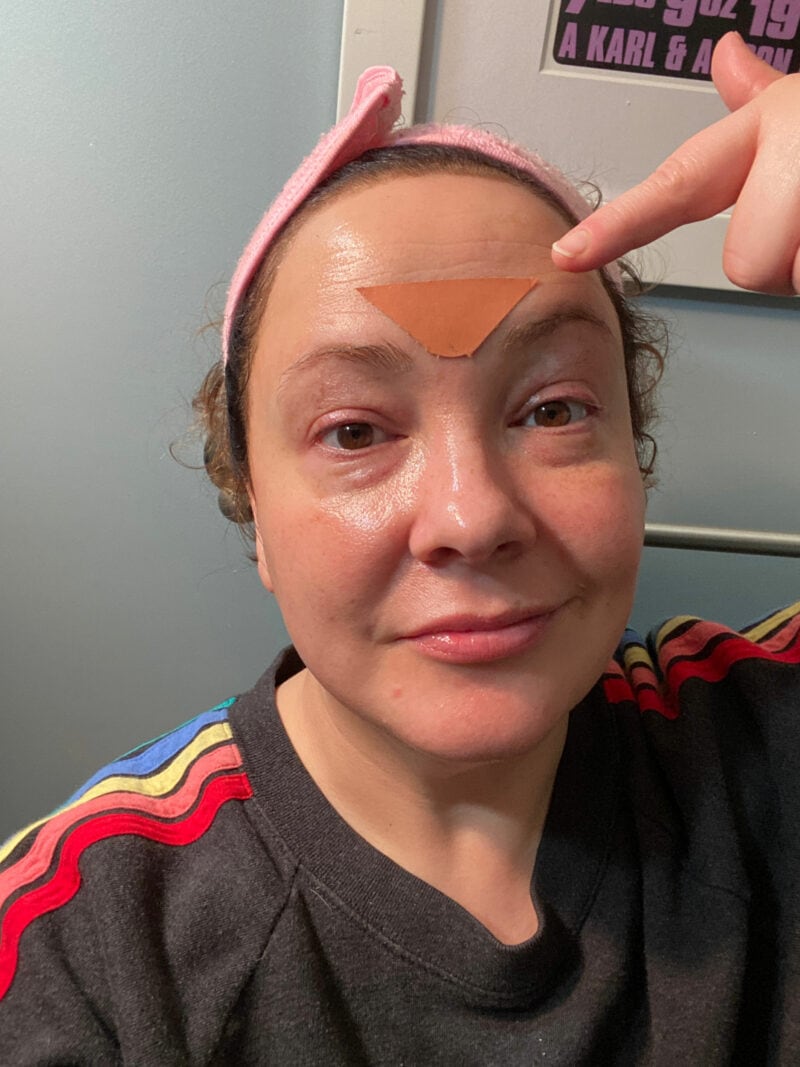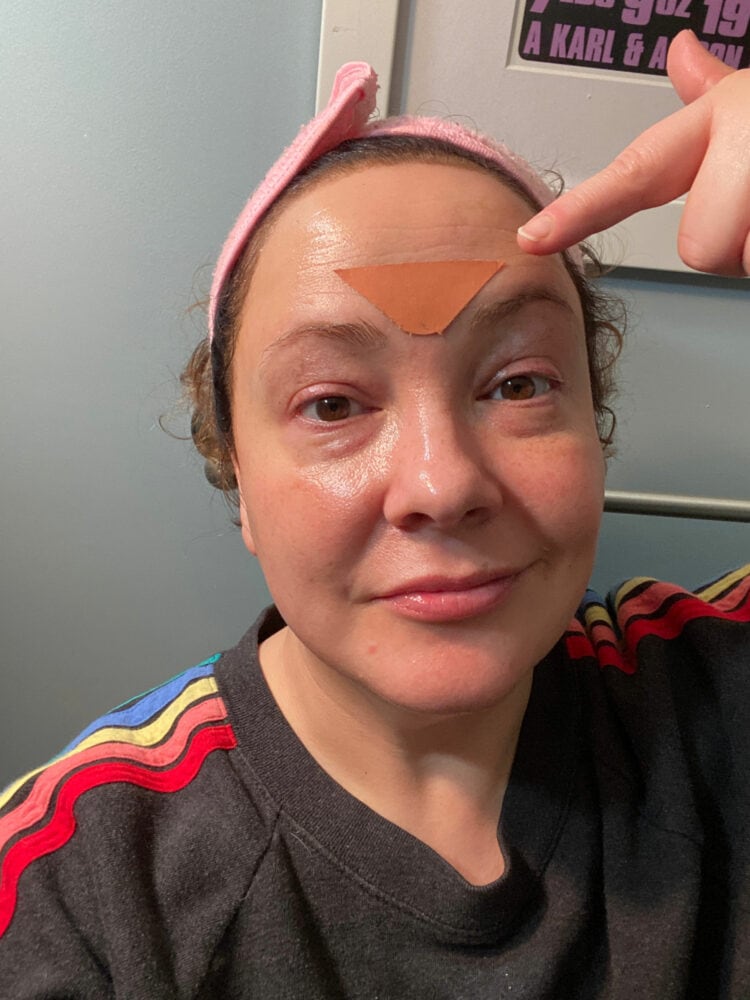 When I do have cream on my forehead (some nights you know you just need it, and some nights you forget about the Frownies), I've found by holding the Frownies in place for a while they eventually stick. I may look like a wackadoodle, but I take my spa headband that I use to hold back my hair when I wash my face and wear it like a sweatband over my forehead while I brush my teeth, etc. and it will be enough pressure to hold the Frownie in place so it will stick all night.
Unlike KT tape, Frownies leaves no residue (sometimes KT tape has for me), and they come off without any tugging of the skin. And, I just gather them up and add them with my food scraps to add to my compost. But unlike KT tape, they aren't as easy to use. KT tape goes on even if I am oiled and lubed up with all my nighttime skincare routine stuff.
I'll be honest, I don't wear these every night. I forget, I don't care, I want to look cute… there are plenty of reasons. But when I do wear them, I do see results. There's a reason why this product has been on the market for 130 years… it does what it says it will do.
Will you look ridiculous wearing Frownies? Yes. But you likely already look ridiculous with your mouth guard to stop grinding, your silk bonnet to protect your hair, your nasal strip to help with breathing, your earplugs or headband earphones to drown out noise or add white noise, your eye mask, your oiled-up skin, etc. etc. etc. It's not for everyone, but I have to say I am impressed… when I remember to wear them!