This article may contain affiliate links; if you click on a shopping link and make a purchase I may receive a commission. As an Amazon Associate, I earn from qualifying purchases.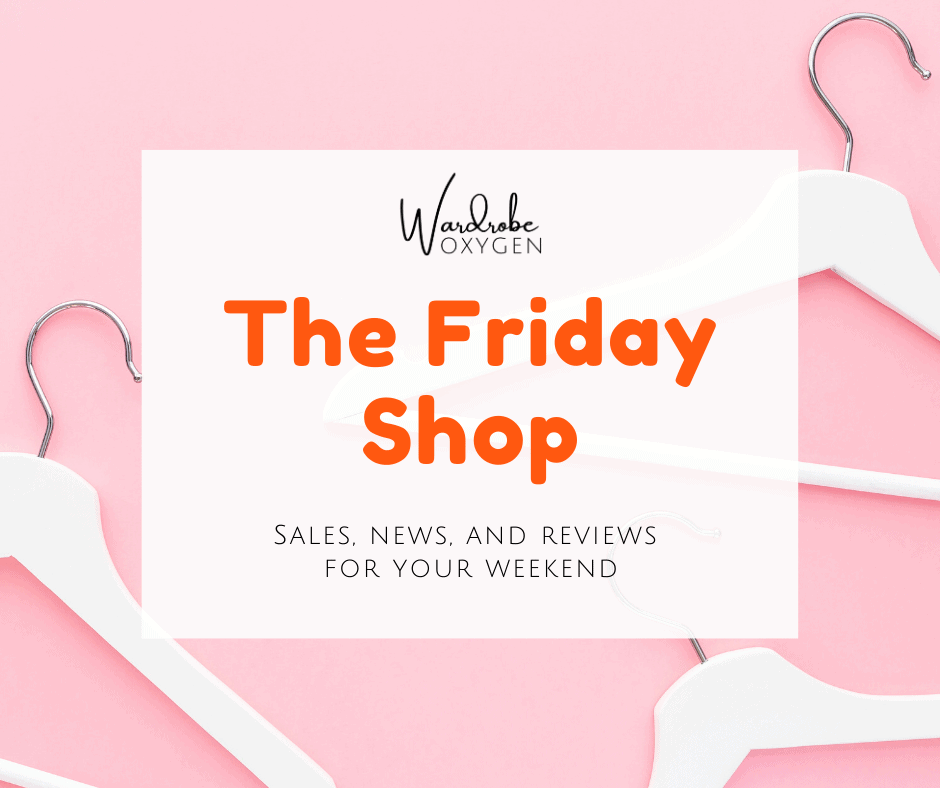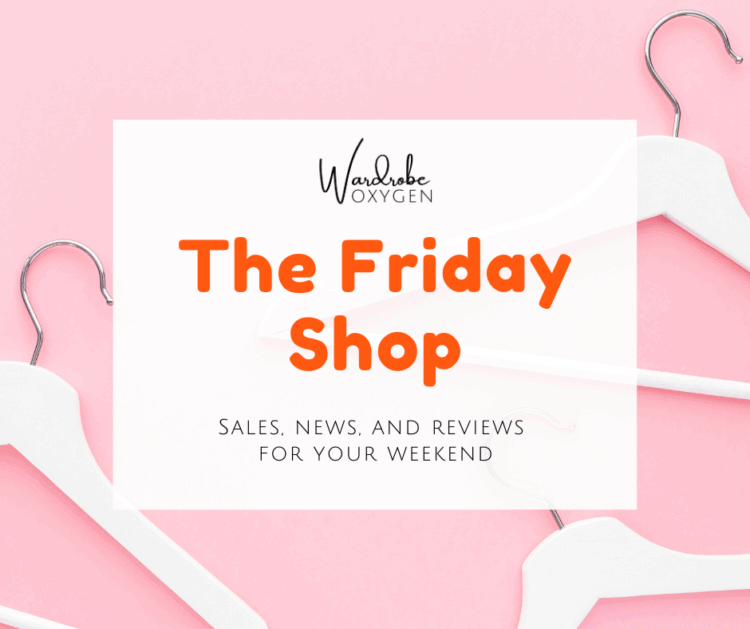 Retail News
The enduring fan base that boosts Bath & Body Works. (Retail Dive)
Aurora James, the founder of Brother Vellies and the 15 Percent Pledge is changing – and challenging – how we think about fashion. (Fashionista)
Walmart is being very strategic with their recent focus on fashion. (CNN Business)
Hey Midwest readers, DSW is coming to a Hy-Vee near you! (Marketwatch)
Neiman Marcus Group plans store layoffs in pivot to e-commerce. (Retail Dive)
Can selling deadstock solve fashion's waste problem? It's complicated. (Vogue Business)
Sale Alert
Colleen Rothschild's birthday is tomorrow and in celebration, her beauty line is offering 25% off sitewide with promo code BDAY25! This sale ends Tuesday. This is a great deal because usually with Colleen Rothschild Beauty it is select items on sale, not everything. I have written many times before about Colleen Rothschild and the products I like; you can read my Colleen Rothschild Beauty reviews here. If you haven't tried the line, I highly recommend the Discovery Kit which has travel sizes of all the bestselling products. All the containers are TSA-friendly sizes, all but one container is refillable, and it comes in a really lovely dopp kit-style bag that I use regularly for travel. And this is a random, but Colleen Rothschild Beauty carries this roller key that you can use on any tube-style product to squeeze out the last drop. I use it with CR products, but also for toothpaste and anything else with a tube. It's $10 and has more than paid for itself with how we use it even in the kitchen for things like tomato paste in a tube and even for craft and art supplies! And while I love a heck of a lot of CR products (obsessed with the cleansing balm and have used for years), right now I am really into this scrub. I keep it in the shower, my husband and I both use it. It's gentle yet incredibly effective. I use it once a week and can see the improvement in my skin without being all dried out or red and raw.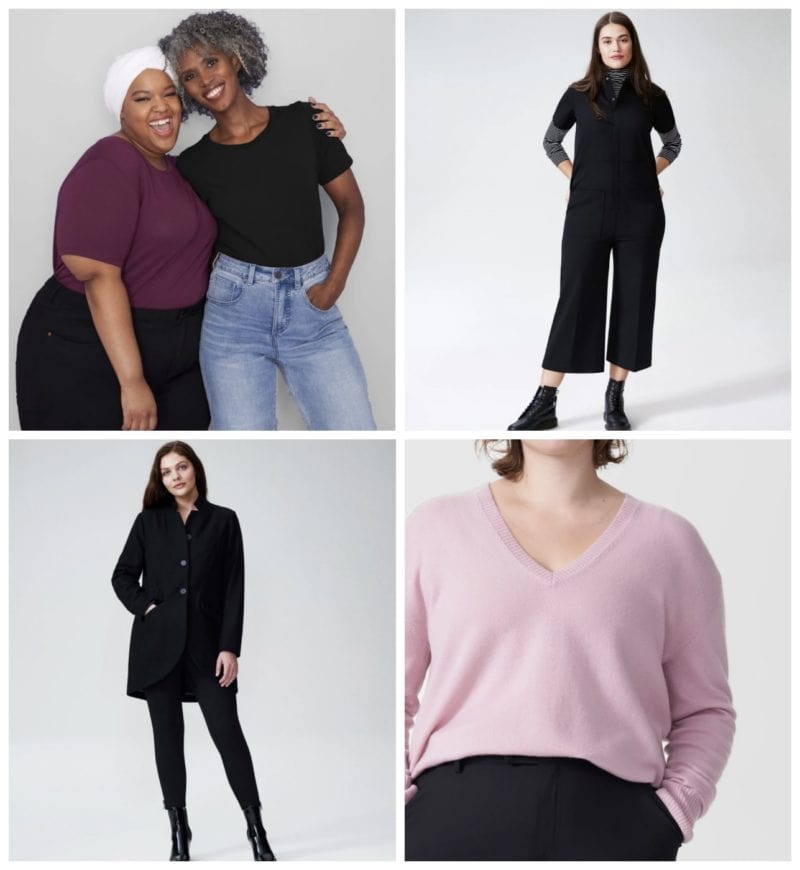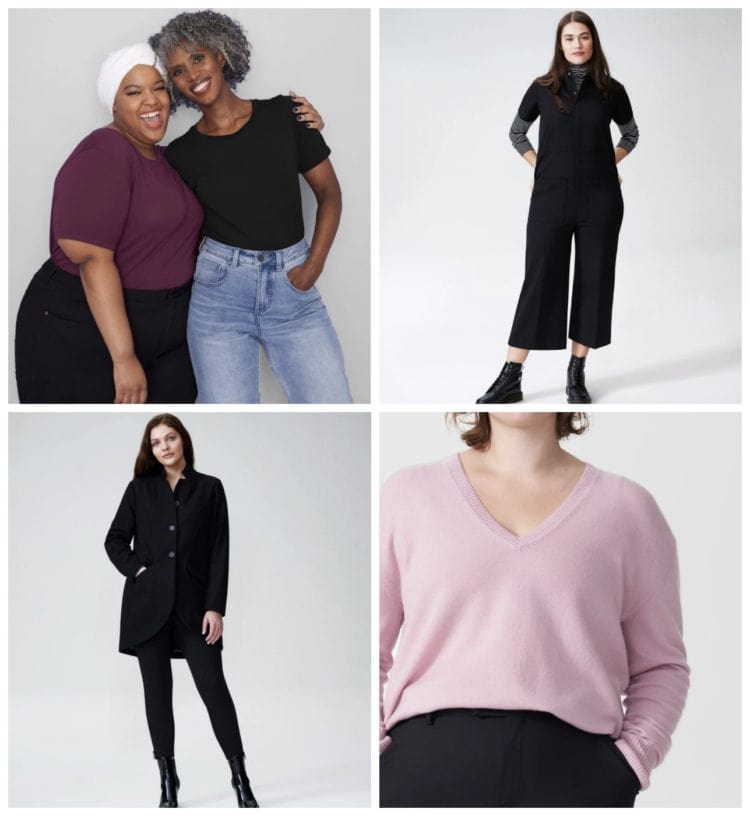 Universal Standard is celebrating their 5th birthday with a variety of promotions:
Soma has select bras for just $19.99. That price is amazing, you can't beat it for quality bras and it's worth taking a look through the selection and see if there are any your size and style. In this sale, bras start at $19.99 (more are $29.99), swimwear is on sale, and there is an extra 30% off sale apparel and sleepwear. The sale also includes non-Soma brands like Le Mystere, Tommy Bahama, Anita, Miraclesuit, Wacoal, and Chantelle. This sale continues through the coming week, but it's while supplies last so shop early. My random love from this sale is this tank. It's opaque, dressier than a normal tank, has two different necklines (flip it around for a different effect) and mine is almost a year old, been washed and dried a kazillion times and still looks fantastic.
Quay, which is my favorite retailer for wallet-friendly yet super chic and well-made eyewear, is offering buy one get one free frames that are at this link. This sale includes blue light blocking glasses which all of us need these days being on screens so often. I have these as blue light glasses, but they also make for super chic and timeless sunglasses and I love the customizable aspect.
Lens Crafters is online, and if you have your prescription and want to get new frames without visiting the shop this is an excellent option. They're offering 40% off prescription lenses with a frame purchase. And at this link, all these designer frames are 60% off and that's 60% off not just the frame but the lenses too! Lens Crafters also sells contact lenses, accepts insurance and FSAs, has Affirm to buy now pay later, has free shipping and free 30-day returns.
Net-a-Porter is known as the place to shop high-end designer, but the site also carries reasonably-priced brands like Madewell, Sorel, Nike, Vans, Loeffler Randall, and Adidas. They are offering 15% off full-price shoes with promo code ShopStyle15. This is a great time to score organic Vejas, Air Force 1s, classic Chucks, and Adidas Gazelles for less. I will keep preaching this but I recommend buying your holiday gifts sooner than later. The Post Office is already struggling, staff for all delivery companies is reduced due to COVID with increased shipments due to the same issue which means shipping delays will only increase as we get closer to the holidays. I'm considering this sale to get my kid some trendy sneakers for less to have under the tree.
Verishop, which is an online store that curates fashion from a ton of different brands (think Nordstrom or Net-a-Porter) is offering 25% off full-priced fall fashion with promo code VERIFRIENDS on any order of $100 or more. Verishop now has a whole department of sizes 12-24 with amazing brands like Henning, Warp+Weft, See Rose Go, DL1961, Of Mercer, Tamara Malas, Ori, and NYDJ. While there check out their amazingly curated beauty and wellness department where they carry hard to find and highly coveted brands like Vitner's Daughter, Ghost Democracy, Kosas, The Organic Pharmacy, Aesop, and Fillerina. If you haven't shopped Verishop before, shipping is free, and so are returns (you have a 30-day window).
What I Bought and What I Thought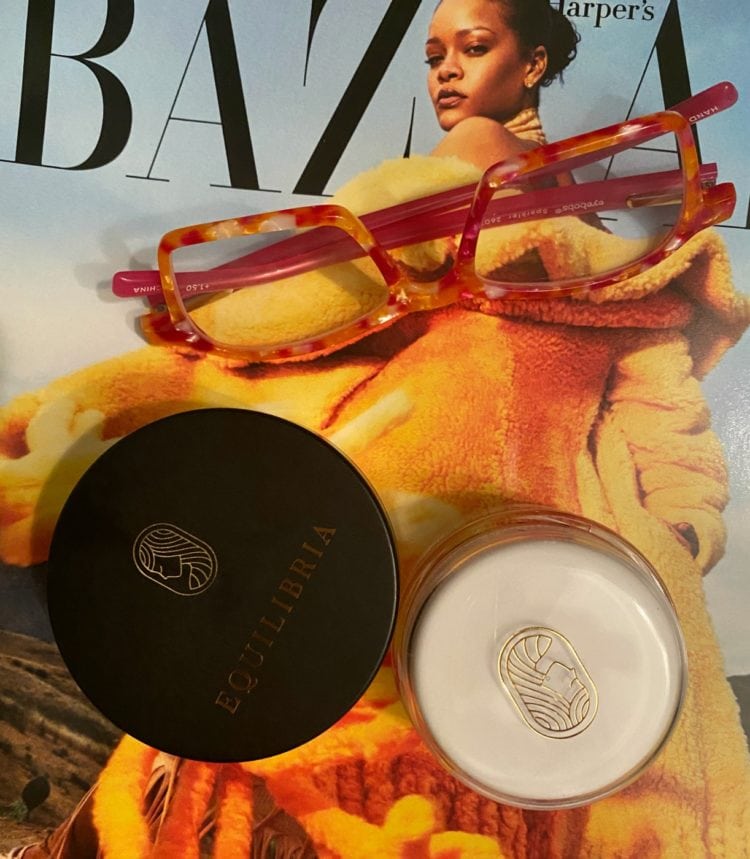 I will delve into this in a full post very soon but I bought into the Equilibria hype. I have used CBD products for years and the skeptic in me had to see if Equilibria was as good as influencers were stating or if it was just that they were paid to do so. I tried their drops, softgels, bath bombs, and relief cream and spoiler alert… this brand impressed the heck out of me. Their relief cream is better than any CBD lotion, cream, or balm I've tried and I've tried at least a half dozen kinds from major companies sold at Sephora to small businesses to locally made products. I've used CBD creams and lotions for burns, cuts, bruises, and mosquito bites but never anything deeper. Well, the Equilibria Relief Cream I rub on my lower back and I almost immediately feel relief, same with my temples when I have a tension headache. I had to let Equilibria know how impressed I was and they have offered WO2 readers 15% off if you use the promo code wardrobeoxygen at checkout. And stay tuned, I'll do a deep dive unsponsored review very soon.
My husband has needed reading glasses for at least a year and now I am starting to need them. After getting LASIK I knew it would happen eventually. I bought these reading glasses (seen above) for myself and they are quirky and comfortable. I wouldn't pick them as my everyday frames, but they're fun to put on when reading a menu or a book in bed. My husband put them on and… they look great on him! Maybe they are "girl" readers but I think they're darn chic on his face. He also finds them lightweight, comfortable, and not slipping down. We got cheap readers from an online place that has them for less than $20 and they work just as well, but I've noticed price matters with style, comfort, weight, and quality of the lenses/if they get cloudy or scratched easily.
I bought a new Popsocket because my old one's iridescent finish peeled off and then the pop socket popped off and fell in dirt and well, I was ready for a new one. I got plain black because it was the cheapest one and nobody is seeing my phone these days except in a mirror selfie. I love Popsockets, I use it to prop my phone on various things for photos and FaceTimes, to feel more secure holding my phone, to clip in the vent thingie in my car to use Waze, and to angle my phone so I can do a Zoom or watch something streaming. Not thrilling, but a fab purchase IMO.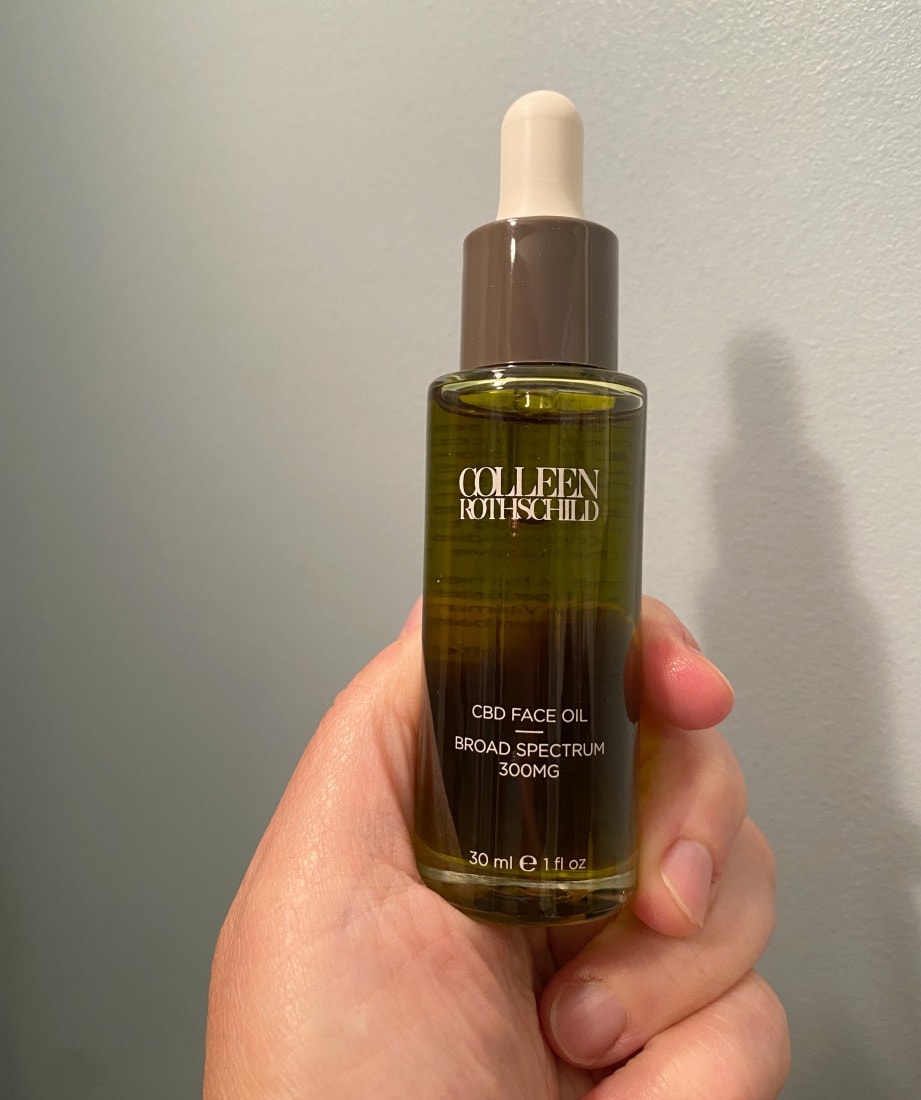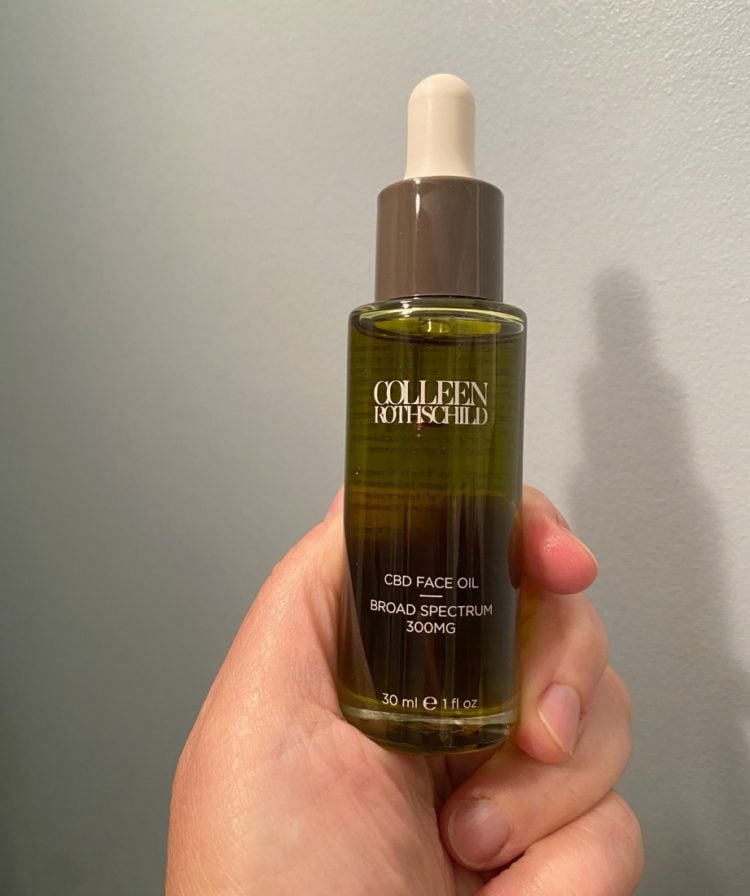 I received Colleen Rothschild's CBD oil to try it out, it's a new product and I really trust Colleen Rothschild Beauty. I've tried CBD skincare before and it has made me break out, but I figured if any CBD skincare would work for me, it would be Colleen Rothschild. It's decadent but be forewarned it has a very hempy smell. Two drops is all you need for face, neck, and collarbone. It hydrates beautifully, isn't greasy, it's gentle. But after three days of using it I got a zit on my forehead just like I did with previous CBD skincare. So I think it's the CBD, not the specific product, that I need to steer clear from. That being said, my husband loves it and his skin looks so glowy and happy using it!
Colleen Rothschild sent me their gua shua tool along with the CBD oil and that I have been using without any issues. In fact, I think I see a difference. I had a jade roller and then a stainless roller and they were… fine. Felt good, but never saw any difference and stopped using them. This I keep on my nightstand with my bottle of Colleen Rothschild Face Oil No.9. Two drops on the face and then I gua shua while reading before bed. I think it reduces puffiness, it's calming, and I think helps with my sinuses. I watched a few YouTube videos to figure out how to use it but mainly I run it up the middle of my neck (the part with the divot so I'm not pressing on anything sensitive), along my jaw line to the ears, along my cheekbones to the temples, and from the brow line up. I have never used any other gua shua tool so I don't know how this one compares and if the stone that the tool is made of makes any difference but I do like using this. Let's see if I stick with it…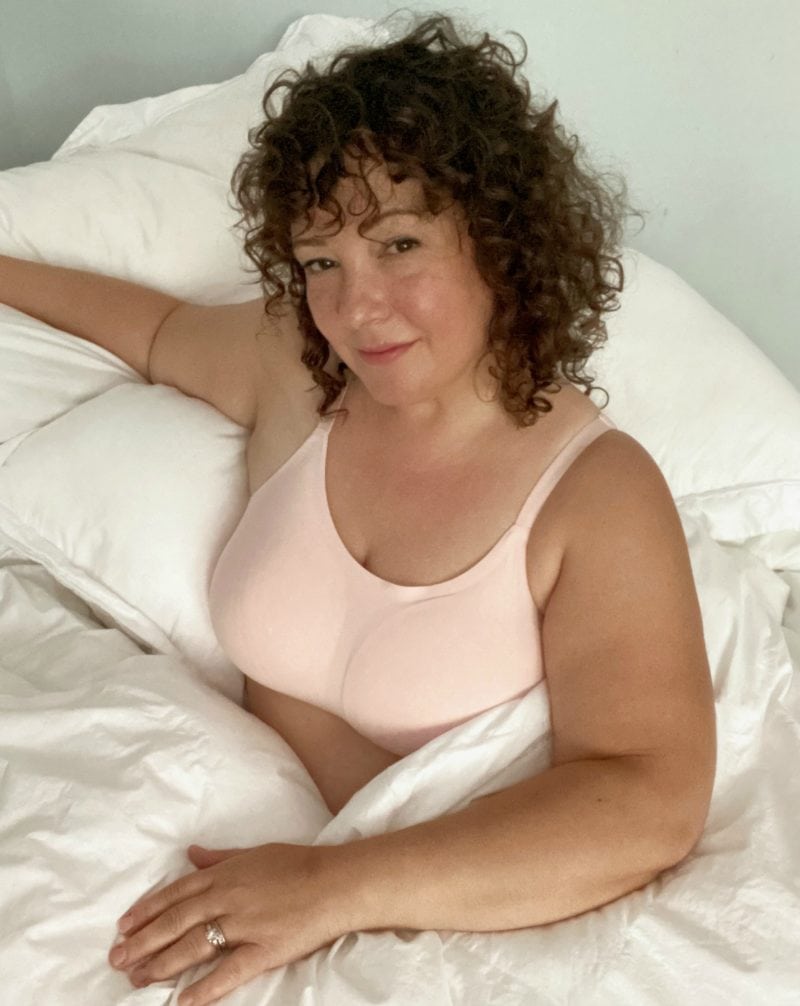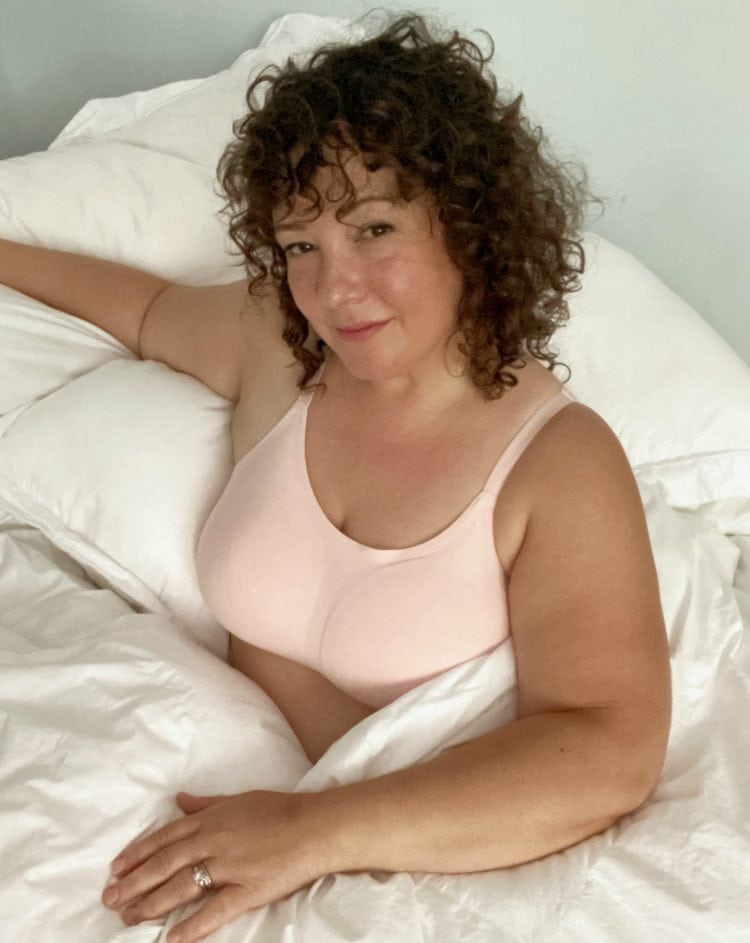 True & Co was kind enough to send me some of their bralettes and undies for me to review. I received the True Body Lift Triangle Adjustable Strap Bra, True Body Lift Scoop Adjustable Strap Bra, and True Body Lift Scoop Neck Bra in Large for DD-DDD cups. I had tried True & Co a couple of years ago but think their size range and selection have improved since. Above I am wearing the True Body Lift Scoop Adjustable Strap Bra. This is the only one that worked even slightly for me; the ones without adjustable straps did not have enough support to accomplish anything. I am clearly too large a cup and also too soft for their bras. I wear this one sometimes as a sleep bra, but I find that while it fits and does lift a bit, even with the foam inserts my breasts just fall to the center creating one monoboob. I know many of you love True & Co; I will share that to test their products I tried this bra brand new, and then tried it after washing it six times. It fits and looks the same after so many washes. I also received a pair of their boyshorts and while the cut isn't for me (it is too low so it slides under my belly), the quality is quite good compared to similar undies and after six washes has held up shape and size. I also appreciate their size range. I think True & Co would be a fave if I was no larger than a D cup and at least 10 years younger.
Universal Standard now has a try before you buy program where you can purchase items and have two weeks to try. If you like do nothing and your card will be charged; if you don't like fill out the return form and get a USPS shipping label to send back for free. I used this to order two new items from Universal Standard. I did not keep either item but wanted to share my thoughts because my yuck may be your yum:
Jenny Wool Sleeveless Jacket: I saw in some FB groups that many didn't understand this piece but as soon as it dropped in my inbox I ordered it loving it so much. I think it's super chic and simple and transcends trends. I saw it with some beat up jeans, but also with a pair of black wool trousers creating a modern suit effect that could dress up for a cocktail event or dress down for the office. And how lovely with ivory wide-leg trousers or even a printed wide-leg silk trouser, full-length or cropped. I ordered my usual XS which they say is a 10/12 but has always fit me whether I am closer to 12 or closer to 16. And this thing is too small. It fit nicely under the arms and the shoulders, the length was lovely, but there wasn't enough room for my belly and bust and it did not work with my curves. Now looking at the photo online it's a small fit even on the slim, less-curvy model. Look how little the front crosses over on her, if she sat down the whole top would gape open. If she was walking, it would inch open. There is no closure except the self-belt tie, I think it's a cool idea that was poorly executed. If we weren't in the middle of a 'demic I'd consider trying a size larger but TBH I have nowhere to wear this anytime soon.
Sally Liquid Jersey Shirt Dress: I got this in navy, also size XS. The fabric is lovely, it reminds me a bit of Soma's Cool Night pajamas in how it's drapey and silky but not heavy and it doesn't cling. On my 5'3″ self it just hovered over the top of my feet, making it wearable barefoot or with any height of shoe. The navy is the same navy as other Universal Standard clothing I've gotten, with a nice rich blue undertone. Slits not too high even if you sit and cross your legs, and pockets deep enough for the largest iPhone. The buttons are well-spaced so you can open the collar without exposing too much and it doesn't gape when you sit or move. I can see it being worn open like a duster, belted either open or buttoned up, and unbuttoned a bit to show a tank or cami underneath. It would work well with tall boots or sneakers. That being said, on me it looked like a nightgown. The fabric was too lightweight and too clearly jersey. The pockets also added bulk on my hips creating a completely different body silhouette. It was too utilitarian on me, nothing sexy or stylish about it. Honestly, it looks on me like it looks on the model where if you go past how cute she is and the poses, you'll see she also looks to be wearing a navy nightgown. If you are a larger size and/or taller than I, I'd love to hear from you if you've tried this dress.