This week, I ran to the mall at lunch for some retail therapy. I recently bought a pair of black trousers that had such a perfect fit, fabric and cut that I returned to get them in two other colors. While strolling the mall sipping my iced coffee, I realized that the majority of the mall was occupied by mothers with their children. Women with slings holding sleeping infants, women with strollers holding up to three kids at a time at varying ages. Women and children hand in hand at the food court, on benches, in stores. As varying were the ages of their children were the appearances of these mothers.
This mall is in a community where every economic level of person lives. On one side of the mall are million-dollar townhomes in a gated community, the other side are rent-controlled apartments. A mile up the street are McMansions and in the other direction, cozy blocks of split-level and rancher-style brick homes built in the 50s. I used to work at this mall, and saw people from all walks of life enter my store. This day of retail therapy and my years of retail management remind me that money does not equal style.
My mom often tells me about my childhood. We were not well off and she had to save up to buy clothes for herself and us kiddies. Weekends were spent at yard sales for clothes, furniture and even Christmas presents come winter. Though my mom had a limited budget, she always looked great. She learned to sew to be able to dress for less and flatter her petite frame. She scoured sale racks and when something worked, she would buy multiples in varying colors to make things simple. Since she was a Stay at Home Mom (SAHM), she needed clothes that didn't wrinkle, could handle multiple washings and were so easy to pair with one another, she could dress in the dark. Pictures of her during this time shows her in jeweled toned knit tops, black knit trousers, black shoes and a silver pendant necklace almost every day. Not too exciting, the sleeve and pant length seemed to change with the seasons, but the premise was the same. Considering it was the 70s and 80s, my mom had a shoulder-length perm that flattered her face but was low-maintenance. You couldn't look at her and know her income level or that I had vomited on that shirt two days prior. She was a parent of two rambunctious children, a volunteer in our schools, the editor of the church newsletter, active in the community and always overextended. Though her life may have been frazzled, her appearance was not.
It really is possible to look good and be a SAHM. And this is possible without spending much more time every day. It's all about mindful shopping. I know I have written about this before, but this is something that is important to all women, no matter our lifestyle or responsibilities.
As I walked down the mall, I had two women in front of me pushing strollers. They were friends, chatting with each other as they window-shopped. They were both in their 30s, both of average size, both with straight blonde hair and I believe even had the same strollers. That was where the similarities ended. One was in baggy over-washed black cotton capris that ended at the widest part of her calf. She paired this with a pink, black and white horizontally striped polo shirt that hit right at her waistband and with it a pair of black flip flops. Her hair was half up in a claw clip, though most was slipping out and fanning out around her head. She looked dumpy, disheveled and her clothes looked cheap. Her friend was also in black capris, but they were of a very heavy knit and fit her frame quite well. Paired with it was a turquoise boatneck ¾ sleeve top that hit at mid-hip. On her feet were black ballet flats and her hair was held back with a black elastic headband. Her outfit was just as low-fuss and easy care, yet she looked slimmer and more polished. Both wardrobes can go in the washer and dryer. Both outfits were comfortable and easy. The difference was that the woman in the turquoise seemed more mindful of what she was purchasing.
1. Don't buy 100% cotton unless you love to iron. It wrinkles, and even an extra 10 minutes in the dryer won't get those wrinkles out. Also, cotton is known to fade after many washings. Cotton clothes soon look rumpled, old and worn. You don't have the time and money to replace them, so don't buy them in the first place.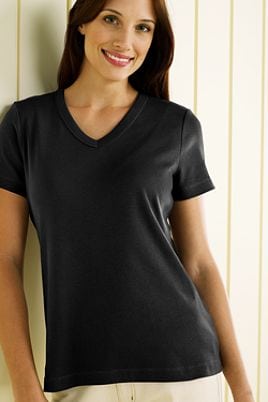 2. If your tummy is not your best feature, then don't showcase it. Tops that hit right at your midsection draw attention to that area. Tucked-in tops emphasize the lower abdomen, and tops that are too tight do not flatter anyone. Look for tops that hit around mid-hip. This length is slimming to the torso without making the legs look short. No need for baggy tops – they often add bulk instead of hiding it. Look for something that either skims the body or sits pretty darn close. This will show you have the figure of a woman, not a sack of potatoes.
3. Flip flops are for the beach, not the mall. I say this often on here, but flops are bad for your feet. Your arches sink, you pull muscles between your toes and they do more harm than good. They are great when hopping in the car to drop the kid off somewhere, tooling around the garden, the pool or the shore but that's about it. To preserve your feet for your future and not look sloppy, invest in some real shoes. Ballet flats are a great alternative and can be found for less than $20 at retailers like Target. A leather sandal in tan will go with 90% of your wardrobe and be more structured and attractive than a flip flop. This change affects your personal style as well as your personal health.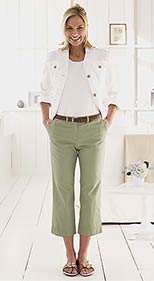 4. With skirts, dresses, shorts and capris, have them end at a slim part of the leg. Your thigh and your calf are the widest parts and when clothing ends there, it gives the appearance that your entire leg is that size. Do your figure a favor and if the garment is perfect except for the length, take them to the tailor. For about $5 they can hem it to a better place.
5. Consider solids. Stripes and patterns may add variety and you may think they hide stains, but they often look cheap and quickly look dated. A solid polo in French blue can look crisp with a pair of khaki Bermudas; a striped one can make you look bigger and often looks cheaper. The best way to make your bargain piece look more expensive is to buy it in a solid color, free of garment-dyed finishes, contrast stitching or elaborate details. Go for simple and you'll go for gold.
6. Read the label. If it says Dry Clean Only, don't buy it unless you have time and money for such a service. If it tells you to dry flat, it's telling you not to buy it. You don't have the time for this, and if you don't follow the instructions you will probably ruin the shape or finish of the garment.
7. If it's great, buy two. As I mentioned at the beginning of the post, I went and bought two more pairs of pants that I already owned and loved. They were the right length, color, fabric and fit. No one is taking a tally of how many styles of garments you own, all people notice is if you look nice. You found a great wrap top that flatters and fits and is easy care and perfection? Get it in black, pink and teal. Found a wrap dress that can hit the dryer as well as the dance floor? Get it in solid black and also in the red print. This is also true for shoes – get them in the neutral you wear most often (black or brown) and then get them in one other color (tan or a contrast shade like red pr green). If they are awesome, they are worth it.
8. Adjust your hair to your life. If you don't have time to blow out your hair every morning, then get a cut that allows you to wash and wear. If you have bad hair days, you are human. Work with it with flattering accessories. Claw clips seem like a quick fix but look sloppy more often than not. Headbands are hip right now – great time to stock up. Also nothing is wrong with a low ponytail; side parts are flattering on rounder faces and a little hairspray on your brush or comb will help battle flyaways.
9. Buy a new bra. Whether or not you breastfed, your breasts will not be the same as they were pre-baby even if your waistline is. With any weight changes, your breasts change as well. Nothing makes you look firmer and fitter than a supportive bra. Also nothing makes you feel more like a woman than to have a gorgeous red satin and lace number under your standard tee shirt.
10. Keep the active wear for the gym. Knit shorts, baggy tee shirts from a vacation destination, matching hoodies and pants are not appropriate for "the real world." It is just as easy to buy a feminine cut of tee shirt than to buy an oversized one.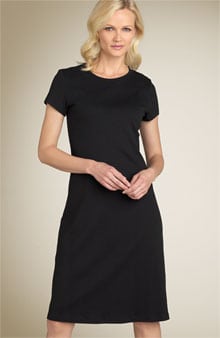 11. Don't shy from a skirt or dress. If it hits around the knees, you can still crawl on the floor and run around without trouble. A skirt is always more polished, and a great tee-shirt style dress is easier to put on in the morning than a whole outfit. The one pictured is less than $40 by Jones New York, I found it at Nordstrom.
12. Show your personality.You are more than a mom, you are an amazing and vital woman.Wear your favorite colors, buy a leopard print shoe or a bold necklace.Small touches take your standard day wear from uniform to amazing with little work.
Some companies I recommend to find beautiful, comfortable and durable garments: