I often blog about accessories, but I haven't really delved into them and how they can really create your personal style. Last night on the subway I saw the best example of how accessories can tell a story better than most garments in your wardrobe.
Two women on the train, both in black tailored shirts tucked in to classic black trousers. Both were wearing tan trenches, both were standing up, engrossed in their reading material.
One woman had her hair in loose waves, was wearing this necklace and the matching earrings from Ann Taylor, a slim black glossy leather belt and pumps of the same glossy black leather that had silver buckles on the front. She had a black tumbled leather large satchel in her hand.
The second woman had a silk scarf in bronze, camel, ivory and gold tied at her throat and tucked into the neckline. She had a thin gold chain through her belt loops and was wearing black boots with a square toe and slim heel. She had a camel leather structured purse over her shoulder, and her hair back in a low ponytail.
Both women were around the same age (I would guess early '40s), and similar sizes. Though wearing similar outfits, they looked completely different due to the way in which they accessorized.
Consider the most basic of outfits – a white button-down shirt and black trousers. Often seen as the uniform for wait staff and terribly boring, a few accessories can totally transform it to a stylish ensemble. Imagine this outfit with these accessories… what type of woman do you see? What do you think she is like?
– Leopard print heels, thin gold bangle bracelets on one wrist and gold hoop earrings
– An Hermes scarf and pearl studs on the ears
– Delicate gold chain with a diamond pendant and black ballet flats
– Black stretchy belt with patent buckle over the untucked shirt and black patent high heels
– Black flats and a delicate watch with a leather band
Amazing how the outfit stays the same, but the perception of the women totally changes. Weight, age and hair are not a factor – the accessories tell the same sort of story, no matter the woman.
Another experiment. Imagine in your head a woman wearing dark jeans – simple bootcut style free of adornments. With it she is wearing a slim-fitting black crewneck tee-shirt. Now imagine her with:
– Black Converse One Star "Chucks" sneakers and a man's silver tank watch
– A Pucci scarf tied through the belt loops and red patent leather pumps with pointy toes
– Big silver hoops, a chunky silver bracelet and black biker boots
– A long winter scarf in various colors looped around her neck and royal blue suede flats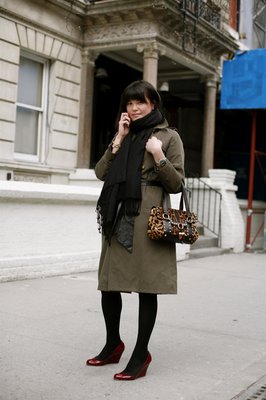 Again, same outfit but completely different looks; completely different personalities perceived by these looks!
Often we feel that our wardrobe is too boring, too old, too predictable. Most of us cannot afford to replace our closet contests every season, so being stuck in a rut makes us A) miserable and frustrated, B) in debt, or C) buying cheap "throwaway" garments that don't last, don't flatter and slowly cut into our finances.
Accessories are a cheaper alternative that will last longer than a flimsy polyester top from Forever 21. They take up little space and are more likely to stay or come back into fashion than most clothing in your closet. Almost daily I wear a silver bracelet I purchased at a department store over a decade ago. I still regularly receive compliments on it and it works with the styles of a 2008 wardrobe as well as it did with my collection in 1997. Many of my accessories originally belonged to my mom or were purchased at thrift stores; I have scarves from the 1960s, pendants from the 1970s and clutch purses from several decades that get regular rotation.
The type of accessory you choose is far more personal than the wardrobe staples I have suggested. You can see from the examples above how the accessories explain the woman wearing them; a feminine type would look ridiculous in biker boots, and a singer in a rock band would feel awkward in a strand of pearls. On top of that, since accessories are a longer-lasting wardrobe item than a garment, it is important that the item holds importance to you. Maybe it's your favorite color, your birthstone, similar to something your mother wore while you were a child. Possibly it was picked up on a trip overseas, or is something that just makes you happy to look at it. Cheaper accessories can be purchased if you desire a trend, but save your money for those classic pieces that will withstand years… even decades.
Think of your black pantsuit, your simple black dress, your jeans and tee shirt, your work attire of twinsets and trousers. They fit, they are flattering but alone they are boring! Slowly bring accessories into your life… even more slowly than your basic wardrobe. Purchase that which calls out to you and you know will work with a large portion of your wardrobe. Envision it with clothing you already wear and as you saw the imaginary woman in the black tee-shirt and jeans, see yourself with these accessories and how they tell your story.
Pictures of women courtesy of The Sartorialist. Images chosen to show how simple garments gain personality with accessories.