1. A Black Pantsuit in a Seasonless Fabric (crepe, triacetate, wool gabardine).


Tailored classic jacket, pants that are tailored but not tight. This is a piece to spend money on. It can be used as separates, or together for a multitude of events (interviews, funerals, cocktail parties, even weddings). If you can get a matching skirt, all the better.
2. Black Classic Pumps.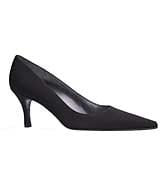 Leather is best. A height of heel to look good with pants as well as skirts. They should be as versatile as the suit.
3. A Black or Dark Navy Sheath Dress From a Seasonless Fabric.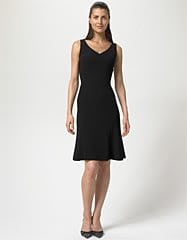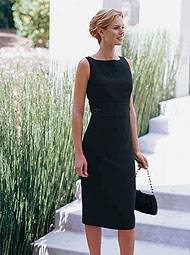 The fabric will be able to go from work with a twinset to a wedding with a wrap.
4. Jeans in a Classic Yet Stylish Wash (right now is the Japanese Premium denim look – ringspun or old fashioned looking denim).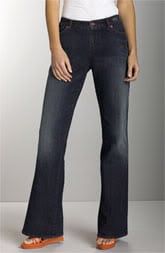 Slightly low rise, but no belly button showing. Slim in the leg but not tight, boot cut leg. This is the most universally flattering cut, and luckily the most popular cut right now.
5. A V-Neck Sweater in a "Happy" Color.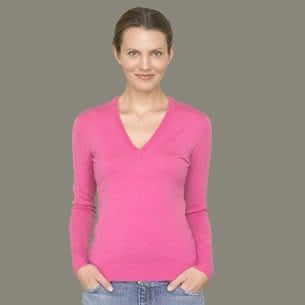 Fine gauge cotton, lightweight merino, cashmere, silk knit. A fabric that holds up with minimal stretching or pilling. Don't worry about what color is "in" or what season someone told you to wear. Find a color that makes you grin every time you see it. For me it's a bright light aqua or candy pink or a mango orange. For others it could be red or Easter egg lavender. Have it be something fun. Black, taupe, beige, cream, white, gray and brown do not apply. This is a sweater that you can wear and someone will see the color and say "I LOVE that color!" No one ever says that about beige. As for being a v-neck – this makes your neck look longer, your body seem longer and slimmer, and it's a feminine neckline while still being work-appropriate.
6. Hoop Earrings That are Bigger in Diameter Than Half-Dollars.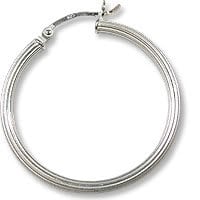 I know many women do not wear earrings or large earrings, but a pair of hoops will dress up any outfit, and are terribly flattering. If you get sterling silver, you can get hollow hoops that won't be as heavy. There are always kiosks in malls selling silver jewelry -these usually have great options ranging from $10 – $30.
7. A Sparkly Top.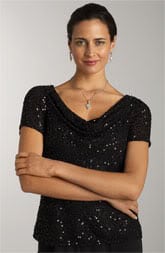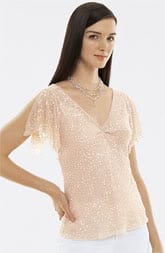 Sort of generic… but the idea is a top or shell that looks great alone or under a jacket. With a skirt or pants (or even jeans!). This top with a black skirt is appropriate for an evening at the theater. With a suit for a cocktail party. With jeans for a night at a club. A subtle color is good so it's not as obvious when you wear it to more than one occasion. Ivory, taupe, pale pink, black, gray/silver, bronze. Good options and they are easy to pair with black and most shoes. I actually own the blush colored top. Wore it to a wedding with full leg crepe trousers, to a club with jeans, and to a work cocktail party with an ivory pantsuit. It's less than $100 and from Nordstrom, comes in a multitude of sizes and several colors.
8. A Great Blazer.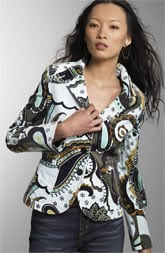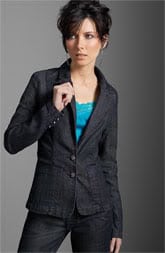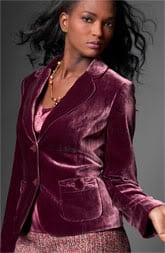 Now is the time to find the perfect one. One in a fun fabric and color or print. A great way to jazz up an outfit. Suede, velvet, leather, corduroy. Again, find a color you like, not necessarily what is easy or trendy. I have a pink suede blazer I purchased a few years ago. It looks great with jeans and a tank, with a silk shell and trousers, a turtleneck and tweed skirt, or even over a dress. Color is actually more safe than neutrals – it pulls the eye away from one's flaws. One sees color and gets happy. Suddenly you have great hair, a fun outfit and have lost 5 lbs. Look for a fitted style, but one that does not bunch at the back. Get the sleeves the right length, and make sure it doesn't droop at the shoulders.
9. A Fun Skirt.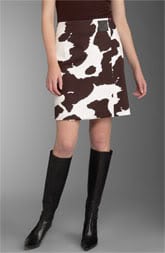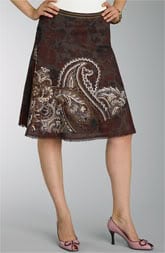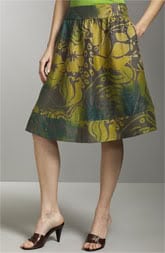 A-line and drop-waist styles are most flattering. Look for a length that is sassy yet not slutty. Right above the knee is usually a good choice. A fun print or unique fabric is always good. This is something that will jazz up a boring sweater, a conservative twinset, an old tank. Be daring, but make sure the fabric drapes nicely and it looks flattering from the front, side and back. Sit in it – see how it may crease or ride. You may be scared to buy something like this, but you will get tons of wear once you see how great of a piece it is.
10. A Wool Coat for Winter.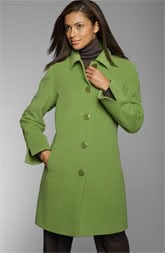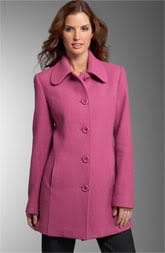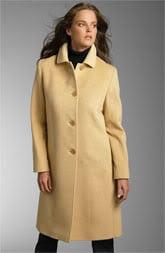 Should go past the hips, single breasted is most flattering. This should be a well-fitting and well made piece. A great wool coat will be a staple in your winter wardrobe for decades if you choose wisely. This is not a piece where you get fancy decorative trimmings or the hippest cuff. Classic tailored fit is best. Notched collar, tonal buttons. You may get creative with the color, but not too wild. Black is a safe bet, as is camel. Red, robin's egg blue, celadon and plum are also great choices. You want a length that looks good with pants and skirts. It should not make you resemble the Michelin man. Look for linings made of Primaloft or other lightweight yet warm fabrics that will add coziness not bulk.