This article may contain affiliate links; if you click on a shopping link and make a purchase I may receive a commission. As an Amazon Associate, I earn from qualifying purchases.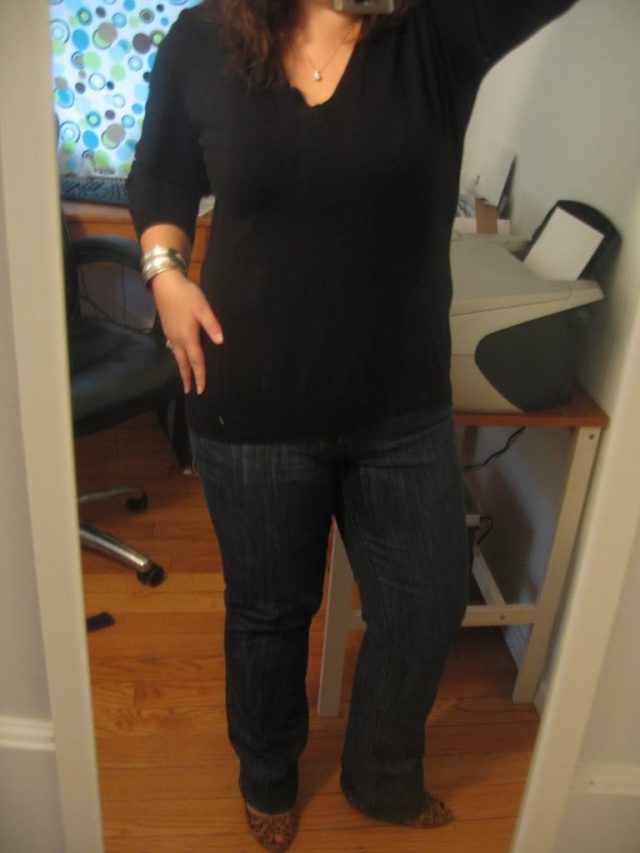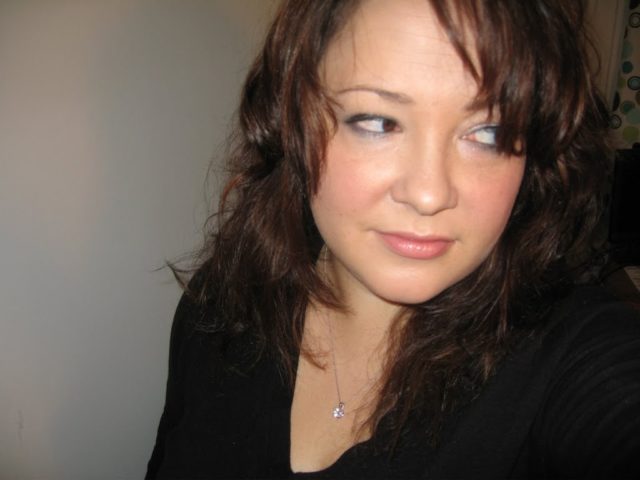 It is surprisingly cool today – gorgeous clear sky and enough of a breeze that I was able to open the windows the past two days. In this part of the country I know this pleasant temperature is fleeting – next week could be humid as heck and 100 degrees.
Black stretch cotton v-neck sweater from Banana Republic, NEW denim trousers from Gap, leopard peep-toe heels from BCBGirls, silver cuff, white gold and lab-diamond studs and necklace from Diamond Nexus Labs (chain switched out with one I already own).
Hair is on Day 2.1 (washed late Tuesday night). Didn't do anything to it except brush it with a wood-bristle padded brush.
Makeup is L'Oreal True Match concealer in W4-5, Benefit That Gal, philosophy The Supernatural Airbrushed Canvas in Beige, Nars blush in Orgasm, Maybelline Shine Seduction Glossy Lipcolor in Blushed Bass, Sephora Jumbo Eye Pencil in Grey, DiorShow mascara in black with Imju Fiberwig in black over it. Small amount of Maybelline Ultra Liner in black on top lash line.
Product Review: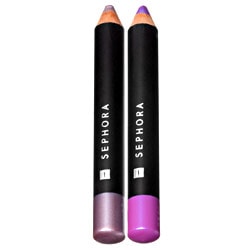 Sephora Jumbo Eye Pencil – I have one in emerald green from when I went through my bright green eye makeup phase. I have been wanting to do a smudgy smoky eye with a pencil for a while, and black is just too harsh in daylight. This gray shade seemed to have a blue-tint in the pictures on the website which I thought would look cool. And really, $5 for a jumbo pencil is a pretty good deal.
These pencils are just fine, nothing to write home about. Not overly dry, not overly creamy. Actually I think my green one is dryer than this new gray one. I applied it to the lower lash line in a smeary middle-school way (pull down lid, swish back and forth) and then for the top line, I held the lid taut and made little strokes working from the outside of the eye in to inner to get a pretty straight line. I then applied more to the lid to use as eyeshadow. Then I took a Q-tip and lightly went over what was under the eye. This stuff totally got soaked up on the Q-tip, though I have used this same method with other pencils (even my other Sephora jumbo pencil) with good smudgy results. It soaked up so much I had to re-apply. I then used the already-stained Q-tip to smudge the lid itself. I think because the Q-tip was already coated with the product, it did a better job at smudging, but it still seemed to clump a bit, disappear in a weird way in spots and be annoying when I was short on time. I reapplied a bit and this time used my finger but it still just came off instead of smudging. I ended up using black liquid liner at the lash line mainly to cover up the bare spots.
Final result? Pretty cool looking. Not too extreme for work – I could easily apply more for an evening. It has lasted through the day, which I did NOT expect from the application troubles. This is not gray, I think it's more of a cadet blue but it has major silvery undertones that makes it look cool and not like blue eyeliner. I think this steel-blue shade is probably more flattering than a regular gray liner would be with my complexion. I will wear this again, but will have to fiddle a LOT with the application to have it look good and even. Glad it was only five bucks.