This article may contain affiliate links; if you click on a shopping link and make a purchase I may receive a commission. As an Amazon Associate, I earn from qualifying purchases.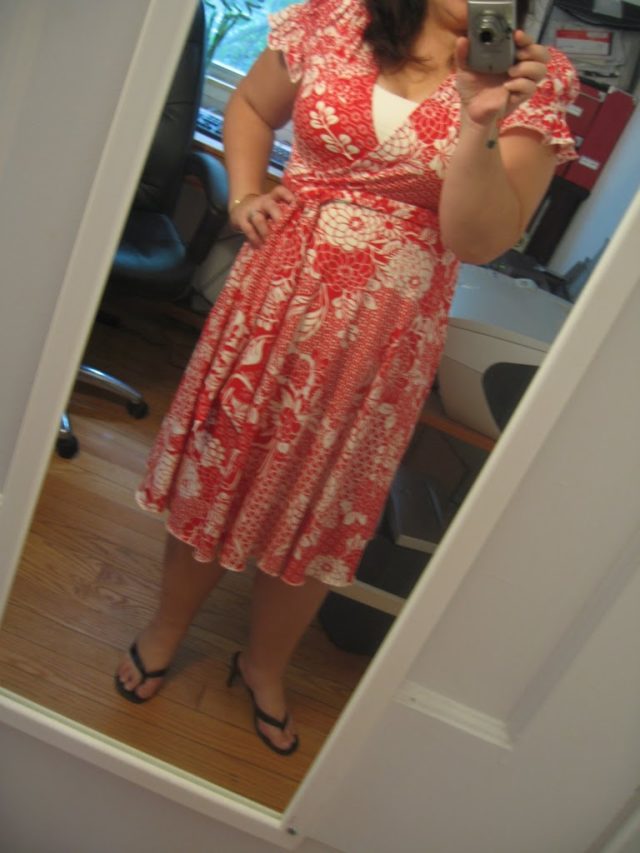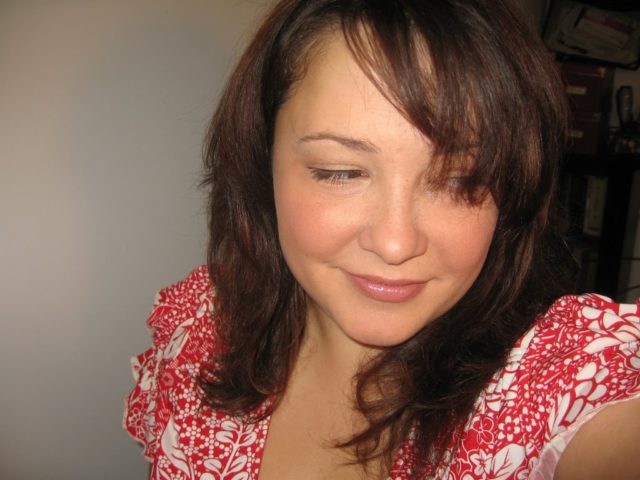 Ivory and red synthetic jersey faux wrap dress from eci, ivory synthetic camisole from New York & Company, black leather thong heels from Mossimo (gosh I really needed tan sandals this summer but never found any I adored), gold bangle from Ralph Lauren.
Hair is… 2.5 day, since I washed it very late on Tuesday. I wet it down and dried it with a paddle brush and dryer the majority of the way, then smoothed out bangs and layer with a round brush. A bit of Matrix Sleek.Look Water Lockout Spray on bottom half of hair to get rid of frizz (a super humid morning that turned into a afternoon of torrential downpours).
Makeup is Smashbox Photo Finish foundation primer, L'Oreal true Match foundation in C3, concealer in W4-5, Cargo Matte BeachBlush in Tenerife with some Smashbox Soft Lights in Tint over it for shimmer. Eyes is the Pop Beauty shadow set for brown eyes – the sparkly beige over lids and in inner corners, a warm fawn color with shimmer very lightly added to the crease. Lashes curled, two coats of Max Factor Lash Perfection mascara in black, fine line of Maybelline UltraLiner in black on top lash line. On lips is Body Shop Lipcolor in 06, with Body Shop Liquid Lipcolor in Sparkling Pink over it.
Ruckus is doing better, but still has a limp. If it lasts another day or so, we'll take him in to really examine his legs and check to see if it's more damage or just old age/weather. He slept through the night, but did a bit of a bunny hop to get down the stairs this morning and didn't even attempt to follow me back up the stairs when I went to take these pictures. The husband is a photographer and his shoot got rained out and called to say Ruckus seems to be active enough, just favoring his right back leg but not as bad as he was earlier. We shall see… and keep him off the stairs as much as possible.