Looking at how often I write and tweet about coffee, you'd think I was a coffee connoisseur. Notsomuch. When I hit my local coffee shop I ask for it plain and big because all the –inos overwhelm me. At home, Karl is the master of the coffee domain. I have no idea how to use the French press so I rely on him to fuel my caffeine fix. Lately I have been working more early mornings and I have to stop by the local coffee shop or fast food drive-through to get my cup of Joe because I just can't figure out how to make a decent cup of coffee. You know what would be a perfect holiday gift for me? A super simple single-serve coffee maker that would make a great cup of coffee every time.
Enter TASSIMO™, who was awesome enough to send me the TASSIMO™ T55 Single Cup Brewing System JUST at the perfect time. I was working a lot of long days and hated spending so much on take-out coffee or watching Karl make me a cup still bleary-eyed in dawn's early light. No needing to wait until the holidays to become a coffee-making expert!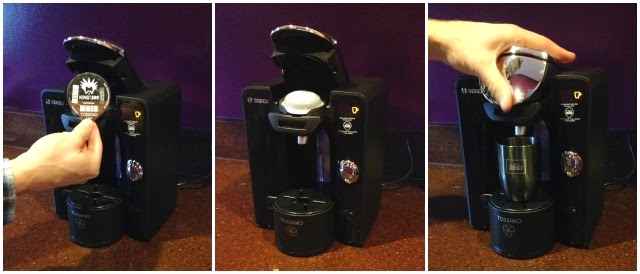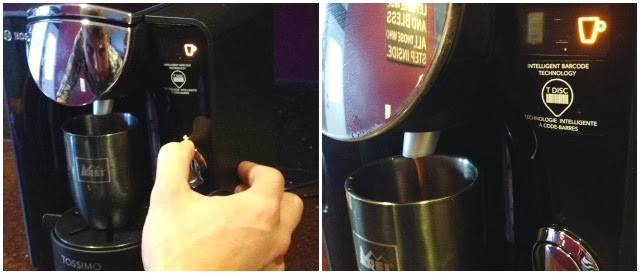 Place the T DISC upside down so that the INTELLIBREW™ technology can read the barcode. Snap the lid shut, press Start and in minutes you'll be enjoying a perfect cup!
The TASSIMO™ Brewer is super easy to use too. Add water to the reservoir in back, insert your TASSIMO™ T DISC in the top, and press start. The built-in technology INTELLIBREW™ scans the barcode on each T DISC to identify precise brewing instructions with the exact temperature, water, and time duration, so each and every drink is perfect every time. This Home Brewing System isn't just for a cup of joe–the TASSIMO™ can also make cappuccinos, lattes, hot chocolate, tea, and more. One of my favorite features is how quickly it heats water; for little energy you can have a piping-hot cup of water for soup or tea in seconds.
TASSIMO™ sent me a few T DISCS to get started, and it's fun to make hot chocolate, cappuccinos, caramel latte macchiatos, or espressos by myself and know it will be delicious. With well-known brands like Twinings, Gevalia, and Maxwell House partnering with TASSIMO™ for their T DISCS you know the quality and the flavor is great. I love that there are great limited edition flavors like Peppermint Hot Chocolate and Peppermint Mocha for the holidays!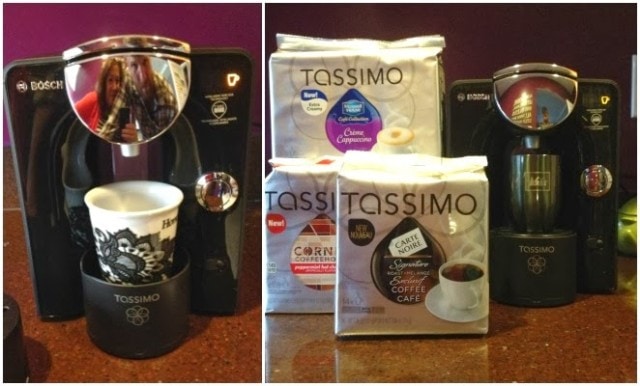 Now I'm a pro at making fancy coffee house drinks from my kitchen counter!
If you'd like to unlock a perfect cup with TASSIMO™ this holiday season, they are offering some great deals on their site. With Cyber Monday code TACYMON3 you can get 20% off T DISCS; you also get 20% off Brewers and with each Brewer purchase, you will receive two free packages of T DISCS (valid in the US only on TassimoDirect.com. Cannot be combined with other offers . Limit one coupon redemption per customer. 20% T DISC discount limited to 6 T DISC packages. 20% Brewer discount limited to two Brewers. Offer only valid on 12/2/2013 until 11:59PM PST).
If you miss the Cyber Monday Deal, brewers and T DISCS are also available at Bed Bath & Beyond and Amazon.
Giveaway
The giveaway has ended and the winner has been notified.